Rush Bibliography
---
"Books are for tourists..." - Slobovich
---
Books About Rush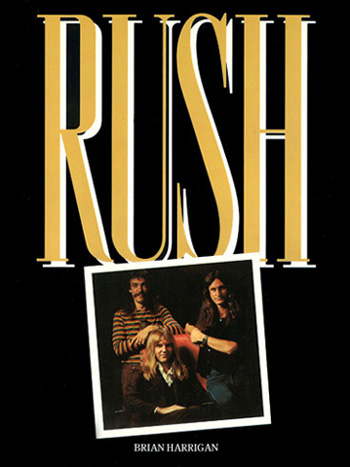 RUSH, by Brian Harrigan, 80 pages published by Omnibus Press, 1982
- Read the transcript
"Rush, the Canadian heavy metal megastars. This is their complete story - from early days in the suburbs of Toronto to their present envied position as the number one hard rock band on earth. Brian Harrigan writes for Melody Maker and was previously press officer for Rush in the UK."
RUSH: Sounds, Fan Library #6, by Steve Gett, 48 pages published by Spotlight Publications Ltd, January 1983
- Read the transcript
A special collectors magazine packed with photos, interviews and biographical information. An expanded version of the text would reappear a year later as Steve Gett's book, Success Under Pressure (see seperate entry).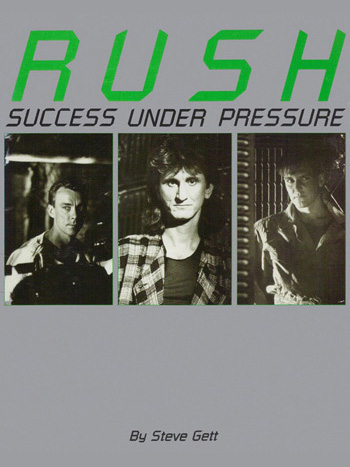 Success Under Pressure, by Steve Gett, 48 pages published by Cherry Lane Books, 1985
- Read the transcript
"Success Under Pressure is the definitive history of Rush - Canada's finest hard rock export. Written by top U.K. journalist Steve Gett, the book traces the trio's history from their early days on the Toronto bar and club circuit, to their current high-ranking status, and is packed with extensive interview material. The collective stories of Geddy Lee, Alex Lifeson and Neil Peart merge to form a detailed analysis of the band that will certainly satisfy the hungry appetites of their diehard supporters. Gett's highly illuminating text is accompanied by an outstanding series of exclusive pictures from the collection of Rush's official photographer Fin Costello."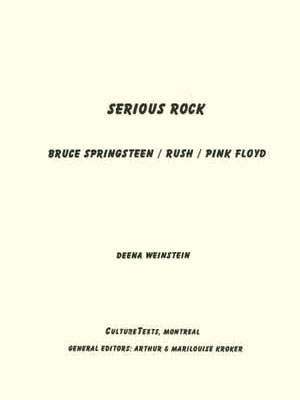 Serious Rock: Bruce Springsteen, Rush, Pink Floyd, by Deena Weinstein, 27 pages published by CultureTexts, Montreal, Quebec, 1985
- Read an excerpt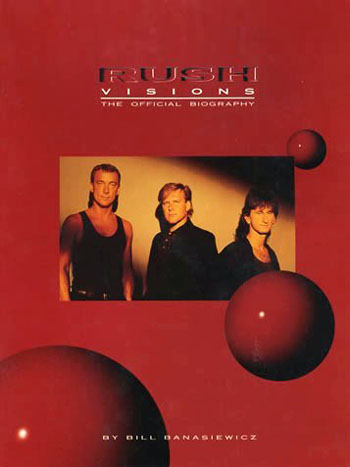 Visions: The Official Biography, by Bill Banasiewicz, 96 pages published by Omnibus Press, April 4, 1988
- Buy the paperback
"This first and only official biography follows the career of Geddy Lee, Alex Lifeson and Neil Peart from their earliest days as a Toronto bar band performing cover versions of sixties rock to their most recent LP 'Hold Your Fire'."
Rush: The Comic Book, by Jay Allen Sanford, Art by Terry Pallot, Rock & Roll comics #49, July 1992, published in Canada by Revolutionary Comics as "Canadian Rock & Roll Special #1", April 1994
- Read the transcript
"The Canadian power trio Rush is profiled in a comic which details the formation of the band and their rise to platinum superstars. Meticulously researched, this comic provides a rare inner view of the makining of classic albums like Fly By Night, 2112, Permanent Waves and others. Art by Terry Pallot (Adventures Of Superman), cover by Scott Jackson (Heavy Metal Monsters)."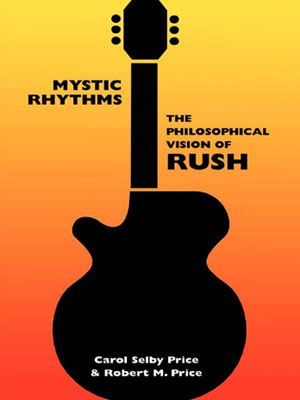 Mystic Rhythms: The Philosophical Vision of Rush, by Carol Selby Price & Robert M. Price, 160 pages published by Wildside Press, 1997
- Buy the paperback
"Carol Selby Price & Robert M. Price have selected for discussion many of the best-known songs of Rush, organizing them into seven chapters based around general themes. The pieces lend themselves to such treatment quite naturally, since there is a consistent development in Rush from the very beginning of the group to modern times. Rush's lyrics are complex, and the ideas in them not always easily understood. Mystic Rhythms will provide the key to these lyrical puzzles, provoking as much thought as the songs themselves."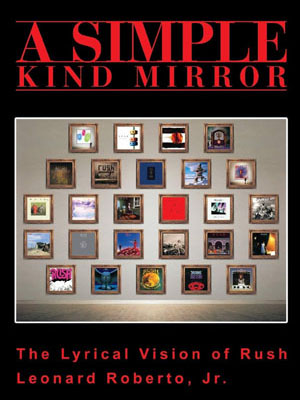 A Simple Kind Mirror: The Lyrical Vision of Rush, by Len Roberto, Jr., first edition published June 2000, second edition 80 pages by Writers Club Press January 7, 2002
- Buy the paperback
"In the world of popular music, the Canadian trio RUSH occupies a unique yet often overlooked niche. For more than 25 years, Alex Lifeson, Geddy Lee and Neil Peart have produced over 20 albums and have sold over 30 million copies worldwide. This work explores the band's vision lyrically and musically from 1980's Permanent Waves to 1996's Test for Echo. It is a fan's exploration only and does not attempt to be the definitive explanation of the band's vision. It will appeal to the core fan base of the band as well as the Rush newbie."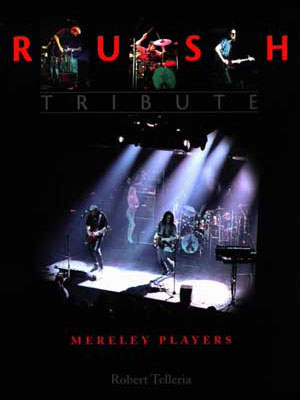 Mereley Players, by Robert Telleria, published by Quarry Music Books, February 1, 2002
- Buy the paperback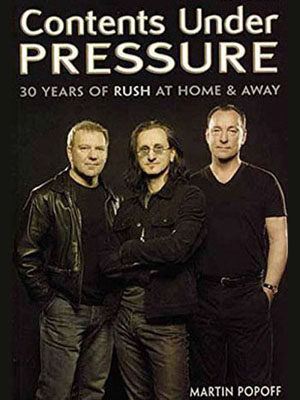 Contents Under Pressure: 30 Years of Rush at Home & Away, by Martin Popoff, 230 pages published by ECW Press, June 28, 2004
- Buy the paperback
"Contents Under Pressure celebrates the 30th anniversary of Canada's beloved Rush, the hard-hitting, progressive rock band known for such classics as "Working Man," "Closer to the Heart," "The Spirit of Radio," "Tom Sawyer," "New World Man," "Roll the Bones" and "Ghost Rider." In original interviews with Geddy Lee, Alex Lifeson and Neil Peart, author Martin Popoff considers each of Rush's albums and tours. He elicits fresh insights on the writing and recording process, as well as musings on the grinds and glories of touring. Along the way, Popoff examines, with the band, nearly every song in the band's vast catalogue. This book also features 270 photos by official band photographer Andrew MacNaughtan and others - candid, rare, and of utmost quality, they help make Contents Under Pressure an essential piece of Rush history."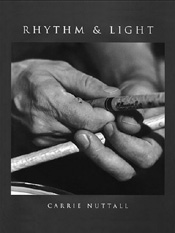 Rhythm And Light, by Carrie Nuttall, 80 pages published by Rounder Books, December 16, 2004
- Buy the hardback
"This photo book features intimate portraits of legendary Rush drummer Neil Peart at work in a Toronto recording studio, as captured by photographer Carrie Nuttall. A must have for Rush's extensive fan base, as well as enthusiasts of both drumming and photography. Carrie Nuttall is a professional photographer who has worked extensively in both the music and fashion industries. She lives in Los Angeles, CA."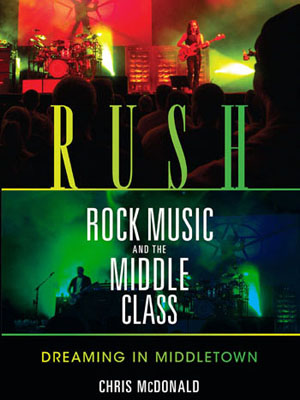 Rush, Rock Music, and the Middle Class: Dreaming in Middletown, by Chris McDonald, 272 pages published by Indiana University Press, October 28, 2009
- Buy the paperback
"Canadian progressive rock band Rush was the voice of the suburban middle class. In this book, Chris McDonald assesses the band's impact on popular music and its legacy for legions of fans. McDonald explores the ways in which Rush's critique of suburban life -- and its strategies for escape -- reflected middle-class aspirations and anxieties, while its performances manifested the dialectic in prog rock between discipline and austerity, and the desire for spectacle and excess. The band's reception reflected the internal struggles of the middle class over cultural status. Critics cavalierly dismissed, or apologetically praised, Rush's music for its middlebrow leanings. McDonald's wide-ranging musical and cultural analysis sheds light on one of the most successful and enduring rock bands of the 1970s and 1980s."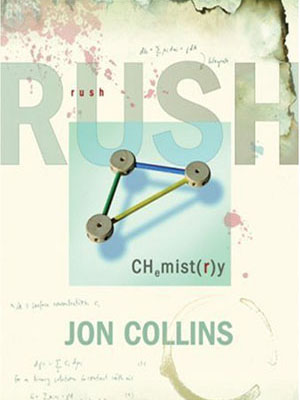 Chemistry: The Definitive Biography, by Jon Collins, 272 pages published by Helter Skelter Books, January 15, 2006
- Buy the paperback
"Against a background of disinterest from the media and a refusal to compromise their music, Rush's success was by no means guaranteed. Since the beginning, only the determined efforts and downright stamina of the band members and those around them were sufficient to counter the wall of silence. Sharing a single-minded determination to take on the system and win, Geddy, Alex and Neil have never rested on their laurels. Pushing themselves to achieve technical excellence, never avoiding the challenge of taking on new musical influences, through huge changes of fashion and major personal tragedy, the entity we know as Rush has endured. Thirty years on, the band is still creating new music and packing arenas and stadiums around the globe. Meticulously researched over three years, Chemistry draws on over 50 new interviews with those closest to the band. As the most detailed biography of Rush ever written, this book pulls together the threads and investigates the reasons that have enabled this band to succeed against the odds."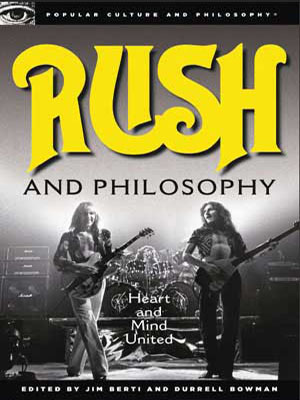 Rush And Philosophy, edited By Jim Berti & Durrell Bowman, 288 pages published by Open Court, May 10, 2011
- Buy the paperback
"Rush and Philosophy is a fascinating look at the music and lyrics of the band, written by an assortment of philosophers and scholars with eclectic and diverse backgrounds who love Rush's music and who 'get' the meaning and importance of it. They discuss Rush with the enthusiasm of fans and the seriousness of college professors. The book will be a must-read for the many fans who have long known that Rush deserves as much respect as the ideas, concepts, and puzzles about human existence they write and compose music about."
Rush As Food - The Cookbook, by Matt Kantor, 53 pages published by Beets Working Inc, September 30, 2012
- Buy On iTunes
"Rush as Food: The cookbook documents the dinner series by Matt Kantor, who deconstructed nine rush songs into food for a charity event. This event was held in Toronto in July of 2012, proceeds of this dinner to benefit "Art Gives Hope", the WorldVision project stated by Andrew MacNaughtan, long time Rush photographer who passed away earlier in the year. Each dish contains background, recipes, photographs and in some cases videos and interactive components, making this a must have cookbook for any home enthusiast or die-hard Rush fan."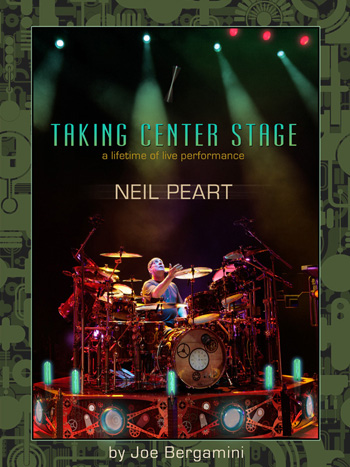 Taking Center Stage: A Lifetime of Live Performance, by Joe Bergamini, 208 pages published by Hudson Music, October 15, 2012
- Buy the paperback
"Taking Center Stage is the definitive print retrospective and musical documentation of the career of one of the greatest rock drummers of all time, Neil Peart of Rush. Originally conceived as a companion to the groundbreaking 2011 3-disc DVD set of the same name, this book combines astonishingly detailed musical transcriptions, historical writing, instructional text, and a beautiful collection of photographs to create a book that every drummer and every fan of Neil and Rush will want to add to their collection. At the heart of the book are note-for-note musical transcriptions of 17 songs that are included on the Taking Center Stage DVD. These transcriptions are exclusive to this book, since they are taken from the performances on the DVD, documenting how Neil currently approaches the songs. But this is much more than a mere transcription book. The book is divided into chapters corresponding to each and every Rush tour from the time Neil joined the band in 1975, up to the present. Each of these chapters contains extensive text discussing the musical approach of the band at the time, the construction of the drum parts, and Neil's set up. Accompanying this are exquisitely detailed diagrams of each of Neil's drumsets, produced after extensive research into the exact instruments that were used on every tour. Tying everything together is a beautiful collection of dozens of photographs taken over the past 30 years, including exclusive shots from the archives of Fin Costello and Andrew McNauhgtan, which show Neil and his drums in vivid detail. The book also contains color reproductions of just about every drum company advertisement that featured Neil during his career. Written, transcribed, and researched by well-known drummer, author, and educator Joe Bergamini (who also co-produced and appeared in the DVD), and overseen and edited by Neil himself, Taking Center Stage: A Lifetime of Live Performance is the most complete, accurate, and definitive work on Neil Peart's career as a drummer."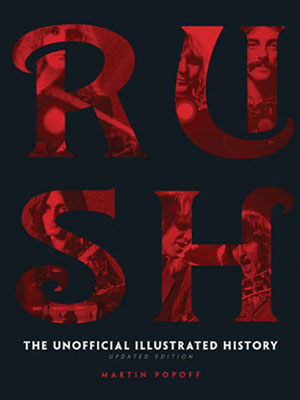 Rush: The Unnofficial Illustrated History, by Martin Popoff, 192 pages published by Voyageur Press, May 15, 2013 (first edition), June 1, 2016 (updated edition)
- Buy the hardback
"A chronological overview history written by noted music scribe and Rush authority Martin Popoff spans the band?s entire career from 1968 to today. A complete Rush discography chronicles all their albums, from the debut album to 2112, Moving Pictures, and Signals to Grace Under Pressure, Vapor Trails, and more. The authoritative text is complemented by album reviews written by well-known music journalists from around the globe, commentary from fellow musicians, a discography, tour dates, and hundreds of photographs and pieces of memorabilia, including picture sleeves, gig posters, rare vinyl, handbills, ticket stubs, and much more."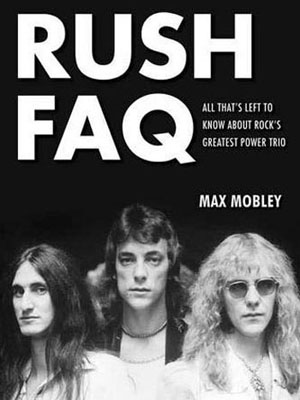 Rush FAQ, by Max Mobley, 400 pages published by Hal Leonard Corporation, June 17, 2014
- Buy the paperback
"Rush FAQ documents the amazing story of the world's greatest Canadian prog rock power trio, from its origins in a church basement in Willowdale, Ontario, to its induction ceremony at the Rock and Roll Hall of Fame. Covering 40 albums, 10 DVDs, thousands of mesmerizing live shows, and millions of rock's most loyal fans, the story of Rush is as epic and unique as its music. Rush has been maligned by the press for decades, and misunderstood by a legion of mainstream rock fans and rock glitterati. And yet only the Beatles and Rolling Stones have earned more gold and platinum records. Few artists, if any, have been as influential as Rush's three virtuoso bassist-keyboardist-vocalist Geddy Lee, guitarist Alex Lifeson, and drummer-lyricist Neil Peart. Rush's focus has always been about its muse and its music. As such, Rush FAQ studies the evolution of the band's sound, from the early days of Zeppelin-esque blues-rock to complex, synth-laden opuses to the return of concept-album bombast with the critically acclaimed Clockwork Angels. With wit, humor, and authority, music industry veteran and unabashed Rush geek Max Mobley examines the music, gear, personalities, and trials and tribulations of one of rock and roll's truly legendary acts. It is a story Rush fans will treasure and rock and roll fans will admire."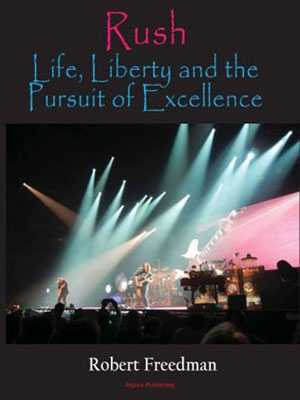 Rush: Life, Liberty, And The Pursuit Of Excellence, by Robert Freedman, 178 pages published by Algora, August 11, 2014
- Buy the paperback
"Rush is often referred to as a libertarian rock band, but really what the band is channeling is an Aristotelian individualism, a philosophy that strongly resonates with today's 40-somethings. This helps explain the band's resurgence in popularity, culminating in its 2013 induction in the Rock and Roll Hall of Fame. 'Rush: Life, Liberty and the Pursuit of Excellence' brings together the excitement of the band's progressive music, performed by three musicians whose mastery of their instruments has won them the admiration of their peers, and the surprising philosophical sophistication of their music's lyrics. The book is a systematic look at the Aristotelian philosophy embedded in the band's lyrics over its 40-year recording career. Although the topic of the book is academic, the writing is sharp, down-to-earth, and leavened with a dry wit. Anyone interested in the band's music, popular culture, and philosophical ideas simply explained will enjoy this entertaining and thought-provoking work. As a cultural phenomenon, Rush is worthy of serious study, and although other books have looked at the philosophical character of the band's music, this is the first time the music over the band's entire 40-year career is demonstrated to fall under a single, unified theory: Aristotelian individualism. Even readers who have pored over earlier books on Rush will enjoy this unifying theme. 'Rush, Rock Music and the Middle Class' (by Chris McDonald), says Rush is an avatar of middle class values. While the work ethic and value structure of the middle class is part of the band's philosophy, that is just a subset of the band's Aristotelianism, as shown by Robert Freedman here. The unified Aristotelian philosophy is also different from what's discussed in 'Rush and Philosophy' (edited by Durrell Bowman and Jim Berti) looks at the band's music through multiple philosophical filters and no attempt is made to look at the music through a single, unifying lens. Another book that studies Rush lyrics, 'Mystic Rhythms' (Carol Selby Price ad Robert M. Price), provides an interpretation of selected lyrics but does not systematically look at any philosophy. Rather, it approaches the lyrics as literary analysis and provides no overarching theoretical framework."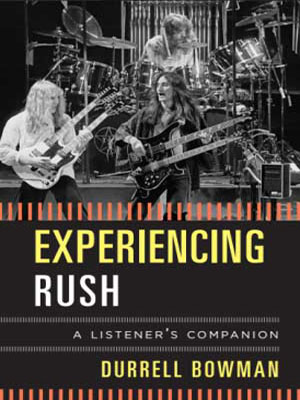 Experiencing Rush: A Listener's Companion, by Durrell Bowman, 194 pages published by Rowman & Littlefield, November 28, 2014
- Buy the paperback, click for additional Rush-related titles by Durrell Bowman
"Let Them All Make Their Own Music: Individualism, Rush, and the Progressive/Hard Rock Alloy, 1976-77", by Durrell Bowman, chapter nine of Progressive Rock Reconsidered, edited by Kevin Holm-Hudson , October 2001


"Textu(r)al Undercoding and the Music of the Rock Band Rush: String Quartets, Death Metal, Trip-Hop, and other Tributes", November 2002 (1 March 2003 version, 2004 update)


"Permanent Change: Rush, Musicians' Rock, and the Progressive Post-Counterculture", Dissertation, Ph.D. in Musicology, UCLA, 2003
"In Experiencing Rush: A Listener's Companion, music scholar Durrell Bowman guides readers through Rush's long career, explaining through the artful combination of biography, history, and musical exegesis how to listen to this unique act. From Rush's emergence as an early blues-rock power trio of guitar, bass, and drums into the godfathers of progressive hard rock, Bowman marks the band's first breakthrough with its landmark, sci-fi/individualist album 2112. From there, readers explore Rush's movement from 'prog rock' extended compositions into shorter, potential-radio-play 'post-prog' songs, leading to Rush's most successful album Moving Pictures in 1981. In its later career, Rush adventurously mixed progressive hard rock and music technology, generating a new power trio sound that featured further stylistic evolutions. As Bowman makes clear, it is the band's stalwart path and many influences on fans, musicians, and others that resulted in Rush's induction into the Rock & Roll Hall of Fame in 2013."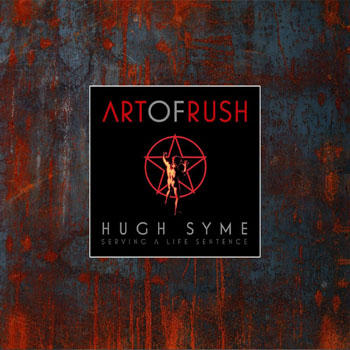 Art Of Rush, by Hugh Syme, 272 pages, May 22, 2015
- Buy the hardback
"The Art of Rush is a 272 page coffee table book that delves into the 40 year relationship with Rush and their longtime artist and illustrator Hugh Syme. The stunning book begins with a foreword penned by Neil Peart, and contains original illustrations, paintings, photography, and the incredible stories behind each album that he has designed with the band since 1975. The book's narration was written by music journalist Stephen Humphries and includes in-depth interviews with each Rush band member, Geddy Lee, Alex Lifeson, Neil Peart and artist Hugh Syme. The Art of Rush also contains entertaining anecdotes and commentary from a wide array of notable musicians, actors, athletes, writers, radio personalities and Rush insiders about their favourite Rush album covers, which clearly reveals how vital and impactful the visual representation of their music has been through the years. One of the hallmark's of Rush releases is the considerable care and consideration that goes into each one - including the conceptual artwork. Readers of the Art of Rush may be surprised to discover just how much effort went into each concept and the execution for every album cover. In the days before Photoshop, each element of the artwork had to be handcrafted and pieced together. Take the gatefold for Hold Your Fire, for example, Hugh first constructed a miniature set of a city street and then super-imposed a picture of a fireball juggler on it. It's akin to what the Hollywood special effects studio used to do. Nowadays, of course, Hugh utilizes digital technology to create Rush's art. But as Neil Peart adds, 'the tools got easier, but the thinking doesn't.' Some of the regaled stories include furtively crossing the border for a guerilla-style shoot for A Farewell to Kings, trying to herd a warren of rabbits for the cover of Presto, descending into the depths of an autopsy lab to find a brain for Hemispheres, building a pool inside Hugh's studio for Test for Echo, and a stunt involving fire, whiskey and photographer Deborah Samuel for Moving Pictures. But no history of the band's art would be complete without the story of the creation of arguably the band's most iconic image, The Starman, and cover art for 2112. 'From the first time Hugh and I met, we shared a level of communication that would sustain us through all the years of discussing art by long distance. We had the same values and tastes in images and design, and simply spoke the same language. That's why I off-handedly referred to him one time as 'serving a life sentence as my art director,' said drummer and lyricist Neil Peart, who has worked with Hugh on the art for every project Rush has released."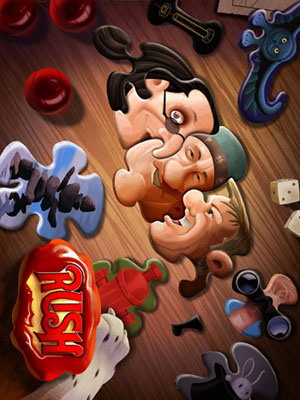 Rush Toons by Fantoons - Volume 2112, by David Calcano, 170 pages published by Fantoons, July 8, 2015
- Buy the paperback
"A 170-page fantoons book packed with RUSH comic strips, parodies, art and illustrations about the mother of ALL power trios. Created by David Calcano and launched in 2012, FANTOONS is an on-going comic strip that brings you comedy and art based on the greatest rock bands on the planet. We've released two books so far, and for this book, we're exclusively going to cover the mighty RUSH! We've created comics, art, and parodies with their rich history, covers, and of course ourselves...the obsessive fans."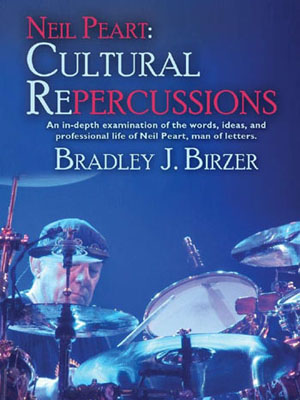 Neil Peart: Cultural Repercussions, by Brad Birzer, published by WordFire Press, September 15, 2015
- Buy the paperback, ebook
"Though Neil Peart is universally acknowledged as one of the greatest living drummers, few studies have been devoted to his writings. Yet, Peart is very much a man of his words. He writes lyrics, travelogues, short stories, essays, and books of cultural criticism. In terms of his cultural impact, he is also one of North America's greatest living men of letters. The themes he offers in his writings are timeless;: philosophy, journeys, growth, exploration, excellence, art, satisfaction, happiness, religion, politics, individualism, expression, natural history, cultural criticism, life, love, loss, redemption, and beauty. Peart wants every person to persevere through individual trials, and find his or her unique gifts and abilities and, ultimately, true happiness. Most tellingly, Peart does not just profess such things, he has lived them and continues to live them. Never satisfied with second best or any form of defeat, Peart challenges himself time and time again to live up to his own philosophy. And he has succeeded through great personal adversity and, at times, irrational professional jealousy of and hatred toward him, and he has always succeeded through grace. This book carefully examines the influence his life, his witness, and his words have had on others. Neil Peart has lived life to the fullest, and he has made us each better for it."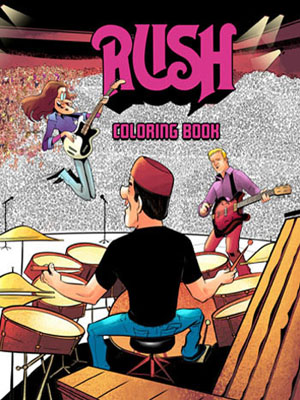 Rush Coloring Book, by David Calcano, 52 pages published by Fantoons, December 1, 2016
- Buy the paperback
"Officially licensed 52 page RUSH coloring book packed with art and humor and about the greatest power trio that ever crossed the earth! The mighty RUSH! Everyone can have fun and relax with this oversize coloring book (19x12) inches!"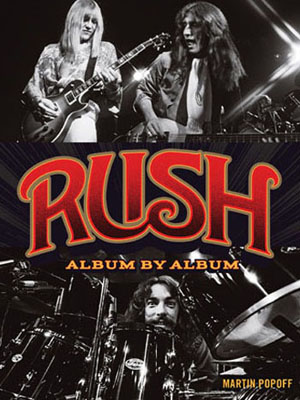 Rush: Album by Album, by Martin Popoff, 192 pages published by Voyageur Press, May 1, 2017
- Buy the hardback
"Find out what 20 rock journalists and writers have to say about Rush's 20 studio albums... This new book from prolific rock journalist and acknowledged Rush authority Martin Popoff pays tribute to the band's discography by moderating in-depth, frank, and entertaining conversations about all 20 of Rush's studio albums. Inside, the author gathers 20 rock journalists and authors who offer insights, opinions, and anecdotes about every release. Together, the conversations comprise a unique historical overview of the band, as well as a handsome discography. Popoff also includes loads of sidebars that provide complete track listings, details on album personnel, information on where and when the albums were recorded, and sidebar facts about the albums, their songs, and the band."
---
Books By Neil Peart
"In September of 1985, I joined that bicycle tour in China, and carried a journal and microcassette recorder with me, but deliberately no camera, experimenting with the idea of seeing the journey entirely through my own lenses, and trying to put it down in words. After that experience, I was moved to spend some time refining the narrative to a modest degree, and printed up a small private edition of fifty copies for fellow travelers and friends. Riding The Golden Lion led to other bicycle journeys, from Munich to Istanbul, from Barcelona to Bordeaux, from Calgary to Vancouver, and other little books: The Orient Express, Pedals Over The Pyrenees, Raindance Over the Rockies...Then came Africa, with an initial camping safari and Kilimanjaro climb that became the african drum (fashionable lower case, that one), followed by a bicycle tour in West Africa which would finally produce a book I was ready to publish, The Masked Rider." - Neil Peart, Traveling Music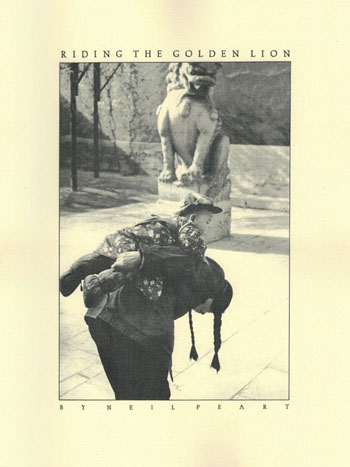 Riding The Golden Lion, by Neil Peart, 39 pages, limited edition of 50 copies privately published in 1985
- Read an excerpt
"When I got home from China I expanded my journal notes into a first attempt at travel writing, Riding the Golden Lion (the brand of my rented bicycle)." - Neil Peart, Far And Wide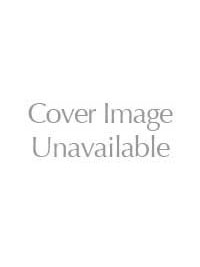 The Orient Express, by Neil Peart, limited edition of 50-100 copies privately published in 1987 or 1988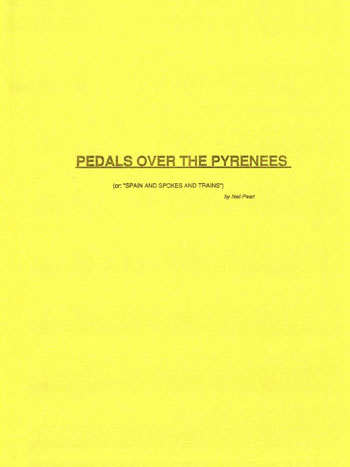 Pedals Over The Pyrenees: Spain And Spokes And Trains, by Neil Peart, 21 pages, limited edition of 65 copies privately published in 1988
- Read an excerpt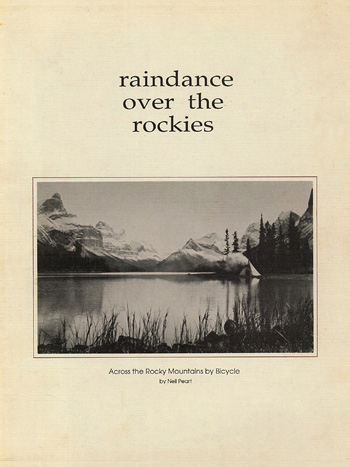 Raindance Over the Rockies: Across The Mountains By Bicycle, by Neil Peart, 21 pages, limited edition of 50-100 copies privately published by The Cumberland Press in 1988
- Read an excerpt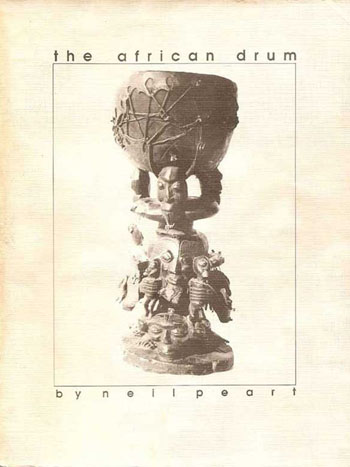 the african drum, by Neil Peart, 205 pages, limited edition of 100 copies privately published by The Cumberland Press in 1988
- Read an excerpt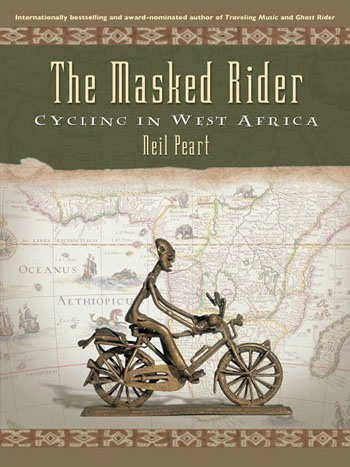 The Masked Rider: Cycling In West Africa, by Neil Peart: first edition 167 pages, limited edition of 50 copies privately published by The Cumberland Press, 1990 (click for cover); second edition 286 pages published by Nimbus Publishing, Ltd., 1996 (click for cover); third edition 260 pages published by ECW Press, June 2004
- Buy the hardback, paperback, ebook, audiobook
"'Cycling is a good way to travel anywhere, but especially in Africa. You are independent and mobile, and yet travel at people speed--fast enough to travel on to another town in the cooler morning hours, but slow enough to meet people: the old farmer at the roadside who raises his hand and says, 'You are welcome,' the tireless women who offer a smile to a passing cyclist, the children whose laughter transcends the humblest home.' So begins the text of Neil Peart's extraordinary journal about riding a bicycle on the roads and off the beaten track in West Africa. The Masked Rider is about the bike trek and the people who travel along with the author, including literary sidekicks Aristotle and Vincent Van Gogh. Sometimes it's a story of a tour of hell-Dante on a bicycle-as he suffered the pains of dysentery and stares down the muzzle of a drunk soldier's machine gun. Other times it's a journey of exalted discovery and African adventure of the highest calibre."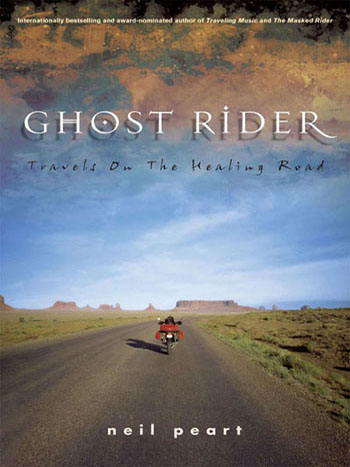 Ghost Rider: Travels on the Healing Road, by Neil Peart, 406 pages published by ECW Press, June 1, 2002
- Buy the hardback, paperback, ebook, audiobook, read an excerpt
"Within a ten-month period, Neil Peart suffered family losses so devastating that they left him a ghost - physically a man but with nothing. No hope, meaning, faith, or desire to keep living. One year after the first tragedy, Neil was choosing between life and his own death. Finally, all he could decide was motion. He got on his BMW R1100GS motorcycle, and over the next 14 months, rode 55,000 miles, in search of a reason to live. On a journey of escape, exile, and exploration, he travelled from Quebec to Alaska, down the Canadian and American coasts and western regions, to Mexico and Belize, and finally back to Quebec. While riding "the Healing Road," Neil recorded in his journals his progress and setbacks in the grieving/healing process, and the pain of constantly reliving his losses. He also recorded with dazzling, colourful, entertaining, and moving artistry, the enormous range of his travel adventures, from the mountains to the sea, from the deserts to Arctic ice, and the dozens of memorable people, characters, friends, and relatives he met along the way, and who increasingly contributed to his healing and sense of meaning and purpose. He begins the journey with nothing, "the Ghost Rider." What he finally attains is joy, love, and indelible memories of the most extraordinary journey of his life. Ghost Rider is a bold, brilliantly written, intense, exciting, and ultimately triumphant narrative memoir from a gifted writer and musician, who started out as a man reduced to trying to stay alive by staying on the move."

Nominated for the biography prize category of the second annual Great Literary Awards sponsored by the Writers' Trust of Canada, the award was given to Warren Cariou for Lake of the Prairies: A Story of Belonging.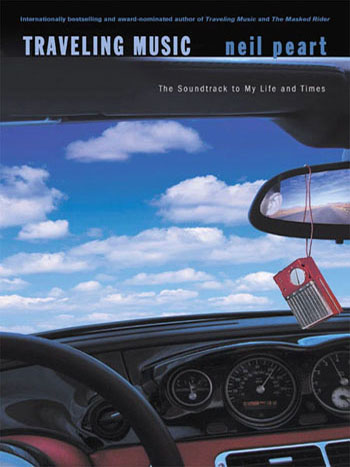 Traveling Music: Playing Back The Soundtrack To My Life And Times, by Neil Peart, 440 pages published by ECW Press, June 2004
- Buy the hardback, paperback, ebook, audiobook
"Neil Peart decided to drive his BMW Z-8 automobile from L.A. to Big Bend National Park, in Southwest Texas. As he sped along "between the gas-gulping SUVs and asthmatic Japanese compacts clumping in the left lane, and the roaring, straining semis in the right," he acted as his own DJ, lining up the CDs chronologically and according to his possible moods. 'Not only did the music I listened to accompany my journey, but it also took me on sidetrips, through memory and fractals of associations, threads reaching back through my whole life in ways I had forgotten, or had never suspected...Sifting through those decades and those memories, I realized that I wasn't interested in recounting the facts of my life in purely autobiographical terms, but rather...in trying to unweave the fabric of my life and times. As one who was never much interested in looking back, because always too busy moving forward, I found that once I opened those doors to the past, I became fascinated with the times and their effect on me. The songs and the stories I had taken for granted suddenly had a resonance that had clearly echoed down the corridors of my entire life, and I felt a thrill of recognition, and the sense of a kind of adventure. A travel story, but not so much about places, but about music and memories. In my book Traveling Music, I wrote about all the music that had meant so much to me. In Bob Dylan's term: 'What music should do is inspire you.' But, of course, I had to have some bile in there - for all the stuff that I hated. And my editor said: 'Don't bother. Concentrate on the excellence.' So I cut it. And he was right. I needed to write it, to vent my spleen, but I didn't need to share that." - Neil Peart, Classic Rock, June 2013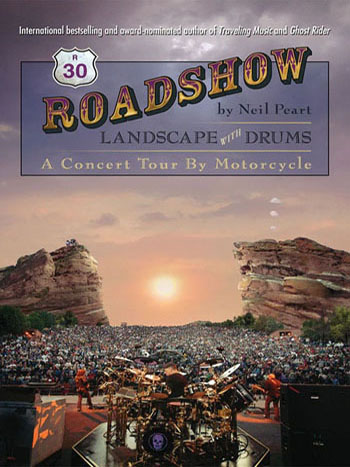 Roadshow: Landscape With Drums, A Concert Tour By Motorcycle, by Neil Peart, 380 pages published by Rounder Books, September 25, 2006
- Buy the hardback, paperback, ebook, audiobook
"In 2004, the veteran rock band Rush launched their Thirtieth-Anniversary Tour, performing fifty-seven shows in nine countries, in front of 544,525 people. Drummer and lyricist Neil Peart launched his own parallel tour, riding between those fifty-seven shows on his BMW motorcycle. From Los Angeles to Nashville, Salt Lake City to Key West, Prague to Berlin, Peart covered 21,000 miles, through nineteen countries. Along the way he kept a journal of his impressions, writing about those countries, and those fifty-seven shows, with the aim of documenting the tour as "the biggest journey of all in my restless existence: the life of a touring musician."

"This book works on different levels...On the one hand, it became the logical culmination of so many desires to try and explain what it is really like to be a touring musician and the kinds of personal and artistic conflicts that exist in trying to survive and make a living doing something creatively satisfying." - Neil Peart, ChartAttack.com, November 10, 2006

First announced by his publishers in 2007, Neil Peart had intended to release The Roadshow Illustrated Companion. However, plans for this companion book were later canceled.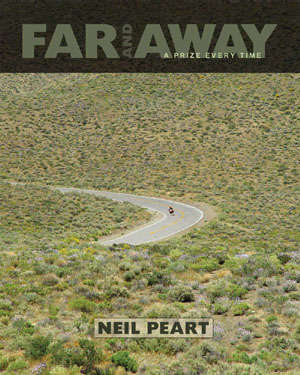 Far And Away: A Prize Every Time, by Neil Peart, 296 pages published by ECW Press, April 1, 2011
- Buy the hardback, paperback, ebook, audiobook
"Following in the tradition of Ghost Rider and Traveling Music, Rush drummer Neil Peart relates nearly four years of band tours, road trips, and personal discoveries in this introspective travelogue. From the ups and downs of a professional artist to the birth of a child, this revealing narrative recounts 22 adventures from rock's foremost drummer, biker enthusiast, husband and father. Both playful and insightful, Peart's love of drumming and the open road weaves throughout the stories as Neil explores horizons that are both physical and spiritual, sharing his observations about nature, society, and the self. Full-color photos round-out this tour of the open road that will resonate with Rush fans and motorcycle enthusiasts alike."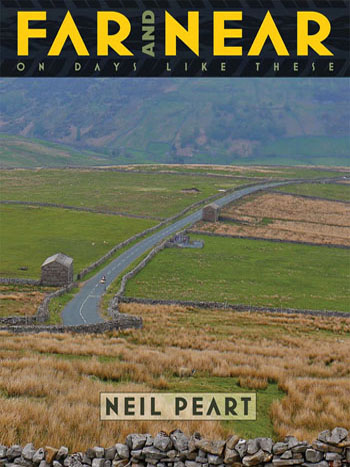 Far And Near:On Days Like These, by Neil Peart, 312 pages published by ECW Press, October 14, 2014
- Buy the hardback, paperback, ebook, audiobook
"Whether navigating the backroads of Louisiana or Thuringia, exploring the snowy Quebec woods, or performing onstage at Rush concerts, Neil Peart has stories to tell. His first volume in this series, Far and Away, combined words and images to form an intimate, insightful narrative that won many readers. Now Far and Near brings together reflections from another three years of an artist?s life as he celebrates seasons, landscapes, and characters, travels roads and trails, receives honors, climbs mountains, composes and performs music. With passionate insight, wry humor, and an adventurous spirit, once again Peart offers a collection of open letters that take readers on the road, behind the scenes, and into the inner workings of an ever-inquisitive mind. These popular stories, originally posted on Peart's website, are now collected and contextualized with a new introduction and conclusion in this beautifully designed collector's volume."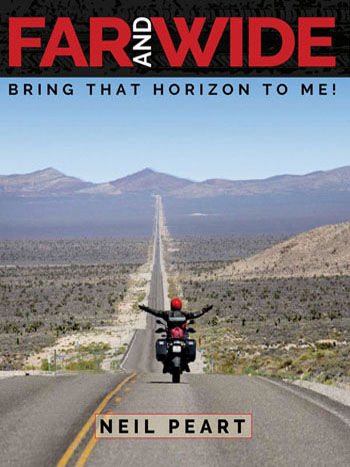 Far And Wide: Bring That Horizon To Me!, by Neil Peart, 304 ages published by ECW Press, September 13, 2016
- Buy the hardback, ebook, audiobook
"Thirty-five concerts. 17,000 motorcycle miles. Three months. One lifetime. In May 2015, the veteran Canadian rock trio RUSH embarked on their fortieth anniversary tour, 'R40'. For the band and their fans, 'R40' was a celebration and, perhaps, a farewell. But for Neil Peart, each tour is more than just a string of concerts, it's an opportunity to explore backroads near and far on his BMW motorcycle. So if this was to be the last tour and the last great adventure, he decided it would have to be the best one, onstage and off. This third volume in Peart's illustrated travel series shares all-new tales that transport the reader across North America and through memories of fifty years of playing drums. From the scenic grandeur of the American West to a peaceful lake in Quebec's Laurentian Mountains to the mean streets of Midtown Los Angeles, each story is shared in an intimate narrative voice that has won the hearts of many readers. Richly illustrated, thoughtful, and ever-engaging, Far and Wide is an elegant scrapbook of people and places, music and laughter, from a fascinating road - and a remarkable life."
---
Rush Tour Books
---
Rush Fiction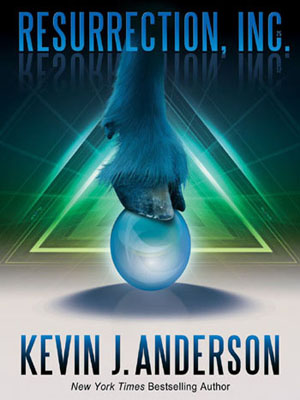 Resurection, Inc., by Kevin J. Anderson, July 5, 1988
- buy paperback
"It is the future - and the dead walk the streets, resurrected by technology to become servants to the living. Resurrection, Inc. found a profitable way to do it: a microprocessor brain, a synthetic heart, artificial blood - and anyone with money could buy a Servant with no mind of its own, trained to obey any command. But for every Servant created a living worker was out of a job, and suddenly the profits of Resurrection, Inc. became everyone else's loss. Some take to rioting in the streets, their rampages ruthlessly ended by heavily armed Enforcers, eager for the kill. Others join the ever-growing cult of Neo-Satanism, seeking Heaven in the depths of Hell. Only one man tries to save the world. His name is Danal, and he is the last hope of the living. He is dead, but he remembers everything."

"Resurrection, Inc. was inspired by the whole Grace Under Pressure album. 'Someone to talk to and someone to sweep the floor' - that's the Servants. The Enemy Within is all about the main character, 'are we the last ones left alive' is all about the Wakers. In the recent ECW reissue of Resurrection, Inc., I wrote an extensive foreword about how the book was influenced by Rush. I noted that in the acknowledgments of the original publication, and that's how Neil and I got in touch more than 25 years ago." - Kevin J. Anderson, 2112.net, June 18, 2015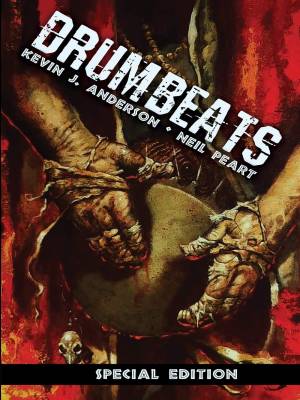 Drumbeats, by Kevin J. Anderson and Neil Peart, published in the anthology Shock Rock II by Pocket Books, January 1994, later published as an "Expanded Edition" ebook, July 20, 2010
- buy paperback
"The theme of the anthology is 'horror stories about rock & roll.' I got the idea for 'Drumbeats,' about a rock drummer bicycling through Africa between concert tours, and some weird stuff that happens to him. I had the story, but I didn't have the details...neither the details about Africa nor the details about life as a rock star. But Neil did, so I asked if I could lift sections of description from his journals, and get some background from him. He thought it was a cool idea and gave me permission to do so. I drafted up the story, mailed him a disk, and he gave it a polish and added more details. I did a final polish and sent it off to the editor, who promptly accepted it. It's a genuine collaboration -- I'd say about half the words in the story are Neil's, half mine, and the tale really works, I think. Neil likes it." - Kevin J. Anderson, via email to the National Midnight Star's Jimmy Lang, September 1993

"...Kevin did all the work; I just supplied some African background and French dialogue." - Neil Peart, "Neil's Picks for Quality Reading, Issue #3", Fall 2005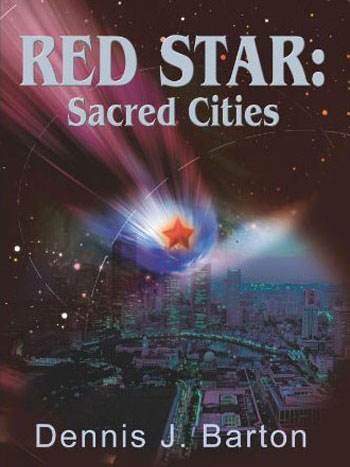 Red Star: Sacred Cities, by Dennis J. Barton, 500 pages published by Writers Club Press, March 24, 2002
- buy paperback
"Welcome to the year 2112. Enter the Temples of Syrinx. Hold the Red Star proudly high in hand. Surrender. Obey. The year is 2112. Religion and technology have been leveraged to control the lives and minds of humankind. Truth is a lie. Oppression is the rule. The Great CPU and His prophet have sought to do away with free will. But there remain a few righteous hearts. A boy who dares to question; a disillusioned Vigilance officer; an old man with a country-place that used to be a farm. The future of human destiny rests in the hands of these disparate few, and theirs is the anthem of freedom, of rebellion. A ground-breaking science fiction epic inspired by the works of Rush, Red Star: Sacred Cities is the first of a series sure to thrill hard-core Rush fans and sci-fi addicts alike."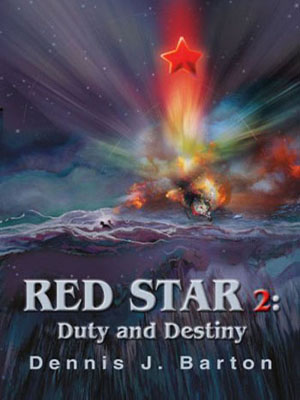 Red Star 2: Duty and Destiny, by Dennis J. Barton, 392 pages published by Writers Club Press, March 20, 2003
- buy paperback
"Righteous hearts beware. Vice Chancellor Lifeson is dead. His son, David, is lost in the wilderness far beyond the wire. David's Uncle Robert, the last living hacker, is trapped within a hostile city where an artificial intelligence awakens to believe that it is the holy scion of God."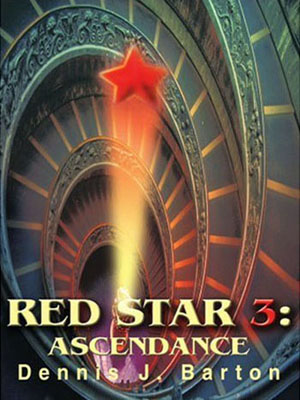 Red Star 3: Ascendance, by Dennis J. Barton, 340 pages published by iUniverse, Inc., September 30, 2003
- buy paperback
"2112: The living spirit of Almighty Harold asserts its power in Megadon. The new Vice Chancellor, Thomas O. Ryan, races to save David Lifeson and Mal from the lethal Colonel-become-Bishop Compaq. Surgeon General Wang kidnaps David's mother, Magenta, without any idea who or what she truly is or the danger she represents. Uncle Robert delves into a mysterious file containing a journal describing his brother Billy's perilous journey through the black hole of Cygnus X-1. 2047: Michael Lifeson defends teenaged Harold from assassination attempts while Maggie and Robert strike out to unravel the true motives of the young religious leader and discover in New Imperial Japan the roots of a dark plot with earth-shattering implications."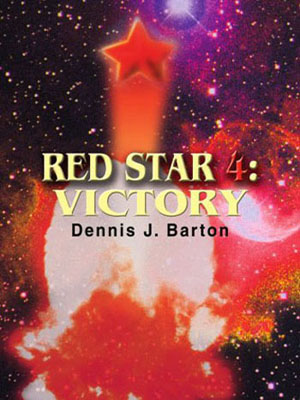 Red Star 4: Victory, by Dennis J. Barton, 240 pages published by iUniverse, Inc., June 2004
- buy paperback
"The living spirit of Almighty Harold is alive in Megadon, but its evil is not unopposed. Thomas Ryan starts a daring rebellion, leading an impromptu army from the Lower Levels onward and upward through the city, while Maggie, Robert and Rosella Lifeson make a desperate bid to destroy the Great Computer at Syrinx. As these others make their attacks, young David and Mal carry out their own silent but insidious strike against the monster within the machine. 2049: Harold launches a nuclear holocaust and begins to rebuild the world in his own twisted image. Only Robert and Jimmy Lifeson, along with a handful of free-thinkers, dare to oppose him."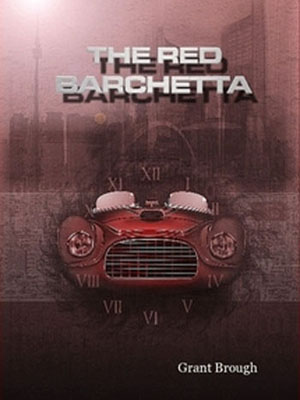 Red Barchetta, by Grant Brough, 491 pages, October 7, 2008
- buy hardback
"Based on the 1980's hit song from the Canadian group Rush, The Red Barchetta takes place in the future where the internal combustion engine has been illegalized. Technology has made mind control possible and some in the government want to capitalize on this form of power. Matt Cummins is an average citizen who becomes the only one who can stop those who want to use the mind control technology, with the help of his uncle and a 1949 Ferrari."
Ellison & Amos: Inspired by a True Story, by Charlie Gibbons, 239 pages, March 28, 2013
- buy paperback
"When a rock 'n roll legend loses everything of meaning, Ellison embarks on his motorcycle to find himself, but faces his greatest fear - the fan. Converging on the historic Dawson City, Yukon, Amos coincidentally comes to Ellison's rescue. But not until circumstances separate them does Ellison realize how much he has changed, and sets out to complete Amos' story."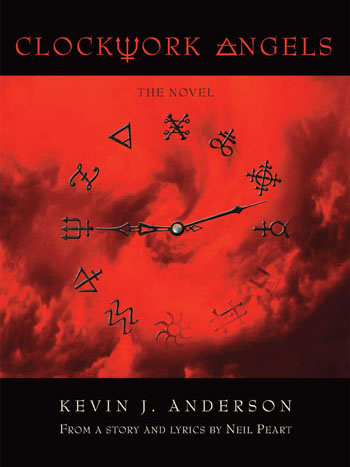 Clockwork Angels: The Novel, by Kevin J. Anderson, from a story and lyrics by Neil Peart, 320 pages with 14 illustrations by Hugh Syme published by ECW Press, September 4, 2012
- buy the hardback, paperback, ebook, audiobook, "Watchmaker's Edition" audiobook (read the audiobook synopsis)
"In an innovative combination of music and literature, bestselling science fiction author Kevin J. Anderson and Rush drummer and lyricist Neil Peart have collaborated to convert the legendary rock band's latest album, Clockwork Angels, into a full-lengh steampunk novel. The music throughout the Clockwork Angels - the band's 20th studio album - forms the backbone of a colorful adventure story, which is now fully realized in Clockwork Angels: The Novel (ECW Press, September 4, 2012). The story tells of a young man caught between the grandiose forces of order and chaos. On a quest to follow his dreams, he travels across a lavish and colorful world of steampunk and alchemy, with lost cities, pirates, anarchists, exotic carnivals, airships and steam engines, and a rigid Watchmaker who imposes precision on every aspect of daily life."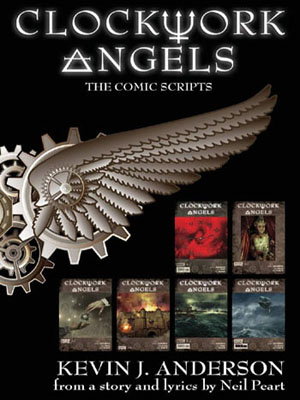 Clockwork Angels: The Comic Scripts, by Kevin J. Anderson, from a story and lyrics by Neil Peart, 264 pages published by WordFire Press, December 2, 2014
- buy paperback
"Clockwork Angels is a steampunk fantasy adventure-and an innovative multimedia feast! Based on a story and lyrics by legendary drummer Neil Peart, Clockwork Angels became the worldwide bestselling concept album by Rush and was developed into a New York Times bestselling and award-winning novel by Kevin J. Anderson. Anderson and Peart, working with comics artist Nick Robles, brought the epic tale to a visual canvas, a six-issue graphic novel published by BOOM! Studios. Clockwork Angels: The Comic Scripts pulls aside the creative curtain, showing the original scripts, panel by panel, interactions between author and artist, as well as all the secret "Easter eggs" intentionally planted throughout the images as a special treat for Rush fans. Clockwork Angels: The Comic Scripts is a fascinating book in its own right, to be studied by comic writers, Rush fans, Kevin J. Anderson fans-and anyone interested in a truly astonishing story of a young man's journey across a remarkable steampunk landscape with airships, pirates, alchemy, lost cities, a fabulous carnival, and a hero who insists on making his dreams come true."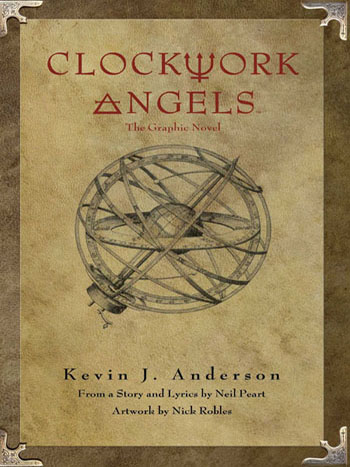 Clockwork Angels: The Graphic Novel, by Kevin J. Anderson, from a story and lyrics by Neil Peart, artwork by Nick Robles, 144 pages published by BOOM! Studios/ECW Press. Published as a six issue comicbook series in 2014, compiled as a graphic novel September 15, 2015.
- buy paperback
"The graphic novel adaptation of the unprecedented concept album and novel from the multi-platinum, Rock & Roll Hall of Fame music legends RUSH and NY Times Bestselling author Kevin J. Anderson! Owen Hardy, like all the people of Albion, has lived his whole life under the rule of The Watchmaker. His entire life has been planned down to the exact second. But what happens when a young boy decides that things should not always goes as planned? Rush's Clockwork Angels is a testament to the band's creative versatility - it has been successful as a concept album, novel, and international tour. Now, Rush drummer and lyricist Neil Peart and New York Times bestselling author Kevin J. Anderson are bringing the story of Clockwork Angels to comics, where newcomer artist Nick Robles will bring the journey of Owen Hardy to visual life! Die-hard Rush fans have longed for Peart's narrative songwriting to be adapted into comic book form for decades, but fans of steampunk fantasy will enjoy journeying into the world of Albion thanks to Anderson's skilled storytelling. Collects the complete story originally published in Clockwork Angels #1-6."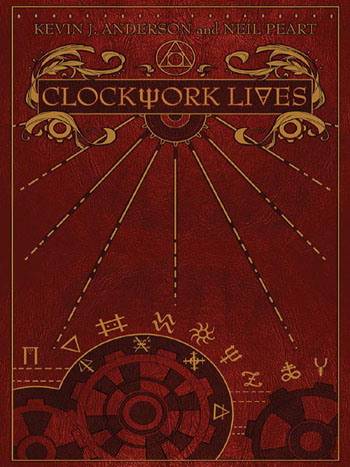 Clockwork Lives, by Kevin J. Anderson and Neil Peart, 304 pages published by ECW Press, September 15, 2015
- buy hardback, ebook
"Some lives can be summed up in a sentence or two. Other lives are epics. In Clockwork Angels, #1 bestselling author Kevin J. Anderson and legendary Rush drummer and lyricist Neil Peart created a fabulous, adventurous steampunk world in a novel to accompany the smash Rush concept album of the same name. It was a world of airships and alchemy, clockwork carnivals, pirates, lost cities, a rigid Watchmaker who controlled every aspect of life, and his nemesis, the ruthless and violent Anarchist who wanted to destroy it all. Anderson and Peart have returned to their colorful creation to explore the places and the characters that still have a hold on their imagination. Marinda Peake is a woman with a quiet, perfect life in a small village; she long ago gave up on her dreams and ambitions to take care of her ailing father, an alchemist and an inventor. When he dies, he gives Marinda a mysterious inheritance: a blank book that she must fill with other people's stories - and ultimately her own. Clockwork Lives is a steampunk Canterbury Tales, and much more, as Marinda strives to change her life from a mere "sentence or two" to a true epic."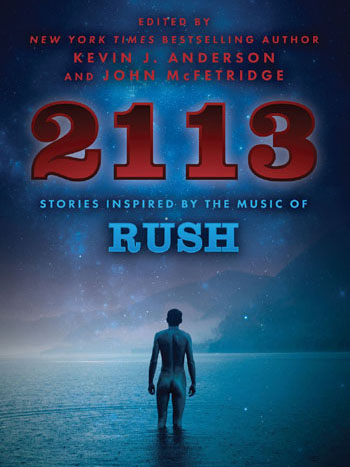 2113: Stories Inspired by the Music of Rush, edited by Kevin J. Anderson and John McFetridge, 420 pages published by ECW Press, April 12, 2016
- buy paperback, ebook, audiobook
"The music of Rush, one of the most successful bands in music history, is filled with fantastic stories, evocative images, thought-provoking futures and pasts. In this anthology, notable, bestselling, and award-winning writers each chose a Rush song as the spark for a new story, drawing inspiration from the visionary trio Geddy Lee, Alex Lifeson, and Neil Peart. From stark dystopian struggles to uplifting triumphs of the human spirit, the characters populating 2113 find strength while searching for hope in a world that is repressive, dangerous, or just debilitatingly bland. Most of these tales are science fiction, but some are fantasies, thrillers, even edgy mainstream. Many of Rush's big hits are represented, as well as deeper cuts...with wonderful results. This anthology also includes the seminal stories that inspired the Rush classics 'Red Barchetta' and 'Roll the Bones,' as well as Kevin J. Anderson's novella sequel to the groundbreaking Rush album 2112. 2113 contains stories by New York Times bestselling authors Kevin J. Anderson, Michael Z. Williamson, David Alan Mack, David Farland, Dayton Ward, and Mercedes Lackey; award winners Fritz Leiber, John McFetridge, Steven Savile, Brad R. Torgersen, Ron Collins, David Niall Wilson, and Brian Hodge, as well as many other authors with their imaginations on fire."