Hold Your Fire
---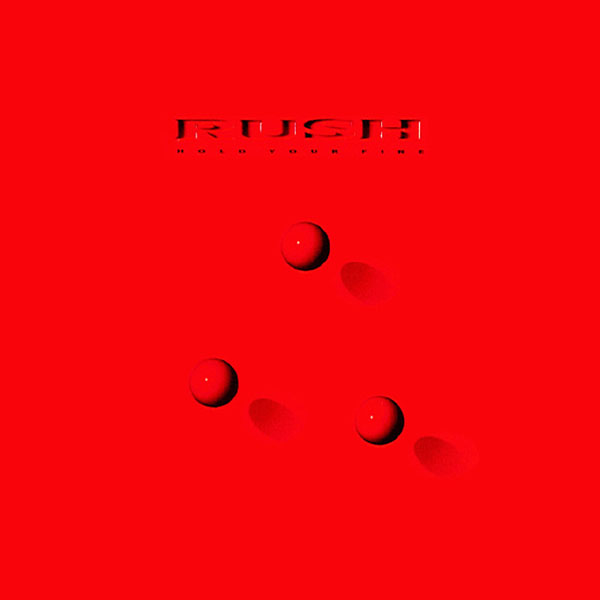 Buy CD
|
iTunes
|
Vinyl
Force Ten (4:28)
Time Stand Still (5:07)
Open Secrets (5:37)
Second Nature (4:35)
Prime Mover (5:19)
Lock And Key (5:08)
Mission (5:15)
Turn The Page (4:53)
Tai Shan (4:14)
High Water (5:32)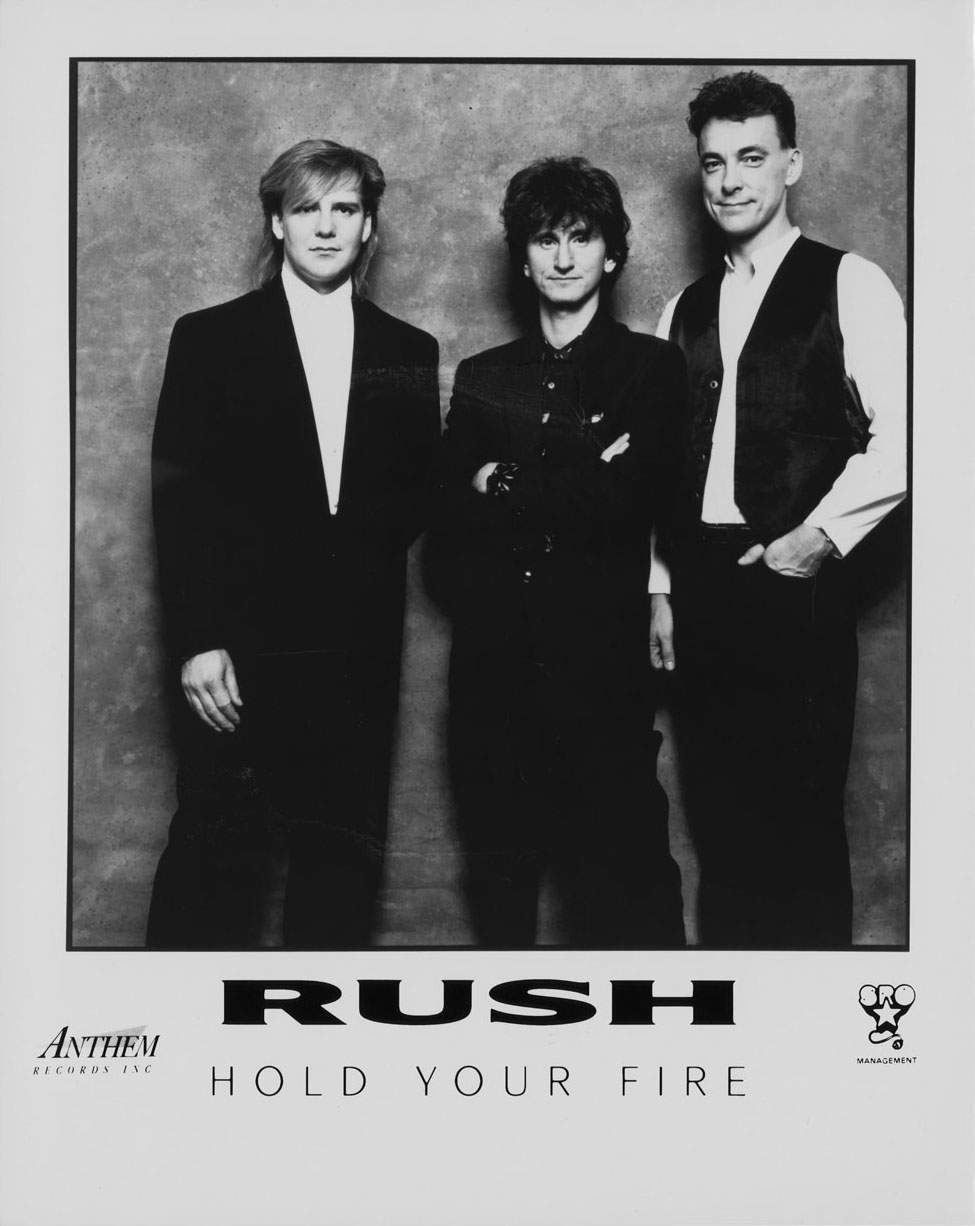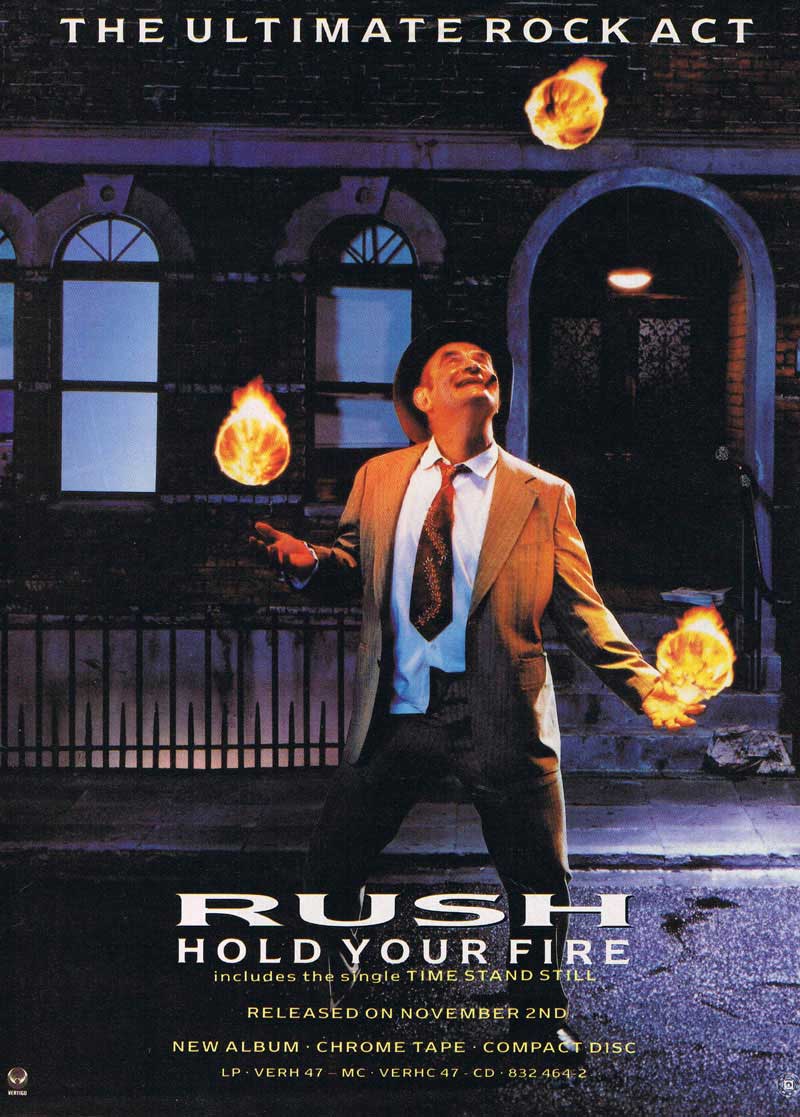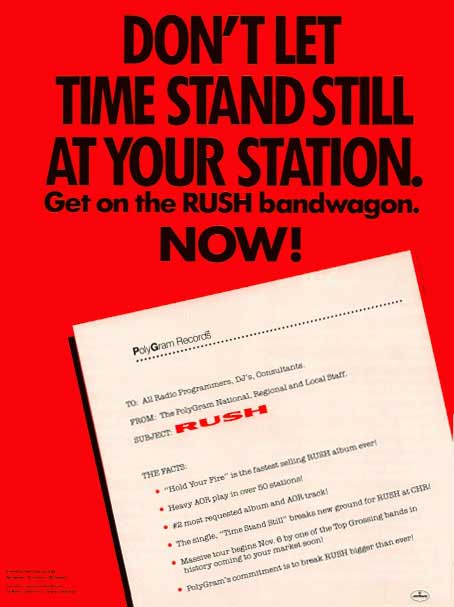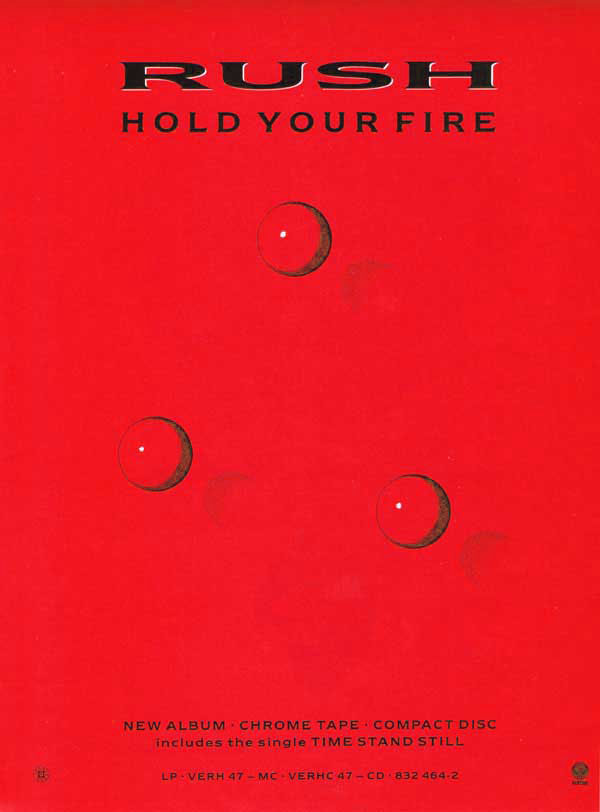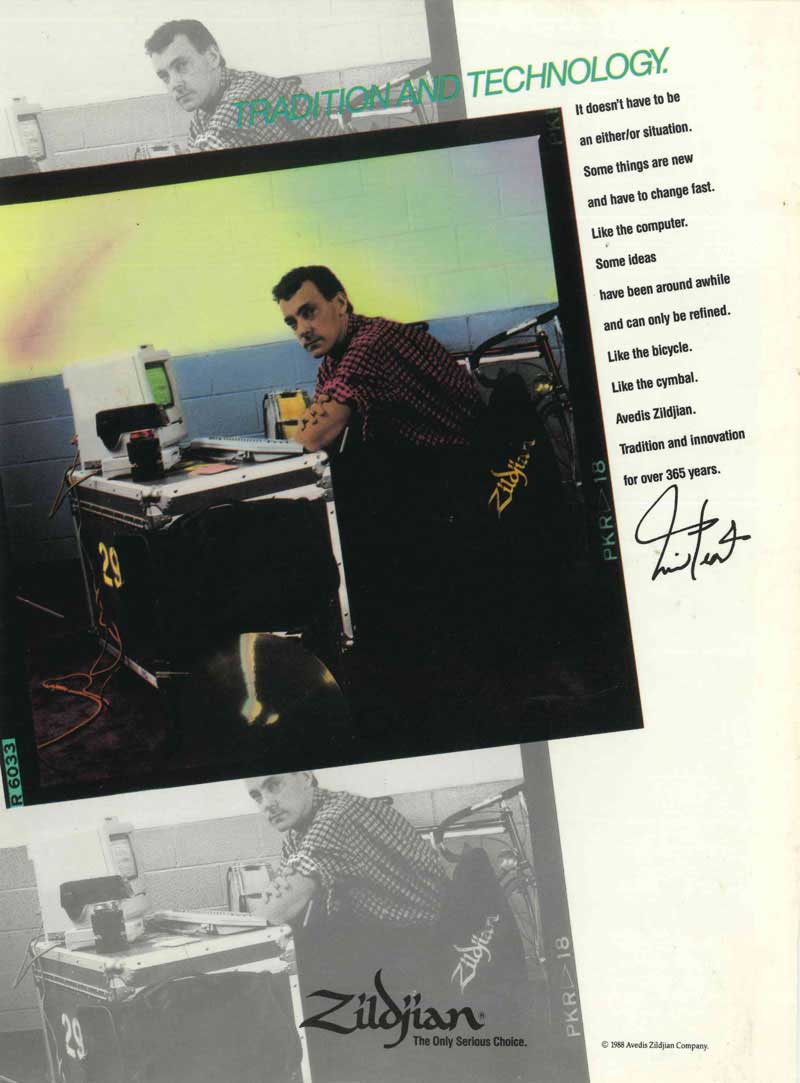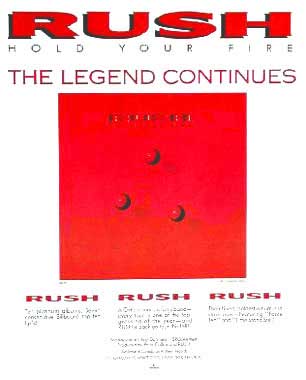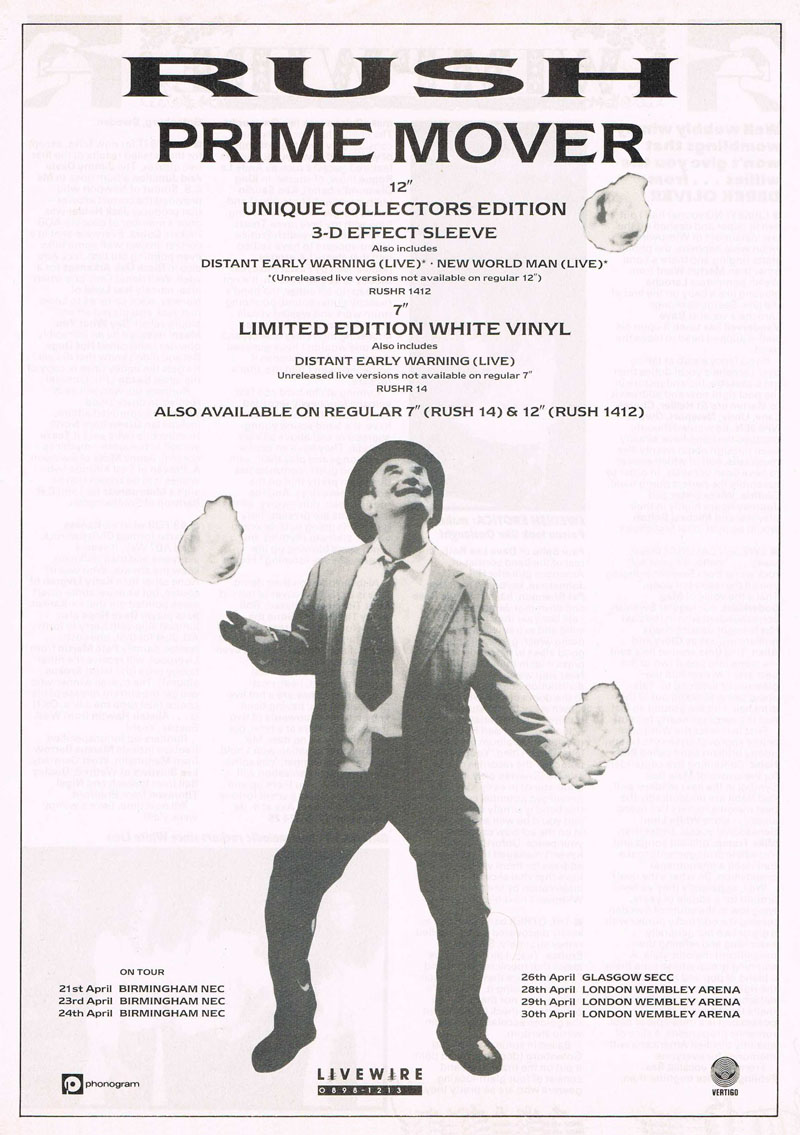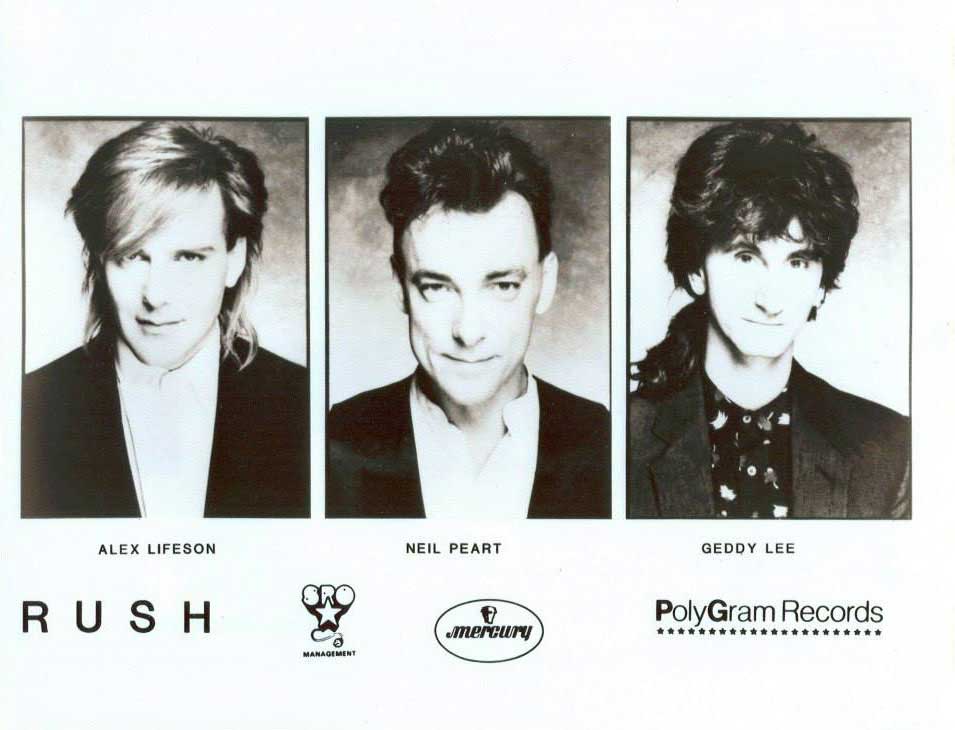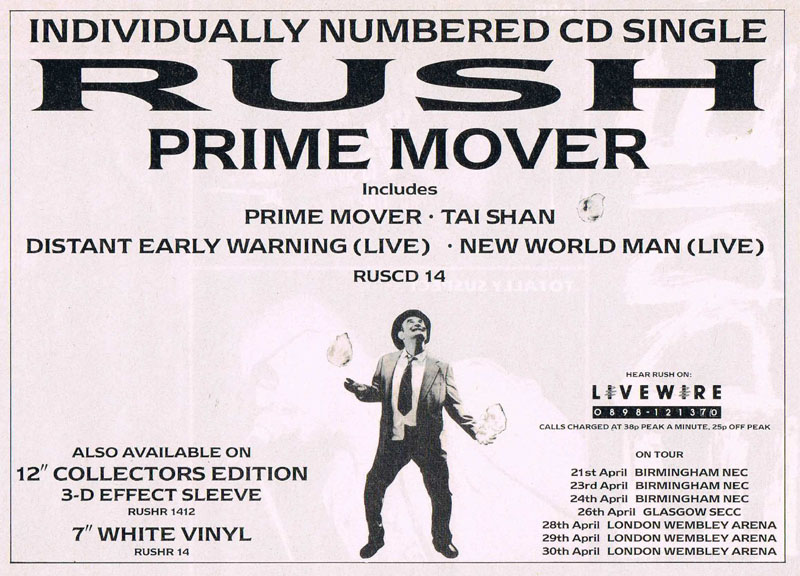 Geddy Lee: Bass guitar, synthesizers, bass pedals, vocals
Alex Lifeson: Electric and acoustic guitars
Neil Peart: Drums, percussion, and electronic percussion

Produced by Peter Collins and Rush
Engineered by Jimbo (James) Barton
Arrangements by Rush and Peter Collins

Recorded at The Manor, Oxfordshire assisted by Micheal Ade, Ridge Farm Studio, Surrey, assisted by Reynold Swan, Air studios, Montserrat, assisted by Ken Blair, McClear Place, Toronto, assisted by Martin Lee, and on the Lerxst Mobile, assisted by Lerxst, between January and April 1987
Mixed at Guillaume Tell Studio, Paris, May 1987, assisté de Philip Cusset

Synthesizer programming assisted by Andy Richards and Jim Burgess
Additional keyboards by Andy Richards
Additional vocals by Aimee Mann, courtesy of Epic Records
Strings arranged and conducted by Steven Margoshes, recorded at McClear Place
The William Faerey Engineering Brass Band arranged and conducted by Andrew Jackman, recorded at Mirage Studio, Oldham, England
Preproduction work at Elora Sound, engineered by Jon Erickson

Management by Ray Danniels, SRO Management, Inc., Toronto
Executive Production by Moon Records, Val Azzoli and Liam Birt

Art Direction by Hugh Syme
Photography by Glen Wexler
Urban Development by Scott Alexander, Patrick Johnson and Olivia Ramirez

Tour Manager and Lighting Director: Howard Ungerleider
President and Stage Manager: Liam Birt
Production Manager: Nick Kotos
Concert Sound Engineer: Jon Erickson
Stage Left Technician: Skip Gildersleeve
Centre Stage Technician: Larry Allen
Synthesizer Maintenance: Tony Geranios
Stage Right Technician: Jim Johnson
Stage Monitor Engineer: Steve Byron
Concert Projectionist: Lee Tenner
Personal Shreve: Kevin Flewitt
Carpenter (and Stage Right Assistant): George Steinert

Concert Sound by See Factor: Jim Staniforth, Bill Fertig, Tom Varaday, Harry Martinez
Concert Lighting by See Factor: Frank Scilingo, Jack Funk, Scott Maskin, Ethan Weber
Concert Rigging by Southfire Rigging, Billy Collins, Don Collins, C.J. Titterington III
Lasers by Laser Media, Craig Spredeman, Peter Callahan
Drivers: Tom Whittaker, Mac MacLear, Pat Lynes, Red McBrine, Earl Charles, Tom Mullins, John Mullins, Tom Hartman and Russell Fleming

"Nothing can survive in a vacuum"- and we would like to thank all those who have enriched our atmospheres: Bill, Linda, and Joanne at Elora Sound; Lynne, Mike, Michael, Ian, Jenni, Vicki, Julie, Flecky and Fruthy at The Manor; Frank, Ann, Ren, Fee, Laura, Tracy and Speedy at Ridge Farm; Yvonne, Malcolm, Ken, Frank, George, Franklin, Desmond, Lloyd, Leroy, Felena, Shirley and Danny in Montserrat; Bob, Martin, Tom, Hayward, Wendy and everyone at McClear Place, and Roland, Liouba, Paul, Alain, Cyril and Philip at Guillaume Tell. Elsewhere we have been aided and/or entertained by: the Steve Morse Band and crew, Jeff "Yankel" Berlin, Bill Churchman, Paul Fejdman, Flembo, Stade Roland Garros, International Herald Tribune, Rock-it Cargo, B. Zee Brokers, Warren Seyffert, Jeff Spinks, Rockin' F, Pee Wee's Playhouse, Princess Lynda Barry, The Senator, Macintosh Plus, the Gangster of Boats, the ever popular Scoozball, M. Joe (for continuing inspiration), Those Darn Fish, Patsy Cline, Roy Gevalt, The Big V, Luke Warm and all cowboys everywhere.
And perpetual thanks to our "support crew" at the Anthem Entertainment Group: Ray, Val, Sheila, Pegi, Lesley, Linda, Charlene, Bob and Cindy.

We gratefully acknowledge the technical assistance of Jim Burgess and "Saved By Technology," Wal Basses, Russ Heinl, Signature Guitars, The Percussion Center of Fort Wayne, Ludwig Drums, Avedis Zildjian Cymbals, Brisbin Brook Beynon Architects, and-

The Omega Concern.

Mercury, September 8, 1987
© 1987 Mercury Records © 1987 Anthem Entertainment
---
Notes:
Certified Gold by RIAA: November 9, 1987 - Highest Billboard Chart Position: 13
A 4:43 promo edit of "Time Stand Still" was released.
"Prime Mover" was released on various singles on April 11, 1988, to promote their UK tourdates. A 7" single was backed by "Tai Shan"; a 12" wich also included "Open Secrets"; another 7" single was pressed to white vinyl and includes "Distant Early Warning" live from the Grace Under Pressure soundtrack; a 12" 3D sleeve which includes "New World Man" live from the p/g soundtrack; and a "Strictly Limited Edition Single" included "Tai Shan" and both live tracks.
Reissued January 8, 2016 by Universal Music Enterprises on 200-gram, heavyweight vinyl with a download code for a 320kbps MP4 vinyl ripped Digital Audio album download as well as high resolution Digital Audio editions in DSD (2.8mHz), 192khz / 24-bit, 96kHz / 24-bit.
In Their Own Words
"There was a different method to our madness this time. We did it over a four to six month period, and every three weeks we'd take a week off so we could go home and echarge our batteries. And whenever we got back together for the next three week leg, it would be in a different country and a different environment and sometimes a little exotic, so we spoiled ourselves a little bit and we really enjoyed making the record." - Geddy Lee, "Rockline", October 5, 1987
"Ironically, the opening song, 'Force Ten', was almost an afterthought. In the tradition of those last-minute, spontaneous songs like 'New World Man', 'Vital Signs' and 'Natural Science', we put it together on the very last two days we had for writing." - Neil Peart, "Fireworks", Hold Your Fire Tourbook
"When we first wrote 'Time Stand Still', we knew that there was this part that wouldn't be satisfiying for myself to sing, just because we wanted a different texture there. We didn't want to take my voice and put echo on it or gimmick it up or some kind of unusual sound. So we thought 'Well, we've really enjoyed working with other people over the last couple of albums, so it would be nice if we could get somebody in who was a singer'. And we thought the part was a soft part texturally, so we thought 'female voice' and we listened to a number of records and we listened to Aimee's last record, What About Love, and we just loved her voice. Basically it was a very simple matter of calling up her management, phoning her up, sending her a copy of the song and asking her if she wanted to do it, which she thankfully did." - Geddy Lee, "Rockline", October 5, 1987
"We thought about asking Cyndi Lauper at first, and then we approached Chrissie Hynde because we thought she'd be perfect. But Chrissie was unavailable at the time so we called in Aimee Mann who was in a band called Til Tuesday, and she worked out really well. Her voice blends with Geddy's perfectly and I think it creates the right atmosphere for the song. It's just something new for Rush..." - Alex Lifeson, Kerrang!, October 17, 1987
"They called me up and asked me if I would sing. And I thought, Rush? That's not my kind of thing. So I listened to the song, and the part was this little falsetto thing. It was cute. I don't mind the song. They gave me $2,000. That's a lot of dough. They flew me up to Toronto, and they were really funny. Well, except for Neil [Peart]. He wasn't very funny. But the other two guys are very, very funny... You'd be surprised how many Rush fans come up to me and ask about that. Rush fans are pretty diehard." - Aimee Mann, The A.V. Club, November 15, 2000
"For 'Time Stand Still,' we really wanted a female voice. Someone sent us a Til Tuesday album and we decided their singer, Aimee Mann, had the range to do it. She came up and worked hard for it. In concert, we have a film of her singing, so that we have her presence. It was the most honest way we could think of to do it live." - Neil Peart, Buffalo News, November 13, 1987
"I remember 'Mission' was a song Peter Collins just loved. And at some point in Britain, when we were working on it, he really wanted to do what he called The Full Monty - put orchestra and choir on it...and there's a particular sound of an English brass band, which I guess was something he grew up with that we had no feel for, the kind of band you saw in the park on Sunday playing the gazebo. He was kind of obsessed with finding an authentic one. And he tracked one down in the north of England, and he wanted them to play on this track. We were really working hard on that record, and there was this weekend where this band was available. We were all supposed to fly up there to record them, and we just said, 'Look, Pete, you go. You know what you want, we're pooped, why don't you go and record them? This will be a treat for you.' And he did. And he brought it back, and he was all excited about it of course. And we never really shared the same enthusiasm for it [laughs]. And, in the end, the version of the song that we released was kind of stripped down; I don't think we used the brass band very much. We didn't use the whole arrangement. So there is another version of that song that exists that I hope we'll release that has The Full Monty on it." - Geddy Lee, Contents Under Pressure
"'I had them try a colliery band on that song ["Mission"] - sort of the 'Hovis' sound. It was a little tool much for them,' he says. 'I remember thinking, perhaps I have gone a little too far this time, but at least they tried it! That was what was always so fantastic about them, if I had a strong idea they would always try it even if they didn't use it.' Peter went to enormous lengths to find what he wanted - eventually settling on the William Faery brass band, recorded in Oldham in the North of England." - Chemistry
"There was talk about doing 'Second Nature' as an acoustic song [on the R30 tour] - I think that would be a good treatment for a song like that. Again it's a question of time. I'd love to extend the acoustic thing to be half-an-hour long, but I don't know if we could justify that in the context of all our material." - Geddy Lee, FYE.com, July 9, 2004
"...I couldn't resist the benefits of triggers and pads, of having litereally any sound I wanted under my sitcks or my feet- marimba, church bells, West African djembes, a self-made recording of a plastic waterbottle struck by a toothbrush (used in 'Tai Shan')...." - Neil Peart, Roadshow
"You're supposed to be crappy when you make your first three or four records. But even in our middle period, we did this song called 'Tai Shan', using a poem Neil wrote about climbing a mountain in China, and when I listen to that it's like, Bzzt. Error. We should have known better." - Geddy Lee, Blender Magazine, April 2008