Rush And The Rock And Roll Hall Of Fame
---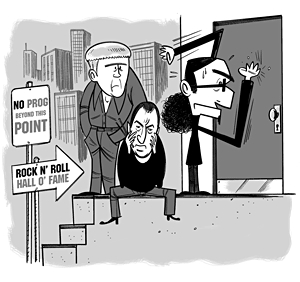 It's official, the Rock and Roll Hall of Fame has announced 15 artists nominated for induction into in 2013, including RUSH! Rush has been eligible for induction since 1999, 25 years after the release of their first record in the US, but this is their first nomination. The band has already issued the following statement on Rush.com:

"We are honored to be among the nominees for this year's Rock 'N Roll Hall of Fame. We are especially thrilled for the many, many dedicated RUSH fans to whom this nomination is so very important." – Geddy Lee, Alex Lifeson, Neil Peart
Being nominated is just the first step, however. We won't know until December if they will be among the 2013 inductees, but you can help. RollingStone has announced today that "for the first time ever, fans get to vote alongside the artists, historians and music industry insiders of the Rock Hall voting body. From now until December 5th, you can vote for the nominees you'd like to see inducted. Pick up to five acts – the top five vote-getters will comprise a 'fan's ballot' that will count as one of the more than 600 ballots that determine the Class of 2013. The results will be announced in mid-December." Click here to vote.
With cumulative worldwide sales of over 35 million, Rush were inducted into the Juno Awards Hall of Fame in 1994, received the esteemed Order of Canada in 1997, were given their own star on the Canadian Walk of Fame on May 27th, 1999, received a star on the Hollywood Walk Of Fame on June 25th, 2010, yet this is their first nomination for the US Rock And Roll Hall Of Fame.
Rock And Roll Hall Of Fame: Private Club With A Rich Director: "Tonight marks the 16th annual Rock and Roll Hall of Fame dinner. There will be much hoopla, a shindig at the Waldorf, an obligatory jam session at the end of the show, and an VH-1 broadcast later this week. Record-company executives will pay up to $25,000 per table. So where does the money go? According to the Foundation's federal filing, it goes toward putting on the show they're watching, and toward paying the Hall's director, Suzan Evans, a whopping $300,000 a year. At the same time, the Rock and Roll Hall of Fame Foundation contributes almost nothing to organizations that help musicians, to music programs, or directly to musicians in need...The Form 990 filed by the Foundation for 1998-99 reveals that it donated a measly $1,200 to the very needy R&B Foundation, another $2,000 to New York Music for Youth Foundation (a division of United Jewish Communities with a board comprised of record-company executives), and $77,000 to the Rock and Roll Hall of Fame and Museum in Cleveland, Ohio. It listed a total revenue of $3.7 million, with expenses of $1.8 million for putting on the Hall of Fame dinner at the Waldorf. The foundation made no donations in 1997-98, although Evans made $295,000 and had $40,000 in travel expenses. Revenue and expenses were similar to those of 1998-99....The Rock and Roll Hall of Fame Foundation is pretty much run by two people: Sire Records founder Seymour Stein and Rolling Stone/US Magazine owner Jann Wenner, who fancies himself the leader of the organization. It's no coincidence, for example, that Paul Simon, Wenner's close friend, is again an inductee this year [after previously being inducted with Simon and Garfunkel]. Wenner also underwrote the recent NARAS Musicares dinner that honored Simon as Person of the Year during Grammy week." FoxNews.com, March 19, 2001
Costello Views Hall As 'Dirty Rotten Shame': "The Rock & Roll Hall of Fame (is)...really about the people who run it...It isn't about the people who are in it. That was obvious in the speeches they made. We were just the hired help...it wasn't really a party in our honor. We were just the cabaret. It's about getting people through the turnstiles in Cleveland. Any pretense that it's anything noble is laughable." - Rocky Moutain News, July 16, 2003
Treated Like A Fly By Night Outfit, The Rock And Roll Hall's Shame: "Rush was given the brush-off by the Rock and Roll Hall of Fame again yesterday, exasperating fans who have been petitioning for the Canadian rock giants' inclusion for six years. Yesterday, the Cleveland-based institution announced the induction of Black Sabbath, Blondie, The Sex Pistols, Lynyrd Skynyrd and even jazzman Miles Davis, but Geddy Lee, Alex Lifeson and Neil Peart once again felt the caress of steel as the Hall of Fame's door slammed in their faces." - Canada.com, November 29, 2005
Sex Pistols Snub US Hall Of Fame: "Punk band the Sex Pistols have refused to attend their own induction into the US Rock and Roll Hall of Fame...In a handwritten note posted on their website, they called the institution 'urine in wine'...Pistols lead singer Johnny Rotten once famously derided the rock 'n' roll institution as 'a place where old rockers go to die', dubbing it the 'Rock and Roll Hall of Shame'. - BBC News, February 25, 2006
KISS' Gene Simmons Discusses the R&R HOF: "I have mixed feelings about the Rock and Roll Hall of Fame. On the one hand, I believe it's a sham. It has a group of music execs who decide who gets in. Hardly a gauge of what the people want. There are groups in there that have one gold record to their name. Not a complaint, simply an observation. And, while it may be nice to be included, it doesn't in the least stop my days from being fun filled. It's simply not an issue, because the Rock and Roll Hall of Fame has little credibility in my mind. However, if we get in, I would like to appear and perhaps make a statement about how insulting it is for the entity to ignore SABBATH for so long and AC/DC and bands that deserve to be in right away." - Gene Simmons, Kissonline.com, June 9, 2006
Alex Lifeson Comments on R&RHOF: When interviewed regarding the upcoming Rush album, Alex Lifeson was asked about the Rock and Roll Hall of Fame. Lerxst states "I couldn't care less, look who's up for induction, its a joke". To hear the entire 15 minute interview, click on "Rock Interviews" at therock951.com. - January 15, 2007
Rolling Stone Magazine Hits a Sour Note With Rock and Roll Hall of Fame Nominees (Like Madonna): "...If you love rock 'n' roll, stop buying Rolling Stone until the tremendous insults of the Hall of Fame are corrected. Wenner's nominating committee consists largely of his current and former employees from Rolling Stone (Nathan Brackett, David Fricke, Jim Henke, Joe Levy, Brian Keizer, Toure, and Anthony DeCurtis). But they have little say over who really is inducted. Last year, in a story reported by this column exclusively, Wenner threw out a vote in which the classic British invasion group Dave Clark Five was voted in and changed it for another round that favored rappers Grandmaster Flash. As one insider from the Hall has maintained, 'Once Ahmet Ertegun died, Jann felt like he could run wild.' The legendary co-founder of Atlantic Records was considered the only person who could control Wenner. He died in 2006. The Dave Clark Five incident has repercussions, however. I'm told that Wenner was made to meet Clark after I broke that story last March. The group now is guaranteed entry, although it's a bittersweet win. They are probably not, to paraphrase one of their hits, 'Glad All Over.' But this year's choices are a complete affront to fans of the Rock and Roll Hall. And to show how much Wenner controls what's happening, the exclusive announcement was made on Rolling Stone's Web site. If you're still reading or buying Rolling Stone, it's time to stop..." - FoxNews, October 1, 2007
Settle the Beef: Does Rush Deserve the Hall of Fame?: "'You are yet to be inducted,' Stephen Colbert asked the Canadian power trio on his show in June. 'Is there any chance that your next album will be titled That's Bullsh*t?' A fair, and hilarious, question, and one with legs..." - Wired.com, August 2, 2008
Wired: Time's Up! Is Rush Making the Hall of Fame or Not?: "Three months ago, Listening Post followed Stephen Colbert's lead and wondered aloud why Rush hadn't made the Rock and Roll Hall of Fame yet. We asked the readership to chime in on the snub, and it hit us back with a record 500 responses....So time's up, Rock and Roll Hall of Fame..." - Wired.com, November 10, 2008
Metallica Rock And Roll Hall Of Fame Press Conference Video: "I'd have to say Rush. I think they're a great band who took rock to a different level altogether in terms of songwriting and technical proficiency. And I believe that they deserve to be in the Hall of Fame." - Metallic's Kirk Hammet, brightcove.com, January 14, 2009
Rush Inducted Into Playboy Magazine's Hall Of Fame: "Given how many write-in votes Rush got from readers for best live act of the year, it's clear the innovative Toronto band's star has never burned brighter than right now. The definitive version of the trio was solidified in 1974, and from then on bassist Geddy Lee, guitartist Alex Lifeson and drummer Neil Peart have followed a relentless experimental path while maintaining one consistent quality: mind-bending virtuosity. Together they've created arena-ready hard rock such as 'Fly By Night', established the blueprint for prog rock with the song suites and fantasy-literature imagery of LPs such as 2112 and Hemispheres, and successfully guided their legion of fans into synth territory with albums like Power Windows. Along the way, they've also written some of the most enduring and best-loved tunes of classic-rock radio, including 'Tom Sawyer', 'Closer to the Heart' and 'Freewill'. Unlike so many acts whose work populates classic-rock radio, however, Rush still matters...Though Rush's dozens of gold and platinum albums and performances before as many as 60,000 fans apparently don't warrant its inclusion in Cleveland's Rock and Roll Hame of Fame, we're proud to welcome the band, on behalf of our millions of readers, to ours." - Playboy Magazine, March 2009
Why the Rock Hall says: No Rush for you! Prog rock gets ignored by the selection committee every year: "So who picked Run-DMC over Rush? Well, it's a secret. Sort of...According to Joel Peresman, president and CEO of the Rock and Roll Hall of Fame Foundation, Inc., the initial selections are made by a committee of 30 to 35 music business people...'there's musicians, there's writers, there's critics, there's people from the live end, (there's) managers. (there's) a wide selection of people who have all been selected because we feel that they have a good, solid connection to a wide variety of music. Everybody knows a lot about different things, which is what the idea is.' When that committee gets together every September, all the members submit the names of three potential inductees. They then have to defend their choices, Peresman explains. 'It's not really that this one sold this many albums or this many tickets,' explains Peresman. 'It's really 'What's the significance of that artist' And why should they be inducted??' Ater a lot of discussion, committee members take a vote and pick the top 20 favored artists. That list is then trimmed to nine - the names that get announced each year as nominees. From there the list gets sent out to a much larger group, which Peresman says is made up of 'around 500 to 600 people,' including 'past inductees and other people within the music business.' Their top five choices are the artists who are ultimately inducted...The Rock Hall's very first choices for inductees sent the message that they wanted to set the record straight about rock 'n' roll; specifically, that it was a genre shaped and founded by African-American artists. But now the Hall is creating its own misconceptions about what rock evolved into, suggests Scott Rowley, the editor of the U.K.-based magazine Classic Rock. 'Rush and Yes and ELO are as good and as loved and as worthy as most of the acts in the Hall,' noted Rowley via e-mail. 'I think it's very damaging to the Hall of Fame's credibility to continually ignore bands that they perceive to be on 'the fringes,' whether they're prog, punk or metal acts. It makes you wonder if the selection committee is actually run by music fans. We're at a weird place in rock history where things aren't as compartmentalized as they used to be - where people used to define themselves as mods or rockers or punks or metalheads. Nowadays people have access to everything and pick what they like. The idea of 'a canon of rock music' - established and defined by a musical elite - seems more and more ridiculous and untenable.'" - MSNBC.msn.com, March 20, 2009
Top 10 Rock Hall of Fame Snubs: "Rolling Stone has called Rush fans the 'Trekkies' of rock - they defend their Canadian rock heroes vehemently. The band certainly has carved out a place in rock history. With 24 consecutive gold or platinum albums, they trail only The Beatles, Rolling Stones and Aerosmith. But commercial success belies a career that took the occasional wrong turn. Critics cite the band's over-fascination with synthesizers in the 1980s, but fans say the period is simply proof that Rush doesn't care about convention. That independent streak might keep Rush from the Hall, but it doesn't seem to bother them in the slightest - guitarist Alex Lifeson called the Hall selection process a 'joke.'" - Time.com, September 2009
Metallica's newly minted Rock and Roll Hall of Famers bring 'Magnetic' personalities to town for a concert at The Q: "I would love to see Rush in the Hall of Fame, as well as Motorhead and Deep Purple. Those are three that come to mind, only because I'm a hard-rock guy, and those bands had a lot to contribute to the genre. Those bands have been around a lot longer than we have. It's almost embarrassing that we're in the Hall of Fame and they're not. But everyone has their opinions. There's a bit of a bureaucracy and there's a bit of politics that come along with it." - Cleveland.com, October 8, 2009
The Rock And Roll Hall Of Fame's Discord Progression: "In pop, as in the sporting world that provided a model for the Rock and Roll Hall of Fame, one fan's dream is another's disappointment. This is true of the annual artist inductions, which elevate some while ignoring others -- Rush was robbed again!". - October 25, 2009
Letting The Freaks And Geeks Into The Hall Of Fame: "As the years progress, the process of getting into Rock and Roll Hall of Fame is beginning to look a lot like the process of earning a letter for a high school letter jacket: The superstars (Bruce Springsteen, Prince, Aerosmith) are awarded just for showing up, as are the academic overachievers who are still social enough to get a seat on student council (U2, The Police, Talking Heads). However, the nerds who create the science fiction clubs and painstakingly put together the yearbook (Rush, Genesis, Yes, Kraftwerk) face a much steeper battle for recognition." - PopMatters.com, November 19, 2009
Rock Hall: Dozen Acts That Deserve Induction: "Among hard-core music fans, the Rock and Roll Hall of Fame probably is about as popular as a skin rash. For every beloved band it inducts - Stones, Zeppelin, Sabbath - it leaves out a Rush or a Deep Purple, while inducting such perceived non-rockers as Madonna and Grandmaster Flash. While influence and significance are supposed to be key criteria, some bands seem to get in based on sales or popularity with the committee, headed by Jann Wenner, and its 500 'experts.' The end result is that some, like recent inductee Johnny Rotten, write off the institution as a bad joke (he had harsher words in the Sex Pistols' refusal to participate) while others bother to roll up their sleeves and argue its transgressions. That's what we'll do here as we identify the next 12 acts that should be in. (Note that artists are eligible 25 years after their first recording.) 1. RUSH..." - PittsburghPostGazette.com, March 15, 2010
Rush Say Canadian Songwriters' Hall Induction Means More Than Rock Hall Snub: "The Toronto trio is being inducted into the Canadian songwriters' hall of fame on Sunday, just the latest accolade for the acclaimed prog veterans. But many fans still linger on the one honour that's eluded the band: an induction into the Rock & Roll Hall of Fame and Museum in Cleveland. Drummer Neil Peart says the band really doesn't care about the perceived snub. 'No ... you know who it matters to, is the fans...It would matter a lot to our fans for us to have that validation. It doesn't matter to me. I've got the success and respect that we've had, and the opportunity to do exactly what we wanted for 35 years, do we need them to make us feel better? No, not at all. Being in the Canadian Music Hall of Fame and the Canadian Songwriters Hall of Fame, that's 10 times - 100 times - more (important) than being in some critics' list." - The Canadian Press, March 25, 2010
Rush Talks Rock And Roll Hall Of Fame Snub: "I kind of like the status quo, where they don't want us in there and we don't really want to be in there, so it's kind of a good place to be." - Alex Lifeson, Artisan News Service, July 1, 2010
Rush Receives Star On The Walk Of Fame: "Rush, Canada's most successful rock band, received a star on the Hollywood Walk of Fame on Friday, appropriately in front of the Musicians Institute on Hollywood Boulevard. On hand to induct the musicians were Smashing Pumpkins singer Billy Corgan and Donna Halper, a former music director at Cleveland's WMMS-FM who was among the first to champion the enduring band's 1974 self-titled debut album...Frontman-bassist Geddy Lee and guitarist Alex Lifeson were in attendance to claim the 2,412th star on the Walk of Fame. Noticeably absent was drummer and lyricist Neil Peart, who was riding a motorcycle to the band's first tour date in Albuquerque on Tuesday." - Hollywood Reporter, June 25, 2010
21 - No, 12 Geeky Reasons Why Rush Should Be Inducted Into The Rock and Roll Hall of Fame: "This month, the nominating committee of the Rock and Roll Hall of Fame meets to assemble a slate to vote on for 2011's induction class. The factors that go into deciding who should be considered for induction aren't well known - this is a pretty secretive group. What is well known is that when you look at the list of previous nominees and inductees, there is a huge, glaring omission from the artists honored by the committee. Rush, the most successful power trio of all time and a group that has sold more consecutive gold and platinum records than everyone except the Beatles and the Rolling Stones, has never even had their name on the ballot..." - Wired.com, September 14, 2010
Rush documentary director on their latest Rock and Roll Hall of Fame snub: 'It's unfortunate': "Rush was conspicuously absent from the list of 2011 Rock and Roll Hall of Fame nominees released this morning. For fans of the Canadian prog-rockers, it's deja vu all over again. While Rush has been eligible for the Hall since way back in 1999, somehow they've never made the cut. 'It's unfortunate,' says Scot McFadyen, who co-directed the recent film Rush: Beyond the Lighted Stage. 'We were hoping a lot more people in the [nominating] room had seen our documentary, and maybe that would have given them a different perspective on the band. But there are just some people that are holding out.' As disappointing as Rush's latest snub was, McFadyen wasn't necessarily surprised. 'They've never been a critics' band. The industry people that are involved with the Rock and Roll Hall of Fame, Rush has never been cool enough for them.'" - Music-Mix Entertainment Weekly.com, September 28, 2010
For The Rock Hall, No 'Rush' To Get It Right: "First off, let me make it clear. I'm not one of those Rush fanatics. But I do like the trio a lot, and when it comes to the question at hand...that being 'who belongs in the Rock & Roll Hall of Fame?'...the inclusion of Rush is a no-brainer...The Hall of Fame seems to go out of its way to recognize the obscure, including some who can barely sing or play their instruments, while rejecting many who demonstrate the highest proficiency in their recordings and stage performance. Rush consists of three virtuosos who have dazzled - and continue to dazzle - fans in the studio and on stage for close to 40 years, proving even those ridiculously proficient on their instruments can rock." Goldmine, February 10, 2011
Why isn't Rush in the Rock and Roll Hall of Fame?: "Despite Rush's close ties to Cleveland, the band remains conspicuously absent from a certain local landmark. So why aren't these guys in the Rock and Roll Hall of Fame? Rush has been eligible for more than a decade, although the group has yet to be nominated...Terry Stewart, president and CEO of the Rock Hall and a member of the hall's nominating committee, said that he personally supports Rush and that the group has been considered during nomination meetings. 'It's not like they're the only worthy band that's not in,' Stewart said. 'They simply haven't gotten enough votes to make the ballot. I can't tell you why. Based on impact, influence, innovation, and excellence, they're worthy. I think it's just a matter of time before it happens.' Geddy Lee appreciates the Rush fan community's outrage, even if he doesn't necessarily share it. 'From a fan's point of view, I totally get it, because there's nothing like championing your team,' he said. 'When you feel that there's been some injustice, you take it personally. I get that. But for me, being in the band, it just seems unseemly to get too involved in that whole discussion. It's something that we have no control over. If it happens one day, that would be great. And if it doesn't, my life is not going to stop. It's going to carry on just fine.'" - Cleveland.com, April 15, 2011
The Spirit of Rush: The rest of the world loves them. When will the Rock Hall get a clue?: "It's officially cool to like Rush - unless you're the Rock and Roll Hall of Fame, that is. From the looks and sound of things, the Rock Hall folks are in the minority these days...Eligible for Rock Hall induction since 1998, Rush have spent four decades as one of rock music's most dependable musical forces and its most unrelenting punch line. All three virtuoso players and their fashion-unconscious expressions of honesty and individualism have been marginalized by the media's decidedly cool-kid mentality toward them...If induction is supposed to be about longevity, influence, and creativity, Rush have certainly fulfilled the criteria...[Donna] Halper has said that Rush's exclusion from the Rock Hall is far beyond a sin of omission. She said that 'very good evidence' suggests many rock critics and a high-level Rock Hall exec dislikes Rush, adding 'they will never get in as long as he is in charge.' - Clevescene.com, April 15, 2011
: "Just met w/Rock & Roll Hall of Fame board & demanded to know why @RushtheBand isn't in the @Rock_Hall of Fame." - @JohnKasich, May 17, 2011
10 Bands Snubbed By The Rock And Roll Hall Of Fame: "RUSH: If this trio was not included, Goldmine's offices might be stormed by angry throngs, as a recent Goldmine online poll about prog-rock music was swamped by Rush supporters. Geddy Lee, Neil Peart and Alex Lifeson have been churning out masterful recordings since 1974. Members of the Canadian Hall of Fame, as is The Guess Who, Rush dazzles audiences with its instrumental mastery. Vocalist Geddy Lee may be an acquired taste, but the same could be said of many current inductees, including Tom Waits, Dr. John and Leon Russell from this year alone." - November 17, 2011
Rock Hall Of Fame Snubs Red-State Favorites: "...the bookish, urbanite hall voters have filled the place with bookish, urbanite musicians. Especially weepy singer-songwriters...As with most of their more inexplicable selections, the hall rationalized the Nyro choice by describing her as a huge influence on other artists. That would make great sense if the museum were called the Rock and Roll Hall of Most Influential People. Since, however, it's a hall of FAME, it seems like being at least marginally famous would be one prerequisite for getting in." - The Washington Post, December 12, 2011
Eddie Trunk, who has been a champion of Rush as well as other bands slighted by the Hall of Fame, interviewed the R&R Hall Of Fame Foundation president live on December 19th. You can hear the entire interview here.
Slash to attend rock hall induction but asks, Where's Rush?: "'It's sort of a bittersweet thing too because there's so many artists that aren't inducted, that came way before Guns did, that really actually almost deserve more to be in there and they're not in there', the guitarist said in an interview Wednesday, listing off Canadian band Rush, Deep Purple, Cheap Trick and Kiss as examples. 'So it's really hard to sort of feel victorious ... that to me just doesn't seem right'" - Toronto Globe and Mail, March 21, 2012
Former GUNS N' ROSES Drummer Steven Adler Realizes KISS, RUSH Not In Rock And Roll Hall Of Fame - Video Posted: "It's such an honor to be inducted into the Hall Of Fame, but then I found out that KISS isn't in here, and then I found out the other day that RUSH isn't in there, they've got to be inducted. If it wasn't for those bands and a couple other ones, there wouldn't be a Guns N' Roses." - Steven Adler, Bravewords.com, April 16, 2016
Q&A: Rush's Alex Lifeson on Choosing Their Tour Setlist, Hall of Fame Prospects: "Honestly, we really, really don't care about it. It's someone's thing, and they can do whatever they want with it. They can have whomever they like. It's their thing. It's a little bit different here in Canada. We've received awards that mean an awful lot more to us than being in the Hall of Fame. We got the Governor General's Performing Arts Award a couple weeks ago. That's really the highest accolade you can get in this country for the performing arts, and it's recognized nationally, and I felt so proud as a Canadian to be in this esteemed group of artists that have been there for the last 20 years...you don't want to be rude, and we're Canadians, and we find it very difficult to be rude as much as we'd really like to. [Laughs] So we'd probably have to look at that one, if it ever came. I know there must be pressure from their end. We keep going on and getting more popular...there are a lot of other bands that should be in there before we should be in there...If the Rock and Roll Hall of Fame doesn't want us in there, that's fine. I don't care. It really, really doesn't matter at the end of the day. It's probably better left the way it is. There's more controversy for them and for us." - Alex Lifeson, RollingStone.com, June 18, 2012
Twenty Albums Later, Rush Is Still Thriving: "It's something that really we have no control over, so it's hard to get too caught up in it, frankly. Obviously, we're very proud of our careers, and I know it means a lot to our fans that we get recognition, and I appreciate that they care enough about us to petition for us to be in there, but it's nothing I can control, and it will either happen or it won't happen, but it's not going to diminish what my career and bandmates' career has meant to us and our fans." - Geddy Lee, Pittsburgh Post-Gazette, September 10, 2012
Q&A with Ann Wilson of Heart: "Q: Do you want to give a shout-out to any groups that aren't in the Rock and Roll Hall of Fame that you think should be? A: Ooh, Rush. How about Rush? (Laughs) That's sort of a strange situation. God, who else? I don't know; I don't have a list in front of me, but that would be the one that would be a big standout for me." - Examiner.com, September 17, 2012