Retrospective 3
---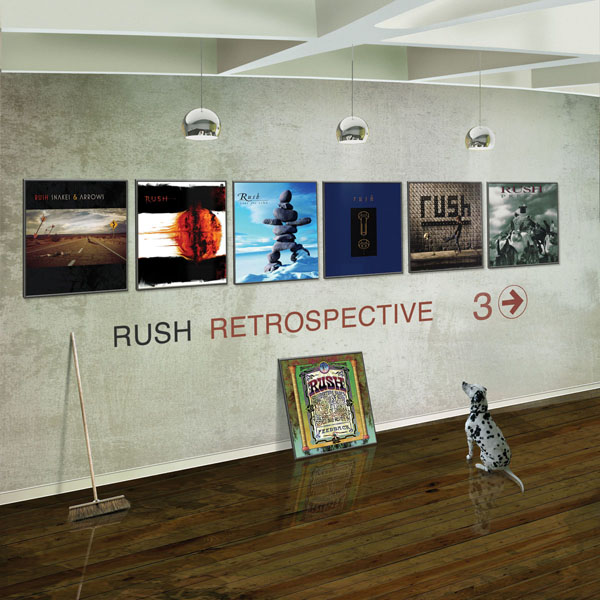 Buy CD+DVD
|
CD
|
iTunes
CD Tracklist:
One Little Victory (remix) (5:11)
Dreamline (4:39)
Workin' Them Angels (4:49)
Presto (5:48)
Bravado (4:38)
Driven (4:29)
The Pass (4:53)
Animate (6:05)
Roll The Bones (5:32)
Ghost Of A Chance (live) (5:51)
Nobody's Hero (4:56)
Leave That Thing Alone (4:08)
Earthshine (remix) (5:38)
Far Cry (5:18)
---
DVD Tracklist:
Stick It Out
Nobody's Hero
Half The World
Driven
Roll The Bones
Show Don't Tell
The Pass
Superconductor
Far Cry
Malignant Narcissism
The Seeker (live from R30)
Secret Touch (live from R30)
Resist (live from R30)
Bonus: Live performance of Tom Sawyer and interview from The Colbert Report
---
Linernotes
Geddy Lee
bass guitar, bass pedals, synthesizers, vocals

Alex Lifeson
electric and acoustic guitar, synthesizers

Neil Peart
drums, percussion, electronic percussion

Assembled by Andy VanDette
Mastered by Andy VanDette, Masterdisk, New York

Art Direction and Design by Hugh Syme
The Colbert Report courtesy of Comedy Central © 2008

Management by Ray Daniels, SRO Management Inc., Toronto, Canada

All songs written by Lee/Lifeson/Peart
except Leave That Thing Alone (Lee/Lifeson)/
The Seeker (Peter Townshend)

Atlantic/Anthem, March 3, 2009
© 2009 Atlantic Recording Corporation

www.rush.com
---
Notes
Retrospective III debuted at #47 on the Soundscan chart, with just over 10,000 units sold the first week.
The first official compilation from the 7 studio albums from the Atlantic years (1989-2008), Retrospective III was released as both a single CD edition as well as a CD+DVD edition.
The CD/DVD edition of Retrospective 3 includes all Atlantic-era production videos plus additional content.
While previous Rush compilations offered a fairly even distribution in the number of tracks per album being represented, that cannot be said of Retrospective 3. Of the six original studio albums represented, while 4 of the 10 tracks from the album Roll The Bones are included here, there is only one from Test For Echo. It can be assumed that this was done in the name of offering something "previously unreleased", as early rumors of this compilation mentioned it would include one or more "unreleased live tracks". However, the performance of "Ghost Of A Chance" included here actually was previously released on disk 3 of the Snakes & Arrows Live DVD, in the "Oh Atlanta" section; the official press release confirms that this live version of "Ghost Of A Chance" was recorded July 22, 2008, in Atlanta, Georgia.
In Their Own Words
"We all had our two cents worth in there. We got a tracklisting from management saying: 'These are our suggestions.' Then we tore it apart, ha-ha. Everyone was like: 'Nah, I don't want that in' or 'Why don't we put this one in, instead?' What you basically want is a representation of the period, and you also want to include some things that you thought got overlooked. Songs that deserve a second chance or songs that through playing live over the years you've gotten to appreciate, That's the combination of different attitudes you take when putting these things together....We don't really have hits. It's not like a greatest hits, more All The Songs That Were Not Hits by Rush, ha ha. These are songs that we're proud of and believe that somehow have passed the test of time, and you try and put them into a package that adheres to the concept of a retrospective." - Geddy Lee, Classic Rock, April 2009
"'We don't have a lot of disagreements,' Lee says about the selection process. 'We're ridiculously sensible. We sent a few e-mails and everyone said, "Sure, thumbs up." It was painless.'" - Entertainment Weekly, March 20, 2009