Retrospectives I & II
---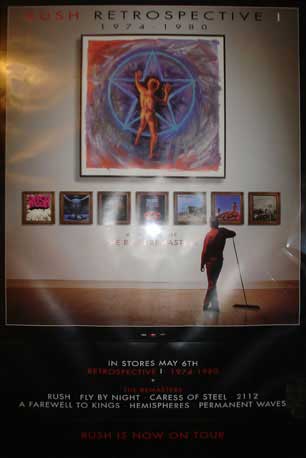 Tracklist
Retrospective I
1974-1980
The Spirit Of Radio (4:57)
The Trees (4:41)
Something For Nothing (3:59)
Freewill (5:23)
Xanadu (11:05)
Bastille Day (4:37)
By-Tor and the Snowdog (8:37)
Anthem (4:21)
Closer To The Heart (2:53)
2112 Overture (4:32)
Temples of Syrinx (2:13)
La Villa Strangiato (9.34)
Fly By Night (3:21)
Finding My Way (5:08)
Retrospective II
1981-1987
The Big Money (5.35)
Red Barchetta (6.09)
Subdivisions (5.33)
Time Stand Still (5.09)
Mystic Rhythms (5.53)
The Analog Kid (4.47)
Distant Early Warning (4.57)
Marathon (6.09)
The Body Electric (5.00)
Mission (5.16)
Limelight (4.19)
Red Sector A (5.09)
New World Man (3.42)
Tom Sawyer (4.33)
Force Ten (4.31)
---
Linernotes
GEDDY LEE
Bass guitar, bass pedals, synthesizers, vocals

ALEX LIFESON
Electric and acoustic guitars, synthesizers

NEIL PEART
Drums, percussion, electronic percussion

JOHN RUTSEY
Drums on "Finding My Way"

Compiled by Bas Hartong and Bill Levenson in association with Rush and Anthem Entertainment
Mastered by Bob Ludwig and Brian Lee at Gateway Mastering Studios, Portland, Maine
Art Direction and Design by Hugh Syme
Retrospective 1 Cover Painting by Dan Hudson
Retrospective 2 Cover Painting by Hugh Syme

Retrospective 1: Mercury/Anthem, May 6, 1997
Produced by Rush (14), Rush and Terry Brown (1-13)

Retrospective 2: Mercury/Anthem, June 3, 1997
Produced by Rush & Terry Brown (2,3,6,11,13,14), Rush & Peter Henderson (7,9,12), Rush & Peter Collins (1,4,5,8,10,15)

© 1997 Mercury Records © 1997 Anthem Entertainment
---
Notes:
Highest Billboard Chart Position: Neither Charted
Retrospective I was released May 6, 1997, the same day the remasters of the first album through Permanent Waves were issued. Retrospective II was released June 3, 1997, along with the remasters of Moving Pictures through Hold Your Fire. The remasters of the live albums All The World's A Stage, Exit Stage Left and A Show Of Hands were released on July 1, 1997.
Combined, these were the second North American compilations from Rush's first 12 studio albums from their Mercury years (1974-1987). Unlike the previous compilation, Chronicles, these contain remastered tracks. Gold, a reissue of Retrospectives I and II as one package using the same remastered tracks, was released in 2006 with a reworking of the Retrospectives covers, and the same track listing as the combined Retrospectives disks with the exception of "Something for Nothing" being deleted and "Working Man" being added.
These collections sold poorly, and did not make the Billboard Top 200. The first volume sold only 5,556 it's first week, and the second only 3,717, in an era when it takes 6,000 to 8,000 the first week to crack the bottom of the Billboard Top 200. Rush would break the Top 200 six years later with a similar compilation, The Spirit Of Radio Greatest Hits, which was released shortly after the Vapor Trails tour and supported by a big marketing push.
In Their Own Words
"I got a little bit involved because I didn't want [Mercury Records] doing what they had done the last time they did a thing like that [Chronicles]. Last time they did it, I thought they did a really shoddy job in terms of the song order...purely chronological, and the artwork was lame. So I got involved myself and made sure the artwork was decent and I made up a setlist of the songs of the two different periods of those retrospectives-I made up the title too (laughs)-...as if it were a live show. So it's a much nicer representation of the material for anyone who does want to get a sampler like that, which I often do as a consumer. If there's a band which I don't really love well enough to buy all of their records...I'd rather really just have the finer points. I don't mind if they put together a nice package of material like that. So, I just tried to make it a little better." - Neil Peart, Rollingstone.com, June 5, 1997