Snakes & Arrows
---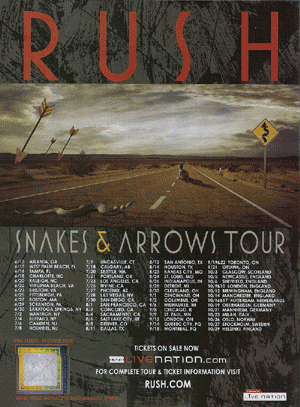 Tracklist
Far Cry (5:21)
Armor And Sword (6:36)
Workin' Them Angels (4:47)
The Larger Bowl (4:07)
Spindrift (5:24)
The Main Monkey Business (6:01)
The Way The Wind Blows (6:28)
Hope (2:02)
Faithless (5:31)
Bravest Face (5:12)
Good News First (4:51)
Malignant Narcissism (2:17)
We Hold On (4:13)
---
Linernotes
NEIL PEART
drums, cymbals, electronic percussion, tambourine

GEDDY LEE
bass guitar, bass pedals, mellotron, vocals

ALEX LIFESON
six- and twelve-strong electric and acoustic guitars, mandola, bouzouki

Produced by Nick Raskulinecz and Rush
Engineered by Richard Chycki
Mixed by Richard Chycki

Recorded at Allaire Studios, Shokan NY, November and December, 2006
Assistant engineer: Matt Snedecor
Additional recording at Grandmaster Recorders, Hollywood CA
Assistant engineer: Andrew Alekel
Mixed at Ocean Way Recording, Hollywood CA, January 2007
Assistant engineer: Scott Moore
Additional engineering and mixing by Nick Raskulinecz
Arrangements by Rush and Nick Raskulinecz
Strings on "Faithless" by Ben Mink
Preproduction at Cherry Beach Studios, Toronto, May and September - October, 2006
Engineered by Alex Lifeson and Geddy Lee, assisted by Inaam Haq

Mastered by Brian "Big Bass" Gardner
Management by Ray Danniels, SRO/Anthem, Toronto
Executive Production: Pegi Cecconi, Andy Curran, Lorne Wheaton
Equipment Supervision: Lorne Wheaton and Russ Ryan

Art direction, design, and illustrations by Hugh Syme
Cover painting The Leela of Self-Knowledge by Harish Johari, courtesy of Inner Traditions, Bear & Co.
"Workin' Them Angels" illustration created by Hugh Syme with the assistance of George Eastman House, who supplied the original Lewis Hine photograph on which the illustration is based
"Bravest Face" illustration by Hugh Syme and Andrew MacNaughtan
Band photograph by Andrew MacNaughtan

All songs composed by Lee and Lifeson, with lyrics by Peart,
except "Hope", composed and performed by Lerxst Lifeson, all by his own self

Geddy would like to thank: Fender Musical Instruments and the Fender Custom Shop, Jim Burgess and Frank Szabo of Saved By Technology, Coll Audio, Tech 21, and Rotosound Bass Strings for their technical contributions, Duke and Ewan for their exceptional canine behavior in a supporting role, and last but certainly not least, my crowd at home: Nancy, Kyla, Julian and Lauren, for their unequivocal and loving support.

Alex would like to thank: Hans, Dennis, Paul, and Rudiger at H&K Amplification, Cara and Pat at GMI, Chris and Glen at Garrison Guitars, Dave at Dean Markley, Joel Singer and Audio Technica, Mike and Nina, Jerry, John and Nikki, Stephen Bennett, David Gilmour, Clatty, JP, Rob, Mike, Lukie, and especially Ade, Justin, Michelle, Taylor, and Chuckie.

Neil would like to thank: John Good, Don Lombardi, and Garrison at Drum Workshop, Mark Love and Chris Stankee at Sabian, Pat Brown and Kevin Radomski at Promark, Darren Shoepp at Roland, Michelle Jacoby at Remo, Greg Russell at neilpeart.net. Freddie Gruber, Matt Scannell, Lorne "Gump" Wheaton, all my "circle of brothers" (too many to list - you know who you are), and on the home front, Keith, Claudia, Jennifer, Adela. Winston, and - at the heart of it all - Carrie.

Our collective appreciation goes to Inaam, Shannon, Carmine, Chris, and David Godfrey Catering at Cherry Beach; Matt, Mark, Susan, Ken, Lisa, Rachel, Annalee, Thorn, Jay, Stephanie, Colby, and Julia at Allaire; Andrew and Jen at Grandmaster; Scott, Kelly, and Jessica at Ocean Way; Barry and Clint at BZ Brokers; and - Ω?

Extremely special thanks to our great support group at SRO/Anthem: Ray Danniels, Pegi Cecconi, Sheila Posner, Anna LeCoche, Cynthia Barry, Shelley Nott, Bob Farmer, Andy Curran, and Randy and Frances Rolfe.

Brought to you by the letter "sssss"

Atlantic/Anthem, May 1, 2007
© 2007 Atlantic Records © 2007 Anthem Entertainment
---
Notes
Highest Billboard Chart Position: debuted at #3 and dropped off after 14 weeks; click here for full history.
Snakes & Arrows was released on CD May 1st, 2007, as a double album on June 19th (limited to 5,000 copies, pressed on 180-gram HQ audiophile vinyl at RTI for the best possible sound), as a new MVI (Music Video Interactive) format (limited to 25,000 copies) on June 26th, and as a "Special UK tour Edition" on September 3rd. MVI is a DVD-based product that's loaded with a full album's worth of music, video content, plus a variety of interactive features that you can activate with your computer. It plays in all DVD players, computers, and video game consoles with DVD drives. The MVI includes 96kHz/24 bit hi-resolution stereo as well as 5.1 surround sound; "Rush: The Game of Snakes and Arrows" 45-minute documentary on the making of the album; the ability to create your own mobile ringtones of all the tracks on the MVI; digital extras like wallpapers, buddy icons, screensavers for PC and MAC, and more. The "Special UK tour Edition" included the oringial CD, and a bonus DVD containing the content previously released on the MVI.
Reissued January 15, 2016 by Universal Music Enterprises on 200-gram, heavyweight vinyl with a download code for a 320kbps MP4 vinyl ripped Digital Audio album download as well as high resolution Digital Audio editions in DSD (2.8mHz), 192khz / 24-bit, 96kHz / 24-bit.
"Far Cry", the first single, including a 4:34 radio edit and 5:21 album version, was released to radio stations March 12th, 2007, and the video directed by Chris Mills was released May 8th, 2007. "Far Cry" peaked at #22 on Billboard's "Hot Mainstream Rock Tracks".
"Spin Drift", the second single, was released on June 1st, 2007, but did not chart. The promo copy submitted to radio stations includes both the album version and a radio edit.
"The Main Monkey Business", drums only master, was added to the front page at NeilPeart.net on June 6th, 2007.
"The Larger Bowl", the third single, was released to Heritage Rock, Adult Contemporary, and Country (yes, country!) radio stations June 25th, 2007.
Chapter 5 of Neil Peart's The Masked Rider: Cycling in West Africa is titled "The Larger Bowl" and refers to the title of a song from a dream he had at the Happy Hotel in Cameroon in 1988. Neil suffered dysentery and had what he described as a "weird dream"; in that dream he heard a song, a ballad called "A Larger Bowl" about loneliness and the misfortunes in life. He could not recall ever hearing of this song before. "But I like the title" he said.
Bobby Standridge, creator of the "YYZ" animated video, dropped us a line sharing that he was hired by Rush to create a video to support Snakes & Arrows. The result is "Malignant Narcissism", with a very interesting demonstration of religion through history. See it at BobbysBrane.com, by clicking the "Animation Fun" link on the homepage. - July 27, 2007
"Workin' Them Angels" was released as a single March 10th, 2008. The promo copy submitted to radio stations includes three versions of the song; the radio-edit (4:19), the live version from their forthcoming Snakes & Arrows Live album (5:03) and the original album version (4:55). In addition, the live track was made available on iTunes in advance of the album's release. In its second week of rotation, it landed at #30 on the Mediabase Mainstream Rock Chart.
"Malignant Narcissism" was nominated for the Best Rock Instrumental Performance Grammy in 2008 (their fifth nomination). The winner was "Once Upon A Time In The West" by Bruce Springsteen, from We All Love Ennio Morricone.
A live version of "Hope", subtitled "Live For The Art Of Peace", was included on the Songs For Tibet - The Art Of Peace benefit album released August 12, 2008. The performance was recorded May 25th, 2008, in Regina, Saskatchewan; click here for more information. This version was nominated for the Best Rock Instrumental Performance Grammy in 2009 (their sixth nomination). The winner was "Peaches En Regalia" by Dweezil Zappa, from Zappa Plays Zappa.
In Their Own Words
"We're going to go in the studio early next year and start writing. Its time for a new record, time to move forward...we're going to hopefully finish the record by the summer, and think about hitting the road around this time next year." - Alex Lifeson on Detriot's WRIF, November 30, 2005
"We're planning to work on small groups of songs at a time, writing them, then recording them and starting again. It's a different way of working for us...I consciously held back on (Vapor Trails)...next time I'll be a lot more elaborate." - Alex Lifeson, Classic Rock, February 2006
"...just this past week Alex and Geddy and I have started work on some new songs. Although we are 3000 miles apart, the two of them at home in Toronto and me in California, last week I received an e-mail from Geddy saying that he and Alex had spent the day in his home studio, and not only did they have fun, but they also thought they'd written something good...Alex and Geddy and I plan to get together soon in person and make some serious plans for writing and recording this year. Hopefully we'll also get together soon with guitars and drums...However we resolve that this time, the actual work is sure to take most of 2006 to accomplish..." - Neil Peart, NeilPeart.net, January 20, 2006
"It's early stages. We have nine songs written so far. We're going to continue until we have about 12 songs and finish up preproduction at the end of October, so we'll be really well prepared and then go in the studio in November and start recording." - Alex Lifeson, Jam! Music, September 29, 2006
"There's a quality about this record that's very expansive and musically lyrical. It's very melodic. I've written almost exclusively on acoustic guitar. When Geddy and I write, I'm playing acoustic and he's playing bass, so there's a different character to the way the writing is developing. To me, it seems so apparent immediately whether a piece of music works or not when it's written on acoustic. You're not fooled by some distorted sound or some effect you put on guitar or something like that. This is pure in its essence and you know right away whether this chorus works or whether this verse works." - Alex Lifeson, Jam! Music, September 29, 2006
"In early March, winter still ruled the Laurentian Mountains of Quebec. I picked up Alex and Geddy at the local airport...As recounted in my previous news report, back in January I had sent Alex and Geddy some lyrics. I knew they had been working with some of them, but I hadn't heard anything yet...We gathered before the fire in the living room and started listening. As the songs played out, the response we all shared was a sense of clarity - for Alex and Geddy, playing the songs for me that first time threw their strengths and weaknesses into sharp contrast, and they kept saying things like, "I know what we have to do here." Same for me, lyrically - I was very gratified to hear parts that worked, saying "Yeah" when I heard Geddy sing a line just perfectly, while also knowing right away what I could improve upon. There were five song sketches - guitar, vocals, and drum machine - and I liked them all. I also noticed those songs already seemed to have a sort of unity, a stylistic approach of chord structures, rhythms, and vocal delivery that I could only describe as "spiritual." I'll say no more about that aspect until we get farther into it, but it was wonderful that after thirty years of working together, we could still find different paths to explore together...So now I'm going to spend the month of May in Toronto, where we have rented a small studio. It will be great to have the opportunity to work together on those songs, and hopefully some new ones, too." - Neil Peart, NeilPeart.net, April 26, 2006
"By the end of May, we had eight songs that we all liked, and I had worked out drum parts for six of them...at the end of our month together, I was driving from Toronto to Quebec for a few days rest, and I was able to listen to the songs we had been working on in the familiar, pleasurable space of a car cruising down the long, straight highway. The next day I wrote to Alex and Geddy, 'On the drive back yesterday, I did have the opportunity to listen to the new songs with some objectivity, in my favorite listening environment, and I wanted to tell you I think they are great! The freshest stuff we have done since - well, ever! As I intuited when I first heard your song sketches, there is something very different about the character of these songs, and I'm really pleased by that. I mean to say - at our ages!'...
"While considering the logistics of getting my drums from Toronto to Los Angeles and back, I was talking with my friends at Drum Workshop, and they pointed out that some busy drummers have a different drumset for each coast, stored and ready when they need it. Since I lived on the West Coast now, maybe I should have a 'West Coast kit.' Well, yeah, obviously. So in talking to John Good at DW, we decided to build a pure 'recording' kit, with basic chrome hardware and a natural wood finish. John designed an elaborate combination of laminates and reinforcement hoops for each individual shell...Lorne and I had decided on a 'tobacco sunburst' finish, like a classic guitar, but when John chose 'curly maple' for the base of it, and master painter Louie applied his artistry, they looked way better than I had imagined." - Neil Peart, NeilPeart.net, June 17, 2006
"Rush. That would be my dream album to make. Nobody plays like those guys anymore.'" - Nick Raskulinecz, EQ Magazine, June 2006
"Rush has penned eight songs for its next studio album, which should be out in early 2007, according to drummer Neil Peart. The artist tells Billboard.com his lyrics for the as-yet-untitled set were greatly influenced by his motorcycle journeys throughout the United States...Peart says he was struck by the ubiquity of religious billboards that have sprung up on America's highways, which got him thinking about some weighty topics...'I looked for the good side of faith,' Peart says. 'To me it ought to be your armor, something to protect you and something to console you in dark times. But it's more often being turned into a sword, and that's one big theme I'm messing with.' Musically, the new album is continuing in much the same vein as 2002's 'Vapor Trails,' which returned Rush to a more guitar/bass/drums-driven sound. But Peart is quick to add that the music is 'remarkably organic in a way that I haven't heard [from Rush] before. We spent a month together in May working on those songs and developing our individual instrument parts for them. It's early to characterize it, but it's definitely fresh and different and that's certainly satisfying.' Peart, bassist/vocalist Geddy Lee and guitarist Alex Lifeson will regroup next month to finish pre-production and will begin recording in November." - Billboard.com, September 11, 2006
"Actually, it was thanks to the Internet. I was cruising around online and saw that Rush were getting ready to make a new record. No producer was named, so I called my manager and asked him to throw my hat in the ring. He sent them a press kit and some samples of my work. I was taking a total chance, to be quite honest, because I thought, No way will Rush even listen to my stuff, let alone call me. A few days later, I got a call from my manager, and he told me they were already working with somebody else. They loved my reel, which knocked me out - 'Rush loves my reel? Amazing!' [laughs] - but they were already deep into things. So I thought, OK, maybe next time. At least they know of me, you know? [laughs] Two months later, though, my manager called to tell me that things went south between Rush and the other producer, and they wanted to meet with me. I was out shopping with my wife when I got the call, and I was completely floored. [laughs] You have to understand, they're one of my favorite all-time bands in the world. I am a Rush head big-time! I flew up to meet them the next day, on my own dime, and I met Geddy and Alex at Geddy's house. We spent hours talking about life! I don't think we even mentioned the word 'music' until a couple of hours into our meeting. They asked me tons of questions; they were really checking me out, what kind of person I was. Then I went down to Geddy's basement to hear some of the stuff they had been working on. After six or seven songs, they asked me what I thought, and I was as honest as I could be about anything. I said, 'I think this song is great, but the first chorus is too long. I think the drums could do something different here. Al, why don't you try this here?' I must have passed the test, because the next day I met with Neil. Again, we didn't speak about Rush at first. We talked Shakespeare, hiking, poetry, all kinds of things. It wasn't until the very end that we talked about drums." - Nick Raskulinecz, MusicRadar.com, November 3, 2010
"Canadian rock legends Rush will be co-producing their new studio album for Anthem Records with Nick Raskulinecz (Foo Fighters). The American producer will be flying up to Toronto next week to meet with the band, which is in the demo phase right now. 'It's early stages. We have nine songs written so far,' says guitarist Alex Lifeson. 'We're going to continue until we have about 12 songs and finish up preproduction at the end of October, so we'll be really well prepared and then go in the studio in November and start recording...there's a quality about this record that's very expansive and musically lyrical. It's very melodic. I've written almost exclusively on acoustic guitar. When Geddy and I write, I'm playing acoustic and he's playing bass, so there's a different character to the way the writing is developing.'" - Jam! Music, September 29, 2006
"I started on viola in Junior High School and over the years I'd picked up a mandolin or mandola and kinda learned my way around. The bouzouki was really kinda cool. I was visiting a friend in Mykonos last summer and he has a really beautiful place on the edge of a cliff. I'm an early riser, so I'd get up, make a cup of coffee and go and sit on the wall overlooking the Aegean. So I'd be just sitting there playing this bouzouki, feeling my way around it and, I swear to you, these little fishing boats would go by and they'd wave at me and it was like (affects Harry Enfield-style Mediterranean accent): 'That's a good Greek boy up there!' If they only knew!" - Alex Lifeson, Guitarist, August 2007
"...I was playing a lot of acoustic before making the record and my head was stuck in that world. Plus, I had recently seen Tommy Emmanuel and Stephen Bennett perform, and I was very taken with what they were doing. In fact, Stephen gave me a half capo, which I'd never seen before [, and I thought it was really cool. You can move it around but still have open strings - what an awesome little thing! I used it on the song Bravest Face." - Musicradar.com, July 24, 2008
"Peart revealed few details about the record, except to say that reflections on faith emerged as a clear theme from the very beginning. 'I tried hard to look at it as a subject - what's good about it - and tried to balance that against what I saw as not being a good thing,' said Peart, noting his experience as a Canadian living in the United States for the past six years has given him a unique perspective on world events. 'All we're seeing, especially in the world today, is a very malevolent kind of faith, in fundamentalism of all kinds, on both sides. One of the lines I use in the new songs equates Middle East and Middle West, because this stuff is going on in both localities, although both would probably be insulted by the comparison."" - Macleans.ca, October 19, 2006
"Meanwhile, a certain young producer and engineer in California heard we were working on new material, and asked his manager to contact our office, and send us some of his work. His name-Nick Raskulinecz-remained unspellable and unpronounceable for a while, but we liked what we heard. Nick was best known for his highly successful work with the Foo Fighters, but before that he had a long history as a musician, engineer, and producer. He had started out in Knoxville, Tennessee, and more-or-less worked his way west, studio by studio. When we met Nick, we all liked his youthful, unbridled enthusiasm, but at 36, he was also experienced enough to have a strong background in music and recording. We agreed with the comments and suggestions he had for our new songs, and loved his excitement about them, so we signed him up...Nick was an irrepressible air drummer, and he would describe his suggestions for my drum parts with wild flailing arms and vocalizations: 'bloppida-bloppida-batu-batu-whirrrrr-blop-booujze.' That last syllable is onomatopoeic for a combination of bass drum and crash cymbal (of course), and before long it became Nick's, er, 'nick' name: 'Booujze.'" - Neil Peart, NeilPeart.net, December 8, 2006
"By October, Toronto's days were often chilly, damp, and gloomy, with cold rains and occasional spells of glittering autumn sunshine, darkening earlier every day. Nick joined us in the little studio down by the old waterfront, and together we continued refining the arrangements and our individual parts. We had ten songs finished by then, and were working on one of our typical 'mental-instrumentals' to be the eleventh." - Neil Peart, NeilPeart.net, December 8, 2006
"...the new set of purpose-built 'recording' drums that my friends at Drum Workshop put together for me, which were intended to be used on Matt's project and become my 'West Coast kit,' sounded so good that I had them sent straight east, to use on the new Rush album....by November, when we moved to Allaire Studios in New York's Catskill Mountains to start the 'serious' recording...As I said to Rich and Nick when my last drum track was finished, 'I have never enjoyed the recording process so much, nor been so satisfied with the results.'...all of that energy, excitement, and activity have sped the project along, and now it looks as though the recording will be finished by the end of the year-far ahead of schedule. We are planning on doing the final mixing early in the New Year" - Neil Peart, NeilPeart.net, December 8, 2006
"Nick Raskulinecz was a Rush freak when he was playing bass and guitar in local Knox rock bands circa 1990...imagine the excitement for Raskulinecz-now a well-regarded record producer living in L.A.-when the band's management called last year and offered him the chance to produce the venerable outfit's 19th studio album. Raskulinecz accepted, needless to say, and spent five weeks living and working with the trio in a remote woodland studio on a mountaintop in upstate New York...'It was a dream come true, because they were one of my favorite bands since I started listening to music when I was 10 years old...Suddenly, I was sitting in Geddy Lee's kitchen, Alex Lifeson is there drinking coffee, and we're talking about preproduction. I think they needed someone to kind of come in and kick them in the ass, and I was able to do that. We had a great time, and I think we made their best record in 15 years...For a few weeks, I was basically the fourth member of Rush,' Raskulinecz says of his production method. 'I become part of it. I have to really be able to get inside the songs; when I make a record, I can't just be casual about it.' He adds that the upcoming release will have 'the sound and vibe of an old Rush record'-i.e. one of those gloriously overwrought sci-fi prog-metal epics he grew up with, albums like 2112 and Hemispheres and Permanent Waves." - Nick Raskulinecz, Knoxville's MetroPulse.com, January 10, 2007
"In the space of five weeks, we recorded the whole record. I think this is the first record we've recorded in about 30 days since A Farewell To Kings. We're finally learning to do this right, 30 years later!...We're in Los Angeles right now, we got here this week, on Monday (January 15th), and we're mixing until the end of the month, and then we should be done." - Alex Lifeson, therock951.com, January 17, 2007
"Since the late fall, I've been in the studio recording and mixing a new CD for Rush with Nick Raskulinecz (Foo Fighters, Stone Sour) producing. Recording was completed at Allaire Studios in Shokan, New York during November/December 2006. I mixed the CD in the Neve 88R room (Studio D) at Ocean Way Studios in Los Angeles. Experiencing their immense musical talent and personal integrity over the course of an entire CD was truly inspirational. And Nick is such an enthusiastic, focused talent as well -- a rocker through and through too. A small snippet of the first single 'Far Cry' is posted at rush.com .... enjoy the 'hemispheres chord' ... heh heh heh." - Rich Chycki's News Blog, February 18, 2007
"Rush returns with its first studio album in five years, as

Snakes & Arrows

bows at No. 3 with 93,000 units. Its last studio set, 2002's

Vapor Trails

, began at No. 6 with 108,000. All told, the new set is the act's 27th album to reach The Billboard 200. Its highest-charting effort remains 1993's

Counterparts

, which debuted and peaked at No. 2" - Billboard.com, May 9, 2007
"['The Main Monkey Business'] was a pet project of mine. Once we had most of the material written, we did this big monster jam. We had a ton of great parts, and I spent four days trying to create the most self-indulgent piece I could think of. I changed parts when I felt like it, and I put it together in a really selfish way, not considering whether someone else would be able to understand it or not. I had a lot fun chopping up Alex's guitar parts." - Geddy Lee, Bass Player, August 2007
"'Malignant Narcissism' was the very last thing we did we on the record; we wrote it in the studio after we were pretty much done with everything. I was in the middle of doing vocal tracks when a friend visited and told me about Fender's Jaco Pastorius Tribute Bass. I checked it out online and thought it looked cool, so I asked Fender to send me one. I'd just plink on it in between vocal takes. it's a glorious bass to play-it just feels special. I was jamming with it one day, and unbeknownst to me, Nick was recording the jam. At one point I was playing a little riff, and he came in and went, 'Dude, that's a song- you've got to make a song out of that!' Neil happened to be there-we had finished his drums by then and torn down his regular kit, but we had left a little four-piece kit set up for us to jam on. We threw the song together with just bass and drums, playing live. Later, Alex came back and put his parts down. It took just a couple of days to throw together." - Geddy Lee, Bass Player, August 2007
"It's hard to describe, it's big, it's bold, and I think it's some of the best work we've done in years. I'm really pleased with the quality of the songs, and there's lots of playing on it...Playing those songs [from Feedback] that we loved and grew up on, I think it helped us remember how sometimes it's the simplicity or the directness of an arrangement that really makes a great song. And the other thing is, we played all together in the studio for a lot of the 'Feedback' stuff. That's something that a lot of producers had been pushing us to do for a while but which we hadn't done in years. It was great to turn off the click and just play - you know, not worry so much about being so, quote, metronomic - and that definitely carried over into this record." - Geddy Lee, Revolver Magazine, February 26, 2007
"To my surprise, 'snakes and arrows' called up several links to something called 'Leela, The Game of Self Knowledge,' or, incredibly, 'The Game of Snakes and Arrows.' Long story short, I followed that trail with growing enthusiasm, and learned that Leela (Hindi for 'the game') was at least 2,000 years old, and had been created by Buddhist saints and sages as a game of karma-like many games, a metaphor for life...The Leela player rolls a single die, said to be affected by his or her karma, and moves around the board. Each square on the grid represents a stage of consciousness or existence, and the player is raised to higher levels by arrows, and brought low by snakes. The children's game 'Snakes and Ladders' (sometimes called 'Chutes and Ladders') was adapted from Leela by the British during the 19th century Colonial period. After that, the original game almost disappeared-apparently only two gameboards existed in India when scholar Harish Johari revived the game and brought it to America in the 1970s...When I told Alex and Geddy about the Leela connection, and showed them the gameboard painted by Harish Johari, they were as excited by all that serendipity as I was, and we agreed to use his painting for the cover." - Neil Peart, "The Game of Snakes & Arrows"
"The songs on this album are very powerful and very positive. I think it's the best work we have ever done. And that says a lot to still be excited about what I am doing after more than 30 years. This material is really classic Rush." - Geddy Lee, ESPN.com, March 14, 2007
"For years, I've wanted to make a documentary of Rush in the recording studio, and tell the story of the process of making an album. So, it was the opportunity of a lifetime to be a 'fly on the wall' and capture rare footage of the guys at work on their upcoming release, Snakes & Arrows. The documentary, entitled The Game of Snakes & Arrows, was filmed over the course of 20 days at a beautiful studio in New York's Catskill Mountains." - Andrew MacNaughtan, andrewmacnaughtan.net, April 17, 2007
"Both producer Nick Raskulinecz and engineer Rick Chycki were armed with an encyclopedic knowledge of Rush's 30- years-plus recording career: 'They're quoting lyrics all the time and having a hoot,' says Lee, 'and I'm going, 'Jeez, I don't remember that one. How do they remember it?'" - National Post, April 23, 2007
"We're all big Matt Stone fans, and South Park fans, so we we were all fans of that movie," Rush singer-bassist Geddy Lee said yesterday in Toronto. "And (Rush drummer-lyricist) Neil (Peart) is friends with Matt Stone. And Matt and Trey Parker were both Rush fans at some point. So they keep in contact. And (Neil) said, "Look, we want to do this song called Malignant Narcissism, and (Matt) was thrilled. He said, 'Great!' " - Jam! Music, April 27, 2007
"All of these well-armed religions start with children," Peart explains, mentioning Richard Dawkins' bestselling book The God Delusion. "A Christian child, a Muslim child - there's no such thing. They're made that way by their parents....Faithless was born out of the same reflection..Faith, for some people, can be a consolation, an answer to the big questions or solace when they're feeling hurt and lonely. It's a kind of armour. But bad faith, that's a kind of sword." - Neil Peart, GlobeAndMail.com, April 28, 2007
"It came from traveling through all these back roads and small towns and seeing these church signs everywhere...I tried to imagine going by one with the crescent and star saying, 'There is no god but Allah and Mohammed is his prophet.' Or one with the Star of David saying, 'That carpenter wasn't our messiah.' It makes me laugh, in a way, but in another, this is so f--ked up...I didn't want to make enemies gratuitously, but I decided I had to say something because if I didn't I was just allowing that to happen. It's worth speaking out despite the vilification and stuff that might come back at you. If you're not speaking for reason, you're speaking for unreason." - Neil Peart, Toronto Star, April 28, 2007
"'He [Raskulinecz] was a very stealth fan, I didn't really know he was that big a fan when we met him...He kept it quiet. He was very professional. And slowly as we got working together, it started to seep out. And the engineer we worked with Canadian Rich Chickie, also knew a lot more about our music than he initially led me to believe. So throughout the making of the record there was this little relationship they were having, little obscurities, like certain lyrics would be quoted out of the blue, and they'd be riffing on our songs from the past that I couldn't even remember. And I'm going, 'What's that from?' And they'd go, 'That's from one your songs, dude!' You couldn't help but smile because they very sweet.'" - Geddy Lee, TorontoSun.com, May 6, 2007
"I recorded and mixed Snakes & Arrows, Nick Raskulinecz produced it. We both had a common goal to make a modern yet more vintage sounding Rush CD so it was a very complementary relationship. Nick's an accomplished engineer in his own right having worked with the Foo Fighters, so I very much respect the trust he put in me. Regardless of which band I'm working with, I never feel like my gig is just a job. I'm not the weekend nightshift boy at 7-11 so I'm very grateful. But I will say that in between all the listening and meter watching, once in a while you look up and see Geddy riffing out and the thought crosses your mind - 'Holy Fuck! I'm recording Rush!'" - Richard Chycki, Bravewords.com, November 22, 2007
"Neil Peart proves that he is still percussively pertinent to a younger generation of drummers by winning DRUM! magazine's 'Drummies 2007' 'Drummer Of The Year'. He also won four other awards. Neil Peart, who turned 55 on September 12, received some pretty cool belated birthday presents from Enter Music Publishing, publishers of hip/percussion magazines worldwide, such as DRUM! and Traps magazines. During this year's 'Drummies', Peart was named 'Drummer Of The Year' by 4000 drummers, who participated in the readership survey conducted by DRUM! for the Drummies. The runners-up were: Danny Carey, Vinnie Colaiuta, Thomas Lang. Additionally Peart won four more 'Drummies' for 'Progressive Rock Drummer,' 'Live Performer,' 'DVD' ('Anatomy Of A Drum Solo'), and 'Drumming Album' ('Snakes & Arrows' by RUSH). While Peart has received numerous awards for his drumming over his career, this marks the first time that he has won DRUM!'s prestigious 'Drummer Of The Year'. 'Neil Peart was on our June cover because we suspected this would be a big album for RUSH,' said Phil Hood, publisher of Enter Music Publishing. Even though our audience skews younger than RUSH's fan base, he's a huge influence on all drummers, so it's not surprising he finally won this award from DRUM!'s readers,' continued Hood." - Blabbermouth.com December 25, 2007
"Snakes & Arrows made a triumphant debut on the Billboard 200 upon its release May 2007, entering the chart in the #3 spot. The album's popular success marked Rush's highest chart debut since 1993, as well as the group's eleventh top ten album in the U.S. Snakes & Arrows also debuted at #3 in the band's native Canada and at #13 in the UK - the band's highest British chart ranking in 16 years. In addition, the album premiered in the top ten in Sweden and Finland, and in the top twenty in Norway, the Netherlands, and Japan." - Snakes & Arrows Live Press Release, September 22, 2008
"Leaving the park at Twentynine Palms, I continued north on the road to the ghost town of Amboy, and Roy's Motel, which appeared in Ghost Rider. In fact, unknown to most people, Amboy also appears on the booklet cover of the Snakes and Arrows CD, and lately, on the new concert DVD, plus at the beginning of the 'What's That Smell?' film that played before 'Far Cry' during our concerts this past summer. I watched it every night from my 'waiting-chair' behind Geddy's ampline (er, rotisseries), before the second set, and it always gave me a smile. Back in 2006, when Hugh Syme and I were trading ideas for that Snakes and Arrows cover, we discussed a surreal desert highway scene. As a reference, I sent him one of my Ghost Rider photographs, taken on a stretch of old Route 66, looking west toward the cluster of crumbling buildings at Amboy, with the unmistakable Amboy Crater in the distance. Hugh ended up 'building' the scene on that original photo, which had been taken in 1998 (as a slide, in those days). Like the Monument Valley ten-years-apart photo that appeared in a story earlier this year, 'South by Southwest,' I decided to pause for a ten-year anniversary shot of Route 66 and Amboy." - Neil Peart, News Weather & Sports, December 2008
Video Interviews