Toronto Rocks
---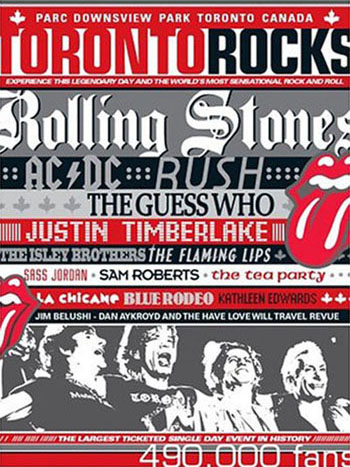 Buy DVD
Tracklist
THE HAVE LOVE WILL TRAVEL REVUE
1. Intro w(Skybox Ballroom Pump)
THE FLAMING LIPS
2. Race for the Prize
3. Do You Realize?
THE HAVE LOVE WILL TRAVEL REVUE
4. Dig Myself a Hole
THE ISLEY BROTHERS
5. Who's That Lady
6. Shout
JUSTIN TIMBERLAKE
7. Senorita
HAVE LOVE WILL TRAVEL
8. Time Won't Let Me
THE GUESS WHO
9. American Woman
10. No Time
RUSH
11. Limelight
12. Freewill
13. Paint It, Black/Spirit of Radio
AC/DC
14. Back in Black
15. Thunderstruck
THE ROLLING STONES
16. Start Me Up
17. Ruby Tuesday
18. Miss You (with Justin Timberlake)
19. Rock Me Baby (with AC/DC)
20. Satisfaction
21. Jumpin' Jack Flash
BONUS MATERIALS
---
Linernotes
TORONTO ROCKS! was the first massive outdoor music festival to get it exactly right - peace, love, food, water, toilets, and kick-ass ROCK from start to finish.
On July 30, 2003, almost half-a-million sun-drenched fans gathered at an old Toronto armed forces base, Downsview Park, for the purpose of showing the world that the city's SARS scare was overblown and over with -- oh, and perhaps also to watch one of the most memorable lineups of rock musicians yet assembled.
IT WAS THE LARGEST TICKETED SINGLE DAY EVENT IN HISTORY.
Despite predictions of doom by some in the local media, the event indeed went off without a glitch. Sure, the lines for food, beverage, and toilets were sometimes long, and dozens needed helop coping with the scorching heat that Mother Nature had ordered. But there were no deaths or even serioous injuries. The mother of all public-transit backups and traffic jams never occurred, as the Chicken Littles had warned. And police made only a "handful" of arrests - fewer, they said, than on the average Saturday night in the downtown core.
AMAZING.
The people of Toronto somehow decided that this was their day to shine for the world," promoter and native Torontonian Michael Cohl said. "They walked into that place with smiles on their faces and goodness in their hearts." The music kept both going.
THE WORLD'S MOST SENSATIONAL ROCK & ROLL
Fourteen acts, headlined by the Rolling STones, rocked the largest-ever gathering of Canadians for 12 hours with cutting renditions of their best work. Among the afternoon performers, Montreal's Sam Roberts became a star, and guitarist Jeff Healey seared off a fantastic solo on Sass Jordan's hit "Make You A Believer."
SUPPORTING ACTS
Kathleen Edwards - Sass Jordan - La Chicane - The Tea Party - Sam Roberts - Blue Rodeo
As the shadows grew long, Canada's pre-eminent rock groups - The Guess Who and Rush - ensured there would indeed be sugar tonight, whipping the crowd into a frenzy with back-to-back sets. AC/DC followed that by electrifying everyone with 12 of their classics, a performance that won't ever be forgotten in these parts.
The came the Stones, who ripped the joint for more than an hour. Justin Timberlake guested on Miss You, while AC/DC's Malcom and Angus Young jammed with the ROLLING STONES on a fantastic version of B.B. King's ROCK ME BABY. It was almost midnight when the Stones hit the stage for the final encore of the night, Jumping' Jack Flash - the perfect exclamation mark on a near-perfect day.
- John Kryk, Toronto Sun
The artists and TGA DVD have generously donated their fees to charity including the hospitality and healthcare workers affected by the sars crisis, the canadmn music therapy trust fund, l'arche, the nordoff-robbins music therapy foundation, and right to play.
Executive Producer MICHAEL COHL
Producers STEPHEN HOWARD, DAVID KINES, RANDALL GLADSTEIN, FRED NICOLAIDIS
Associate Producers DENNIS J. MILLS MP., SENATOR JERRY S. GRAFSTEIN
Directors MARTY CALLNER, DAVE RUSSELL
Bonus Materials Produced by JAKE COHL, RANDALL GLADSTEIN
Production Director JAKE BERRY
Event Producers JO-ANN MCARTHUR, BOB SINGLETON, RILEY O'CONNOR
DVD Design & Production METROPOLIS DVD - DAVID ANTHONY, TOM LEONE, BEN KIM
VIDEOTAPED LIVE AT PARC DOWNSVIEW PARK JULY 30, 2003
---
Notes:
DVD release June 29, 2004
Total Duration: 142:05 mins., Main Program: 118:19 mins. Extras: 23:46 mins.
Rush performed for approximately 450,000 people in Toronto's Downsview Park as part of the "Molson Canadian Rocks For Toronto" concert to benefit Toronto's SARS-depressed economy on July 30, 2003. The list of performers for the nine hour concert included The Rolling Stones, AC/DC, The Guess Who, Justin Timberlake, Sam Roberts, The Flaming Lips, Kathleen Edwards, The Isley Brothers, Sass Jordan, La Chicane, and Dan Aykroyd with Jim Belushi and the "have love will travel revue". Rush's 35 minute set featured Tom Sawyer, Limelight, Dreamline, YYZ, Freewill, Closer To The Heart, Paint It Black (instrumental) and The Spirit Of Radio, and was followed by AC/DC (55 min.) and The Stones (70 min.) who closed the show. The Stones were touring with guests AC/DC at the time. Toronto Rocks is a pared down DVD release of the all day concert. The DVD includes six songs by the Rolling Stones, and between one to three songs from the remaining performers. Each performer was sent a tape of their performance, and allowed to choose their favorites. Included in the bonus footage is Peart's meeting the Stones' drummer, Charlie Watts, who eagerly watched Neil Peart from the wings during Rush's set. A two disk set in Canada, the DVD was released as a single disk elsewhere by cutting out some of the lesser known Canadian talent. All artists agreed to donate all DVD sales revenue to several charities, especially those related to the SARS outbreak (benefitting hospitality and health workers).
The first documentary disk of the Rolling Stones DVD, Four Flicks, released November 11th, 2003, includes a section on the SARS benefit concert with excerpts of interviews with Geddy and Alex, and clips of Alex meeting Burton Cummings of The Guess Who and Neil being greeted by Stones drummer Charlie Watts as Geddy and Alex look on.
In Their Own Words
"When we were first asked to play Molson Canadian Rocks For Toronto, it seemed impossible to say yes. We had been off the road for 8 months, our gear was in the warehouse, most of our crew was out on other tours, and even we were all over the place - Geddy with his family in France, Alex working in the studio mixing our Rio de Janeiro show, and me on my motorcycle in the California mountains. However, when we thought about everything Toronto meant to our lives, to our work and play, our homes and families and friends, it seemed impossible to say no!" Neil Peart, Rush.com newsletter, July 3, 2003
"That was really quite an amazing moment. I couldn't stop smiling looking out and seeing people as far as you could see. And it went off really without a hitch. It was a great day for the city. We were in the middle of holidays when we got the call to do that show. It was kind of fun to try to throw everybody together and rehearse for a couple weeks and just play for 35 minutes. It was a bit weird." - Geddy Lee, FYE.com, July 9, 2004
"We had narrowed the set down to seven songs, eliminating 'New World Man' (with its risky sequencer beginning that might go awry in such a chaotic setting), and reviving the old warhorse, 'Working Man,' as a possible encore song...Finally, it was showtime. We walked across the vast area backstage and up the high steps to the massive stage, and stood at the back corner, waiting...A short, older man stepped up to me, sticking out his hand an saying something I couldn't hear. Thinking, 'Now who's this?' I took out one of my ear monitors and said, 'Sorry, I couldn't hear you.' He spoke again, smiling, 'Hello, I'm Charlie Watts.' 'Oh!' I said, taken aback, 'Hello.' And I shook his hand. He asked if we were going on soon, and I said yes, any minute, and he said, with a twinkle, 'I'm going to watch you!'...At the end of 'The Spirit of Radio,' we ran offstage, waiting to see if we should play an encore or not. Everyone was supposed to know about that plan, but somebody obviously didn't. Taped music started playing over the P.A., as if our set was over, and stagehands began walking onstage to strike the gear. We were still standing at the side of the stage, tensed for action but not knowing what to do, when Alex turned to go, saying, 'Forget it. It would be embarrassing to go back on now.' He was right. It was over." - Neil Peart, Traveling Music, pp. 357-364