Film, Television And Video Cameos
---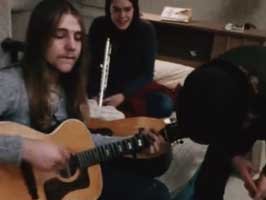 Alex Lifeson in Come on Children, 1972
Filmed in 1970 or '71, this reality film contains the oldest known recorded performance of Alex Lifeson (on video, no less!). In the film, Alex performs "Run Willie Run", a Rush original written in 1969, on acoustic guitar with an unknown co-star providing the vocals. In another scene he plays a Hendrix tribute ("Star Spangled Banner") for a group of the kids. Although Alex doesn't speak much in the film, in a scene late in the film he argues with his parents over his decision not to go to college, and discusses his girlfriend/future wife Charlene and their young son Justin (a clip from this scene was included in Beyond The Lighted Stage).
"It was ten kids living on a farm together for ten weeks and the interaction between them, and the cameras were always on, like reality TV before reality TV. Allan King was the filmmaker and he had made a few films like that...I auditioned for it and there were about three hundred kids who went up for it. It didn't turn out the way Allan invisioned it would. We weren't very interesting so nothing really happened with it. It kind of flopped as an idea. It shows up on TV occasionally; I've seen it, it was on a few months ago. I was going through the channels, and there I was and it was really shocking. It was nineteen-seventy. I was seventeen at the time." - Alex Lifeson, "Closer To The Art", Classic Rock, October 2004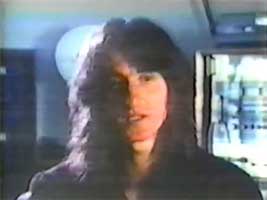 Geddy Lee in Heart Of Gold, original airdate Dec 12-14, 1982

This three part documentary which aired on the CBC was narrated by Donald Sutherland. Click here for a clip of Geddy's interview. The book Heart Of Gold - 30 Years Of Canadian Pop was also published to compliment the documentary, which includes a Rush feature.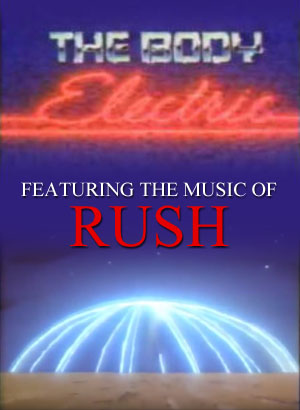 The Body Electric, the Canadian animated television movie, 1985
Featuring a Rush soundtrack, this half-hour film combines themes and ideas from many Rush songs, particularly "The Body Electric" and "2112". The story takes place after a robot revolution in a futuristic domed city named "Red Sector A". In the order played, the soundtrack includes excepts of: "Red Sector A," "Hemispheres Pt. V.," "2112 Overture," "Cygnus X-1 Pt. 3," "Different Strings," "Jacob's Ladder," "The Fountain of Lamneth Pt. VI," "Xanadu," "The Body Electric," "Working Man," "Hemispheres Pt. V.," "Marathon," "Hemispheres Pt. VI."
"Red Sector A was a paradise...for man's machines. The domed city was home to the last of the human race, where they lived in comfort, served by their robotic servants. Until one day a mysterious force turns the robots against their masters, and the machines cast the people out of Red Sector A into the wastelands outside. Years later, the robots have collapsed into dust without human maintenance, leaving two young people - Woody and Andrea - to live in the city. But the city is on the verge of a exploding as the shield generator approaches meltdown. Andrea and Woody have a few hours to escape Red Sector A, but the unknown force that caused the revolution is still present, and has it's own plans for them."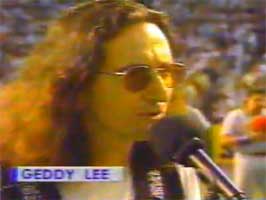 "O Canada", Geddy Lee performing the Canadian National Anthem at the 64th Major League Baseball All Star Game, Camden Yards, Baltimore, Maryland, July 13, 1993 (click here to view the performance)
"It was a tremendous thrill for me. I've been asked on a couple of occasions to sing National Anthems, and I always was holding out to throw the first pitch - I thought that would be more fun than actually 'working'. But when they called and asked me to do the All Star Game, espeically at Camden Yards, such a beautiful place and such a special game, and I'm big baseball fan as a lot of people know. So it was a great thrill for me and it was probably the most nervous I'd ever been before doing a concert. And I was appreciative of somebody from one of the networks before I went on that it was going live to like 80 countries, and they told me that just before I walked out. Which was a nice thing to be reminded of before you go to sing acapella at a microphone!" - Geddy Lee, "Rockline", January 24, 1994
"It was so weird, it was so nerve wracking. I don't know whether the lady who told me that 80 million people were watching was the reason I was nervous, but going out there accapella just to sing to this echoey environment was definetly not easy. But it was thrilling to turn around and see all these great ball players, having to wait for you to finish!" - Geddy Lee, WMMR Interview, December 18, 2000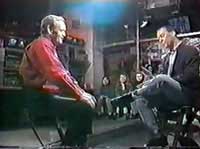 Neil Peart on the MuchMusic's "A Concert Of Politics", October 22, 1993
Neil Peart interviews future Canadian Prime Minister Jean Chretien.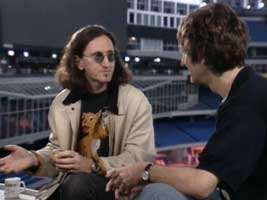 Geddy Lee on CBC's Big Life with Daniel Richler, June 7, 1996
"As frontman for the globally popular Canadian rock band Rush, Geddy Lee knows a thing or two about crowds. But he knows how to disappear in one, too, which he does regularly as a tourist in baseball-mad Japan and at home watching the Toronto Blue Jays. In this 1996 interview inside the Skydome with Daniel Richler of CBC's Big Life, Lee shows off some of the remarkable baseball memorabilia he's collected and reflects on the unpredictable nature of crowds."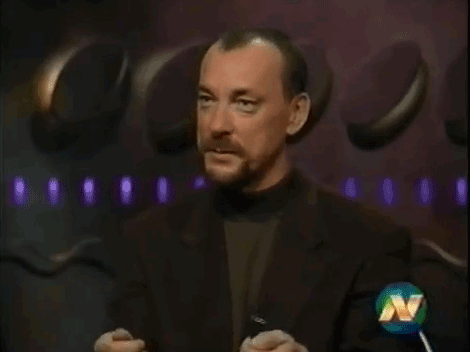 Neil Peart on the Pamela Wallin Show, the Canadian television talk show, October 18, 1996
Neil discusses his book The Masked Rider.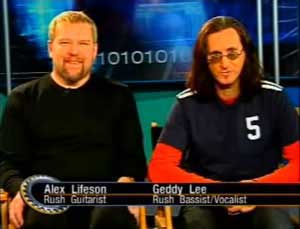 Alex Lifeson and Geddy Lee on Tech TV's The Screensavers, February 21, 2003
Geddy and Alex appeared in support of the compilation The Spirit Of Radio: Greatest Hits 1974-1987. You can view the video here.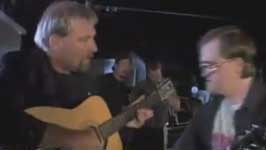 Alex Lifeson guest star on Trailer Park Boys, the television series, May 18, 2003
"Closer To The Heart" (season 3, episode 5): "Bubbles is so devastated about not getting tickets to the RUSH concert that Ricky decides to bring Alex Lifeson (played by Alex Lifeson) to the park to perform a private concert." One scene of the episode was filmed during the October 22, 2002, Vapor Trails concert at Toronto's Air Canada Centre, as actor Mike Smith, who portrays Bubbles on the Nova Scotia, Canada, based comedy series, was filmed playing the part of a Rush roadie. As he walked on stage to hand Alex a new guitar, Geddy told the crowd "he is a new guy." The final scene of the episode features Alex and Bubbles playing "Closer To The Heart" on acoustic guitars.
"I was a bit nervous up there. I mean, it's dark, and I can't see, and I'm stepping over cables and stuff...Alex is a big fan of the show...Alex came to us and asked to do a cameo. The director was like, 'No, but why don't we write a whole episode based around you?' And he was totally into that. So we flew him out to Halifax and we shot with him for three days and had really great times. He's a really amazing person." - Mike Smith ("Bubbles"), TorontoStar.com, October 28, 2002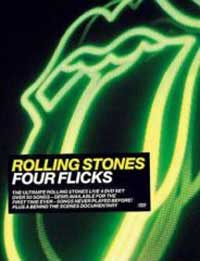 Rush on Rolling Stones' Four Flicks DVD, November 11, 2003
Released after the Rolling Stones' "Licks Tour", under the "Extras" section of the first documentary disk is a section on the SARS benefit concert titled "Toronto Rocks", with excerpts of interviews with Geddy and Alex, and clips of Alex meeting Burton Cummings of The Guess Who and Neil being greeted by Stones drummer Charlie Watts.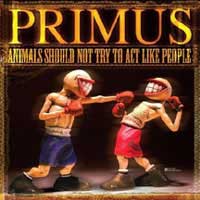 Alex Lifeson (aka "Big Al") guest interviewer on Primus' Animals Should Not Try to Act Like People DVD, released October 7, 2003
The "Brown Album" portion of the DVD has an area called "Horrible Swill" which contains an interview of the band performed by one "Big Al", wearing black rimmed glasses and fake crooked teeth. In addition, the "Attic" area contains a "pictures" section which includes a photo of Les Claypool and Geddy Lee fishing. Yet another scene backstage has Les showing off his bass which is autographed on the headstock by Geddy Lee, as he points at it and says "Geddy Fucking Lee!"
Known to be Rush fans, Primus included the intro to "YYZ" in two of their tracks, "John The Fisherman" and "To Defy The Laws Of Tradition", released on separate albums in 1990 and included on They Can't All Be Zingers: Best of Primus. Primus toured with Rush on the Roll the Bones and Counterparts tours, and bass player Les Claypool also performed on one track of Alex Lifeson's solo project, Victor. For their 2000 Antipop tour they sold a concert t-shirt with artwork similar to the 2112 cover. Their third DVD, Blame It On The Fish, includes a 30-min. mockumentary set in 2065, where a 102 year-old Les Claypool reminisces about the band, and mentions Rush and/or Geddy Lee on three separate occasions.
The Rick Mercer Report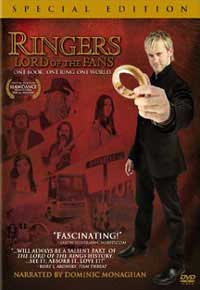 Geddy Lee interviewed in Ringers: Lord Of The Fans, January 21, 2005
A documentary celebrating fans of Lord Of The Rings, the documentary includes an interview with Geddy Lee and a brief glimpse of Geddy live on stage is seen during the trailer.
"Geddy Lee, bassist and lead singer for the seminal rock group Rush, has granted an exclusive interview to the producers of the feature documentary, Ringers: Lord Of The Fans. His heartfelt comments on the power of J.R.R. Tolkien's stories make it easy to understand how the world of Rock & Roll was forever changed by The Lord of the Rings. The fine connections between these two art forms is sharply drawn by Mr. Lee, as he explains the wonderful influence of Middle-earth on his early songwriting..." - TheOneRing.net - September 29, 2004
"As the scope of the film broadened to include the worlds of music and fantasy literature, efforts to secure interviews with the best and brightest of those worlds were met with 'Yes, I'd love to!' from all quarters...Rock legends Geddy Lee (RUSH) and Lemmy Kilmister (Motörhead) quickly came on board, explaining first-hand how the Rock scene shifted under the weight of Tolkien's high-fantasy influence....The heartbeat of RINGERS is in its Rock soundtrack, and the director wanted nothing less than wall-to-wall music. [Editor Arnaud Gerardy] carefully edited to the rhythm of Led Zeppelin's 'Ramble On' and RUSH's 'Rivendell'..." - TheOneRing.net, January 10, 2005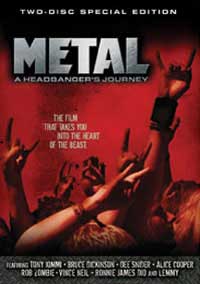 Geddy Lee interviewed in Metal: A Headbangers Journey, September 14, 2005
"Journeying through America and Europe, following tours and attending open-air metal fests, the filmmakers document people's opinions about the scene. Fans weigh in, as well as metal gods including Rush's Geddy Lee..."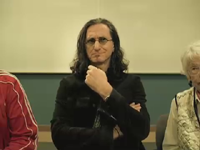 Geddy Lee guest star in "Fire Eye'd Boy" video from the eponymous third album by Broken Social Scene, October 4, 2005
Broken Social Scene is a Canadian indie supergroup from Toronto. In the video, Geddy Lee spoofs an American Idol judge.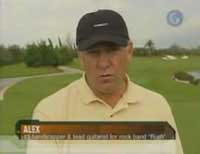 Alex Lifeson on The Golf Channel's Personal Lessons, July 3, 2006
The debut episode of The Golf Channel's "Personal Lessons" featured Golf Pro Rocco Mediate and his friend, Alex Lifeson. During the episode, they play a round of golf, along with an amateur partner, at Tuscany Reserve in Naples, Florida (where Lifson has a second home, also home of The Ritz-Carlton, Naples...).

The episode is now available online as part of golfchannel.com's "Playing Lessons" series.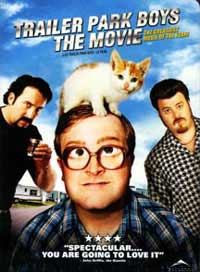 Alex Lifeson cameo in The Trailer Park Boys: The Big Dirty, October 6, 2006
Trailer Park Boys fan Alex Lifeson is seen in a cameo role as a police officer in the film, which also includes many Rush references. Alex Lifeson and Geddy Lee also perform on the soundtrack, and as part of the film's promotion, Lifeson hosted a Canadian TV special titled "Trailer Park Boys 101". For more information regarding the soundtrack, click here.
"When it came to making the movie the producers thought it would be appropriate, in view of everything that's been going on in Florida, that I play the role of a cop in the movie. Gord Downey from The Tragically Hip and I play partners. Geddy and I are also a part of the Big Dirty Band on the soundtrack. What song did we do? 'I Fought The Law', that was kind of appropriate too." - Alex Lifeson, Classic Rock, July 2007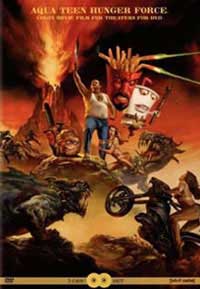 Neil Peart in the Aqua Teen Hunger Force Colon Movie, April 13, 2007
Peart voices a miniature of himself (a watermelon seed) who plays the drums. The film's website includes an animated music video of the Hunger Force performing in concert with Neil Peart on drums.
"'I'm a cheap device for exposition,' Neil Peart says over the phone from California, establishing two things straightaway. One: he knows his function in his role in the Aqua Teen Hunger Force movie. Two: He's a comedy buff, who goes on to explain that he's quoting an old SCTV parody of Fantasy Island. Absurd decisions typify the Aqua Teen creators...So when looking for big names to lend a voice to their show, they asked not for an animation veteran but instead for the drummer for Rush. "We get lots of offers over the transom, of course - lots of things that someone would like us to be involved in, or to buy from them," says Peart, clearly in a lighthearted mood. But when it came to this movie, 'Somebody in the office had an open mind.'...he's a watermelon seed who plays the drums, and he gets to perform a supernatural ritual called the Drum Solo of Life...'My solo (in Rush shows) is nine minutes long, so I just gave them a bunch of 30-second clips to choose from that sounded spiritual.'" - Toronto Star, April 15, 2007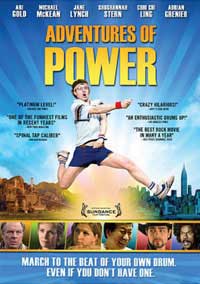 Neil Peart in Adventures Of Power, January 20, 2008
Neil Peart makes a cameo appearance in this comedy about one man's quest to prove his worth by winning an "air-drumming" competition. The film premiered at the Sundance Film Festival in January 2008, had its theatrical release on October 9, 2009, and DVD release on January 25, 2011. The DVD holds over 60 minutes of bonus features including a 25 minute interview and Power drum-off with Neil Peart.
Often compared to Napoleon Dynamite crossed with Spinal Tap, the film is part comedy, part drama, with economic hardship and the need to prove one's worth juxtaposed against...air drumming! For Rush fans, this film holds a treasure trove of goodies. The film includes a flashback scene where young Power is inspired to become a drummer after hearing "Tom Sawyer" on the radio. In addition, adult Power's bedroom is plastered with Rush and Neil Peart posters, and during one of the more hilarious scenes onlookers criticize Power for daring to air drum Neil Peart "without a stool". The coup de grâce comes at the end of the film, when Neil Peart himself has a rare cameo as the judge of the final air drumming competition; he must judge the performance of the most difficult air drumming song ever: "Tom Sawyer".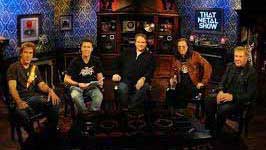 Alex Lifeson and Geddy Lee on VH1 Classic's That Metal Show, December 27, 2008
Geddy and Alex appeared on the season 1 finale (season 1, episode 7). You can view the video here.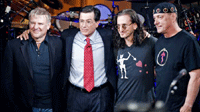 Rush on Comedy Central's The Colbert Report, July 16, 2008
All three members of Rush appeared on US television for the first time in 33 years, were featured throughout the show, including being interviewed together with Colbert and a performance of "Tom Sawyer". The complete episode is available on Colbert's website. The television segment is included on the Retrospecitve III CD/DVD edition.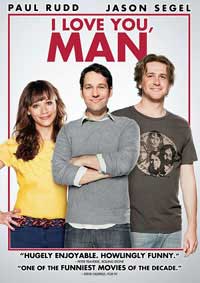 Rush in I Love You Man, March 20, 2009

I Love You Man director and co-writer John Hamburg is a long time Rush fan, and used to play Rush covers in his band. When writing the script, he chose Rush as a bonding device for the lead characters played by co-stars Paul Rudd and Jason Segel. The film is full of Rush sightings, including a scene which takes place at a Rush concert with a cameo by the band. The film also includes a scene where Jason Segel and Paul Rudd perform "Limelight", a performance which is included on the I Love You Man Soundtrack, along with the original Rush versions of both "Limelight" and "Tom Sawyer". A source close to the band reported the concert scene was filmed the week of May 11, 2008, while the band was in L.A. during the second leg of the Snakes & Arrows tour. Check out this extended 4:13 clip of Rush performing "Limelight" for the film, with additional footage not found in the final release.
"When I met (the band) and I was explaining the scene to them, I was so hypersensitive that they would enjoy themselves and not feel as if we were making fun of them because we were not at all. So I was explaining it to them, like, 'Jason and I are dancing around and we're really, really excited, and Rashida [Jones], her character is weirded out by us but she's kind of bored because we're totally ignoring her. So that's what's going on in the scene. We're way into it and she's kind of bored.' And Geddy Lee said, 'So it's just like any one of our concerts.' (laughter)" - Paul Rudd, ComingSoon.net, March 19, 2009
"I would say probably my favorite scene thus far is when we go to a Rush concert, and I'm trying to be down because I love my husband, and I want to support him in his endeavor. But Rush is just, as much as they're really great music, they're not 'geared' towards women necessarily, so I feel left out very quickly even though I try to join in - to the point where they're being super intimate with each other and, without even knowing it, Paul is physically pushing me out of the scene. Which made me laugh very hard...we've been listening to the same song for two days straight, and the thing that's good about it is that it's really complicated. And I feel like most songs, you'd want to shoot yourself in the head after two days straight of listening to it. But I still like hearing it, because there's all these, like, weird changes in time signature; it's like weird and cool. I actually do like it. And the guys [from Rush] are like the coolest guys I've ever met. That makes it easier to like them, per se." - Rashida Jones, ComingSoon.net, June 8, 2008
"It was a blast, we just played the same song over and over again. It came at a tough time, because we were on tour and that was our day off. It was nice that it was such fun, because we were pretty beat." - Geddy Lee, Entertainment Weekly, March 20, 2009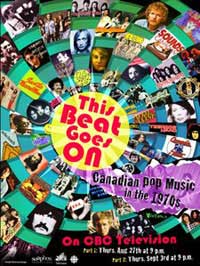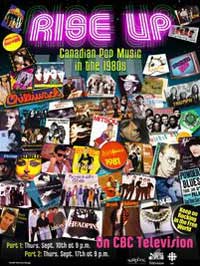 Geddy Lee in This Beat Goes On and Rise Up: Canadian Pop Music in the 1980s, August 27, 2009

Geddy Lee is interviewed in this CBC Television documentary duo chronicling Canadian pop music in the 70's and 80's.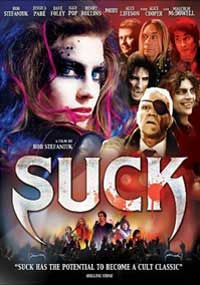 Alex Lifeson in Suck, September 11, 2009
Alex Lifeson is one of an all star cast of actors and musicians who appear in this Canadian vampire rock and roll comedy film which premiered at the 2009 Toronto International Film Festival. Lifeson has a cameo as a U.S. border officer; click here for a collage of Lifeson's scenes. The film's trailer can be seen here.
"Alex Lifeson should just fuckin' quit Rush and be an actor, he's so funny. He did all these little things, like playing with the typewriter and other subtle things that were so funny. I kept saying, 'Dude, be an actor!'" - Writer/Director Rob Stefaniuk, Now Magazine, September 9-16, 2009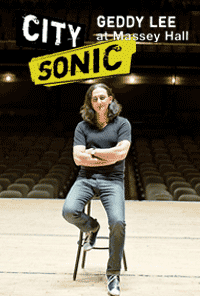 City Sonic Project - Geddy Lee At Massey Hall, September 15, 2009
One feature of the 2009 Toronto International Film Festival was the City Sonic Project, pairing Canadian music artists with award-winning Canadian filmmakers to create 13 short documentary films about the artists' connection to places where their musical lives were transformed. Director Bruce McDonald follows Geddy Lee on a tour inside Toronto's legendary Massey Hall, culminating with Geddy's memories of the making of All The World's A Stage (note: in the film, Geddy reminisces first playing Massey Hall in 1975; in fact, it is believed that Rush first performed in Massey Hall on October 24, 1974). The film can be seen here with production stills here.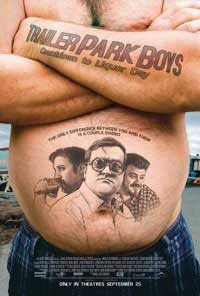 Alex Lifeson cameo in Trailer Park Boys 2: Countdown To Liquor Day, September 25, 2009


"It goes way back to when we first started. The show came out and no one really liked it, everyone thought 'What is this cheap garbage?' Trailer Park Boys was a slow-burn: the audience had to get used to the characters and it's shot on a Handycam. It looks really cheap and people didn't realize that was by design. But once they got past that and tuned into the humour, they got it. But we didn't realize it: we thought, 'Oh my God, no one's getting our stuff.' Then I heard from a friend who said, 'There's a very prominent rock star who's a big fan of Trailer Park Boys. Can I give him your email?' So Alex sent me the sweetest email, saying 'I love the characters; I find the show very, very funny. Great work, congratulations. Alex Lifeson.' We sent emails back and forth, and I found that Alex is an actor in his own right: he's really good at sketching characters and I think that's why he appreciated the show. I find musicians tuned into our show long before most other people did. Musicians have an unusual sense of humour. I asked Lifeson to appear on an episode - called 'Closer to the Heart' - wrote the script and sent it to him. He came to town and the very first scene we did with Alex was in a car and we started improvising. Wells hit him with, 'Why don't you play your big, fancy f*****g guitar or whatever it is the f??k you do!' and Lifeson loved it. Because you could go one of two ways: one is a Rush love-in, or you can flip it. And Ricky doesn't get it; he thinks Alex is from April Wine. So I asked Alex if he wanted to play a cop in the first film, and he said, 'Sure.' And we wanted to bring him back for the 2nd film and I thought, 'How do we put a twist on that? Maybe he's in disguise.' We shot that scene in one night and he was wonderful. I never get past the fanboy thing. One time I was at his house at 3 am banging on pots and pans in his kitchen and I think we woke his wife up. But I admire Rush so much and, in particular, Alex. He doesn't make you feel that way; he makes you feel comfortable, but he's such a shining artist that I had to look at my feet sometimes." - Director Mike Clattenburg, Suite.io, September 25, 2009
"Of course, there's the de rigueur appearance by Rush guitarist Alex Lifeson, here playing a drunken, undercover cop posing as a transvestite in a gay-prostitute alley (centered around a Chip Wagon that serves alcohol -- man, Halifax is one weird town). The character may indeed be the same cop Lifeson played in the previous Trailer Park Boys movie, showing his true colours." - Edmonton Sun, September 25, 2009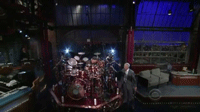 Neil Peart on The Late Show With David Letterman, June 9, 2011 (click here for a video of this performance)
"Peart admits that when he was approached to be part of Drum Solos Week, his initial reaction was, 'I don't know...it's not really my thing. But then I thought, Hey, a drum solo on TV - sounds great! I'd be very honored to be the ambassador to drum solos.' Only now there's the TV time factor, and it's got Peart's fertile mind running in circles. The show's producers have asked the renowned sticksman to keep the razzle-dazzle down to 'three, maybe four minutes,' says Peart. 'My regular live drum solo is about eight and a half minutes, so I decided I'd have to do a mental edit, accelerate the changes and minimize the improvisational parts and so on. At the rehearsal, during my first attempt, I had it down to about four minutes and 50 seconds, and the producers were giving me these worrisome looks.' Peart's second run-through was more acceptable: 'I got it down to about four minutes and two seconds...So all I have to do tonight is play that four-minute-and-two-second version of the solo, settle down and play the tempo and the end properly, and I'll be happy.'" - MusicRadar.com, June 7, 2011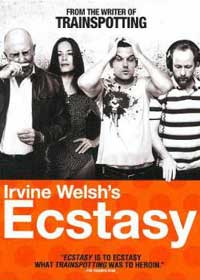 Alex Lifeson cameo in Irvine Welsh's Ecstasy, September 10, 2011 [Toronto International Film Festival]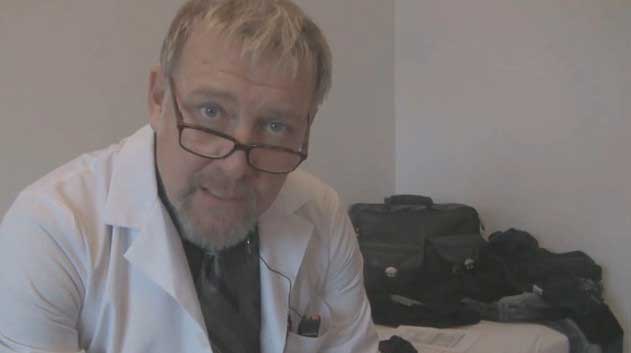 "News out of Sault Ste. Marie, Ontario is that the latest Irvine Welsh film adaptation should be a treat for music fans. Based on a story by the Trainspotting author, Ecstasy is being helmed by director Rob Heydon and shot in the Canadian city. The Sault Star reports that the film has several musical connections. Chief among those connections is a killer soundtrack, featuring Arcade Fire, Brian Eno, Paul Oakenfold, Aphex Twin, Deadmau5 and Primal Scream. According to Heydon, Welsh's prior success helped pave the way to some of the music rights. 'I think based on the success of Trainspotting it was easier to get the music than the average Canadian film,' he said. 'It'll surprise a lot of people.' Sharp-eyed viewers will also catch a glimpse of a Canadian musical legend in the film's cast. Rush guitarist Alex Lifeson reportedly plays an 'unconventional physician' in the movie." - "Ecstasy to Feature All-Star Soundtrack, Rush Cameo", Gibson.com, June 6, 2011
Geddy Lee cameo in CBC's 100th Anniversary film adaptaion of Stephen Leacock's Sunshine Sketches of a Little Town, February 12, 2012

A man is seen in a barber chair with a towel over his head throughout the film, which he finally removes during the credits to reveal himself as Geddy Lee. The television movie was filmed in September 2011.
Geddy Lee cameo in How I Met Your Mother, February 4, 2012

"Oh Canada, get ready for some major prime-time ribbing and every hoser cliché imaginable when the popular American sitcom How I Met Your Mother unveils its ode to the Great White North. Alan Thicke, Geddy Lee, Jason Priestley, k.d. lang, Alex Trebek and Luc Robitaille are just part of the constellation of Canadian stars featured in the all-things-Canuck episode that airs Monday." The Star, Febraury 4, 2013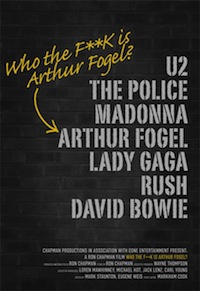 Who The F**k Is Arthur Fogel, the documentary, March 21, 2013
This documentary about the Candian music promoter includes an interesting bit about Rush with Geddy Lee and Ray Danniels starting at the 9 minute mark.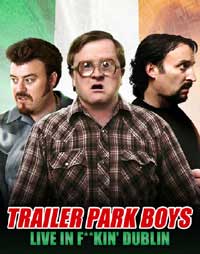 Alex Lifeson cameo in Trailer Park Boys: Live in Fu**in' Dublin, the Netflix original movie, June 1, 2014
After Bubbles, Ricky and Julian recreate and lip synch Rush's classic video for "Closer To The Heart", Bubbles learns he won a Rush internet contest to determine their greatest fan when Alex Lifeson sends a video confirming Bubbles and three friends will be flown to Dublin in Rush's jet to see the band. The movie later includes a partial live performance by Bubbles of "Closer to the Heart" and "Limelight", and during the credits Rush's original video for "Closer to the Heart" plays along side the Trailer Park Boys lip synch version.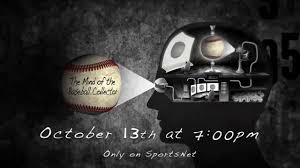 Geddy Lee featured in The Mind Of The Baseball Collector, October 13, 2014
Produced by Fadoo productions and broadcast one night only on Sportsnet in Canada, this documentary about baseball collectors featured Geddy Lee. Click here for the trailer.
"The Mind of the Baseball Collector looks at the addictive world of sports memorabilia collecting. The past comes to life through the collections and stories of: rock legend Geddy Lee, eclectic collector and lawyer Allan Stitt and the Guinness Book of World Records holder of the most autographed baseballs, Dennis Schrader."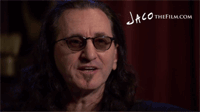 Geddy Lee featured in Jaco: A Documentary Film, November 22, 2014
Winner of the Asbury Park Music Foundation's "Foundation Award", Geddy Lee is one of the many musicians interviewed this documentary film which tells the story of legendary bassist Jaco Pastorius (a short snippet of Geddy discussing fusion music from the documentary can be seen here).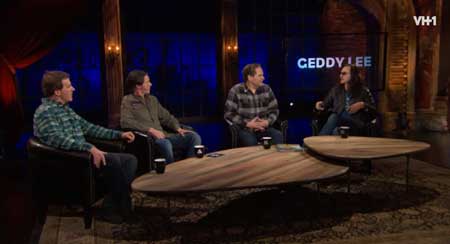 Geddy Lee on VH1 Classic's That Metal Show, February 21, 2015
Geddy Lee appeared on the season premiere which you can view here (plus additional outtakes from the episode which you can view here). During the episode, Geddy was asked to rank Rush's first nine studio albums and chose: Moving Pictures, Permanent Waves, 2112, Hemispheres, A Farewell To Kings, RUSH, Signals, Caress of Steel, Fly By Night.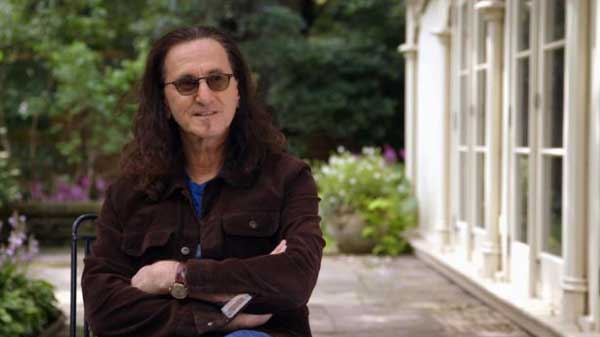 Geddy Lee featured on VH1 Classic's Rock Icons, February 21, 2015
"From Banger Films, the people that brought you the Rush: Beyond The Lighted Stage documentary and the TV show Metal Evolutions, comes an all-new docu-series profiling the biggest icons in hard rock, heavy metal and classic rock. Rock Icons premieres Saturday February 21st at 10/9C, immediately following the That Metal Show's season 14 kick-off, and takes you backstage with in-depth, intimate portraits revealing who these rock stars really are. Each 30-minute episode is jam-packed with exclusive interviews and never-before-seen footage with featured artists and the key people who helped shape their careers. The series premiere goes beyond the limelight with Geddy Lee, lead singer and bassist extraordinaire of Canadian progressive hard rock legends Rush. Find out how his remarkable musical talent and drive was influenced by the early passing of his father and why he is determined to live every bit of his life to the fullest. Future episode will chronicle the lives of metal god Rob Halford of Judas Priest, former Guns N' Roses guitar hero Slash, Nikki Sixx of Mötley Crüe and more. Between Rock Icons and That Metal Show, VH1 Classic is the place to be on Saturday nights for all things rock so don't forget to tune in starting February 21st!" - VH1.com, January 28, 201
"We did a feature length film on Rush, right? And now we're doing a half-hour feature on Geddy Lee. We sort of sat there and said, what else are we going to talk about, we've already covered so much. As we started to talk about it and do more research, what we started to embrace was not only the Geddy Lee that's in Rush but who he is outside of Rush. What does that tell us about his personality? So even though I spent hours with Geddy and the other guys in the band making Rush: Beyond The Lighted Stage, going down with him into the "bass room" of his house where he's got, literally, the history of the electric bass all on his walls, and to sit with him as he actually pulls basses off the wall and play them and talk about the history of the instrument – I still have these moments where I'm like, this is amazing. Because I started playing bass because of my love for bands like Rush and Iron Maiden. I mean, I wanted to be Geddy Lee and Steve Harris when I was 12. I still really get a big thrill out of spending time with these guys because they come to respect the work that we do and so it's very comfortable. We can just sit down on a very one to one basis and talk about things in a fairly transparent and relaxed way. And I think… let's just say I've had worse day jobs." - Sam Dunn of Banger Films, VH1.com, February 12, 2015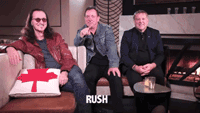 Rush featured in the Rob Cohen documentary Being Canadian, April 26, 2015
Famous Canadians (and some non Canadians) are interviewed in an effort to explain Canada to the world. Check out the trailer.
Geddy Lee and Alex Lifeson cameo in "Voodoo JuJu" video from the album Steroids On Heroin by Future User, June 1, 2015
"I got the idea for the video after I ruptured a disc in my back and needed emergency surgery. As someone who often goes under the knife, I've always been a bit overwhelmed by the process, paperwork, approvals and costs. Luckily, I have insurance, but it got me thinking about all the people in this country who can't afford medical treatment. I read an article recently that said there are over 40 million uninsured people living in the States, which is insane. I talked my doctor into letting me shoot the surgery, then explained the concept to Tom (Morello), who was totally into the idea. And of course, you can't talk about universal health care without bringing Canada into the conversation, so I called Geddy (Lee) and Alex (Lifeson) and asked if they'd be part of it and was blown away when they said yes. And all that footage of my back being opened up is real, no joke." - Tim Commerford, Blabbermouth.net, June 1, 2015
Geddy Lee and Alex Lifeson cameo on Chicago Fire, the television series, aired November 17, 2015
During the episode "2112", season 4, episode 6, "A neighborhood fire leads to Mouch (Christian Stolte) being offered tickets to a Rush concert; the family 51 helped save was that of a roadie from the band. This leads to Mouch, Casey (Jesse Spencer), Otis (Yuri Sardarov) and Herrmann (David Eigenberg) meeting the band backstage (cameos by lead singer Geddy Lee and guitarist Alex Lifeson)."
"The co-creators of 'Chicago Fire' light up like a five-alarm fire when talking about Tuesday's episode featuring the legendary rock band Rush. 'We've been friends with the Rush guys for years,' Michael Brandt said. 'They're hilarious. Total hams. They did us a favor.' Two-thirds of the Canadian trio - lead singer Geddy Lee and guitarist Alex Lifeson - guest star in Tuesday's installment, titled '2112,' the name of the band's fourth album. The storyline involves Rush performing a concert in Chicago. A few lucky Firehouse 51 fans snag free tickets to the show. 'We've been thinking about [having them on] for four years, so the fact that they finished their last tour and said that they would do it is awesome,' co-creator Derek Haas told me during an interview Monday at NBC press day in Chicago...The initial plan for the episode focused more on race cars than rock stars. 'We originally were approached by NASCAR to do a crossover episode,' showrunner Matt Olmstead said. 'We explored it. As oftentimes happens ... logistics got the best of everybody. So we had to pull that storyline. Instead of getting tickets to a NASCAR event, why not have the firefighters get freebies to a concert, Olmstead suggested. 'Derek's like, "Rush! It's gotta be Rush!"' Olmstead said. 'Thus began the whole process of clearing rights to music. Those guys [Haas and Brandt] wrote the Rush substitute storyline in about five minutes. That came from deep, deep, deep. Lifelong dream realized for those two guys.'" - TVTrippin.com, November 12, 2015