Rush Hot On Circuit
Billboard, October 19, 1974, transcribed by pwrwindows
---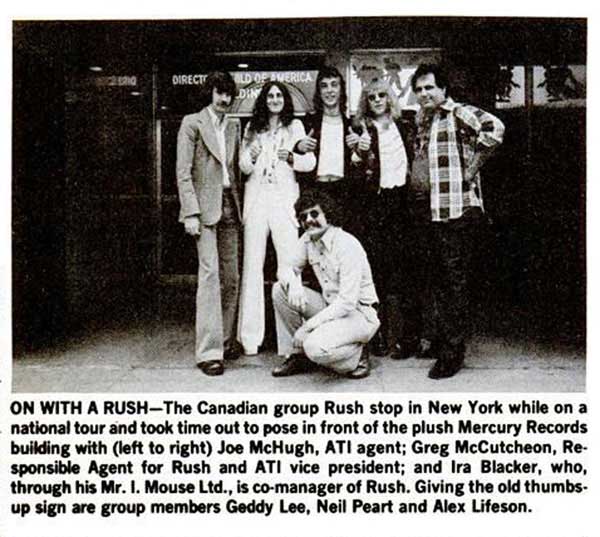 TORONTO-Rush, recently signed to Mercury Records in the U.S. by their management firm, SRO Productions, headed by Ray Danniels and Vic Wilson and American Talent International's former executive vice-president, Ira Blacker, are experiencing an exceptional reaction to their concert appearances. They have set many attendance records in various U.S. halls since they started touring there in mid-August.
The band will do a mini-Canadian tour at the end of October which will include dates at the University of Western Ontario, London, Ont., Oct. 23: Massey Hall, Toronto, Ont., Oct. 24: Grand Hall, Queen's University, Kingston, Ont., Oct. 25: the Civic Centre, Ottawa, Ont., Oct. 3l and the Forum, Montreal, P.Q., Nov. l.
The band is then booked through December and will be special guests on several Rory Gallagher American dates including the felt forum of Madison Square Gardens in New York and the Shrine Auditorium in Los Angeles. They will also play such cities as Chicago, Milwaukee, San Diego, Detroit and St. Louis over the next few months as well as taping a Don Kirshner's Rock Concert for television and The King Biscuit Flower Hour for radio.
The band's first single from their first album "Rush" is entitled "Finding My Way."
Neil Peart recently replaced John Rutsey on drums when he left due to musical difference with the band. The group is booked by ATI in New York and their American manager is Ira Blacker, who recently left ATl to form his own I. Mouse Management.