Fly By Night Press Kit
Mercury Records, February 3, 1975, transcribed by pwrwindows
---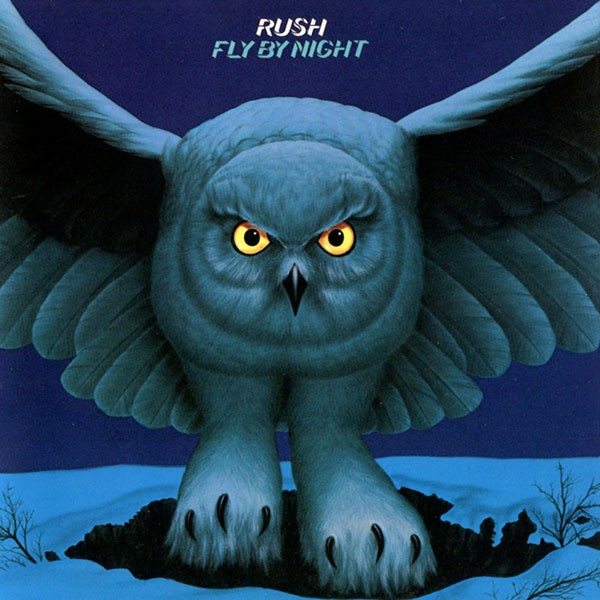 Within a short period of time, Rush has established themselves as a band to be watched in 1975. All the signs are there: dynamic concert presentation, tight musicianship, and a fine second album, Fly By Night.
Since Rush's American debut in August, this trio has been following a pattern set by another Canadian powerhouse, Bachman-Turner Overdrive: constant touring in the United States, steadily increasing record sales, and playing concerts with a high powered energy guaranteed to shake down the walls of any hall Rush plays.
Like in Cleveland, for instance. Rush came down from its Toronto home to play a concert after an import version of the debut album began getting heavy radio play. The group was scheduled to perform for 40 minutes, did one hour and the response was so positive that the headliners refused to let Rush take an encore. This same occurrence was commonplace during the group's tour last year.
Rush is Geddy Lee, bass guitar and lead vocals, Alex Lifeson, guitar, and Neil Peart, drums; all contribute their writing talents to Fly By Night. Lee and Lifeson formed Rush while in high school five years ago with another drummer. In March of 1973, the trio began cutting what was to become its debut album for Mercury Records.
The album, done in several sessions six months apart, was released in Canada in early 1974. In June, Rush signed with A.T.I. for booking, and a copy of the Canadian album was forwarded to Mercury. Within hours of the new album's arrival, contract terms were agreed upon and it was immediately prepared for release.
Because of health reasons, the drummer at the time bowed out of the group, and after an exhaustive search, Neil Peart joined the band. Neil adds an almost maniacal drums style which, combined with his natural flair for showmanship, perfectly complements Alex and Geddy.
The new album is a marked progression over the debut. The songs on Fly By Night are more arranged, some tempered with acoustic guitars, but still retaining the hard rock edge of the debut effort. "Anthem" and "Best I Can" rock from the opening bars, "By-Tor And The Snow Dog" is a programmatic piece, featuring Alex's outrageous recreation of a dog fight using only his guitar, and "Rivendell" is Geddy's acoustic piece based on the utopian city of J. R. R. Tolkien.
Fly By Night captures the diverse talents of Rush, a group that provides a feeling not unlike its name.
*****
PERSONAL MANAGEMENT:

Ray Danniels & Vic Wilson
SRO.Productions, Ltd.
44 Upjohn Road
Don Mills, Ontario, Canada
Phone: 416/881-3212

BOOKING AGENCY:

AMERICAN TALENT INTERNATIONAL
888 7th Avenue
New York, N Y 10019
212/977-2300

2375