Canada's Rock 'N Roll Rush
By Michael Dolgy, RPM Weekly, July 19, 1975, transcribed by pwrwindows
---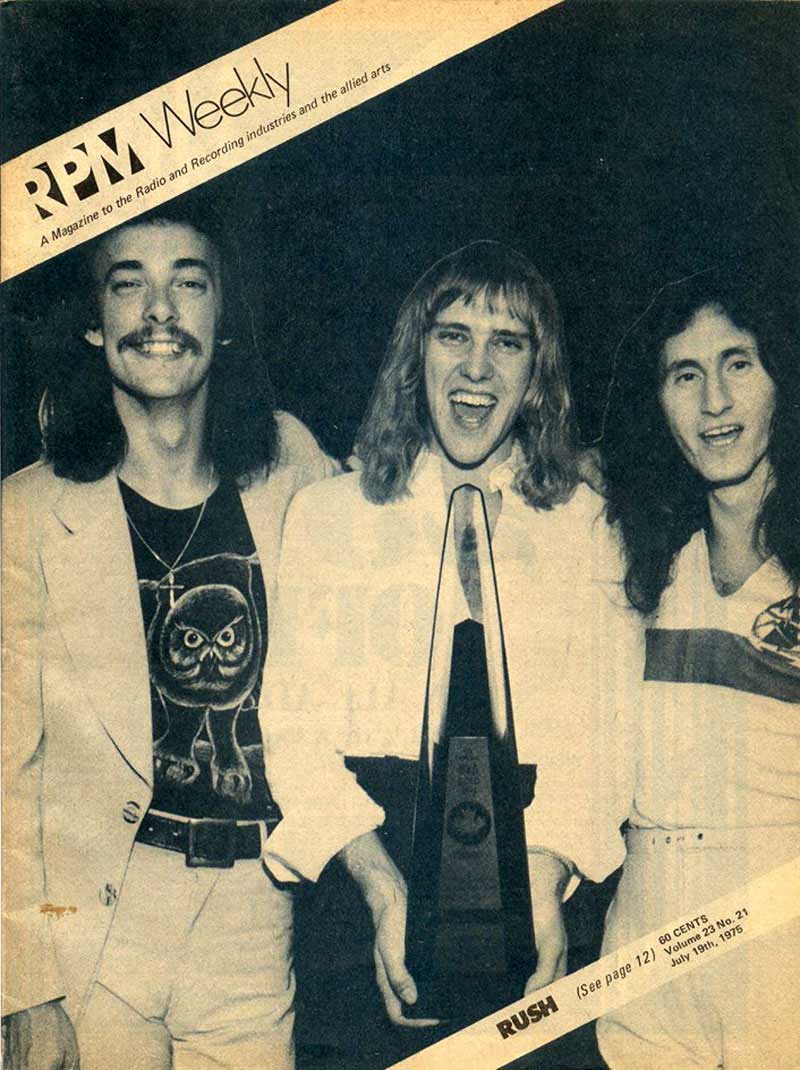 The year 1968, culled together a group of guys from the Toronto-suburbia "Willowdale scene", who decided to pact together in order to combat the mediocrity of their high-school course curriculum. Geddy Lee was a thin bassman of sorts, possessing a shrill vocal style that could cut through any 13th-grader. His buddy Alex Lifeson was bent on lead-guitar, nurturing-hone to his craft...hoping to score as axe-murderer. John Rutsey rounded the trio with driving talents of percussion...a man truly infatuated with the pound of drum be-bop.
They hammered out their music, with lotsa' sweat and hard-grind...music which smacked similar to the Zeppelin book of "Rock-Whine."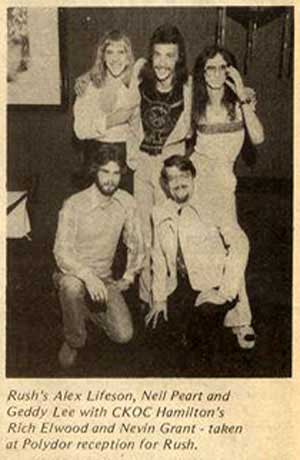 Ray Daniels, a young and clever promoter, sold off his booking agency "Music Shoppe" to a Mr. Ron Scribner, in order to concentrate all of his efforts, which would eventually take Rush out of the high school gymnasiums and platform them into the public eye.
The boys toured and jammed, mostly Toronto bar-scenes...with audiences, earringed and glitter-greaser "everyone drinking for rock's-dream." In 1973, Vic Wilson, (involved with his Concept Productions) combined forces with Ray Daniels whose SRO Productions was beginning to make head-way.
The Rush was ready for extensive promotion and the combo of two managerial talents insured Canada's new glitter-rock outfit.
In the daze of "Live-Sex Show" at Toronto's Victory Theatre, Rush co-billed with the New York Dolls for a slightly wiped-out Crowd...but corneas fluttered life after Rush come out front, and they scored with an audience that were so stunned they could only listen...and that was enough for the talk of Rush to begin.
In 1974, Moon Records under the Mercury label, launched Rush on vinyl with an album entitled "Rush." The trades acknowledged a Canadian glitter-rockband, Variety, RPM and Cashbox knew that the boys would score successful. But after the release and for a number of reasons, drummer John Rutsey made his split from the band, owing to the factors of "ill-health and sound-reasons." A friend referred a guy who was pounding in St. Catharines with the band "Hush", and so Neil Peart came to join up with Rush.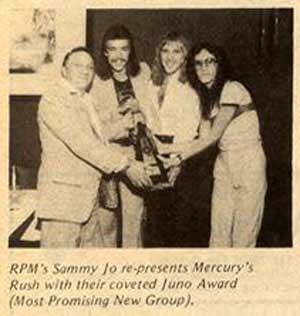 Exposure was secured in almost every major Toronto bar...the "Piccadilly Tube", the "Colonial"...everybody was gleaning a bit off this Rush. With an original-writ sound that sparkle-shimmered all involved coupled to Geddy's humble-pied intonations all Toronto felt a kinship with the boys...everybody knew they would make good.
California was the next stop for ABC's "In Concert", and all crowding around their teevees that night couldn't believe that Canada was being represented finally by a glitter-rock outfit.
And now "Fly By Night" a smash selling album...a loud but sensitive excursion into ball-blaster rock/roll. The tour just completed saw Rush through 70 American cities...bringing all audience to their feet, thinking smugly they were American.
But...they are ours. All-Canadian and home-grown.
When they finally came back to Toronto's Massey Hall the crowd was a sellout and if I may quote...
"Geddy watched beaming, "It's so good to be home", and the band picked-up screaming warping-time for all-stoned.
The sound was toned-nuclear but all weathered the storm and they loved this band's output...for it's glitter...our norm."
Rush have been awarded Canada's prestigious Juno Award as the most promising of all bands, as they continually prove their worth (if all their fans are any indication.)
"What can you say 'bout a band on the way...They're a sound, they're a Rush...They're a band that can play."