Rush Dedicates Newest Album To Rod Serling
St. Catharines Standard, October 10, 1975, transcribed by pwrwindows
---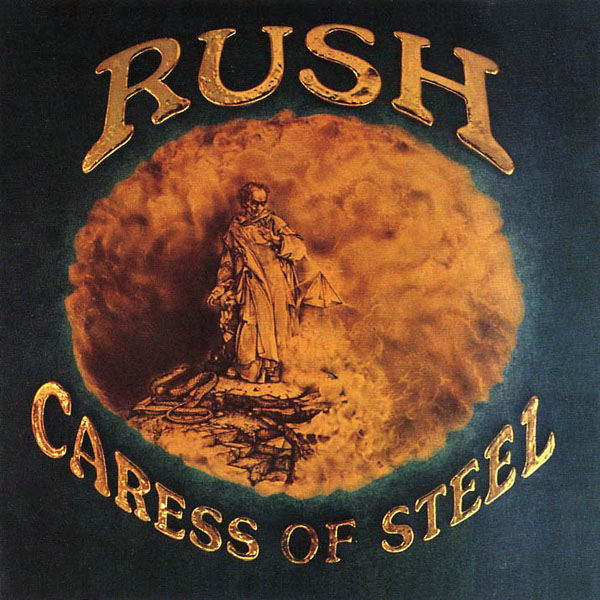 Who are Rush?
A lot of people have been asking that question lately, largely as a result of their cross-Canada tour with Nazareth, which ended last Saturday, and their album Fly By Night. All that most people knew about the band is they won the Juno Award in 1971 and had a single in Canada titled, In The Mood which made its way on a K-Tel album ["Canada Gold 22 Karat Hits" - webmaster].
In the Brock University gym, the audience rises to its feet to welcome Rush rocketing into new material from Caress of Steel. The spotlight focus on lead guitarist, Alex Lifeson, 22, of Toronto, gleaming in a chrome jacket, his silky blond hair shining. Knees bent, body stationary, with twitching contorted expressions, Alex concentrates all his energy in thrusting his fingers across the frets.
Behind him on the drum riser, Neil Peart, 23, from St. Catharines, pounds out the beat between gulps of wine while Geddy Lee, 22, of Toronto thunders out the bass line that underscores the speeding surge of the lead like a jackhammer busting concrete. Geddy rushes to the mike screaming in a Zeppelinish manner while shifting his weight from leg to leg in time to the driving beat.
But that's just glamour and 120 decibels. What about the music!
Rush's numbers are perhaps too long to hold the attention of their predominantly young audiences. Most obvious are the guitar and drum solos which seem to be dragged-out, scene-stealing, self-gratification.
There are moments when a spectator can't help feeling the business end of the music has clouded the band's artistic judgment but the group denies it.
"Our music is progressive rock," Neil explains, "and every night we perform, we get psyched up easily because we really enjoy doing it."
"We want to make it by turning people on to us at concerts and through our albums," Geddy points out. "That's more important than a Number One hit single." This is exactly how their agent, ATI, built acts like ZZ Top and Rory Gallagher.
It's been a long haul for Rush members to get where they are today.
Alex and Geddy have been working together as Rush for seven years. They had John Rutsey on drums for the first album but he split because he didn't like the musical direction the band was heading in. They auditioned drummers and eventually picked Neil Peart who had played with Hush. J. R. Flood, Majority and other area bands.
"We were in the States when we heard we won the Juno Award and we were surprised," Alex admitted. "It helped us get work in Canada but not in the U.S. where the big market is."
Rush's last album, Fly By Night, sold 110,000 copies and made the top 100 in Billboard. In Canada, the album is close to going gold (50,000 copies). It rose to number nine on RPM and remained on that chart for 28 weeks.
The band's new album, Caress of Steel was just released last week and from all indication looks more promising financially.
"We've been influenced by everyone who's good," Geddy states flatly. "We're constantly being compared to Led Zeppelin but that's only because my voice sounds like Robert Plant's - it's an unfortunate coincidence."
Protectively Neil adds, "we aren't following in Led Zeppelin's footsteps."
One of the three-place band's limitations is that Geddy, the lead singer, could be a much more effective vocalist if he was free to move, unimpeded by his guitar, but Geddy disagrees saying, "I enjoy playing bass much more than singing."
On stage, Rush performs an assortment of selected songs from all three albums. Neil, who writes all the lyrics, explained that FM stations were getting the most requests for Return of the Prince (part three of The Necromancer - a song from Caress of Steel) and therefore it will probably be released as a single.
Neil describes The Necromancer as a mythological sequel to By-Tor (from Fly By Night) and as a fantasy story which is the embodiment of evil.
"The new album is dedicated to Rod Serling," Geddy announced, "because he was one of our great teachers and at times the band tends to be very Rod-like."
They rarely speak of innovations in their music and seem at a loss to describe it. When asked how their music is evolving, Geddy responded, "it is getting a lot more emotional and better. We are striving for a distinctive sound - a niche in the rock scene."
Rush will be going on a two month cross-America tour soon. It means plenty of travelling and lots of nights with only three hours sleep but for Rush the American audiences are important.
According to Neil they've had some of their best receptions in Oregon and Washington.
Underneath the band's volume is solid musicianship and there's no denying that the intense, hypnotic numbness of Rush's roar has found a young audience. But whether Rush is a fly by night group or a viable force depends on their success with the American audiences.