Rush-BTO's Heavy Metal Challengers
Breaking Into America, Canada's Answer To The New York Dolls?
By Michael Gross, Circus Raves No. 121, November 1975, transcribed by pwrwindows
---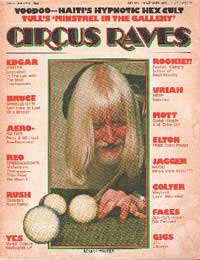 Detroit's Michigan Palace was full to the brim. Though the rock 'n roll style of the early seventies has faded into a rebirth of hippiedom on the East Coast, in Motor City, glitter and all its attendant excesses still hold forth. With a bit of imagination, even, one could see the crowd transferred to the legendary Mercer Arts Center, cheering bands in 1972 that would be gone by 1974. But eyes open and clear, it was Detroit on a muggy spring night in 1975, and Rush, Canada's premier metallic trio, were on stage grinding out their rock 'n roll in a close to Grand Funk mold. Except for a few casualties lying like rag dolls on the lobby steps, the joint was jumping.
Now well established in the Midwest, with their second album, Fly By Night (on Mercury), Rush on a staggering tour are pushing to hurl them' selves over the highjump to American fame. Bringing their traditional brand of Canadian rock to the suburban U.S., Rush is challenging Bachman-Turner Overdone [sic] for the title as most important musical export this side of Joni Mitchell's cheekbones.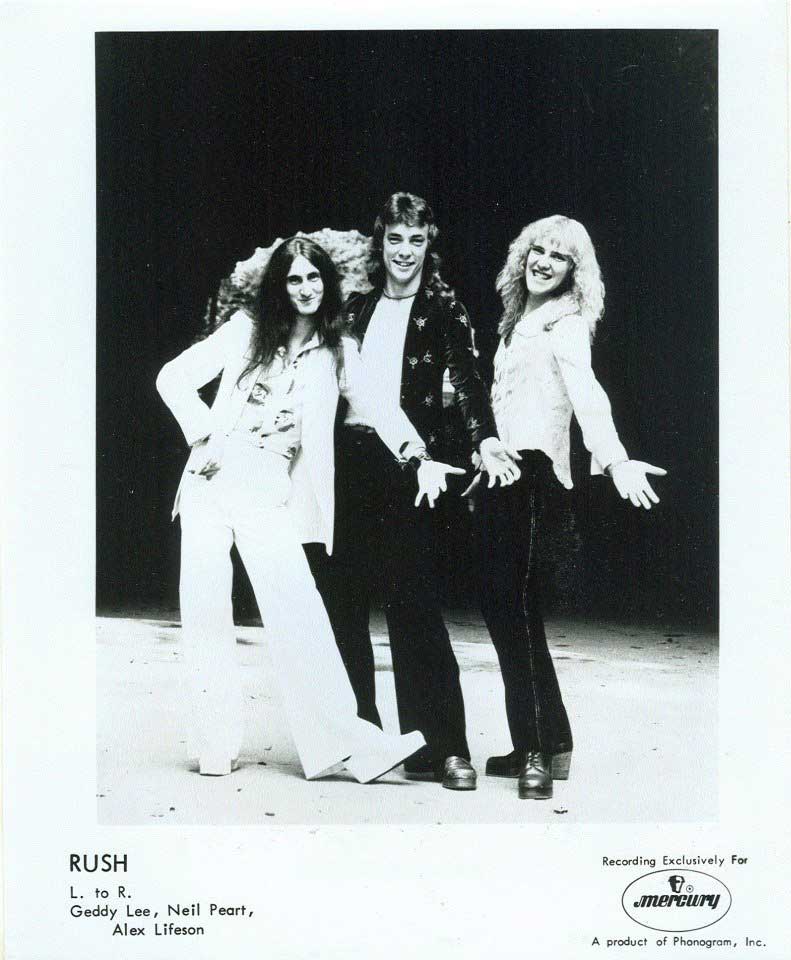 Six and a half years ago, Rush was a classic high school blooze [sic] band, a trio consisting of Alex Lifeson on guitar, Geddy Lee on bass and vocals and John Rutsey on drums. "We were a concert band forced into the clubs," the band members explained a few hours before the Detroit show. "A third of the songs we played were fave heavies. It went on for years. We didn't work as often as we should have because we really wanted to play concerts." In fact, their first real concert was a show in Toronto, late in 1973, with the infamous New York Dolls, and even then, concerts came few and far between. "Once you get into the clubs," Alex explained, "it's hard to get out. Kids'll still think you're a bar band. But, in a way, we changed the image of bar bands. We were the first Canadian act with a cover charge. Now that we don't need clubs anymore, the situations improved immensely."
Another problem Rush faced was the disinterest of Canadian record companies, where interest is much higher in a Gordon Lightfoot soleprint than a heavy metal trio. Rush were turned down wherever they went till they hooked up with SRO Management and put together their own label, Moon Records, which released their first LP, Rush, which was good enough to get an airplay push from WMMS in Cleveland. American record companies began to show interest, and negotiations with Mercury/Phonogram proved the most fruitful. "They offered us what we wanted," Alex said, "and a few days later the deal was cinched. Moon is now a production company distributed through Phonogram."
To the surprise of many Canadian rock pundits, Rush became a chart record with great response in the Midwest. John Rutsey left the band and with one week's notice, Neil Peart joined up for Rush's first American tour, which opened in August 1974. For Neil, it was quite a surprise. Seven days after joining the band, he was playing for crowds of up to 15,000 people. The tour lasted over four months, and, after a WQIV New York radio concert, and five days off, Rush entered the studios to record their second, far more satisfying album, Fly By Night. "It showed a progression from the first album," Geddy explained. "We're very happy with it. We reocorded it as an album. Singles would be nice, but that's incidental." Part of the reason things are so pleasant is the new contribution of Neil's talents as a lyricist, a talent that led the band to thinking about longer, involved pieces, along the lines of their tune, "Vitor [sic] and The Snow Dog." "All the music in that relates to the story," the band explained. "It has visual sounds, monsters, screeching animals. It's where we want to head."
According to Alex, Rush's third LP is written, was recorded over the summer. It will deal with the Canadian boys adventures on the road, "how dazed we were by touring, learning, moving so fast that all the cities blended," Alex said. And, for Rush, it will be an important album, because it will show whether Canadian rock 'n roll can be original and vital-proof that may help other high school rock 'n rollers keep trying, till they, too, can stand on the stage of places like the Michigan Palace, and have music starved fans pulling at their pants legs.