2112 Press Kit
Mercury Records, February 23, 1976, transcribed by pwrwindows
---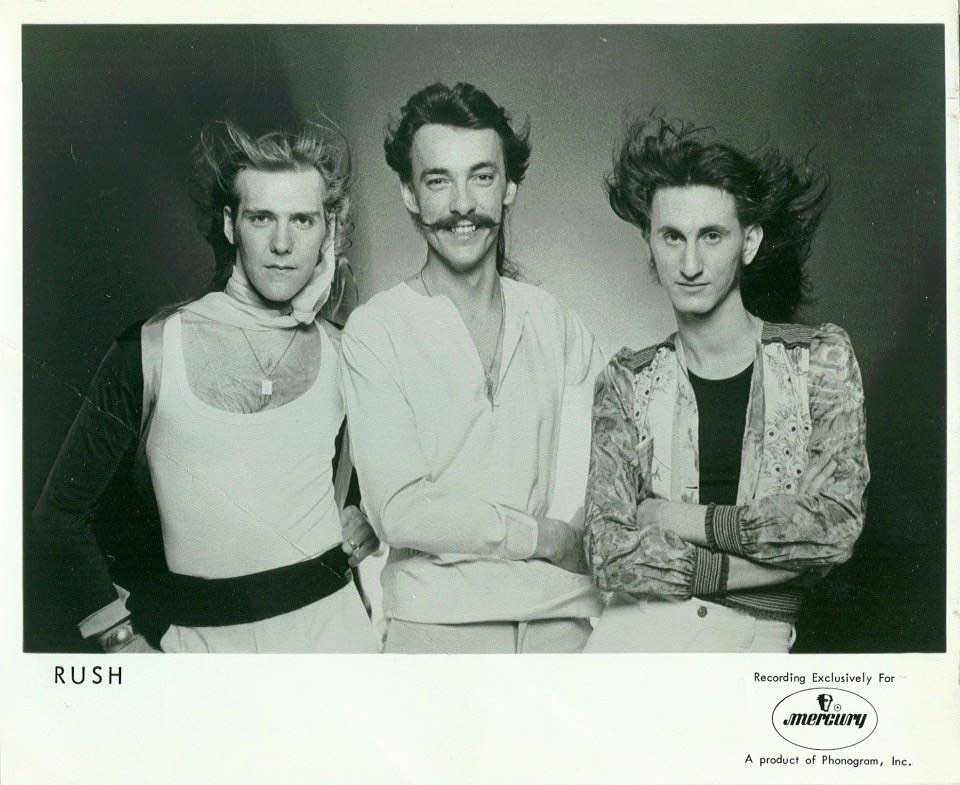 As Canadians have known for some time, and as an increasing number of U.S. fans are finding out, Rush is one fine rock band. From a straight forward thundering debut LP in 1974 through the multi-layered music and lyrical concepts of the new LP, "2112," Rush is continually pleasing its audience without sacrificing artistic integrity.
And this constant progression is working to the group's benefit. "Fly By Night," the second LP, turned gold in Canada in December, and "Caress Of' Steel," the third album is rapidly closing in. Meanwhile, the debut LP, "Rush", is inching towards gold. By the end of 1976, the first four Rush albums, including "2112," should be gold in the north country.
For Geddy Lee, bass guitar and lead vocals, Alex Lifeson, guitar, and Neil Peart, drums, this success is the result of seven years of hard work, from the early high school and bar gigs through the current U.S. and Canadian headlining dates.
Based in Toronto, Rush started with another drummer and did the grueling club/bar one nighters until early 1973, when the group decided it was time to record an album. The initial tracks for the album were laid down in one eight-hour stretch, and overdubbing and remixing completed a few months later.
Rather than shop around for a label, the band and its managers set up Moon Records and released the LP themselves in early 1974. A couple of U.S. stations got copies of the album, played it, and phones went wild. The trio's management went to American Talent International booking agency which signed Rush on the spot and sent a copy of the LP to Mercury Records. Twenty-four hours later, Rush was signed to Mercury and the LP was released in August. Mercury distributor in Canada, Polydor Ltd., assumed Canadian distribution.
At this point Neil Peart joined the band as drummer, just six days before a four-month U.S. tour. In January of 1975, the group recorded "Fly By Night," which solidified the U.S. market and broke them wide open in Canada, enabling Rush to win the 1975 Juno Awards (the Canadian Grammy) as Most Promising New Group.
Following a four-month U. S. tour with Aerosmith and Kiss, the band returned to the north country for its first headlining tour, including a sellout at Toronto's Massey Hall. In mid-July, the group recorded "Caress Of' Steel," soon afterwards departing for a three-month U. S. trek, which established Rush as headliners in the Midwest and Northwest.
The just released "2112" is a natural progression from "Caress Of' Steel." One side is a futuristic tale of life on another planet where individuality and creativity have been stamped out, with computers controlling everything. The other side contains conventional songs. Both sides carry the Rush trademark of hard rock.
Both the creative juices and momentum are flowing for Rush and there is little doubt that 1976 will be a breakout for the group in the entire U.S. market. What Canada has known for some time, U.S. rock fans are finally realizing: the members of Rush deliver what their name implies.
***
PERSONAL MANAGEMENT:

Ray Danniels & Vic Wilson
SRO.Productions, Ltd.
#201-55 Glencameron Road
Thornhill, Ontario, Canada M3T2P1
Phone: 416/881-3212

BOOKING AGENCY:

American Talent Int.
888 - 7th Avenue
New York, N. Y. 10019
Phone: 212/977-2300

22376