Speeding Ahead
By Boyd Tattrie, RPM Weekly, April 24, 1976, transcribed by John Patuto
---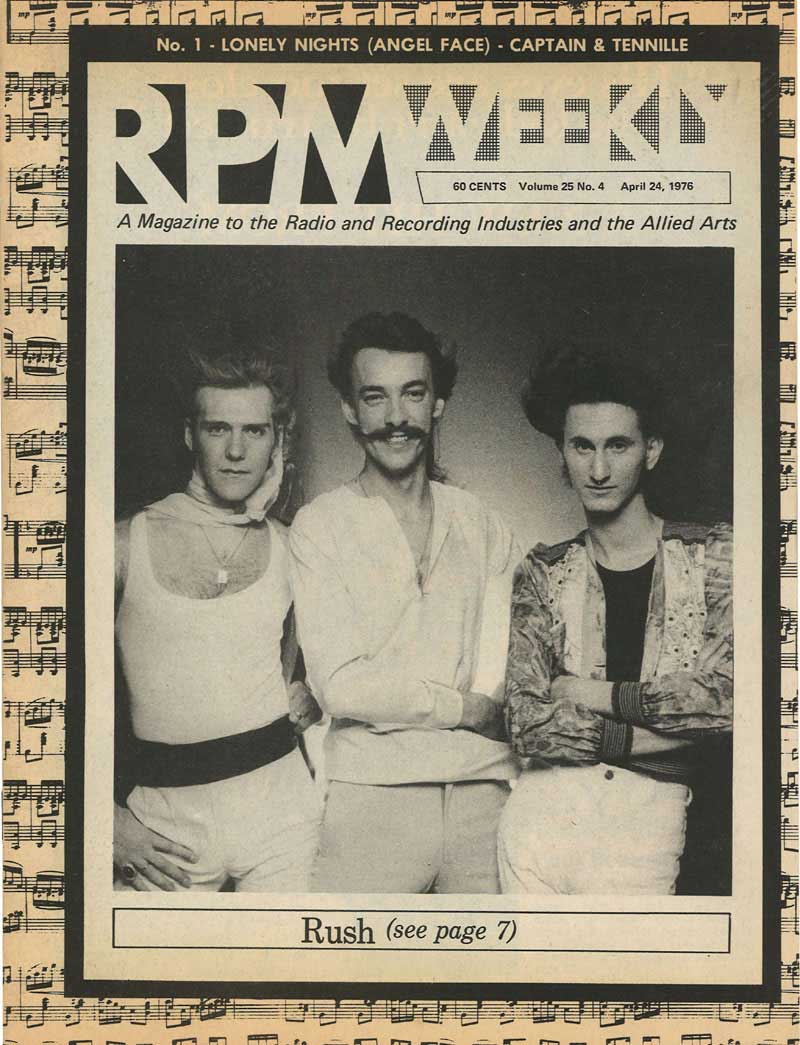 Every popular trend in contemporary music finds commercially-minded Canadian performers riding the crest to the American market. BTO, for example, is one of the most popular rock-singles band in North America, Anne Murray is well ensconced in the MOR/country field, and Gordon Lightfoot is almost an American folk hero.
It seems the only music market that hasn't made superstars of any Canadian performers is FM-oriented, progressive hard rock. Rush's new album, 2112, should see the band with a good position in the international "heavy-metal heap," so far untouched by a Canadian group.
Right from the band's 1968 high school beginnings, Rush's trademark has been bassist Geddy Lee's powerful vocals soaring over Alex Lifeson's guitar and John Rutsey's drums. Then, they were worthy of the attention of booking agent Ray Danniels. In 1973, with Vic Wilson and under the SRO banner, Danniels took the band out of high schools and into the better Toronto pubs, the Victory Theatre, ABC's In Concert series, and onto wax, with SRO's Moon label presenting the band's first LP, Rush.
Neil Peart replaced drummer Rutsey and Rush continued to expand their following to south of the border where they gained a foothold in Cleveland (thanks to Canadian-music lover Donna Halper at WMMS). Chicago's Phonogram, investigating the noise, offered the proverbial big-break contract deal that resulted in the band's second (and the label's first) Rush album, the recently-gold Fly By Night.
The first LP effort resulted in a 1974 Juno nomination for Most Promising New Group. They won, and Fly By Night was released the same week as the awards presentation.
"The Juno Award has helped us in Canada," comments Geddy Lee. "Winning the award brought our name to the attention of a lot of people who didn't know we existed, people who didn't take us seriously - it gave us a good boost. It came at the perfect time for us."
Strangely, the band's Juno had little or no effect on their success in the States, because they had already begun to break there. Although they sold out Massey Hall, they still needed exposure in the rest of Canada.
Neil Peart explained that Canadian success "wouldn't make any difference at all in the States, really. They don't care whether we're being played out in Canada, whether anybody in Canada likes us."
Since they aren't a singles band, Rush enjoy a unique advantage. Cancon regulations have no effect on them - there is no distrust from American programmers and rack jobbers - the only real measure of their success is dollars and cents, not airplay.
At the same time, Rush is rapidly destroying the myth that the only way for a Canadian band to make the big time is to rack up a string of hit singles. Rush haven't really had even one.
Their third album, Caress of Steel, was released last October, and is still selling - about 38,000 units, in Canada alone so far. The single culled from the album, Return Of The Prince, while not a particularly strong seller, is still receiving airplay on some Canadian stations.
And now 2112 is selling faster than any of the first three. American sales have been outstanding, and Cashbox called the concept "a valid and melodic tale ... the story/song is a definite cohesive listen." There's nothing like a concept album to build a promotion campaign around, and Polydor (which distributes the Mercury/Phonogram product here) is doing just that, taking out well-designed ads (to compliment the grabbing graphics on the sleeve) in all the major trades. Toronto-region initial shipments are selling out, and some stores are finding the LP difficult to keep in stock.
Rush seem to have a sense for anticipating and understanding their audience. Such a concept album at this time in their career is good timing. The majority of their audience are teens in the 15-17 year old bracket, who are naturally attracted to anti-establishment concepts and philosophies that they can call their own.
The LP is based on the writings of Ayn Rand, of whom all three band members are fans. The idea for the LP grew mainly from the mind of drummer Peart, but eventually the whole band became involved. "I concentrated on lyrics and suggestions," says Peart, "and left the music to the other two." (The credit on the label that attributes the whole album to Peart is erroneous.)
Writing the material took about six months, and the album, recorded at Toronto Sound with Terry Brown, required about a month of studio time to complete. "We're very satisfied," says Lee of the final result. "Some of the things on there are the best we've ever done."
Rush used very little overdubbing or special effects on the LP (unusual for a concept album) because they wanted a sound they could reproduce faithfully on stage. They spend nine out of every twelve months touring.
"There's less overdubbing on this album than on the last. We just like to present it live as well as it is on record," says Peart. Lee adds, "It's the live performance that makes someone go out and buy the album."
2112 was premiered for audiences on the West coast of Canada and the States on the band's most recent tour, and was received well. Rush was encouraged by the West Canadian and American audiences, which they find more unrestrained, spontaneous and excitable - offering a constant feedback, unlike the notoriously laidback crowds of their native Toronto.
A new tour follows the release of the 2112. Tentative arrangements are for Montreal and larger Southern Ontario centres including Toronto, Oshawa, Peterborough, Chatham and Weiland to see Rush in June. July's Western dates will likely include Winnipeg, Brandon, Regina, Saskatoon, Edmonton, Lethbridge and Vancouver. Exact dates will be confirmed later.
Undoubtedly, one of the most dominant aspects of the band's collective personality is a genuine belief in what they are doing. They feel there's still a place for progressive hard rock, despite the exploitation by some performers in the genre.
"There's a lot of directions it (hard rock) can go in," says Peart, and there's a lot of people putting it in good directions, but I think there's so much confusion to an average music lover ... how does he know what's authentic and what isn't, what's made for the love of it and what's made for the money?"
As to their own future, the band is hesitant to guess. More concepts? New musical directions?
"We've got a big future ahead of us," says Lee. "Who knows?" At their present rate of success, that could be anyone's guess.