All The World's A Stage Press Kit
Mercury Records, September 3, 1976, transcribed by pwrwindows
---
Webmaster's Note: This press release is very specific in stating that the Mercury release of Rush's debut album was four days before Rush's first U.S. show of the debut tour. We know that show was August 14th, 1974, which leads to a release date of August 10, 1974.
---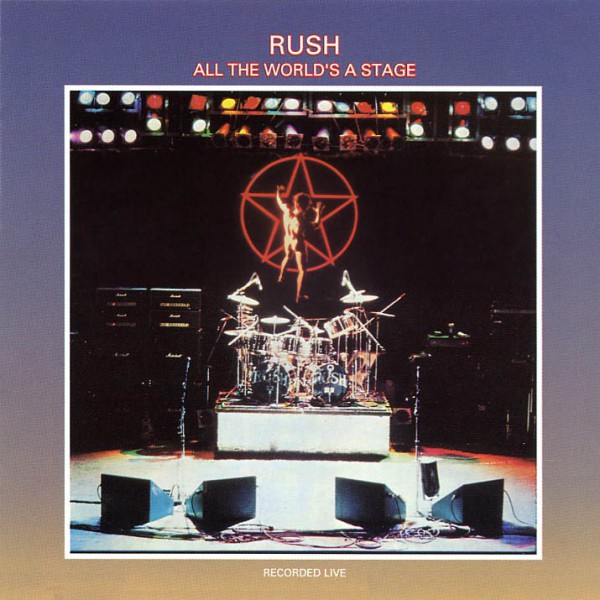 It is only natural that Rush's supreme album is the new double live LP, All The World's A Stage on Mercury. Since the release of their debut album two years ago Rush has spent nearly all its time touring, either in the U.S. or Canada, except for time out to record their first four LP's.
In fact, it was four days after release of the debut album, Rush, that the group started its first U.S. trek. A mere six days before, Neil Peart (drums) had joined Geddy Lee (bass and vocals) and Alex Lifeson (guitar) after the previous drummer left because of ill health.
The first tour lasted from August 19 [sic], 1974 through December 20, with Rush working as an opening act to Uriah Heep and later Rory Gallagher. At nearly all the gigs, the group got at least one encore, a good sign that Rush was to become a band to be reckoned with. Another sign was record sales - which jumped from 10,000 to 70,000 during the tour.
In January of 1975, the trio recorded Fly By Night, which solidified the U.S. market and broke them wide open in their native Canada, enabling Rush to win the 1975 Juno Award (the Canadian Grammy) as most promising new group.
A four-month U.S. tour with Aerosmith and Kiss followed, with Rush usually receiving two encores per show. The band then returned to the north country for its first headlining tour, including a sellout at the prestigious Massey Hall in their hometown of Toronto, where they eventually recorded All The World's A Stage.
In mid-July, Rush recorded its third LP, Caress Of Steel, soon afterwards departing for yet another four-month U.S. trek, but this time appearing as special guest stars in certain markets and headlining in other cities. Meanwhile sales in areas such as Sweden, Germany and Holland put them in the star category, and fan clubs popped up in Japan.
During March of this year came the album that was to take Rush beyond the cult status it had acquired in the U.S. - 2112. One side was a futuristic tale of life on another planet where individuality and creativity have been stamped out with computers controlling everything. The other side was conventional songs. Both sides carried the Rush trademark of hard rock.
The album exploded soon after release and became their biggest LP to date, more than doubling the sales of any previous effort.
In Canada, the group is even bigger than in the states, as witnessed by three of its first four albums qualifying for gold awards. The strength of Rush in its native country is best shown in the three dates the group did at Massey Hall in Toronto for the All The World's A Stage recording. The three shows were sold out in advance setting a house attendance record.
The double LP from those shows is a testament as well as proof (if anyone still needs it) that Rush is at its best in concert setting. The album is sequenced exactly like a Rush concert: The opening excitement of "Bastille Day," the astonishing recreation of the concept side of "2112," throu.sh the stunning "Working Man/Finding My Way" medley, plus the encore.
The constant touring has begun to payoff big for Rush this year. More than ever, people are recognizing the group for what it is: The finest hard rock outfit in North America.