Nugent's Backup Group Destined For Stardom
Lubbock Avalanche-Journal, January 9, 1977
---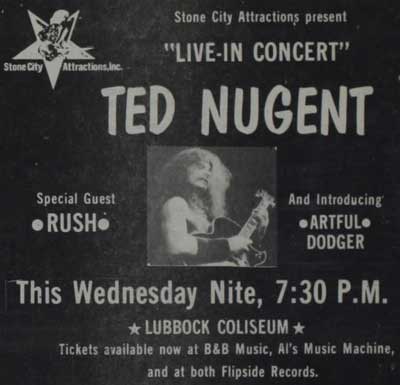 When Ted Nugent brings his high energy rand of outrageous rock to the Lubbock Municipal Coliseum Jan. 19, one of the backup groups will be a Canadian rock band called Rush. However, many in the industry happen to feel this group may be headlining concerts themselves in a very short time.
"Fly By Night," the group's second album turned gold in December and "Caress of Steel" their third, is rapidly closing in. Meanwhile, the debut album "Rush" is inching towards gold. By the end of 1976, the first four Rush albums, including their latest effort called "2112," should be gold in the north country.
For bass guitarist Geddy Lee, guitarist Alex Lifeson and drummer Neil Peart, this success is the result of seven years of hard work, from the early high school and bar gigs through the current American and Canadian headlining dates.
Based in Toronto, Rush started with another r9mmer and did the club and bard one-nighters until early 1973, when the group decided it was time to record an album. The initial tracks for the album were laid down in one eight-hour stretch, and over-dubbing and remixing completed a few months later.
Rather than shop around for a label, the band and its managers set up Moon Records and released the lp themselves in early 1974. A couple of U.S. stations got copies and liked them. The trio's management went to American Talent International booking agency, which signed Rush on the spot and sent a copy of the lp o Mercury Records.
Twenty-four hours later, Rush was signed to Mercury and their album was released in August.
At this point, Neil Peart joined the band as drummer, just six days before a four-month U.S. tour. In January 1975, the group recorded "Fly By Night," which enabled Rush to win the 1975 Juno Award (the Canadian Grammy) as Most Promising New Group.
Following a four-month U.S. tour with Aerosmith and KISS, the band returned to Canada for its first headlining tour, including a sellout at Toronto's Massey Hall. In mid-July, the group recorded "Caress Of Steel," soon afterwards departing for a three-month U.S. trek which established Rush as headliners in the Midwest and northwest.
The just released "2112" is a natural progression from "Caress Of Steel." One side is a futuristic tale of life on another planet where individuality and creativity have been stamped out. Computers control everything. The other side contains conventional songs. Both sides carry the Rush trademark of hard rock.
And you can bet a Lubbock audience will get a large helping of "2112" tunes at the Ted Nugent-Rush concert Jan. 19. The concert is being brought to Lubbock by Stone City Attractions out of San Antonio.