Rush Completes First U.K. Tour
RPM Weekly, July 9, 1977, transcribed by pwrwindows
---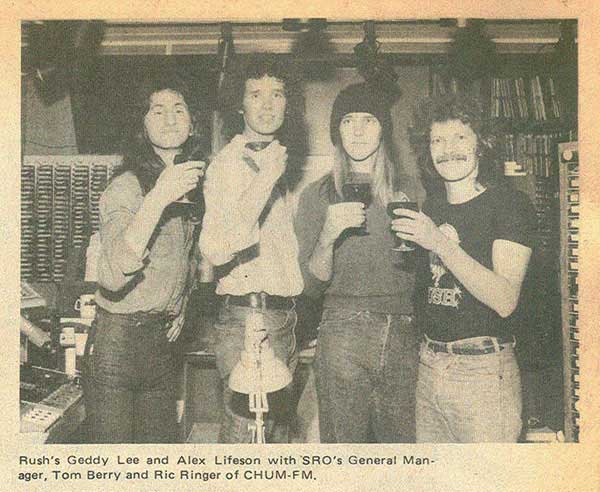 Anthem artists Rush, have just completed their first tour across the Atlantic Ocean which saw them do seven dates on the British Isles and one date in Sweden. All of the dates were as headliners with five of them complete sellouts.
The dates included: Sheffield, Manchester, Birmingham, Hammersmith Odeon, London, Stockholm, Sweden, Newcastle, Glasgow, Scotland and Liverpool.
The sold-out dates were Manchester, Birmingham, London, Stockholm, and Newcastle with the halls in the two to four thousand seat range.
Straight Music and the top-rated Bron Agency, both of London, coordinated the tour for Rush, who have now achieved a sizeable following across the pond. Record sales have not made any real dent in the band's economic pocket however, even though all five of the band's LPs have enjoyed release on the Phonodisc label in the U.K.
lf the attendance et these concerts is of any bearing though, Rush should begin to enjoy the sales success which they are accustomed to in North America.
Most of the top British Rock magazines gave space to the Rush tour. Following are a few excerpts of critic reaction.
"Rush released is an experience, one that I am looking forward to repeating over the weekend when the band plays London." - Sounds Magazine.
"Rush's ability in their chosen field is Unquestionable...The degree or technological sophistication in (their) stage show simply reflects the single-mindedness with which they approach their music." - New Music Express.
"Most impressive" - Record Mirror.
"Rush will undoubtedly be beck." - Music Week.
"...audience reaction was extraordinary...delivered everything that was expected...more than competent." - Melody Maker.
It is with this sort of reaction that Rush is already planning another, more extensive, tour of Europe in the early months of 1978. Included in this tour will be twelve British dates, six German dates, two in the Netherlands, two in Brussels, and one in Paris. Altar a short rest the band will then do various dates in the Scandinavian countries of Norway, Sweden, and Denmark. Plans are also in the works for a tour of Japan, Australia, and New Zealand in the fall of 1978. On top of all of this is the word from Anthem's Vic Wilson that Rush has been confirmed as one of Brazil's favourite heavy-metal bands. Rush could soon be confirmed as one of the world's most popular heavy-metal bands if the aforementioned tour plans are a success.
Presently, Geddy Lee, Alex Lifeson, and Neil Peart are in Monmouth, Wales, recording their sixth effort at Rockfield Studios. To be called A Farewell To Kings, it is being produced by the band Terry Brown. Anthem is calling for an early September release.
At this same time, Anthem had released a single from Rush's second album, Fly By Night, entitled Making Memories.
A Cross-Canada tour is in the making for the fall and they are slated to headline the CNE Grandstand August 23.
All The World's A Stage, their double live album, is approaching gold status in the U.S. lt enjoys the honour of being the first double-live Canadian content album to have gone gold in Canada.
Anthem is distributed by Polydor in Canada, and Mercury in the U.S.