Rush Judgement
Tired Of The Stress Of The City, The Canadian Power Trio Take To The Wilds Of Wales - Rush Drummer Neil Peart Talks To Geoff Barton
Sounds, July 16, 1977, transcribed by pwrwindows
---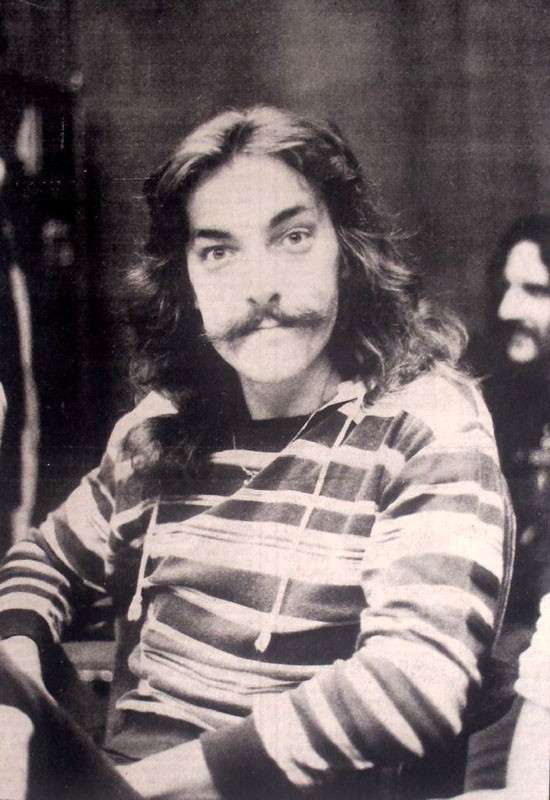 "IF YOU'D been here a few days ago we probably wouldn't have been talking to you," jibes Neil Peart.
Rush are recording their latest album, their sixth, in Rockfield studios, Monmouthshire, Wales. And, as always, the 'monsters' have been rearing their ugly heads.
"It's always the same, trying to get a record down on tape," Peart, drummer with the band, continues. "You go though an extremely tense period when you have the blackest of outlooks, when you hate everyone. It's very unpleasant and impossible to be creative."
But, thankfully, that time has now passed. The first traumatic days, when to even just get the musical skeleton of a number laid down involved intense mental/physical effort, are over, can now be forgotten - or at least committed to not-so-happy memory. With the basics of the album now completed, the rhythm tracks honed and refined to satisfaction, Rush can look forward to a less arduous uphill climb. Alex Lifeson still has to do the guitar licks; Geddy Lee still has to do the vocals, probably during the mixing of the LP in London later on - but the worst is over and done with and the band can breathe easy, sit back and relax. Just a little.
Rockfield studios, slap bang in the middle of lush green Welsh countryside, only the cows, sheep and occasional horse to keep you company, have provided Rush with the ideal working environment. Away from the bustling, hectic city of Toronto, Canada - where all previous band albums have been recorded - Rush have been able to live the album to the full. The studios provide an easy going yet insular atmosphere - with no distractions, no outside problems preying on your mind, you can do nothing but get intensely involved.
Last time I met the band was in Sheffield, at the opening date of their recently completed and wildly successful British tour. Then they were nervous and withdrawn, keyed up for the Big Moment, for the debut concert overseas, outside of the US and Canada.
At Rockfield, however, all three were mellower, more relaxed, the deeply etched worry lines having long since faded. I arrived at about three in the afternoon to be greeted by producer Terry Brown, neatly trimmed blond hair in temporary disarray, dressed in a skimpy dressing gown. Apparently, work on the album had gone on until eight-thirty in the morning and the band and small entourage were only just now beginning to stir into wakefulness.
We retired to the kitchen and one by one they appeared - Alex, lean, fresh-faced, his hair similarly mussed up, who went about cooking fabulous late breakfasts for all and sundry; Geddy, smaller, more compact and bespectacled; Neil, his moustache ends twirled in debonair fashion, even after a heavy night's/morning's sleep.
Later in the afternoon, while Alex and Geddy were occupied in the studio, I collared Neil, 'the professor on the drumkit', for the purposes of an interview. With all his percussion parts completed, bar a few chime tinklings, he seemed to be the most likely candidate of the three. And also, being the lyricist, I was anxious to quiz him about the band's sword and sorcery/science fiction leanings.
We conversed chronologically, if you get my drift, which naturally enough meant starting with -
The Early Days
"ALTHOUGH I wasn't a member of the original band, the band that recorded the first album, I know a lot about the history, I've heard all the stories."
So why did your predecessor, John Rutsey, the first Rush drummer, leave?
"He was unhappy, frustrated and unhealthy - all of which conspired against him mentally, gave him the wrong attitude. Candidly, although he had been playing with Alex and Geddy for five or six years, during the time when they did the Toronto club circuit, his last days with the band were bad. He was into simple, straightforward music - as the first Rush album no doubt suggests - and he didn't altogether agree with the directions Alex and Geddy planned for the future."
After a string of trying auditions, Peart was found to be a more than suitable replacement.
"I went along," he continues, "played for a time and talked a lot longer. The three of us found that we had a lot in common, musically and otherwise. The things we wanted to accomplish were remarkably similar. So..."
...He joined.
Prior to becoming a member of Rush, Peart's career had been wide-ranging but frustrating. At age 18, he left Canada to take up a musical career in London, expecting the streets to he paved with the proverbial gold. Not surprisingly, he was disappointed, "At that time," he recalls, "I had the idea that all you had to be was good, and it you were good you'd make it. My eyes were opened quickly."
Unable to find the kind of work he was looking for, Peart was down to his last £4 when he ran into a friend he knew from home. He got him a job painting shopfronts and from there Peart graduated to working in the stockroom to working behind the counter to managing the shop...to finally running a whole chain of them. Keeping his musical options open however, he got involved with an embryonic form of Seventh Wave, who later signed to the Gull label and recorded an LP called 'Psi-Fi'. They may even have got around to releasing a follow-up, but that doesn't concern us now - Peart didn't get as far as the first album. After having an operation on his hand, disillusioned, he returned to Canada to work with his father.
Soon enough though he got back into the semi-pro scene and after he'd been back home for a year-and-a-half he grabbed at the opportunity to join Rush.
"It was like manna from heaven." he says.
Fly By Night
THE DIFFERENCE between Rush's first and second albums is vast. musically and (most notably) lyrically.
"I don't regret there being that history before me," Peart reveals, referring to the debut LP. "It's nice to have 'Finding My Way', 'Working Man' and the other early songs in the set, dynamically they're perfect building points. I'm not embarrassed by it. Plus the fact that starting off there gave us so far to go..."
I wondered how much influence Peart was able to exert on the second LP, Fly By Night.
"I didn't have to fight to get involved," he says. "I was treated very much as an equal member, my ideas were as good as their ideas. Neither Alex nor Geddy were into lyrics, John had written most of them in the past, so I said, 'Well, I'll give it a shot'. To start off with I had very little confidence - but then I completed 'Anthem', my first song, really enjoyed it, and decided to carry on."
(Aside: 'Anthem' is also the title of a book by novelist/philosopher Ayn Rand, a lady who Peart tremendously admires. This book formed the inspiration for the '2112' magnum opus. which we'll come to later. Ms. Rand is not, however, a personal acquaintance of Peart's, as reported elsewhere.
'2112' is Peart's own work in its entirely, although as he admits, "Ayn Rand's 'Anthem' is set in a totalitarian society of the future and deals with the discovery of electricity and of its subsequent rejection by the powers-that-be. As '2112' was developing, I noticed that the storyline was following rather similar lines - intentionally or sub-consciously I couldn't say, but it was happening. In the end I decided I couldn't take the credit for all of '2112', so we put the acknowledgement to her on the album sleeve to dispel any doubts.")
Obviously, 'By-Tor And The Snow Dog' was the track on the 'Fly By Night' album, the one to point the way for the future, being a self-contained mini-epic, a tale of a battle between the 'knight of darkness' (By-Tor) and the defender of the Overworld (Snow Dog).
"Yeah," Peart muses, "that was an amazing thing for us to do at the time. We thought it was beyond us to achieve anything like that at such an early stage in our career together. Certainly, it's the proudest song on that album."
'CARESS OF STEEL'
ENCOURAGED BY the success of 'By-Tor And The Snow Dog', do you think you were rather over-ambitious, devoting a whole side of the third album, 'Caress Of Steel', to the complex composition 'The Fountain Of Lamneth'?
"Oh, absolutely, no doubt about it. All the same, we owe 'Caress Of Steel' a huge debt of gratitude, because without it there'd have been no '2112'. But it is elementary school, I don't deny it. I don't dislike 'Caress Of Steel' or look at it with a dark glimmer in my eye, I still quite enjoy listening to it. But yes, it was over-ambitious at the time - by the same token, however, I think it was necessary for us to take that giant step."
The Fountain Of Lamneth' is not, as I thought I had surmised, about a quest for a fountain of youth.
"No," Peart reveals, "the idea originally came from a time when I was driving from the top of a mountain to the bottom and, seeing the lights of the city beneath me, I got to thinking, 'What would life be like if you you could only measure your position as a person by the level at which you lived up the side of a mountain?'...
"I got to drawing relations, seeing lots of comparisons in this metaphor and eventually put down a rough sketch of the six different parts I thought there would be to such a quest. It was all very naïve, I admit that now, it was a ridiculous thing, like writing a thesis on metaphysics or something. But at the time it felt right, what can I say, we did it and we really enjoyed it.
"Besides, it was summertime when we recorded that album, we were all feeling very mellow and comfortable and I suppose all those things crept into the music."
'2112'/'ALL THE WORLD'S A STAGE'
WHEREAS 'CARESS Of Of Steel' can be regarded as a largely academic exercise, the next album '2112' had a lot more fire, a lot more power and passion.
"Right. Just before we recorded '2112' we'd gone through a very negative period. We were very frustrated with the whole music industry and we were ready to fight back.
"As the notes say on the sleeve of the live album, 'All The World's A Stage', '2112' marked the end of the beginning for us, it really established us for the first time with an original and above all comfortable sound. We were extremely pleased with '2112' and thought it only right to cap it with a live album.
"I personally was in favour of a single live album, not a two record set, but the argument was put forward, seeing as how our gigs last for one-and-a-half hours - 'If it's good enough to play live, why not put it on record?' There was no answer to that, so I acquiesced.
"In retrospect, I'm glad we did it, I don't find it oppressive being a double and I love the packaging. I would be very happy to own an album of that type if I was a man-on-the-street, and I guess that's what counts."
FAREWELL TO KINGS AND OTHER SUBJECTS
RUSH'S NEXT album, the one they're recording at the moment, is to be called 'Farewell To Kings' and not 'Closer To The Heart' as previously reported. Hopefully, it'll be out soonish, maybe around mid-August.
There's no single epic number, rather the LP is divided up into two long, two medium and two short tracks, one of the latter a mere two minutes 40 seconds long. The most compelling cuts are likely to be the two longest - 'Cygnus XI' (about black holes in space) and 'Xanadu' (you probably heard it on the tour, as far away from the Dave Dee, Dozy, Beaky, Mick And Tich hit singles as you can imagine, whip crack away indeed).
"'Xanadu' is, again, tremendously ambitious for us," Peart says, "but we had very positive reactions from it throughout the British tour. Hopefully if 'Xanadu' pleases people then the rest of the album will as well.
"In fact, I was saying to Geddy the other day, 'I think 'Farewell To Kings' is everything I ever wanted an album to be'. It's just got everything on it that I like."
Did the British dates live up to your expectations?
"Oh, more, more, more. The only word I can think of to describe it is 'triumphant'. Particularly with reference to the London gig, it meant so much to me, having been involved in the city's music scene for so long, to do so well. As it was, I got the same buzz I get when we do a big show in Toronto. It was terrific, but that's not to say the other concerts didn't go so well - Newcastle and Liverpool or Glasgow, maybe both, were fantastic too."
And when do you think you might be returning for a second tour?
"We're hoping to be here around February or March of '78, people are working on it right now. We've got the logistics of the next year almost completely together, in fact - first we'll have a rest, then we'll do a four or five month tour of the US and Canada, then we'll do a really intensive tour of Britain and Europe...then I suppose it'll be about time to record another album.
"Want to know about '79?"