A Farewell To Kings (Review)
By Geoff Barton, Sounds, September 1977, transcribed by pwrwindows
---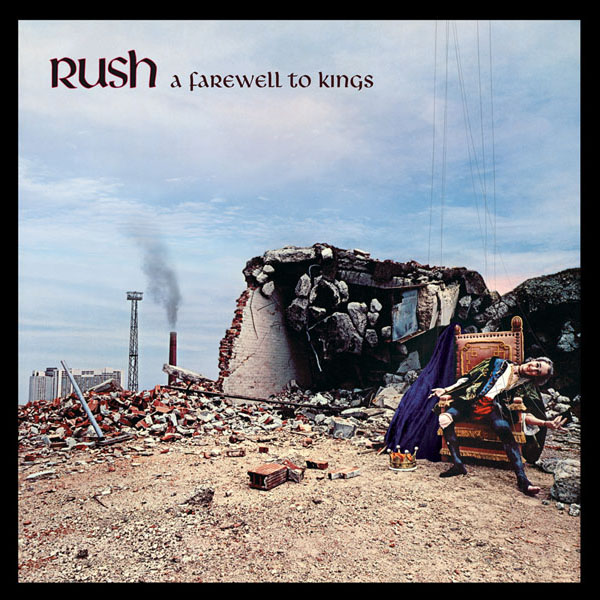 'Invisible
To telescopic eye
Infinity
The star that would not die'
WHEN ITS LIFE HAS RUN ITS COURSE, A STAR APPROXIMATELY TWO-AND-A-HALF TIMES THE SIZE OF OUR OWN SUN TENDS TO COLLAPSE IN ON ITSELF - COLLAPSE SO POWERFULLY, SO VIOLENILY THAT NO FORCE KNOWN TO MAN CAN STOP IT. CONSEQUENILY, A GAP - A 'BLACK HOLE' - WILL APPEAR IN THE FABRIC OF SPACE, AND IT IS INTO THIS HOLE THAT THE STAR WILL DISAPPEAR.
'TRIUMPHUNT' WAS the word Rush drummer Neil Peart used to describe the band's first recently completed British tour. And you better believe it - rarely has a debut visit from an 'unknown' band from across the Atlantic caused such a stir, been the result of such rapturous receptions. Speedily, spectacularly, with their high-powered brand of sword and sorcery rock Rush assumed control. What a sight to behold.
Rush's last album, the double live 'All The World's A Stage' set signified (or so the sleeve notes said) 'the end of the beginning, a milestone to mark the close of chapter one in the annals' of the band. Some cynics will probably crack the joke that this new platter, Rush's sixth, should then mark 'the beginning of the end' for the band - but nothing could really be further from the truth.
Previously, Rush albums have been recorded in the band's home city of Toronto, Canada - and as a result the hustle and bustle of the place has had a influence upon the final, finished product. For the opening to chapter two, 'A Farewell To Kings', however, Rush decided upon a policy of total immersion. So, shortly after the end of their British tour, Geddy Lee, Alex Lifeson and Neil Peart, plus producer Terry Brown and sundry assistants, retired to Rockfield studios, Wales, and involved themselves in the recording of an album like never before.
The result? You guessed it, they haven't failed.
A masterwork.
WE MAY WELL HAVE DISCOVERED THE FIRST BLACK HOLE. NASA's UHURU SATELITE HAS MONITORED THE EMMISION OF LIGHT, RADIO WAVES AND, MOST IMPORTANTLY, X-RAYS FROM THE AREA KNOWN ONLY AS THE CYGNUS CONSTELLATION. SITUATED JUST SEVERAL THOUSAND MILES AWAY FROM EARTH.
Six tracks in all, two lengthy ten minutes plus jobs ('Xanadu' and 'Cygnus X-1') and four shorter, subtler, more concise numbers. For the first few listenings, there's a great tendency for you to overlook these 'lesser' songs, your attention not unnaturally being drawn immediately to the twin epic tracks, which we'll get to later. However, as you begin to familiarize yourself with the album, you realize you've been overlooking some great music. Suddenly, the remaining cuts take on fresh, compelling characters.
'A Farewell To Kings' opens the LP softly, soberly, with some medieval guitar playing, lulling you into a false sense of security. The intro at an end, Rush power in as a high-charged three-piece but still succeed in maintaining the mellow mood. Harking back to days of yore, lyricist Peart criticizes the mistakes made by past rulers, mistakes that still affect our lives today. 'Closer To The Heart' proves to be a kind of sequel to 'Kings' - largely restrained, less than intense, the philosophies expressed within the song ('And the men who hold high places/Must be the ones who start/To mould a new reality/Closer to the heart') are honest and deeply felt. 'Cinderella Man' and 'Madrigal' complete the group, the former largely a Lee composition (and listen to the Weather Report influence in the instrumental break), the latter a leisurely, almost lazy love song (not surprisingly, seeing as how the dictionary definition of 'madrigal' is 'a short amatory poem').
Each of these songs is well balanced and concise with immaculate acoustic guitar work well to the fore.
SCIENIISTS SUSPECT THAT CYGNUS X-1 IS IN FACT A BINARY STAR, THAT IS TO SAY TWO STARS THAT REVOLVE ABOUT ONE ANOTHER IN A DISCERNIBLE PATTERN. IN THE CONSTELLATION OF CYGNUS, HOWEVER, ONLY ONE STAR CAN BE OBSERVED - AND YET IT IS OBVIOUS FROM THE MOVENENT OF THIS STAR THAT ANOTHER SHOULD BE PRESENT. IT HAS BEEN CONJECTURED, THEREFORE, THAT THE OTHER STAR ONLY EXERTS GRAVITY, NOT LIGHT. THIS IS BECAUSE IT IS IN FACT A BLACK HOLE.
But 'Xanadu' and Cygnus X-1' are undoubtedly the pivots around which this album revolves.
Of the two, I prefer 'Xanadu', though it's difficult to say why. It's Rush's most ambitious composition to date, without a doubt - moog synthesizer and the tweeting of birds running hand-in-hand with full-blooded rock 'n' roll drama, Alex Lifeson excelling in particular with some supremely fluid guitar work.
A tale of the search for immortality and of the bitter results when the secret of endless life is finally discovered, 'Xanadu' seems to me to gel far better than 'Cygnus X-1', which is a largely frantic, fragmented work - but then again maybe consciously so. For 'Cygnus X-1', Peart has adapted his lyric writing style to become less romantic and more hard-hitting. With a minimum of words, we are told about a traveler's journey to the constellation of Cygnus and of his plunging into a black hole - 'spinning, whirling, still descending like a spiral sea, unending...' Never to return?
'To be continued' it says, tantalizing you and leading you to suspect that the aftermath may well be chronicled on the next album, possibly filling a whole side, just like '2112'.
NO-ONE REALLY KNOWS WHAT A BLACK HOLE STAR IS. NUMEROUS THEORIES HAVE BEEN PUT FORWARD AND, AS LTITLE EVIDENCE ABOUT THE PHENOMENON IS AVAILABLE, VERY FEW HAVE BEEN DISPROVED. IT HAS BEEN SUGGESTED THAT THERE MAY BE NO ESCAPE FROM ONE, THAT ONCE TRAPPED WITHIN, A TRAVELLER WOULD BE IN A SEPARATE, ISOLATED UNIVERSE, ONE COMPLETELY DIVORCED FROM OUR OWN. IT HAS ALSO BEEN THEORISED THAT BLACK HOLES -SPECIFICALLY, ROTATING BLACK HOLES MAY BE TRAP DOORS THROUGH TIME AND/OR SPACE. THAT IS TO SAY, IF SOMETHING FOR SOME REASON PLUNGES INTO A BLACK HOLE, IT COULD WELL EMERGE FROM THE OTHER SIDE IN A DIFFERENT DIMENSION, CENTURIES INTO THE FUTURE OR MILLENIA BACK INTO THE PAST. SOME SCIENTISTS BELIEVE THAT WE COULD UTILISE BLACK HOLES IN THE FUTURE TO MOVE OBJECTS/PEOPLE ACROSS GALAXIES WITH A MINIMUM OF TIME AND EFFORT, PROVIDING THE PROPERTIES OF THE 'HOLES COULD BE HARNESSED OR UNDERSTOOD, OF COURSE.
Uh - criticism? I've very few to make, actually. As aforementioned, I do find 'Cygnus X-1' rather piecemeal at the moment, but I've confidence that it'll grow on me given time. The only thing that does concern me, something I've never really paid much attention to before, is the fact that Geddy Lee's voice may represent a stumbling block in Rush's bid for world domination.
Let me explain - playing 'A Farewell To Kings' in the office, a number of staffers were quite impressed by Rush's new, more complex musical direction but confessed that the reason they didn't particularly like the band was because of Lee's voice - 'pixie' or 'elf-like', they complained. Me, I've always found his shrill vocal style essential, part and parcel to the Rush scheme of things, but nonetheless it may serve the band well to take notice. Truth to tell, ol' Geddy does seem to go a little overboard on the wailing during 'Book Three' of 'Cygnus X-1'. See what you think. But this is a snail quibble, paling into insignificance against the album's overall magnificence. For, just like Rush's British tour, 'A Farewell To Kings' is a triumph. A total, out-and-out, honest-to-God, five star studded, complete, utter, unmitigated triumph.
Really.
ONE MAJOR DIFFICULTY INVOLVED WITH TRAVEILING THROUGH BLACK HOLES WOULD BE THE SO-CALLED 'TIDAL FORCE' EXPERIENCED WHEN IN CLOSE PROXIMITY TO ONE OF THESE IMPLODED STARS- A FORCE OF SUCH DESTRUCTIVE POWER THAT ANYTHING APPROACHING THE HOLE, LIKE AS NOT, WOULD BE TORN TO PIECES.
'Through the void
To be destroyed
Or is there something more?
Atomized - at the core
Or through the astral door -
To soar...'
The book 'The Cosmic Connection' (by Carl Sagan, Coronet paperback, 85p) has been of invaluable assistance in the writing of this review.