Rush
By David Farrell, Performance The International Talent Weekly, October 1977
---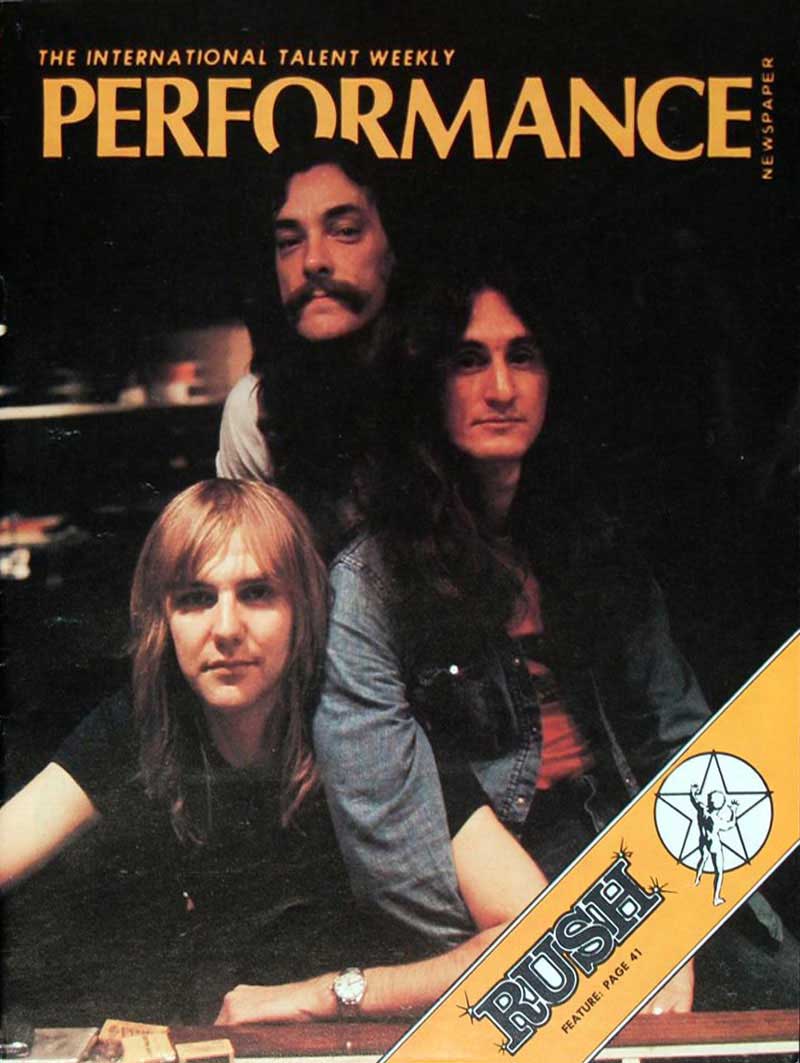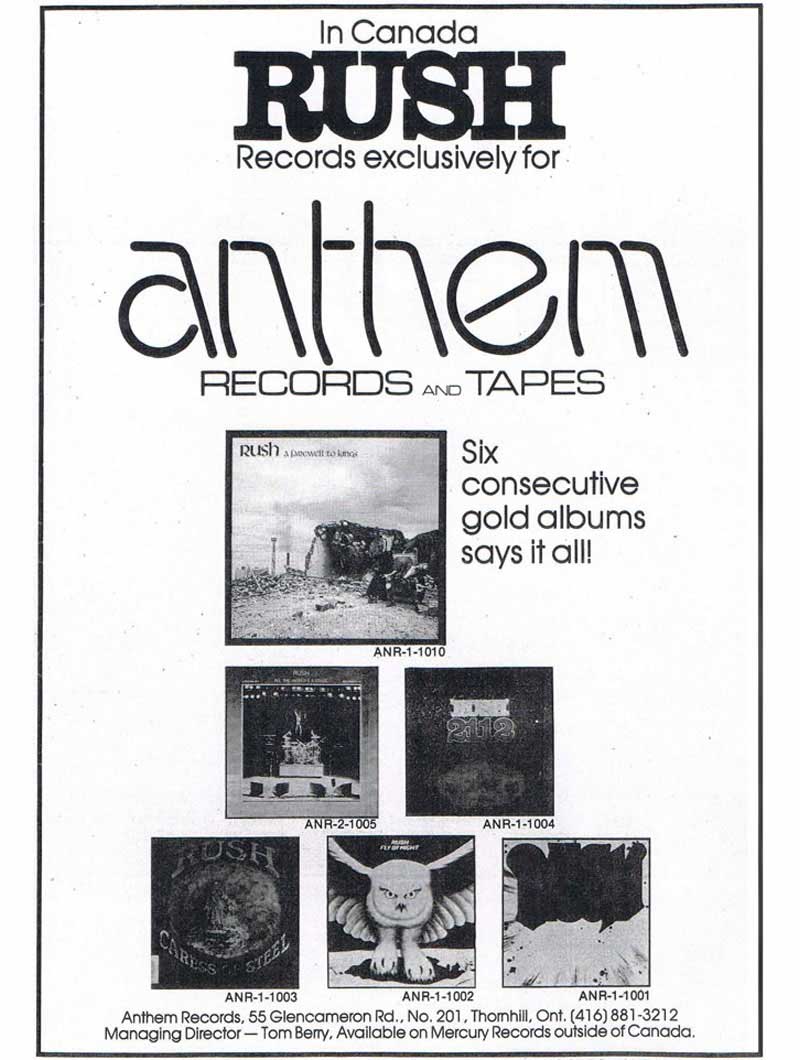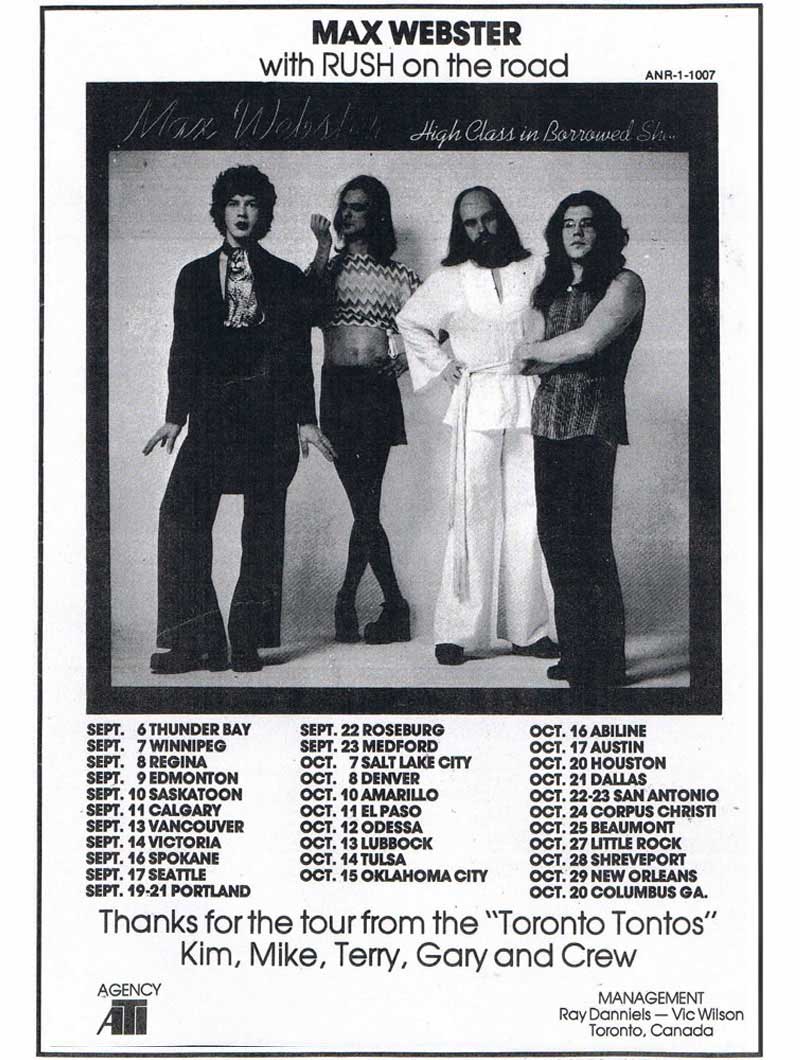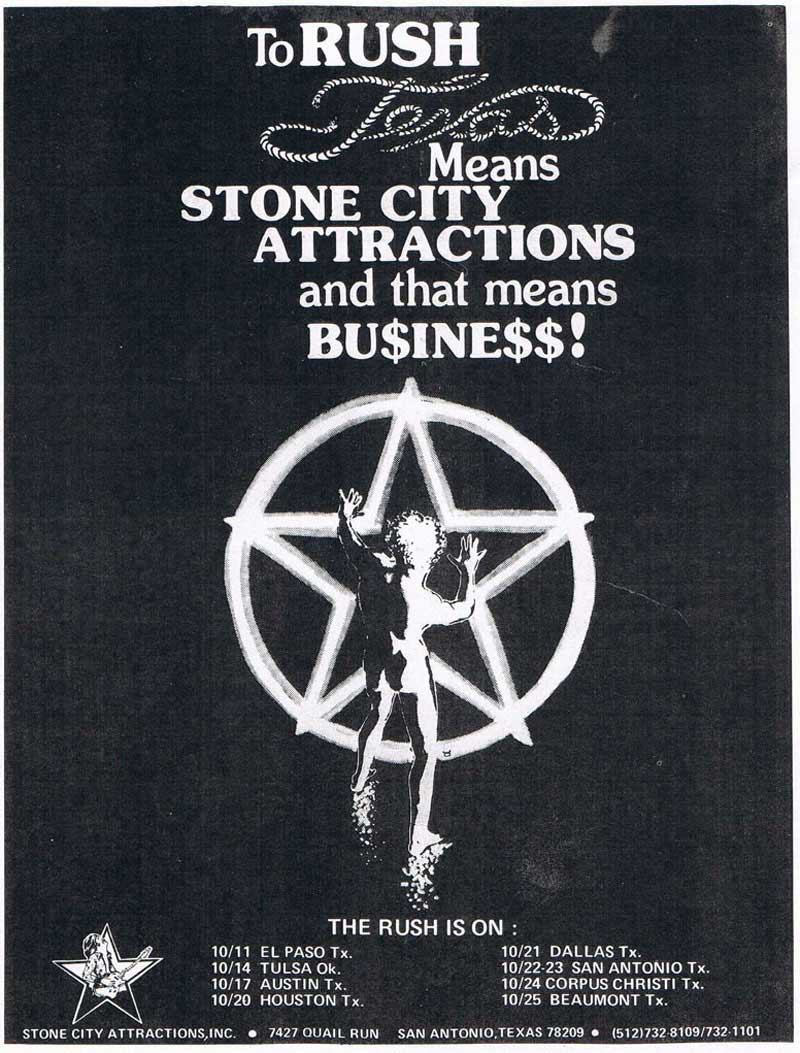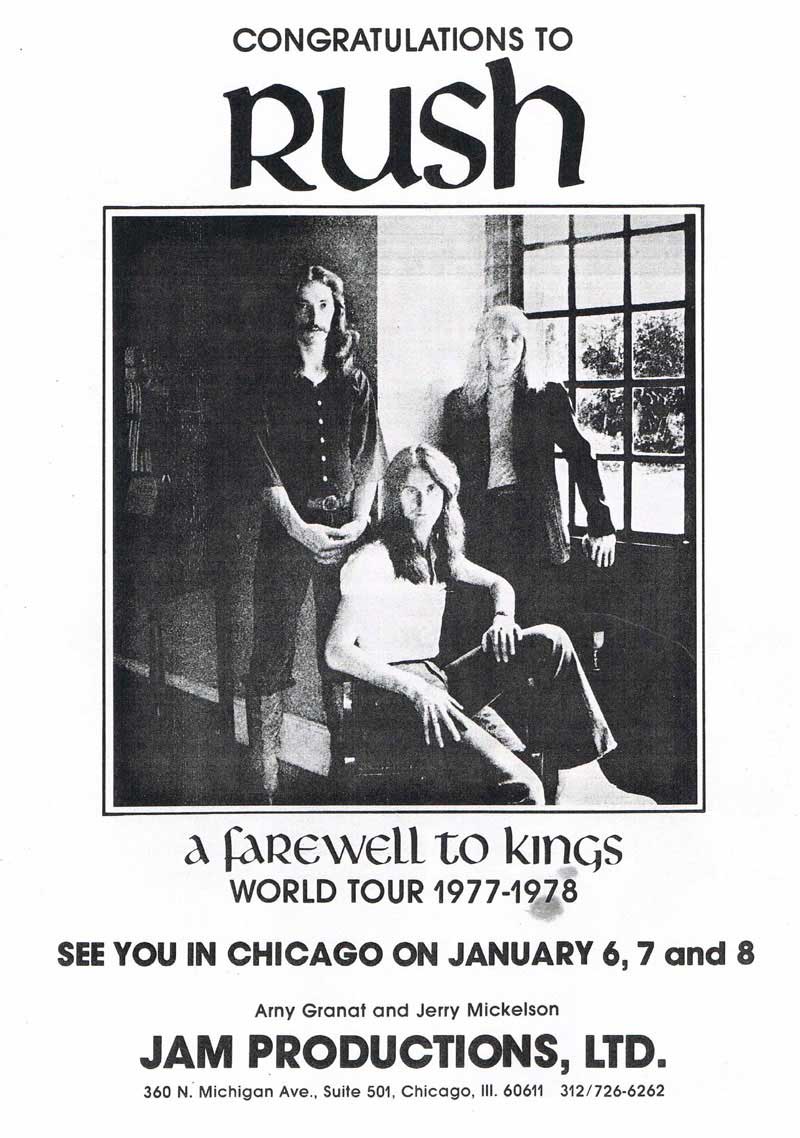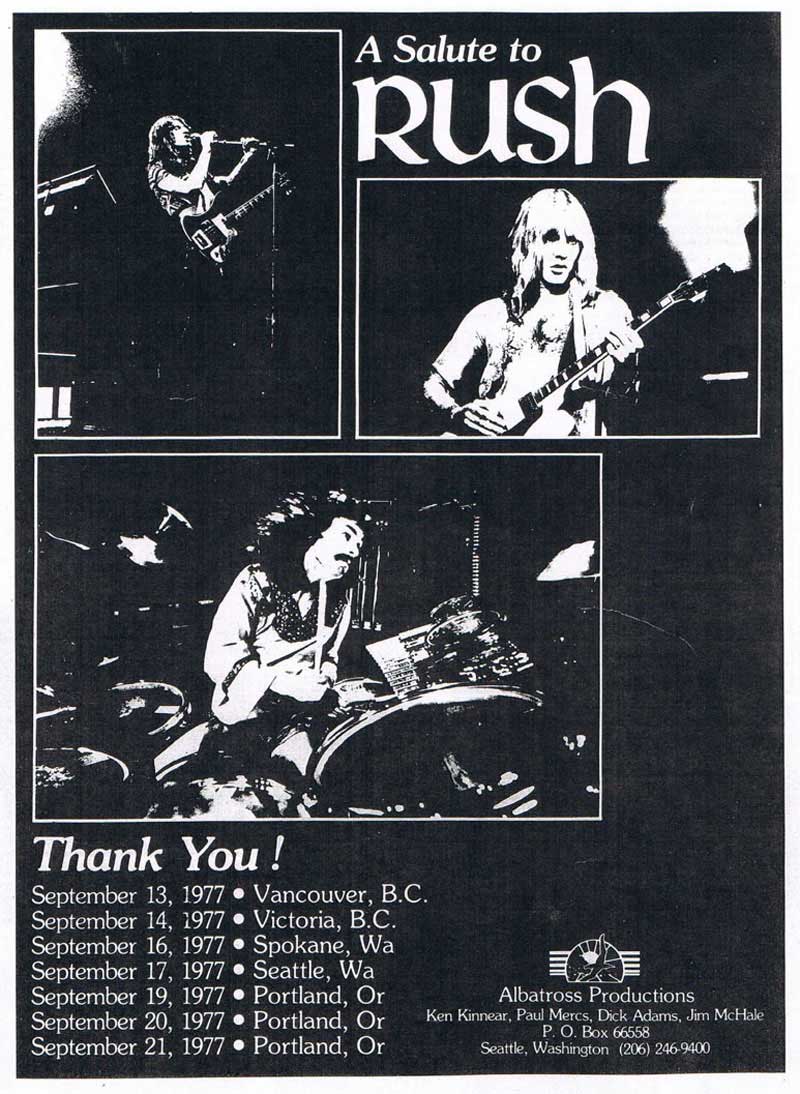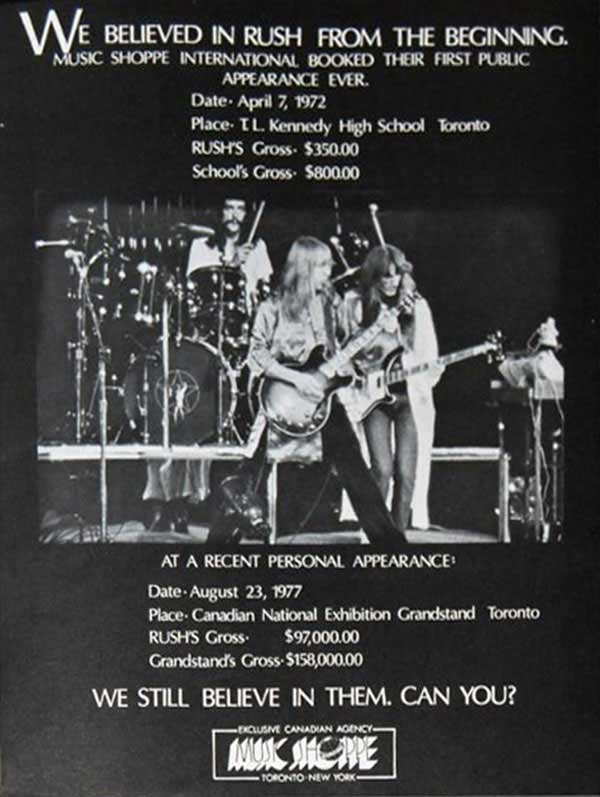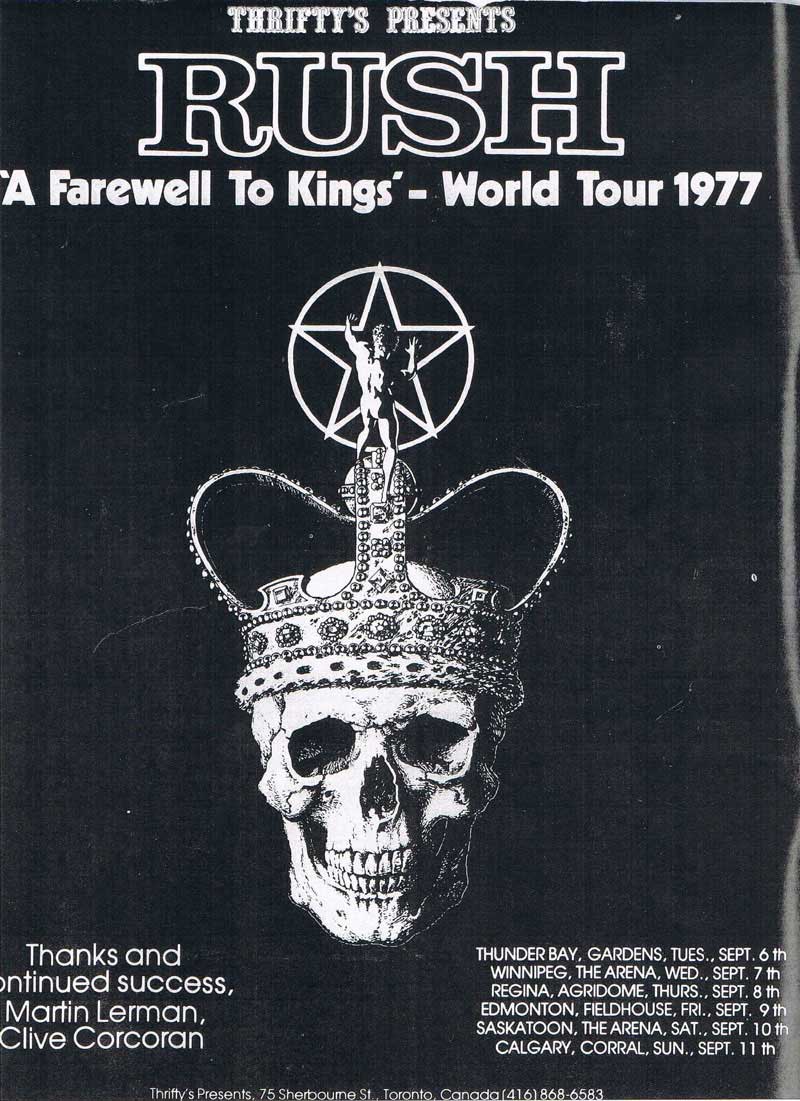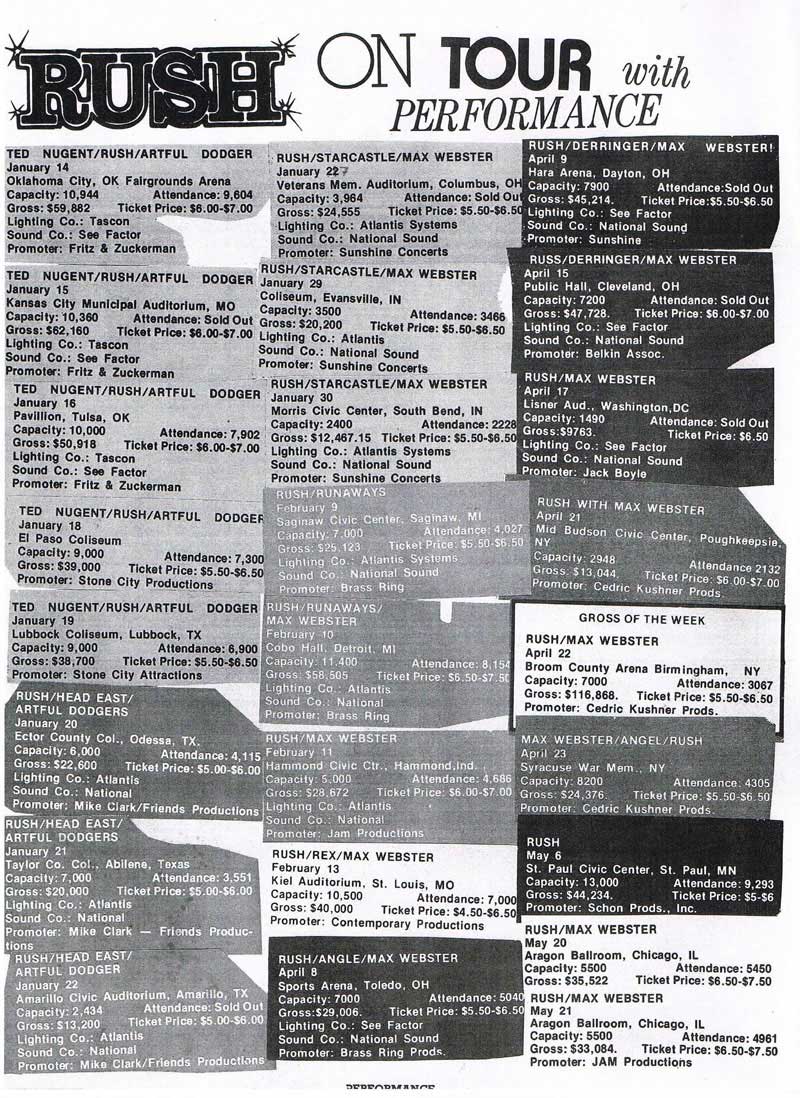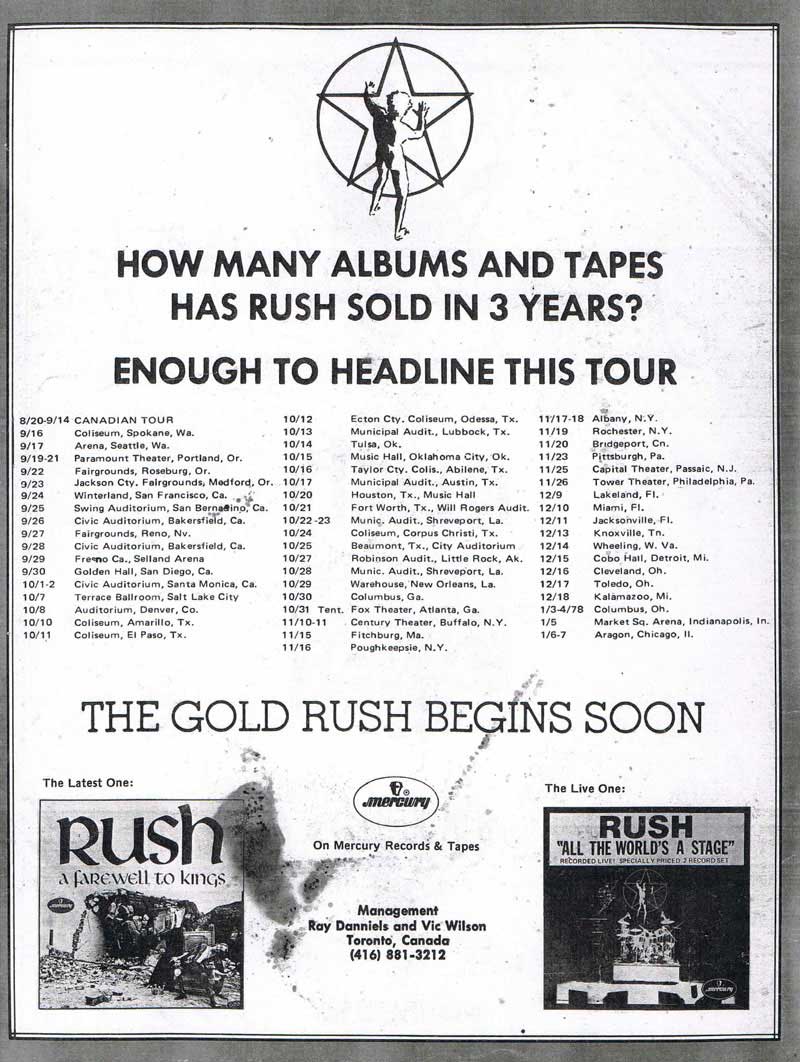 TORONTO: If there were an adjective to describe the feel of an inspiring concert, it would have to be "rush". And what better name for an act that puts its all into a show and in doing so has won the worship of countless fans of the hard rock genre. In a roundabout way, it was just this feeling of sudden elation that led this Canadian rock trio to name itself Rush back in its early days.
Having played in and around the Toronto area during the late sixties, practicing in basements and working out the kinks in high school gyms, the original trio drew its material and inspiration from such dynamic rock legends as the Who, Cream, Jeff Beck, Zeppelin, and, of course, Jimmi Hendrix. While it would be unfair to say that Rush was unique in its grasp of the genre back then, it would not be stretching a point to say that the trio had a stage flair and conviction many of their peers lacked. Even more important was that they pulled weight on stage; behind the stage doors stood a manager who had foresight and belief in what he was doing and was pulling for the band every step of the way.
In early 1974, manager Ray Danniels, along with partner Vic Wilson, felt it was time to put Rush on vinyl. Around the same time, drummer John Rutsey made his exit from the band for health reasons and was replaced by an even more dynamic force in the figure of Neil Peart. Typical in hard rock, record companies just didn't want to know about the act, despite the fact the trio had forged a solid name for itself as a club draw. To try for a U.S. deal might prove successful, but Vic Wilson and Ray Danniels decided that time was precious and made one of the wisest, luckiest gambles of their entire careers.
Between out-of-town engagements and late at night, after local club appearances, Rush (with new recruit Neil Peart) started recording an album on their own, aptly titled "Rush", which was to surface on the one-shot Moon Records. As one of the members was to reminisce of that first series of studio sessions: "The sessions were late at night, often after gigs, and the extreme limitations of time and money were excruciating. The material was raw and immature, some of it in the band's repertoire for several years, and the production was a patch-up job, rescued at the last minute by the saving grace of Terry Brown, who remains our co-producer, objective ear, and fourth member in the studio. Still a dream had been realized; there was an album!"
Vic Wilson and Ray Danniels are reluctant to admit just how much money was actually sunk into that first elpee (LP) but a guess in the region of $5,000 would not be far off target. For Rush, that album proved a rock fairy tale come true.
Several thousand pressings were eagerly snapped up by loyal fans of the trio, and, by fluke, some copies filtered into the import market in the U.S. Northeast. The next lucky break occurred when the programmer of a Cleveland underground station received a copy and started playing the album on the air. Donna Halper, at WMMS in Cleveland, unwittingly became the key figure in events leading to contracts in the U.S. for Rush. With the airplay came a rash of demands at the retail level. And with sales as a bargaining position, Ray Danniels and Vic Wilson looked to negotiate an agency deal south of the border.
In New York, Danniels and Wilson made a deal with ATI; with that connection a deal was struck with Mercury Records in Chicago for the album at a six-figure sum. The Mercury connection has proved invaluable to all concerned ever since. At the time of the signing, the label was going great guns with another Canuck band, Bachman-Turner-Overdrive. Based out of Chicago, Mercury sits at the mouth of the mid-west, a geographical area vitally important to the breaking of any rock act. Ted Nugent, BTO, Rush, Uriah Heep, Zeppelin have all found initial acceptance there. With the record on general U.S. release and work visas in order, Rush set out to carve its niche in the U.S. soil and to work themselves to the top.
In meeting the trio off-stage, whether it be a reporter, promoter, lighting man or general fan, one is immediately struck by the sincerity of these Toronto boys. Both Wilson and Ray Danniels (partners in SRO Management) believe that concert touring and high quality staging is the key to breaking a group. Since switching to ATI, Rush has been touring non-stop, practically across the great north divide, with the likes of Ted Nugent, Aerosmith, Kiss, Argent; name them and Rush has toured with them. With their agency wholeheartedly committed to the trio and solid management working with them along the way, Rush had gone from opening act to headline attraction in three albums.
In 1975, when Rush recorded its second album, "Fly By Night," reviewers at Circus magazine and the industry trades started to sit up and take note of this bass, lead, and drum group, noting production improvements and a pattern of musical growth. Dates at the Roxy and other prestigious showcase venues started to become regular items on the Rush tour agenda, as did on-air interviews and in-store autograph sessions. Wilson and Danniels hadn't rested, but to improve sound systems, lighting for the shows, wardrobe, et cetera. It had been a case of utilizing the available funds to the best advantage and lining up the most advantageous tour dates for the group. It had been a matter of searching out the right markets and swinging audience loyalties over to Rush's side. And it worked. The key component in Rush's sound is bassist Geddy Lee's vocals which run the gamut between bloodcurdling screams and mating calls. Neil Peart's drum work is almost savage in its detonating power and combined with Alex Lifeson's outstanding guitar work, theatrical prancing onstage and cascading hair, it proves hypnotizing to fans who nevertheless recount lyrics stanza for stanza.
One definite advantage Rush wields, both on record and stage, is an incisive writing style that goes beyond toying with the manwoman relationship. All three members are avid fiction readers, a common hobby which has definitely made a mark in the content of the music. This style is pronounced on "2112", a fantastic vision born right out of an Ayn Rand novel, put to music of the '70s. "2112" marked an important time in the band's career as well. It became the first major chart entry for Rush and went on to become the band's first gold in Canada. As headline situations started to materialize, it got to the point where finding time to record another album conflicted with road visibility. The answer came in the form of a live double-album set, recorded at Massey Hall. This release also turned gold in Canada. The tour finally wound up in Chicago in late spring with two sold-out shows at the Aragon ballroom with Max Webster. (Rush and Webster, a Canadian label called Anthem Records. Anthem is distributed in Canada by Polydor which also distributes Mercury.) Exhausted, but also jubilant, Rush flew home from Chicago to Toronto, temporarily disbanded for a few short weeks, then flew to Europe to do a series of dates in Scandinavia, Western Europe and the U.K. It was their first time abroad and foreign press reviews were ecstatic. Rush had conquered the islands and Europe. With that under their belts, the trio, plus fourth member Terry Brown (who is also producer for Klaatu) set to work on the sixth album at Rockfield Studios in Wales.
The studio is nestled between rolling foothills, totally removed from a boom brought on by the industrial revolution. It is set in a slice of landscape right out of Barry Lyndon. This newest album, "A Farewell to Kings" is surely the band's most exotic audio project yet. In mid August of this year the trio headlined the Canadian National Exhibition as one of the first dates on the Farewell To Kings, '77-78 tour (with Max Webster opening) before a crowd of some 22,500 persons. Not only was the show a complete sell-out, Rush proved to be the only grandstand name to attract a full house this year - and that among such major draws as Sedaka, Anka, Kansas and Captain and Tennille.
Clearly Rush is one band on the brink of superheights. As to the rigors of the road, by the time their next tour winds up, Rush will have gone from headlining before several hundred thousand fans per tour to .... who knows? ...
ATI & Rush
NEW YORK: The marriage between ATI vice president/booking agent William Elson and client, Rush is a curious one. Elson, who has been an agent for the last ten years at APA, ABC Booking, and Premier Talent, moved over to ATI about six months ago but was interested in signing Rush to Premier while he was there. He had Foghat out on the road, and both the promoters and Foghat recommended that he see the act and meet the members. He Quickly became friends with Ray Danniels, the manager of Rush as well as another Canadian group Max Webster. "I liked the act and felt the way Danniels handled the act was good," explains Elson. "I felt that Rush, as a musical entity, was a viable attraction and felt I could work with Danniels and his style of management. As an agent, you must look as much at the management as the act." Two months ago Rush signed with ATI and Elson after a long relationship with ICM.
"Danniels is a contemporary of the members of the band and actually grew with them," continues Elson. "He has known them for the last 8-10 years and has insight into the band and knows and feels the band well. And they trust his decision making. He knows his limits of controls - the parameters of his relationship with them - and this is important in working with a band since he doesn't have to ask them questions every time a new decision has to be made. Some managers overpower their groups by demanding certain things while others are too weak and indecisive. Ray Danniels is the perfect type of manager to work with because he has a true understanding of his group."
Since Rush are Canadian and not American citizens, they can only be in the States for a maximum of 180 days without sacrificing their tax status. Still, by the end of January, they will have played every major American city in addition to approximately 250 other dates which includes an extensive tour of Canada - in one year. "The question arose as to whether they should go out as 'special guests' every night or as headliners," Elson states. "Since they worked the States very heavily for the last five years, at a certain point, and this goes for any act, their music has gotten to the point where they want to play - or indulge if you will - in longer sets. So this is an investment in their own career by headlining for the most part. Of course, as a special guest, you don't have to carry your own lights and sound and you can make a lot more money, but headlining is an investment, which is very important for the future of a group."
Rush will headline venues from 2,500 seats to 20,000 seats. There are certain areas where they are unequivocal headliners, especially in Indianapolis, Chicago, most of the mid-west, northwest, and west coast. They will carry a very expensive system and will be packaged with one or two other groups. "In packaging a tour, you have to find an act with compatibility and one that is commercially viable," Elson points out. Elson also handles Utopia, UFO, the Dictators, and Cheap Trick while ATI also handles Kiss, Bob Seger, Rod Stewart, Angel, Blue Oyster Cult, ZZ Top, Max Webster, and many more. It turns out that this tour involves all ATI acts, which is convenient for the promoter. "For the most part, UFO, which Rush has positive feelings toward and promoters felt was a viable package, will be on the bill," said Elson. "And for at least two-thirds of the tour, Max Webster will be open. Not only are they close friends from working together in Canada, Webster is also managed by Danniels. In Canada, where they tour extensively, Max Webster is a headliner.
Although Elson, 32, has handled their account for only two months, he was instrumental in Rush's summer of '77 plans, which included no summer extravaganzas or festivals. "It was a wise decision," says Elson of Danniels and Rush. "They had an album due out the end of August, and given that fact, if they had done a lot of summer touring, they might have had to stay out of those markets on their current tour. We work as closely as possible with the record company too. If the record is breaking in certain markets, they try to help satiate the primary, secondary, and tertiary markets."
Elson stressed "this Rush tour is more a product of ATI than just me. I've done nothing more than co-ordinate the tour with Jimmy Optner, who co-ordinated the west coast portion of the tour; Alex Kochan (Ohio-Penn.-Maryland area) and Rich Greco (college dates). It is important that it be understood that all the agents of ATI have supported the tour; their co-ordination will make this Rush tour their most extensive they have ever done."