Rush Scores Gold Albums Without Top 40 Radio Play
By Jim Millican, Winnipeg Free Press, October 28, 1977, transcribed by pwrwindows
---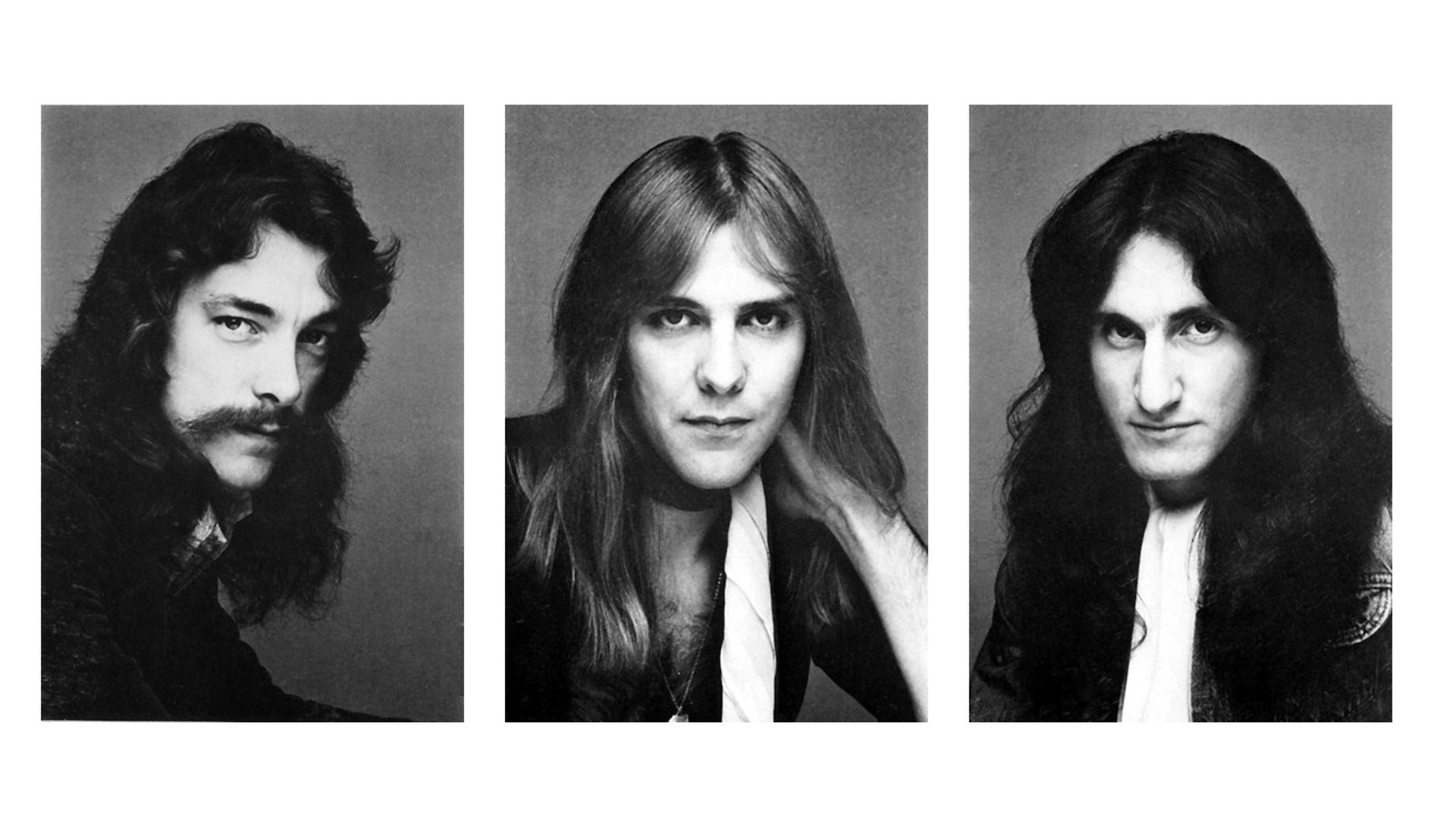 The conventional wisdom of the popular music business dictates that, to succeed, a group must score hit songs on top 40 radio to encourage album sales. As an alternative - if there is one - the music must be acceptable to FM-album-oriented rock stations.
That wisdom is being severely tested by the Toronto power rock trio Rush who have become Canada's biggest selling rock export without so much as a nod from hit radio. They have amassed their big record sales and become a huge concert attraction while Top 40 radio programmers have refused to touch the band. Even the more progressive FM element shys away from Rush.
Nationwide sales for Rush albums grow stronger with each new release. Their sixth and latest disc, A Farewell to Kings, became a gold album (signifying sales of 50,000 copies and more) less than three weeks after its release in early September and is still selling strong. All five of the group's previous albums have also gone gold.
Neil Peart, Rush percussionist, admits the group's sound "isn't conductive to a radio programmer looking for the lowest common denominator type of music".
"Our sound does seem to be offensive to a large range of people like housewives or other people who want the radio on but don't really want to listen intently. We attract a definite response."
The alternative method that Rush has used to expose their product is disarmingly simple. Last year the group played nearly 300 dates, more than 200 of them in the United States.
"In the beginning" Peart said, "we were opening shows for other major acts but before long we were playing in front of our own fans, and a certain number of them will always go out and buy the new album. By this point in their careers most rock acts have reached the stage where they don't have to work as hard, but we've poured all the money we've made into a bigger and better show, so we're not actually in an economic position to slack off. But that's good. We took the position that if we got out and played for people, the lack of radio play wouldn't matter, and it hasn't."
In Winnipeg, Rush has been virtually ignored by the Top 40 radio stations. Yet sales for A Farewell to Kings, are "steady and solid" according to Murray Posner, owner of Mothers Records on Portage Avenue. Sales in this country are now approaching 70,000.
Music director Pat St. John of CRFW said that although the station has been giving away copies of A Farewell To Kings, in a promotion contest, "RW is designed to play the hits, and current market acceptance indicates the song isn't a hit."
CKRC is playing Closer To The Heart a couple of times a day but 'RC program director Billy Gorrie said that "Rush is basically very hard, hard rock which the station has determined appeals only to a very specific group, mostly males under 18." For that reason, since Top 40 radio stations try to target their programming to the 18 to 34 age group, and with so few women interested in Rush, it would be ratings suicide to program much of their music.
At CKY, perhaps more tuned to heavy rock than any other Top 40 station in Winnipeg, music director Gary Christian confirmed that he gets requests for Rush. In response, Christian has added Closer To The Heart to CKY's playlist "in order to determine its popularity, however, the intensity and raunch of the music only make it applicable to the station sound in the evening."
In a city like Winnipeg if one station doesn't go with a group, there is no reason for the one on the other side of the street to play it, particularity something as rough as Rush. Thus, through the group's climb to prominence, only one of their 10 singles has had any radio play at all.