Power Pop? What's That Say The Rush Fans
ROBIN SMITH gets in amongst the faded denims and greatcoats to see Rush
Record Mirror, March 4, 1978, transcribed by pwrwindows
---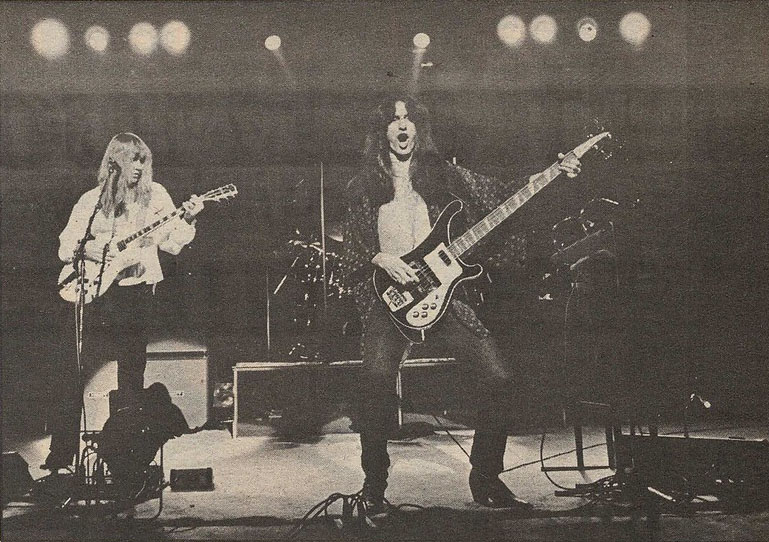 Newcastle City Hall on a particularly drab night. A young audience bedecked in faded denim, grandaddy vests and long hair. Ask a lot of them if they've heard of power pop and they shake their heads. Rush are all that matters. One lad has hitched his way through 20 miles of snow to make it along to the gig. He probably won't make it home tonight and plans to sleep on the station wrapped in his ex-RAF greatcoat.
"Seen 'em before, they're marvellous," he says. "Nah, punk doesn't interest me. They don't have good light shows do they? Every song sounds the same."
Philosophy
Rush are an all Canadian earthquake band. Heavy metal diluted with peace, love and philosophy. Too late, you ask? Definitely not, they partly fill a gap left by Zeppelin. Rush are available and it's a sell out tour. The group come packaged in an extensive light show and although they thunder everything comes through. 'By-Tor And The Snow Dog' is swamped with dry ice and 'Xanadu' is completed under a ceiling of lights. Already the faithful are gathering at the front, playing imaginary guitar on rolled up posters and making peace signs. Rush go through their motions well - pelvis thrust forward, shake of the head, agonised face contortions - rah, rah, rah.
Like Yes they bring the bass very much to the fore and Geddy Lee sounds like a Canadian version of Jon Anderson. Unlike Yes they haven't developed the same melody structures, when you get right down to it they go in for a lot of basic crash and bang. Something tells me they could be doing a lot more, they have the power at the moment but not enough subtlety.
'A Farewell To Kings' is the best of the set. It starts with very English style acoustic guitar played very nimbly. Suddenly there's a flash of explosions followed by the main theme knocking out of the speakers. 'Something For Nothing' is very indulgent but they suddenly cut the heavies. 'Cygnus X-1' is robot rock, mechanical noises and Gedy Lee picked out under a single red spotlight. Near the end the band are caught in an endless maze of interlocking beams.
'Closer To The Heart' has some more acoustic playing then a series of ripping notes and archetypal heavy metal playing. 'Working Man' is the most basic offering of the evening, screeching vocals and lumpy notes tumbling down on their most clumsiest song. After the show the fans rush for the stage door, standing in the snow like carol singers.
On stage Rush may specialise in demonic rock but off stage they're rather quiet and retiring.
"When you're a support band you can afford to go a bit wild," says lead guitarist Alex Lifeson in the dressing room. "You're doing a short set and you've still got energy to burn off. But we're headlining now, we can't afford to go on stage tired, we want to deliver well every time. You have to coordinate tours so that you get into a rhythm. If you go wild then everything just gets strained."
Rush were formed in 1969 by Alex and bass guitarist Geddy Lee. Their original drummer was replaced by Neil Peart whose contributions to the band's lyrics have been vital.
"Canada is a very apathetic country," continues Alex. "There's only three major cities so you inevitably have to be successful in the States first before you can go back like conquering heroes and get appreciation for your labours. We've had to work really hard but it's paid off."
Rush do a lot of recording in England down at Rockfield Studios on the Welsh border.
"It's a beautiful old building and maybe it suits us better than some of the American studios because the atmosphere is so relaxed, it's not too clinical", says Alex. There's not a great feeling of pressure, we can wander down to breakfast and then into the studio.
"On the lighter guitar parts I think I've tried to get an English type feel behind my playing. I like the great amount of culture over here both musically and in your heritage".
Over in the corner sits Geddy Lee the most soft spoken member of the band.
"We chose the name Rush because it represents a positive force or feeling. It means that you can achieve anything you really want to by your own efforts, whether it's music or anything. We're very much into power for individuals for each person to express their own minds."
One of the best examples of the Rush philosophy is captured in the 2112 album where priests control the world and one individual tries to express himself after finding a guitar. The priests confiscate the instrument knowing it could lead to a break in their dictatorship.
"What we stand for is signified by our logo of a guy reaching out in the star", says Geddy. "We're a capitalist band, we come from middle class homes. So although our parents maybe didn't approve what we were doing in the early days, there was always a warm bed for us at night.
"Our music does lend itself quite a lot to British influences, we're into people like Jeff Beck. But our music hasn't been contrived, it just flowed naturally and ended up the way we are today. Our music uses science fiction experiences because that way you can create fantasies that help to broaden people's minds. We use creative imagination to let people think.
Visuals
"One day I hope we can move into films, I'd really like to orchestrate visuals. I've seen Close Encounters Of The Third Kind and I was impressed by it. It comes over as a very real film".
The fans have cleared enough so it's into the limo and back to the Newcastle Holiday Inn. Band's lyricist Nell Peart holds court in his room.
"Like my radio controlled model car?" he asks, holding the machine proudly before settling down in a chair. "We play with them to relax".
"I like noble virtues, the difference between right and wrong," he says. "I also don't like people telling me what to do and that can happen with some bands, they become puppets of record companies. You have to make your own decisions if you want your ideals to come across.
"Britain's in a strange state at the moment because you have a socialist government. I'm against socialism because again it stifles the individual, it tries to wrap him up not letting him think for himself."
Some more time to think and relax. Then to bed.