SRO/Anthem: Five Years Old And Still Growing
By Nancy Gallo, RPM Weekly, April 1, 1978, transcribed by pwrwindows
---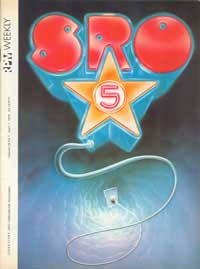 Walking into the sumptuous offices of SRO/Anthem, recently relocated in an old country estate house, it is almost impossible to imagine that just five short years ago, Ray Danniels and Vic Wilson, the company's co-owners, were working out of a small one-bedroom apartment, low on funds but high on ambition. Well, that unfailing ambition, along with long hours, enthusiasm and hard work, has paid off in a now legendary success st0ry that has catapulted SRO into one of the most prestigious companies on the Canadian music business scene.
Now operating with a staff of ten, partners Danniels and Wilson manage a roster of five acts, as well as being co-owners of Anthem Records, an independent record company which started operations in mid-1977. Both ventures have proven highly successful.
Ray Danniels - Ambition pays off
Danniels started his career in the music industry at sixteen as a promoter, and by the ripe old age of nineteen, was the president of his own booking agency, Music Shoppe, when he took on the responsibilities of managing a then-obscure group called Rush. After trying to secure a recording deal for the trio, and subsequently being turned down by every record company in Canada Danniels sold his interests in Music Shoppe in order to finance the first Rush album on his own Moon Records label. A promising amount of sales in Canada and good response in the U.S. led to a $100,000 recording contract with Mercury Records in the U.S. But success was still in the distance. By their third album, Danniels was over $300,000 in debt, but was still determined that this was the group that would go to the top. And that determination paid off. With the release of their next album, 2112, Rush caught on like wildfire, and the rest is show-biz history. When asked if he ever expected the amount of success that Rush has achieved, Danniels replied instantly, "Yes, I always believed, right from the beginning, that they could be enormously successful; I just didn't realize all the complications that would go along with that success." Danniels had to educate himself at a rapid pace to keep up with those "complications"; lawyers, contract negotiations, accountants, are all part of his everyday business life now.
Along with Rush, SRO manages four other highly successful acts, and Danniels gives a great deal of his personal attention to each of them. In addition to maintaining a hectic schedule as Chairman of SRO, Danniels and his partner, Vic Wilson, also look after the corporate business of Anthem Records.
Because of his youth, (he'll be 26 in May), many people look at Danniels as an "overnight success", a phrase, which inevitably results in a laugh. "People are always fascinated with my age," he says. "They don't realize that I've been in this business for ten years."
Vic Wilson - "The personal touch"
Vic Wilson, President of SRO, brought a wealth of music business experience with him when he and Danniels started the company in early 1973. Having worked as a musician with a group called Little Caesar and The Consuls, and as a booking agent with Concept, he is able to view the acts he handles from several different angles: that of performer, agent, and finally, manager. A soft-spoken man of many capabilities, Wilson looks after the business end of the company, working closely with lawyers, accountants, and the various other business dealings that a company the size and status of SRO inevitably entails, working on the principle of "what you put into something is what you'll get out of it", Wilson "puts in "a great deal of energy and enthusiasm. He keeps himself well informed of the goings-on in each department of the company, and stays in touch with each of his groups. Although he foresees continuing growth and expansion for the company, Wilson maintains that the "personal touch" is vital to a harmonious working relationship between artist and management, and for this reason, he expects that the SRO roster will remain comparatively small.
Tom Berry - Wearing Many Hats
Vice President and Managing Director of Anthem Records, Tom Berry came to Anthem from RCA Records, where he had worked his way up from mailroom employee to a position in regional promotion in four years. Berry works as A&R man, (looking for and developing new talent), art director, (overseeing the production of promo material), and director of promotion and publicity, (personally looking after the promotion of all Anthem acts).
At this time, all of Anthem's recording acts are managed by SRO, but Berry, with an every open eye for new talent, says the right combination of management are the prerequisite for a group would need to sign with Anthem. In working closely with Danniels and Wilson, he has come to realize that good management can be the deciding factor in a group's becoming successful. And just SRO has afforded him the manager's view point of an artist, so Berry has given Danniels and Wilson valuable insight into the recording aspect of the business.
Berry sees Anthem as a great boon for the Canadian artist, in that as the label's acts are all Canadian, their records are not competition with U.S. releases for the promotional attention of the company. "Anthem's acts are our bread and butter; they don't make it, the label doesn't make it."
The "personal touch" that SRO is famous for is equally evident at Anthem. Berry is in constant touch with his recording acts; discussing material, promotion and publicity, and evaluating their stage show whenever he can take time out from his busy schedule to see them perform.

As Danniels once said of himself, Wilson and Berry: "Between the three of us, we've done everything except being roadies." The trio, each with his own individual talents and experience, has proven to be a winning combination.
Joan Wall - The Money Game
A young woman of seemingly endless energy, Joan Wall is the financial wizard who looks after SRO's accounting department. Starting in the industry as a drummer/vocalist with an all girl band, she later worked as a booking agent, and is now an integral part of the SRO staff. Not only does she handle the vast responsibility connected with the finances of the organization. She also keeps a watchful eye on all departments, making sure that everything runs smoothly, that all tasks are complete and that everything is done the way it should be and on time! She sees her position as a constant learning experience. "Having a conversation with Ray or Vic is an education in itself," she said. "I just keep learning form them all the time."
A company of the size and stature of SRO/Anthem could not run as smoothly as it does without the helpful capabilities of Rhonda Ross and Linda Emmerson, assistants to Ray Danniels and Tom Berry, respectively. These are the girls who assist in handling the responsibilities and heavy workloads of their busy bosses, and without whom SRO/Anthem could not function as efficiently as it does. Joan Wall also has two assistants in the accounting department, Pat Simcoe and Gwen Millen, and Elaine Gray ably carries out the duties of receptionist.
The most recent addition to the staff is Mike Tilka, formerly a member of Max Webster, who will be taking on responsibilities at both SRO and Anthem. Utilizing the business and artistic knowledge that he gained as a performer, Tilka will be assisting with A&R chores at Anthem by seeking out new talent, and will also be acting in an advisory capacity in looking after tour budgets, equipment costs, and stage show improvements for the SRO acts.
No article on SRO would be complete without mentioning Doug Brown, of Music Shoppe International, who has acted as directive agent for SRO acts since the company's infancy. Brown works closely with Danniels in planning tours and bookings for the SRO roster, and has been instrumental in deciding the direction that is most profitable, financially and artistically, for the career of each individual act.
SRO Artist Roster
Rush
Rush is a heavy rock trio with six albums to their credit, five of which are gold and the most recent, A Farewell To Kings, is now platinum. The group has toured extensively in Canada and the U.S., and recently returned from a sold out concert tour in the United Kingdom. Their upcoming release on Anthem Records, entitled Archives, is a triple unit album composed of their first three LP releases.
Rush is nominated for several Juno Awards this year, in the categories of Best Selling Album, Group of the Year and (Album) Producer of the Year (with co-producer Terry Brown).
Max Webster
A four-piece Toronto-based band. Max Webster features unique original material coupled with an exciting and energetic stage performance. The group has toured in Canada and the States, and have recorded two successful albums of highly unusual diverse rock. Their upcoming Anthem album, Mutiny Up My Sleeve, is slated for release shortly. Aptly described as "Avant-garde rock", the band is one of this year's Juno nominees for Best New Group.
The Ian Thomas Band
A GRT recording act, The Ian Thomas Band features the exceptional writing talents of Thomas, as performed by himself and his band of exciting and talented musicians. The group has toured in this country as well as in the U.S., and now have five albums to their credit. Their most recent release, an LP entitled Still Here, was released simultaneously in the U.S. on the Atlantic label, and the single from that album, Comin' Home, was also released in March.
(Band member Hugh Syme's talents are not restricted to music alone. Syme is a Juno nominee in the category of Best Album Graphics, for his design of the album jacket on Rush's A Farewell To Kings album.)
Wireless
A four-member rock band, Wireless has released one album, titled after the name of the group. The band continues to captivate an ever increasing following of fans with their excellent performing abilities and their guitar oriented driving sound.
Liverpool
One of the most popular performing acts on today's market, Liverpool captures the exciting feel of Beatlemania with their excellent renditions of Beatle's classics. Not just another "nostalgia act", the group members also display their musical and vocal expertise in their performance of their original material. Liverpool have recorded and released several singles on the Taurus ' label.
Aerial
A very recent addition to the Anthem roster, Aerial has just recorded an album, In The Middle Of The Night, and have released a single from the LP, called Easy Love. The group features the performing talents of Laurie Currie, Brian Meisner, Gary O'Connor and Malcolm Buchanan, four of Canada's most well-known musicians.
---
Canada Dates For Rush And Max Webster
Canada dates for Rush and Max Webster Anthem recording groups Rush and Max Webster, a pair of acts which has toured together through Canada and the U.S. extensively in the past, are firmed for a major concert tour of eastern Canada. The tour begins March 30 in Guelph, Ontario at the Memorial Gardens, and continues with dates at the Montreal Forum (31), Ottawa Civic Centre (April 1), Cornwall Civic Centre (2), Kingston (3), Peterborough (4), Fredericton, N.B. (6), Moncton (7), the Halifax Metro Centre (8) , and a U.S. date at the Convention Centre in Niagara Falls, N.Y. (10).
Rush are currently on release with their sixth Anthem album, A Farewell To Kings, which recently achieved platinum status in Canada with sales in excess of 100,000 units. It is also gold in the U.S. Rush are nominated for Juno Awards for the album, as best selling Canadian album, for producers of the year, along with Terry Brown, for the album, which they produced jointly, and as group of the year. Anthem are slating release of the group's next album, Archives, a compilation of Rush's first three album releases, for release as a special package. The three albums are all gold in Canada, as are the group's other two releases.
Following the tour dates as special guest to Rush, Max Webster continue to tour across Canada. Opened for by special guest Ian Thomas, GRT recording artist whose new album Sailing Away is in the final release stages, Max Webster pick up tour dates beginning April 21 in Vancouver. Following headline concert dates include Victoria (22), Calgary (25), Edmonton (27), Saskatoon (29), Regina (30), Winnipeg (May 1), Sudbury (3), North Bay (4), and two shows at Toronto's Massey Hall (7).
Max Webster are currently on release with two Anthem albums, a self-titled debut and their current High Class In Borrowed Shoes. They are presently completing production on a third effort, Mutiny Up My Sleeve, slated for release in mid-April, to coincide with the headline dates. Max Webster are nominated for a Juno as best new group.