Pregnant Power Trio Births A Beauty
By Wilder Penfield III, Toronto Sun, October 5, 1978
---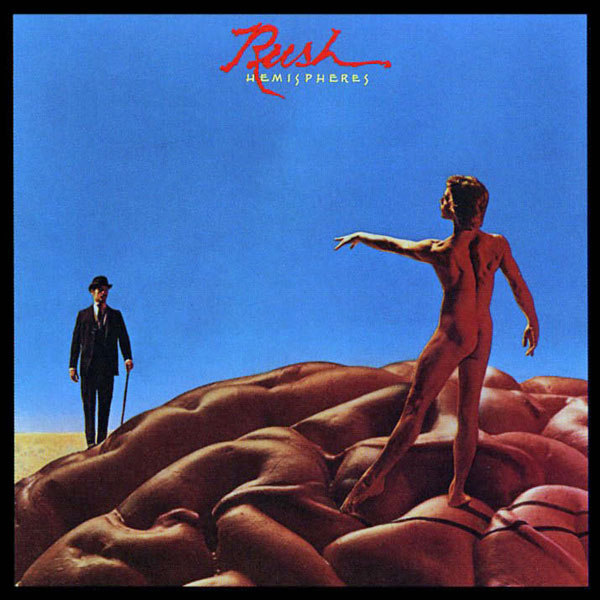 After a quarter of a year solid - only one day off! - of rehearsing, recording and mixing, Rush has completed preparation for its seventh and most ambitious album, Hemispheres.
The title cut runs one whole side. Musically it develops the progressive direction our most successful power trio established on last year's A Farewell To Kings; lyrically it expands on that album's grand science-fictlon mythology.
"This is the end of the story of Cygnus X-1," Geddy lee said after previewing the album for me at home not so early yesterday morning. "It's resolved. It's over. I kind of think the next album will be quite different - it will be time for another change."
Geddy, as any of the multitudes of followers internationally could explain without hesitation, is the 10-year-old trio's blazing lead singer, bassist and now keyboard man. With guitarist/co-composer Alex Lifeson and percussionist/lyricist Nell Peart, he is responsible for turning the old concept of the battle between the heart and the mind into the subject of a new musical ego and for welding it with the tales of the ancient Greeks and with their own Cygnus X-1 fantasy.
"We wanted to make it a great work, and we just kept at it until it felt right in our minds and sounded magical in the studio," he said.
The results, which you can hear - tonight, came at a cost to them of something like $100,000, by far the most expensive recording they've ever made. Rush likes to record with the team playing complete segments together, and "The hardest part was to make it sound as if we'd been playing it for three months."
The second side is comparatively frivolous, though probably no less challenging. There is a delightful instrumental called La Villa Strangato (An Exercise In Self-Indulgence) with 12 segments that have been given such titles as Buenos Nochas, Mein Froinds!; A Lerxst in Wonderland; Never Turn Your Back On A Monster; and A Farewell To Things.
And there is a song called The Trees, which is "definitely to be looked at with a smile cracked." The band had worked out a cartoon treatment of the lyrics in which giant complacent oaks would be arguing with bitchy maples, but it proved much too expensive.
Geddy would really love to be a director and, like producer Terry Brown, thinks of Rush music now as being soundtracks to their storylines. They would be very keen in the future to do a soundtrack to someone else's storyline, but the right script has not yet come along.
Meanwhile they are concentrating ever more intently on the visual aspects of their own performances, and they are looking forward to getting back on the road after their longest-ever time at home.
Rehearsals begin today for a national tour that begins Oct. 14 in Kingston and brings them to Maple Leaf Gardens Dec. 28 and 29. (Tickets will go on sale in a couple of weeks.)
Tonight they will premiere the album on CHUM-FM's Night At 11. The three bandmembers will talk with Rick Ringer in the studio, play the new album and take phonecalls from listeners.
The album itself will hit the stores on Tuesday in a red vinyl edition available only in Canada.