Rush - Into The Global Village
By J.J. Linden, RPM Weekly, December 9, 1978, transcribed by John Patuto
---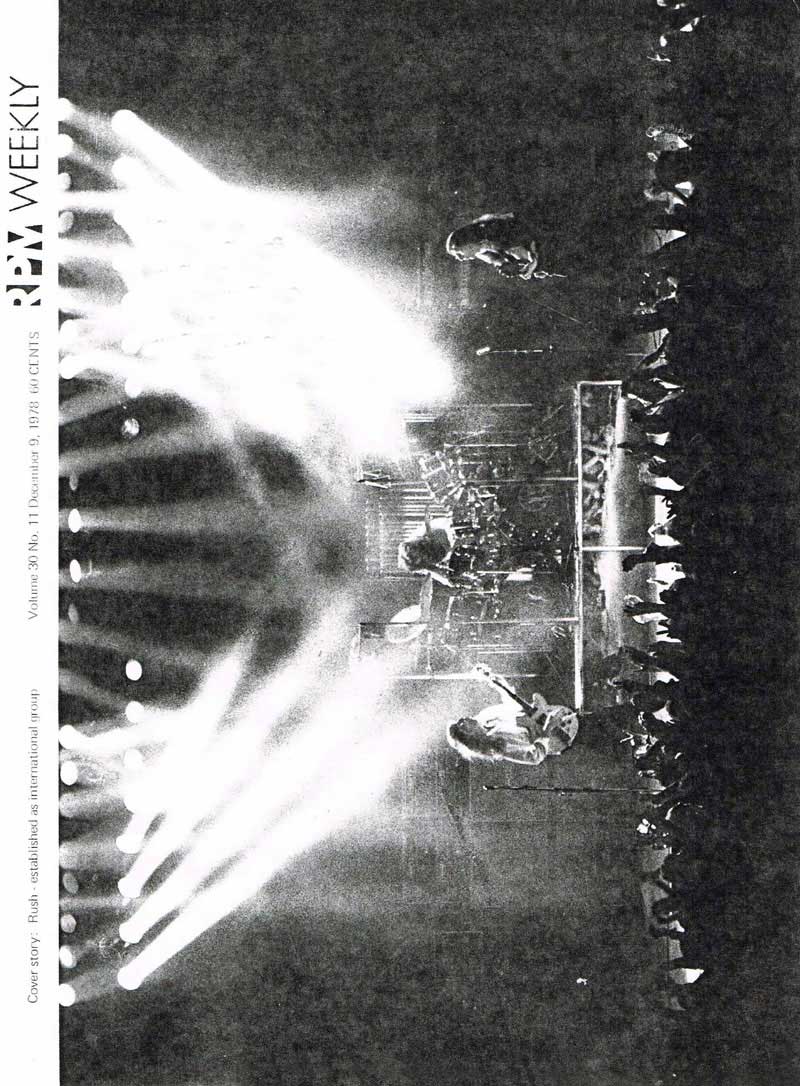 It seems almost an annual thing to say, but with the release of their new album Hemispheres, Anthem recording group Rush have become thoroughly established on the international market. From a Toronto high school band whose first album was released by their management because the major labels weren't interested, Geddy Lee, Alex Lifeson and Neil Peart have taken on the world one step at a time and are emerging victorious.
In the beginning, bassist/vocalist Lee and guitarist Lifeson formed the nucleus of a hard rock trio which, aided by their management, SRO Productions, quickly found a place at high school dances and clubs. Three early albums, Rush, Caress Of Steel and Fly At Night [sic], followed and were well-received. Around the time of the third album, Peart replaced the group's drummer [double-sic]. The magic was born.
Peart immediately assumed responsibility for the group's lyrics. A science fiction buff, his influence led the British-inspired heavy metal group to a sound and a concept all their own. The next album, 2112, was a landmark for Rush. It also began to establish the group in Canada and the U.S. The group then recapped their history to date with a double live set, All The World's A Stage.
By this time, Rush had become thoroughly established with the Canadian public. All five of their albums quickly achieved gold status. They were also growing in the U.S., playing major concert halls and headlining most of their dates. In fact, practically everyone outside of the industry and the press seemed to recognize that Rush had come to stay. Still, they couldn't buy airplay or print.
Rush's fifth studio album, A Farewell To Kings, effected a partial turnaround. For Kings, the group traveled to Wales to record at Rockfield Studios. Geddy Lee recalls, "We'd done four studio albums in Toronto, and we thought it was time for a change. Recording in the United States didn't really appeal to us, and since most of the music we grew up with and learned from came out of England, we thought it was just natural to go there. Also, we wanted to get away from home, so that we could have a little better concentration on what we were doing. Rockfield Studios in Wales was so appealing because we could live right on the premises. It's in the country."
A Farewell To Kings became a major door-opener into the international market. In conjunction with the support tour, the group achieved major activity in Canada, the U.S. and Britain. Kings achieved gold status in the U.S., bringing 2112 and All The World's A Stage with it. The same three albums became platinum in Canada. Kings also opened the doors for the radio programmers. A single, Closer To The Heart, achieved pockets of major airplay activity.
Last summer, Rush returned to Wales with long-time co-producer Terry Brown to record Hemispheres at Rockfield. The new album includes the now-traditional concept cut, the title cut, which comprises one side of the album. The other side features three shorter pieces, Circumstances, The Trees and the instrumental La Villa Strangiato.
The activity has been rapid and solid. Within a month of release, Hemispheres, pressed on red vinyl, is well beyond the platinum mark in Canada, and should be gold in the U.S. by Christmas. In addition, for the first time in the group's career, Rush are experiencing solid airplay on major FM stations throughout North America, particularly on Circumstances and The Trees. The group, who have long learned to live without radio support, are pleasantly surprised by their change of fortune, as they are by a sudden accompanying surge of press support. Lee's only explanation is, "I guess we've gotten too popular to ignore. It's been sort of a snowball effect. Up until the last year, press in other parts of the world just didn't pay too much attention to us. The last year has been really good to us."
Lee feels Hemispheres is a continuation of a musical progression the group has been undergoing over the past few albums. "I kind of think that with 2112, we created a sound of our own, and with the last two (studio) albums, we've just been refining that sound. They're all just more definitive statements of the same sound. As for where we'll go next, who knows." Although Rush don't seriously consider new music until the time for recording is at hand ("We develop the music when our brains are charged up again. It takes a lot out of us to write an album."), Lee feels the group will break tradition on their next project and avoid the epic concept piece.
Rush are currently in the midst of the Tour Of The Hemispheres in support of the album. The tour is also breaking new ground for them - in western Canada, where they are playing to larger crowds in larger halls; in the U.S., where they are including new locations on their itinerary, and even in their hometown of Toronto, where they have added an unprecedented third show at Maple Leaf Gardens due to intensive early ticket sales. The third show takes place New Year's Eve with another Anthem group, Max Webster, as special guests. (The first two shows will be opened by yet another Anthem group, Wireless.)
Lee notices that as the group's music becomes more progressive and sophisticated album by album, Rush's audience becomes broader and broader. Rather than the very young audience that was always their following in the early days, Lee notes, "The crowds really differ from place to place. We seem to attract different age groups. I noticed in the dates we just did in Arizona and the Southwest - they were areas we never played before - we drew an older audience in those areas. I imagine that must be partly due to our more recent albums. I would think that the more our music progresses, and the more interesting we get as a band, the broader our audiences."
A solid live band, Rush are continually concerned with their stage performance. One of the major concerns, every time they release a new album, is how to incorporate their new material into the show without sacrificing too much of the established material in their act. Rush compromise by lengthening the performance, adding a little more material than they remove. As a result, their show now includes more than two hours of virtually non-stop music and controlled pyrotechnics. Of course, this pace takes its toll, and Rush compensate by taking one day off for every three they work.
As well, Rush continue to record with performance in mind. The new album, like Kings, includes quite a few synthesizers, basically played by Lee. They are able to duplicate this onstage, but as Lee notes, "There's a lot of running around." Lifeson uses a wide variety of guitars, including acoustic classical and 12-strings, doublenecked (6 and 12) and standard electric guitars. Peart doubles on a variety of chimes, and Lee handles the vocals, most of the foot pedal and keyboard synthesizers, as well as bass and double-necked guitars (bass and six-string).
The Tour Of The Hemispheres continues in North America through mid-April. At that time, the group return to England to perform. Lee is thrilled with the response the album has achieved there, where it debuted on the national chart at 14. Afterward, they will be doing their first extensive European tour and are planning a return to the studio around the end of summer or early fall. Rush are also talking with Japanese promoters about possible dates.
Unusually, Rush are actively involved in the workings of their record company. The three are Associate Directors of Anthem, a company owned by their managers, Vic Wilson and Ray Danniels of SRO. As a family unit, SRO and Anthem have been able to establish the group globally despite a slow response on the part of press and industry.
Rush are finally beginning to achieve a degree of the recognition from the industry which their large international following has been granting them for years. Now, after six studio albums (plus live and re-packaged sets), countless packed houses, ovations and encores, Geddy Lee, Alex Lifeson and Neil Peart are at last being given credit internationally for their talent, their hard work and success, In short, Rush have become stars.