Guitar Heroes - Alex Lifeson
By David Fricke, Circus, January 2, 1979, transcribed by pwrwindows
---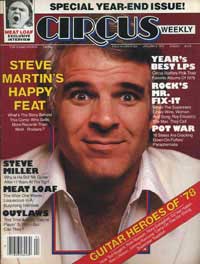 With the exception of the young upstart Eddie Van Halen and the grand old man of gonzo Ted Nugent, North America has not produced a heavy metal axeman with the chops and charisma of Alex Lifeson, the blond bomber with Canada's premier pulverizers, Rush.
A schoolboy chum of bass guitarist Geddy Lee, Lifeson stalked the Toronto bars with the formative Rush for many post-high school years, playing unfashionable Zeppelinized rock until America welcomed the band as sonic saviors in 1974. But while early Rush LPs (Rush and Fly by Night) often found him flattering idols like Beck and Page to the point of rote imitation, later albums now showcase him as a six-stringer to be reckoned with. Alongside Rush's burgeoning interest in stop-time melody and rhythm changes a la Yes and Genesis, Lifeson has developed a working heavy-metal style that, unlike that of his flagging contemporaries, isn't all power chords and decibels.
The extended instrumental "La Villa Strangiato" (from Hemispheres) showcases that style with an impressive technical display of not only his playing but how well he shoulders the responsibility of filling melodic and harmonic holes in a three-piece format. "Yeah," admits bassist Lee, "he's got a lot of weight on his shoulders, but no more than Neil (Peart, drummer) and I. For our music to work, we have to have a rhythm section that's always happening. And that's what sets us apart from other power trios - we have a lot happening in the rhythm section, lots of changes, even melodies."
Of the three. Lifeson is the only one with any formal musical training, and it's classical to boot. "He has deep desire to be a classical guitarist," Geddy says of Alex, "and about three years ago he took lessons on and off."
But for now, Alex Lifeson is a hero with a grinding axe. He once told Circus Weekly that "our favorite Canadian band is ourselves." He might as well add "guitarist" to that, because a lot of North American headbangers couldn't agree more.