Anthem's Rush Receive Gold, Platinum, Plaque
RPM Weekly, January 27, 1979, transcribed by pwrwindows
---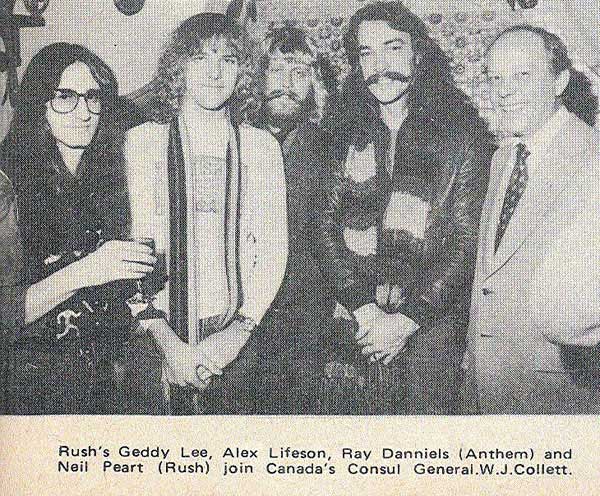 Over the past month, Anthem recording group Rush have been receiving intensive public, industry and official recognition on an international level. The hard rock trio who hail from Toronto recently made a three-day concert stop at the Amphitheater in Chicago (Dec. 14-16) , playing to large, appreciative audiences. Following the first night, the Canadian Consulate in Chicago presented the group with a plaque recognizing their contribution to music on an international basis. The plaque read, "We wish to recognize the international aspect of the music by this talented Canadian musical group and note the interest shown by American audiences in both performances and recordings." The presentation was made by Hon. W.J. Collen. Canadian Consul General in Chicago.
On the same evening, Mercury Records, who release the group's product worldwide outside of Canada, presented the trio with their fourth U.S. gold album award for their current release, Hemispheres. The album follows their three previous releases, 2112, All The World's A Stage and A Farewell To Kings, to the gold level in the States.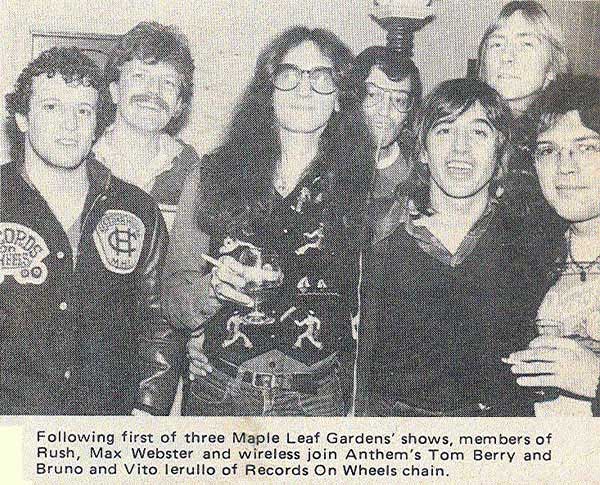 Following the U.S. dates. Rush returned to Canada to head line the Montreal Forum Dec. 27. Playing with fellow Anthem group Wireless, they outsold such names as Heart and Bob Seger. The group then returned home to Toronto for an unprecedented three dates, all sold right out, at Maple Leaf Gardens (28, 29 , 31). The first two dates were opened by Wireless, with the New Year's Eve show featuring special guests Max Webster, who also record on Anthem. Wireless received encores from the enthusiastic audiences for both of their performances, with Max Webster receiving a double encore on New Year's Eve. Following that show, Anthem presented Rush with platinum for the Hemispheres effort, their fourth Canadian platinum (their other three releases are gold). Max Webster also received gold for their third Anthem release, Mutiny Up My Sleeve, the second of their three albums to go gold. Max Webster are currently recording their fourth Anthem album at Toronto's Phase One Studios with producer John Denottbeck. Titled A Million Vacations, it is being slated for release in March.
The two groups, Rush and Max Webster, are being slated for a tour of Europe in March and April. The groups have toured together extensively throughout North America over the past few years.
Rush have recently been the subject of a number of contests in Canada. One, run by Bruce Davidsen of CKXL Calgary, featured as its grand prize a trip to Toronto for the New Year's Eve concert, plus a special weekend, complete with limousine service and other gifts. Davidsen reported the contest to be "a Hemispheric success." Another competition, run by CHUM-FM Toronto, had aspiring artists submit their concepts for a Rush Christmas card. Winning entries, including 25 runners-up, had their efforts displayed at the downtown Toronto's Sam's store, and all won copies of the Hemispheres album . The entry of Kevin Jutzi of Kitchener was judged to be the winner. Jutzi received an entire Rush library, and his card will be used as the group's official Christmas card in 1979. He also attended the New Year's Eve concert as the band's guest.
In addition, in a contest sponsored by Seven-Up for KZOK Seattle to determine the best concert of 1978, Rush won by a wide margin over Heart, a local group. In response to programmer demand in Canada and the U.S., Anthem have released a special version of the Hemispheres album, in which the title side, a concept piece, is segmented and banded into its various parts for radio station use. A picture disc of the album is also now available.