Logical Positivism For Astral Minds
By John Gill, Sounds, January 26, 1980, transcribed by pwrwindows
---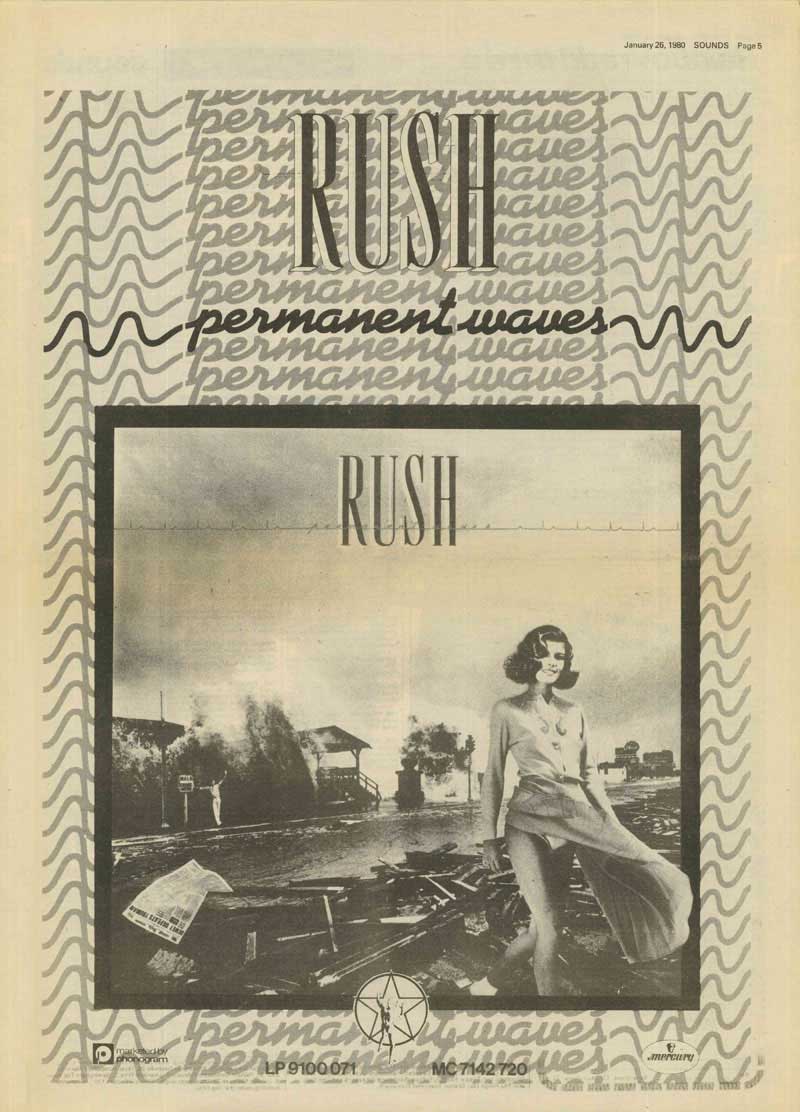 RUSH 'Permanent Waves' (Mercury 9100 071) Five Stars
(ROLL CREDITS) Come and get it kiddiwinks - the Rush album to end all Rush albums! Hear them storm through some of the shortest songs they've ever committed to vinyl!! Emigrate to Australia in disgust as Rush get into reggae!!! Marvel as Neil Peart dumps the hypocrisy of the music biz, extends a conciliatory hand to his enemies (sort of) and covers particle physics and neu musick nihilists within the space of four verses!!!!
Yes, my lank-haired lovelies, 'Permanent Waves' finds Rush healthier than ever, fresher than ever and with a keen eye on the(ir) future. Gone are the days of the side-long epics and science-fantasy myths, their place taken by Rushmusic 80's style; expert, awesome, energetic and aware.
Things get off to an uproarious start with 'The Spirit Of Radio'. A swirl of guitar and one of Peart's classic drum rolls and whoosh! one of their self-elevating riffs surges off into a high-flying anthem to drive time radio and musical integrity, with Alex Lifeson's guitar wailing over an octave-busting rhythm from Neil and Geddy Lee. A passage of tongue-in-cheek white reggae bridges into the final chorus; "For the words of the profits, / Are written on the studio wall / Concert hall / Echoes with the sounds. . .Of salesmen." Right on cue, a burst of taped crowd-frenzy explodes into the song.
If any song can put an end to the Utilitarianism/Ayn Rand controversy, it must be 'Free Will', a frenetic rocker featuring some cataclysmic guitar work from Alex and a bass-line from Geddy that packs the kick of a mule on heat. All three fire on the beat, rumbling through Peart's statement of inescapable philosophical decision ("If you choose not to decide, / You still have made a choice") in that epic Rush fashion.
For 'Jacob's Ladder' they assume a neo-classical Beethoven's 5th/Morse Code type rhythm, punctuated in the middle by a snatch of portentous synthesiser and ending with a tense, prowling riff that gears up and up, peaking with an ominous, offbeat march.
Side Two opens with 'Entre Nous' or 'Between Us', according to the production notes, in which Peart gets as close as dammit to a modern version of Metaphysical Poetry (I kid you not). They reduce the pressure a fraction here, Geddy's bass growling along beneath a mid-speech theme set by sawing guitar and pyrotechnics from the six-foot moustache.
'Different Strings' is a slow-burning ballad opening with eloquent acoustic guitar and piano which are then joined by a rolling drum beat lyrical bass and distant-sounding guitar to crescendo in a haunting but substantial melody. Although the song probably has a general application, it could be seen as Peart's rejoinder to his press detractors; "Who's come to slay the dragon / Come to watch him fall? / Making arrows out of pointed words / Giant killers, at the call" and "Different eyes see different things / Different hearts / Beat on different strings / But there are times / For you and me, / When all such things agree."
Finally comes the three-part 'Natural Science' at 9 minutes 27 seconds the longest piece on the album. It's the most ambitious piece (musically and lyrically) on the album, wherein Peart does his Jacob Bronowski impersonation, 'Tide Pools' features more of his neo-Metaphyical imagery over a gentle acoustic guitar and shoreline sound FX. Upgearing at the chorus, a roar of oscillator rockets the piece into
'Hyperspace ' (the particle physics bit), Geddy's vocals treated and warped over a frantic, seething riff and a finger-busting solo from Alex. Part Three, entitled 'Permanent Waves' kicks along with a sharp, almost-punky beat and strident guitar and Peart outlines a (his?) world-view of benign, self-motivated order.
Methinks 'Permanent Waves' will become Peart's 'definitive statement', as it's the most philosophical Rush album to date - and without the assistance of allegories straight off the shelves of Dark They Were And Golden Eyed. Media snobs will probably dismiss him for not coming on all Kierkegaard or Wittgenstein, but the metaphors of 'Free Will' state in no uncertain terms Peart's unaligned libertarianism.
From its appearance in the lines of the opener, 'Spirit Of Radio', to its appearance in the last lines of 'Natural Science', one word/theme runs through the album - "integrity".
Although Peart may be in danger of presenting himself as Big Mr Nice Guy, his concern for the idea is at the root of every song on the album, barring the scenic Jacob's Ladder': it's in the "glittering prizes and endless compromises" of 'Radio' the philosophical confrontation of 'Free Will', the emotional realisation of 'Entre Nous', the cease-fire talks of Different Strings' and the ambitious overview of 'Natural Science'. You may think that whining on about philosophy has little or no place in rock 'n' roll, but in view of the bands past works and the obvious lengths Peart goes to present it in his lyrics, it becomes an integral part of the album.
It's this ability to be both thought-provoking and capable of producing awesome drive and excitement in their music that makes Rush so much a part of the 'permanent wave'.