F.M. Radio Earns Plaudits from Rush
By Keith Sharp, Music Express, February 1980, transcribed by John Patuto
---
[Webmaster's Note: This article discusses a "Live In England album...recorded during a string of dates at London's famed Hammersmith Odeon last summer, the concerts were also filmed for a possible feature movie." The string of dates would be the four consecutive nights at the Odeon on May 4-7, 1979. Obviously the album/film project was aborted and/or shelved; one can't help but wonder if the recordings still exist in the Anthem vault?!]
---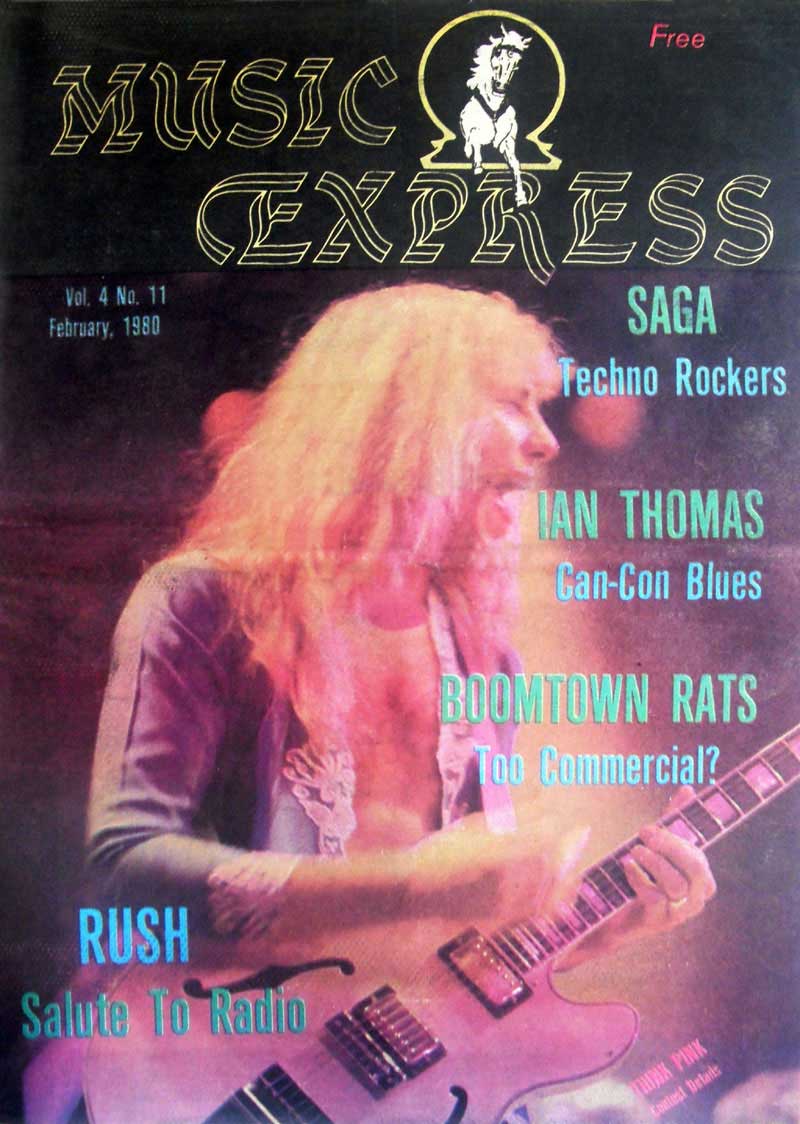 Begin the day
With a friendly voice
A companion, unobtrusive
Plays that song that's so elusive
And the magic music makes your morning mood.
WHAT'S THIS? TORONTO'S PREMIERE gift to the hard rock world, Rush, saluting commercial radio?
You guessed it. The opening track of their new album Permanent Waves is titled The Spirit Of Radio and serves as a salute to radio in Eastern Canada. There's even an acknowledgement on the album's lyric sheet which says; "inspired by The Spirit of Radio in Toronto, alive and well (so far)".
A strange turn of events considering that Rush has never been the darlings of the top 40 crowd and in the past has been forced to slog through 200-date tours to inform people that they actually had a new album on the market.
So why all of a sudden has Messers Neil Peart, Geddy Lee and Alex Lifeson decided to throw bouquets and accolades at a medium that had previously ignored them?
The simple truth is that radio (particularly in eastern Canada) has matured to the point that they have caught up to progressively elite bands like Rush without the band having to compromise their music.
Travel down the Don Valley Parkway and tune your car stereo to CFNY Brampton Q-107 or even stately CHUM-F.M. and your ears are not assaulted by The Pina Colada Song or any other repetitious commercial pap. Radio has matured to the point of being innovative, particularly in the development of the Canadian new wave movement, giving precious air time to the likes of Teenage Head, The Diodes, The Models, Segarini and Chevy Dirt.
All of which inspired Rush to take their collective hats off to Toronto's F.M. stations for giving the domestic rock industry a shot in the arm.
"The Spirit Of Radio goes out to all the stations who are promoting the domestic industry," noted flaxen-haired guitarist Alex Lifeson, having taken time out from painting his Thornhill residence.
"The major F.M. stations are making it easier for local groups to make a name for themselves in this country. They are getting support that was initially denied us. We had to tour the United States and Europe extensively before we got any credit in Canada. But now that the F.M. stations are making an effort to promote local talent, it's getting a lot easier to obtain recognition in your own country."
The presence of these factors has created a greater interest in Permanent Waves than any other previous Rush album. A response that silenced critics who have been proclaiming that Rush is a dinosaur band that's on its way out. Surprisingly, Lifeson wasn't particularly thrilled with Permanent Waves when the project was first completed and was apprehensive about public response.
"I went through a period where I couldn't listen to the album. I was really disappointed. It didn't seem like there was anything new or fresh about the album," noted Lifeson. "We had written the material last summer, had performed three of the songs onstage and had spent a couple of months in recording. By the time we had finished, we were getting tired of the material. It wasn't at all like Hemispheres which was written two weeks before we recorded it.
"I was really bluesed out about the whole thing. Jacob's Ladder seemed to be a typical Rush song, a rehash of something we'd done in the past. But then I started hearing the album on the radio and I thought wow!, this sounds great. Then I realized I had over-reacted to the album and that I had been overly-critical of small insignificant things that hadn't affected the overall effect of the record."
ALTHOUGH CONTINUING NEIL PEART'S philosophical writing style, Permanent Waves has a more earthy substance to it than previous releases. The material isn't mired by any excessively long, lyrical monologues or extra-terrestrial fantasies and seems geared to hit below the belt as well as above the neck.
Spirit Of Radio is one of the most commercial songs Rush has ever produced, containing several different musical elements, even a touch of reggae. "We've always played around with reggae in the studio and we used to do a reggae intro to Working Man onstage," answered Lifeson. "So when it came to doing Spirit Of Radio we just thought we'd do the reggae bit to make us smile and have a little fun.
The recording of Permanent Waves broke with recent tradition in that Rush deserted Rockfield Studios in Wales, home of their last two albums, A Farewell to Kings and Hemispheres, selecting instead the Morin Heights facility which nestles snuggly amidst the rolling terrain of the Laurentian Mountains, 60 miles north of Montreal.
"Having already done two albums at Rockfield, we decided we needed a change. And besides, we were getting tired of the continuous grey skies of Southern Wales," bemoaned Lifeson. "Our first plan was to record at Trident Studios in London but we checked into the costs and found them ridiculous. It just wasn't worth it paying the high studio prices and hotel costs for three months.
"Then we decided that we really didn't want to record in the city after all. Everyone preferred to get up in the morning and not have to shave or wear fancy clothes to put on an appearance. We wanted to feel comfortable and wear sloppy jeans and tee-shirts. So we looked around for a facility in the country and found just what we wanted at Morin Heights.
"It's situated on 250 acres of hilly, wooden land, surrounded by a picturesque lake. The house is at one end of the lake and the studio is at another so you could either row to the studio in little row boats, cycle or take a nice, scenic walk. It was just like being in the Swiss Alps.
"In between marathon volleyball sessions, Rush laid down the tracks to material that had been penned three months before at their Lakewoods Farm hideaway at Flesherton, a small Ontario town near Georgian Bay.
Unlike most bands, Rush don't accumulate material through the year, instead preferring to set aside a specific period of time for a concerted writing effort. At such times, Peart heads to a separate cottage to pen the lyrics while Lifeson and Lee emerge into the farmhouse basement to work on instrumental arrangements. When their individual efforts are complete they then piece everything together.
Once that's complete, they headed into a small North Toronto studio called the Sound Kitchen, to assemble their rough ideas into demo form prior to final sessions at Morin Heights.
Three of the tracks, The Spirit Of Radio, Jacob's Ladder and Farewell [sic] were refined during soundchecks of their "Semi-tour of some of the Hemispheres" which took them to the United States plus a couple of shows in England and Canada. An unusual situation for Rush who usually write new material shortly before heading into the recording studio.
What is even more unique about Permanent Waves is that the tracks were laid down inside four weeks instead of their usual gestation time of three months. This was in part attributed to the idyllic working conditions of Morin Heights.
The resulting album is being acclaimed as the band's freshest and most energetic work to date. Claims that Lifeson isn't about to dispute. He does claim though that Permanent Waves is a progression rather than a departure from Hemispheres and previous releases.
"People keep saying that Geddy (Lee) and I are influencing Neil (Peart) but I don't see that at all," noted Lifeson. "We're all developing all the time and Permanent Waves is the result of our continued growth. We may try new things to stimulate us but we're not going to make major changes for the sake of making changes."
Having been Canada's major rock music export for the past three years, Rush is aware that their position at the top of the heap leaves them vulnerable to criticism. Particularly from the new flock of groups that are trying to knock Rush off their pedestal.
"So what's new?," smiled Lee cynically. "We never got any credit from anyone when we first came out. The major record companies wouldn't sign us, the radio stations wouldn't play our records and we had a hard time getting gigs. Everyone said we weren't commercial enough to make it.
"What success we have achieved has been built from the street level. We've taken our music to the kids and built up that following to the point that the industry had to recognize us. If we listened to our critics and followed their advice, we wouldn't have gotten anywhere. We'd still be playing in some local bar on Yonge Street."
It was the group's faith in their music which helped them survive the critical backlash that was mounted, particularly after the release of their third album, Caress Of Steel which ranks as one of their biggest commercial flops.
"That was our lowest point," acknowledged Lifeson. "The record company (Polydor) and our management were critical because they thought the album wasn't commercial enough and the sales were really bad. But what they didn't recognize was that Caress of Steel proved to be our most important album to date. Through Caress Of Steel we were able to learn by our mistakes while at the same time shaping our musical development. It broke the ground for 2112 which proved to be the album that broke us internationally. Without Caress of Steel, 2112 would have probably never happened."
With Permanent Waves now out of the starting block, Rush is preparing for another assault on the Hemispheres which will be kicked off with a Western Canadian tour in March and April. Anthem stablemates, Wireless will serve as the opening act promoting their new album, No Static.
"Our sets will be a lot slicker this time around," forecasted Lifeson in commenting on the upcoming tour. "On our last tour we were doing 30 minutes of Cygnus X-1 and Hemispheres which was quite an endurance test for the audience. This time our sets will be a little shorter and a lot cleaner.
Rush plans to then take their Permanent Waves tour throughout North American and Europe. Sandwiched in between their touring itineraries will be work on a 'Live In England' album which will be mixed at Morin Heights and released this summer.
Recorded during a string of dates at London's famed Hammersmith Odeon last summer, the concerts were also filmed for a possible feature movie. A project that Lifeson has mixed feelings about.
"We'd like to do a movie but I wouldn't want it to be like the Neil Young or Rolling Stone films that were almost all concert footage. Those things bore me to tears," noted Lifeson. "You've got to be careful how you handle those things. I saw the Gino Vannelli television special and I couldn't believe how bad it was, they had this one bit where they filmed him intently watching his television set. I thought, "Give me a break, this is awful."
Although the slumping U.S. economy hurt concert ticket sales last year, Rush appears to be as strong as ever as they prepare to hit the road again. Like them or not, you have to admire their tenacity in making it to the top of the cut-throat industry. They've survived on their own instincts and musical perception when all the elements were against them. And in doing so have set an example for the latest batch of Canadian talent to follow.
---
RUSH - Permanent Waves (Anthem) - REVIEW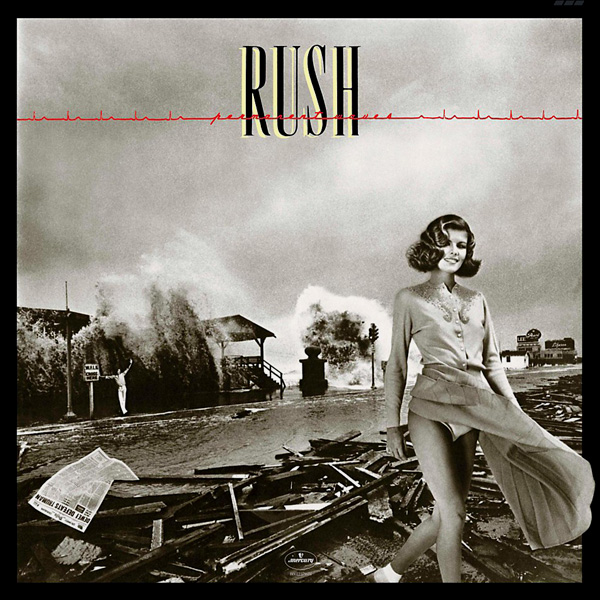 In reviewing a Rush album, one always has to approach it from two aspects; the bread and butter virtues of the actual music and the advanced psychology of Neil Peart's writing. I don't know why it is but this writer always gets the feeling he's being lectured to when I play a Rush album. Read the enclosed lyrics to Natural Science, Freewill, Entre Nous and Jacobs Ladder and you'll know what I'm talking about.
It's commendable that Peart's lyrics have something to say but at times his vocal philosophies are delivered at the expense of the music. There seems to be too much of an emphasis on 'the message'. Otherwise Rush continue to show that their musical approach is far superior to anything else happening in Canada. Alex Lifeson isn't given quite as much freedom on this album to launch into his patented guitar solos but succeeds in leaving his mark on tracks like Different Strings, Freewill and Jacobs Ladder.
Rush takes a few strides towards more commercially-acceptable material with The Spirit of Radio, a salute to Toronto radio, which has a few nifty reggae breaks in it. Permanent Waves will come as no great revelation to Rush fans, but should be recognized as a steady, definitive step in the band's evolution. Rating: 7.