Review of Rush Show - February 11, 1980
By John S. Cullinane, St. Louis Post-Dispatch, February 12, 1980
---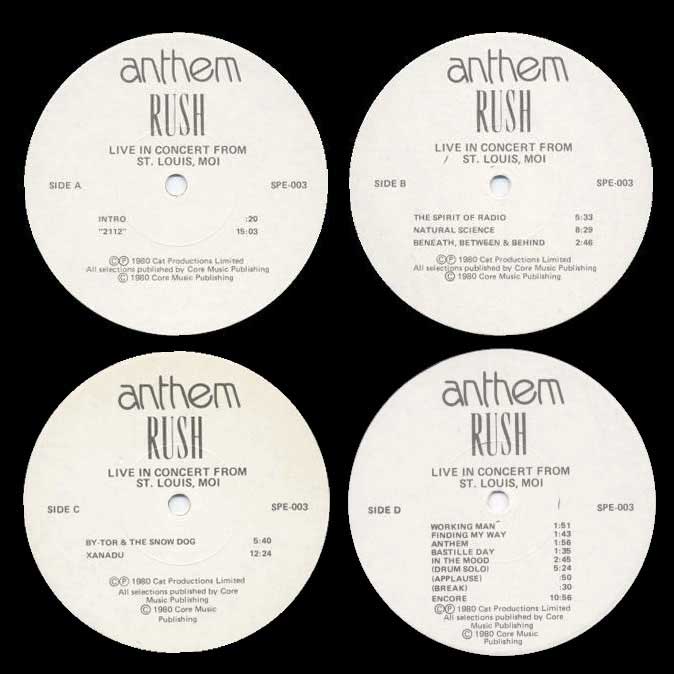 The American bands may have the grit and the British bands may have the theatrics, but the Canadian bands are cornering the energy market in rock music. The pace set Monday night by a Canadian trio of live wires called Rush was furious.
Rush was at Kiel Auditorium for the first of three nights of performances. Another heavy but nimble band from Canada, Max Webster, opened the show. Monday night's show drew an audience of about 9,000 persons and tonight's and Wednesday night's shows are sold out.
It was a night for Rush to show off a lot of new material from a new album "Permanent Waves". If some of the material was new, the sound the band offered was not. It was still full of punch and syncopated suddenness. The high whine of Geddy Lee's voice still was at the heart of it all.
Drummer Neil Peart had a few more things to hit - bells, chimes and the like - and Lee worked in some extra synthesizer parts, but these changes were unremarkable. They all, including guitarist Alex Lifeson, played super loud amidst a diamond-bright light show. The effect was totally impressive although occasionally the melody in some of the new songs was nowhere to be found.
This was not the case with one of the group's best known new songs, "The Spirit Of Radio". Lifeson's guitar part conjured up visions of crazed radio waves beaming through the night. The presence of spurts of reggae in the song were hard to explain, though.
Another new song called "Natural Science" had the potential to become another "Fly By Night", a Rush anthem. It was trio music at its finest and guitar lines were memorable. A lot of other tunes had no hooks, alas. Their purpose apparently was either to blow the mind or cast a spell.
Lee's voice sometimes sounded too small for the songs. This may have been caused by the sound system, which accentuated Lee's natural shrillness.
Max Webster's set was incredibly successful considering that several of its songs were locked into a redundant groove of mammoth rhythm licks. True, the band could stop on a dime, but a mood change or two was in order. The poor planning kept the band from being the knock-out band it has the potential to be.
Max Webster was four superb musicians, though. The more complex the song, the cleaner people like Kim Mitchell on guitar executed.