Rush - Hammersmith Odeon Review
By John Gill, Sounds, June 14, 1980, transcribed by Dave Lythgoe
---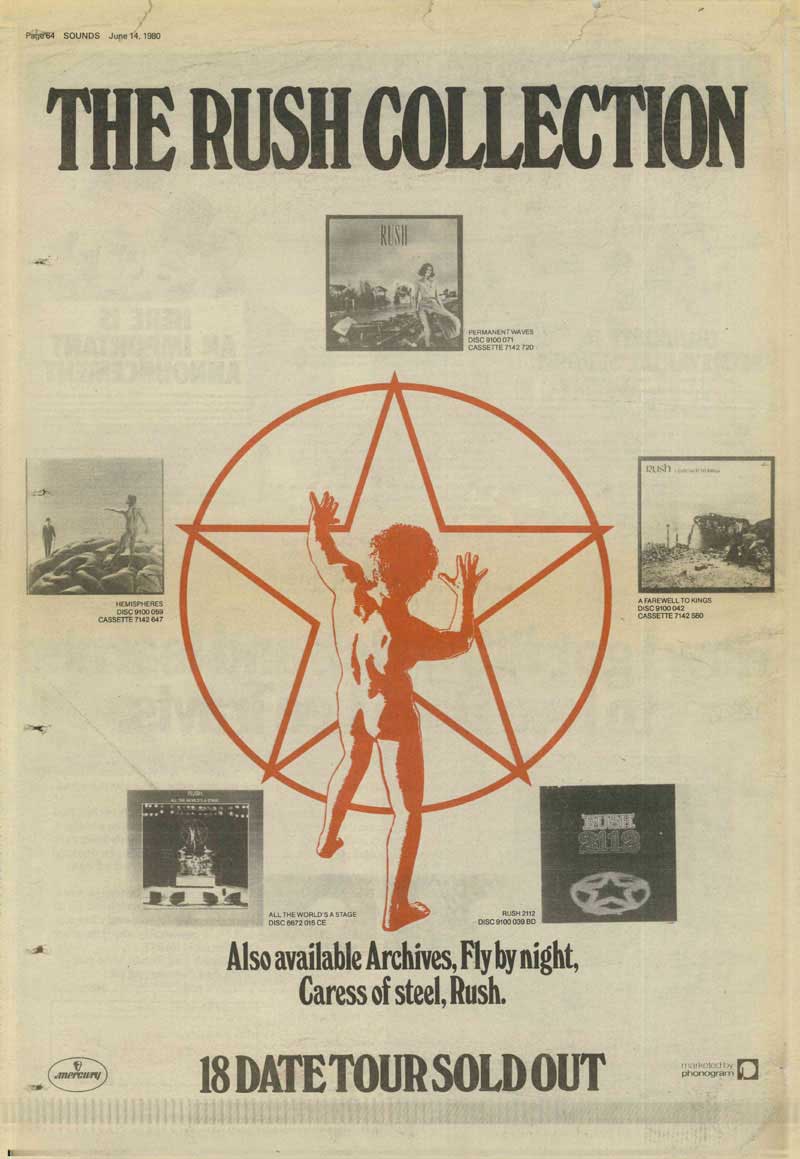 The exodus from centre of town out to Hammersmith began in the stifling mid-afternoon heat; a steady trickle of leather'n'denim garbed late-teenies, nigh invisible beneath idolatrous camouflage, among the tourists and commuters on the tube and bus. The atmosphere was building as far away as Piccadilly underground station, groups of fans jabbering excitedly; Rush this, Geddy that, Neil Alex rhubarb rhubarb. A headbangers beano...
By six Hammersmith was crawling with them, like the place had been taken over by a convention of dwarf Hell's Angels. A walk around Hammersmith gave the impression that these ticket cluthching supplicants weren't just here for your a pay-yer-money-siddown-get out rock gig; this was an earthly materialisation by the brightest stars in the HM firmament; Rush. Goggle-eyed kids hung around the foyer or promenaded up and down for a coule of hours, vibing themsleves up for this event of events.
The Odeon foundations creaked audibly when the roadies tore the cloth from Neil's drumcage and Alex and Geddy rocketed on from the wings. The crowd was on it's feet and baying before the first note of '2112' gunned from the speakers. Things weren't helped by numerous bouncers hotly pursuing your man on the scene around the hall, moving him on from everywhere but an alcove by the speakers. (Unlike the Melody Maker cissy, who cowered by the barricaed mixer before fleeing to the bar).
Rush seemed to be having trouble reaching their usual peak of precision bombardment, but the crowd was too far gone to care, roaring in unison to every concussive note or rhythm. Smoke bombs and searing white lights aimed at the crowd gave it that class sturm und drang feel, but there was a certain excitement and finesse missing. The apocalyptic finale, with 'Neil's' message to the Solar Federation usually turns me to jelly, but this time it left me bemused.
Similarly with 'Freewill', which seemed bedevilled with sound problems (which, perhaps, were affecting the band). They drove full tilt through the song, bringing on the evening's first prickle of sweat on the muscular riff but - apart from the initial hysteria - the kids at the front were strangely inactive.
It took an angry, punchy version of 'By-Tor' and a slick, teasing run through of 'Xanadu' before the band began to lift. Fast. "Xanadooooo-hoo-hoo!" hooted 3,700 informal backing vocalists.
The demon choir entered wailing on 'Spirit Of Radio', too, clapping on the offbeat and giving an already sharp song an extra kick complementing Alex's needle bright guitar. They were now whooshing up towards that plateau of trance-like performance; you can pick any sexual (but not sexist) superlative you like for this kind of satori.
With 'Natural Science' it could almost have been the album booming out from the speakers. As the seashore sounds washed Alex's wired acoustic into 'Tide Pools', the crowd hushed itself at the brightness, clarity and precision of the performance, which continued through the cold sweat-inducing 'Hyperspace' and the violent barrage of 'Permanent Waves'.
An inspired, soaring solo from Alex intro'd 'Bangkok'. As Neil chip-chopped around his percussive frame and Geddy conspired at the mike, the word-perfect masses joined in again.
An airy, upbeat version of 'The Trees' paved the way for the incisive, swaggering opening of 'Hemispheres'; Neil slicing into the rhythm, Geddy battering the audience about the head with his earth-tremor bass and Alex flying and sliding along on lead. This was Rush at maximum altitude; self-assured, sophisticated but still with that underlying guignol thrill.
Calming down for a passage of rich lyricism with 'Closer To The Heart', they cartwheeled straight into 'Jacob's Ladder', a song that is fast making itself a live favourite. Starting off with paced, marching riff, they built up like 'Bolero' until they were cranking out a juggernaut of rhythm into the light-strafed auditorium.
A snippet of jokey dance music led into 'Working Man', by which time they were speeding on their own performance, leaping around the stage and busting a proverbial gut as they rattled of salvo after salvo of base, skullcrushing ((c) Geoff Barton Metaphors Inc.) raunch.
The blazing white lights stayed on to usher what my notebook tagged "the savage beauty" of Neil's drum solo. Building with paradiddles, rolls, tinkling Latin-type rhythms and phased thunderclaps, he turned his solo (an HM phenomenon I'd usually emigrate to avoid) into a martial arts style exercise of control, beauty and power. Clattering down to the end, he was joined by Alex and Geddy for one final burst of of ear-splitting mayhem before bowing and leaving the stage.
They returned for a lap of honour, forcing themselves to the limit for a peerless rendition of 'Strangiato'. After two-and a quarter hours of non-stop fiery performance, they still manage to infuse it with freshness, style, complexity and adrenalin.
And that's an aspect of Rush which, as an explanation for why they're where they are and why this was an 'HM event of events', needs no further elaboration.