Rush's Heavy-Metal Message Hits The Radio
By John Swenson, Rolling Stone, June 26, 1980, transcribed by Meg Jahnke
---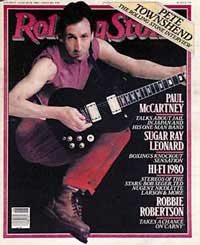 "I can't stand it," says Geddy Lee, lead singer, bassist and keyboardist for Rush, before a show in Chicago's 11,000-seat International Amphitheatre, "when you listen to someone from the record company telling someone else how intelligent you are in front of you: 'But really, they're an intelligent band.'"
Lee is reacting to questions prompted by Permanent Waves, the band's latest album (and its fifth gold one). After years of notoriety as heavy-metal conceptualizers, Rush abandoned the sidelong opuses they'd been known for in favor of shorter, accessible songs for Waves. "It was time to come out of the fog for a while," says Lee, "and put down something concrete."
What they ended up saying was pretty startling. "The Spirit of Radio" (which, as a single, just missed the Top Forty) and "Natural Science" carve up the record industry as a pack of charlatans; " Freewill" takes on Yes and other guru-rock mythologizers; and "Different Strings" slaps back at much of the critical abuse the and has taken over the years. Here's a dinosaur heavy-metal band, sounding like New Wave philosophers.
"It's a bit angry," admits lyricist-drummer Neil Peart about Waves. "But it's not focused at anyone in particular. 'Stop bullshitting' is the message. I think there's a big difference, though, between Rush and the Clash, because we're not saying that those things suck, just that they're being done poorly."
Rush was formed by Lee and a high-school buddy, guitarist Alex Lifeson, in the late Sixties as a hard-rock band of the Led Zeppelin school. Their first album was privately released in Canada on Moon Records in 1974 but did so well in the US Midwest as an import that Chicago-based Mercury Records signed the Zep soundalikes. Peart replaced Rush's original drummer for the group's first stateside tour and gradually turned them in a more cerebral direction, one that incorporated philosophy and science fiction. The full-blown concept album 2112, released in 1976, marked the band's evolution into spokesmen for a lost generation of Seventies rockers, influenced by groups as disparate as the Who, Cream, Procol Harum and King Crimson. Touring incessantly, Rush captured a surprising chunk of the concert-going audience.
The band is aware of the contempt music-industry insiders and critics have for them, but their success has made the slings and arrows a lot easier to bear. "We've always played as well as we can," Lee explains. "In the early days people started liking us even though we didn't consider ourselves good musicians. With every album, we get a little better. When we wrote Hemispheres [their next to last LP], we couldn't properly play it because it was overambitious. Part of the difficulty in recording it was learning how to play it. Permanent Waves benefited so much because for the last two years we tried experimenting with other instruments, other ways of looking at what we do."
The banner hanging from the balcony at stage left in Chicago's International Amphitheatre reads CHICAGO FREAKS LOVE RUSH.
Rush fans roar their approval as the first crashing, sustained chords of "2112" open the show. For over two hours, the group blasts out crowd pleasers from their eight albums, using background visuals for several numbers, most spectacularly for the long space opera "Cygnus," a science-fiction tale that took two albums to work out. However, the audience cheers loudest when Rush plays several numbers from Permanent Waves.
"The Spirit of Radio," the leadoff song on Waves, has probably gotten more airplay than Rush's entire catalog put together, and it's brought them a whole new audience. But the 40,000-plus die-hards who packed into the former Chicago slaugterhouse over four nights to cheer their hereos needed no convincing. "We give the audience the same credit we give ourselves," says Peart about the nature of the band's appeal. "If an idea sounds good to us -- it it's exciting and makes us think -- theoretically it should have that effect on other people."
"There are so many different elements to our music," adds Lee. "One element is heavy metal: It's raw, it's energetic, it's loud and it's bone-crushing at times. There's people, I'm sure, who come to hear us just for our lyrics, and some who come for Alex's guitar playing or my bass playing or Neil's percussive abilities. It's difficult to say one reason it righter. All you can say is who you'd rather play for."