Review of Rush Show - The Checkerdome - 3/4/81
By Dick Ricmond, St. Louis Post-Dispatch, March 5, 1981
---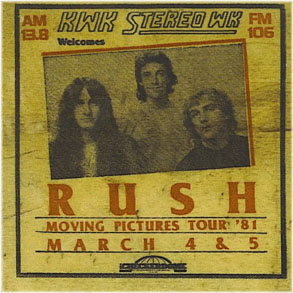 It was Canadian rock at its most intricate last night as Rush and Max Webster shared the program at the Checkerdome. Both bands will be there again tonight.
Rush is a trio featuring Geddy Lee on bass, keyboards, and vocals; Neil Peart on percussion, and Alex Lifeson on guitars. It's not the only rock trio that has enjoyed such tremendous success. There is one distinction between it and it's contemporaries, however. Considering that only three instruments are being played at any one time -- and one of those is drums -- Rush's music is pretty complicated by comparison.
No one would ever walk away from one of the trio's concerts humming one of its tunes. Still, one cannot help but have a deep appreciation of what they are able to achieve with what they have.
Being just a trio on a large stage makes them look pretty small from much of the Checkerdome. They have taken pains to reduce those visual shortcomings by using large rear-screen projections to illustrate some of their songs.
When they opened, the crowd rushed the stage. The security people did their best to keep people seated throughout the show, but never quite got the crowd settled down.
Rush opened with an intense song that had Lee singing falsetto, then moved into one their hard-rock numbers, "Freewill", from their "Permanent Waves" album.
Lee sang falsetto once again when they did "Limelight" from their current album "Moving Pictures". The rear-screen projection was a swirl toward the center of infinity.
They continued to give a sampling of works from their last several albums when they played the prelude from the title track of "Hemispheres", one of their more cerebral works. To emphasize the suggestion that Rush is a thinking man's rock band, as they played this, the moving picture behind them had two brains floating in clouds.
"Beneath, Between, Behind" was next, followed by two more new songs, one called "The Camera Eye", on which Lee, who has a distinctive technique on bass, demonstrated his ability on the keyboards. That was followed by an instrumental "YYZ", which gave Peart the opportunity for a long and sometimes interesting drum solo.
Of the rest of the program, which included "Xanadu" and "The Spirit Of Radio" among other songs, the one that set the crowd off the most was "The Trees", another selection from "Hemispheres". The peaceful visuals that were used in contrast to the catchy percussion made this number particularly notable.
Max Webster is a quintet, which gives this band somewhat more instrumental flexibility than their friends in Rush. The members of Rush appeared as guest artists on Max Webster's latest album, "Universal Juveniles".
Max Webster opened with "Check", a song from that album. It was not a particularly good choice because it was over before a person's head was into it. As a matter of fact, it wasn't until they moved into "In The World Of Giants", a double-time number, that the crowd got caught up in what they were doing.
Max Webster offered a fair sampling of their latest songs. "In The World Of Giants" is new as is "Drive And Desire", which they played next. Nothing they played could be considered commercial. Still, the longer they were on stage, the more a person began to appreciate what they were doing.
The band had a substantial set, playing songs such as "In The Context Of The Moon", "Waterline", "The Party", and "Battlescar". Of those, "Waterline", which has been released on a couple of their albums, gave singer Kim Mitchell the opportunity to display his vocal versatility.