Rush - Heavy Metal Makes For Platinum
Author unknown, RPM Weekly, March 14, 1981, transcribed by pwrwindows
---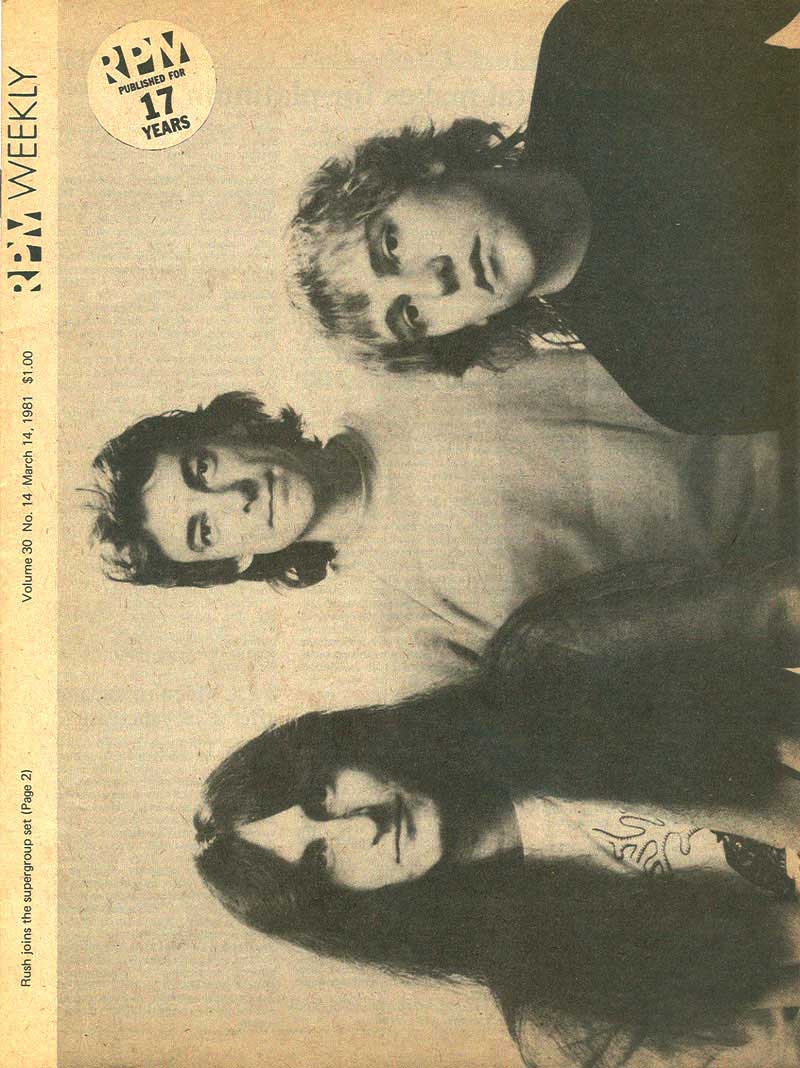 Transcriber's Note: Some of the material used here was misinterpreted from the Moving Pictures tourbook. Note the confusing mention of rough songs for the album which include "Different Strings," "Madrigal," "Tears," (all from previous albums) and a last one named "Gitanes" (which happens to be the brand of a French cigarette). Any confusion will be cleared up when comparing it to this statement from Neil Peart from the tourbook: "We return to Phase One, together with our long-suffering old standby, Terry Brown (Broon), our co-producer and Chief Objective Ear, fouling the air with 'Gitanes,' and offering criticisms and suggestions where necessary. We put together some rough demos of the aforementioned five songs, as well as a rough (to say the least), and riotous (to say the most), version of 'Witch Hunt.' This was the winner of the most re-written song award, being very difficult to get a handle on, but our intention had always been to use it as the 'production number' of the album, in the tradition of such pieces as 'Different Strings,' 'Madrigal,' and 'Tears.'"
Toronto: Rush's latest album release, Moving Pictures, has gone platinum in Canada in only two-and-a-half weeks of release and is gold in the U.S.
It's expected the trio's new album will surpass sales of their previous platinum release, Permanent Waves, which was considered a monster. One observer recently noted, "Every album release seems to push Rush ever closer to the status of a supergroup among the Pink Floyds and Led Zeppelin's of the rock business.
Originally, Anthem was to release a second live album by Rush but these plans were scrapped when it was believed that the timing was perfect for another studio project. Rush were taped live as scheduled however, at their five Hammersmith Odeon dates, as well as those in Glasgow, Manchester and Newcastle. Taping is also being made on their present tour.
Neil Peart, Rush's drummer, explained that the numerous tapings from different cities would represent a wider scope of the group's concerts, "musically, temporally and geographically.
There has been a very close relationship between Rush and Max Webster and Peart describes the day in the studio when Rush and Max Webster "united to record a song for their (Max Webster) album, 'Battlescar.'" He went on to explain, "This could only be a very unique and enjoyable experience, attempting something on such a scale as this, and I think the result will testify to its success." Max's lyricist, Pye Dubois was also an important part of that session, when he presented a song of his to Rush, "humbly suggesting that it might be suitable for us, if we were interested," continued Peart. "Having been longtime admirers of Pye's work, we were indeed interested, and it eventually became 'Tom Sawyer,' and it is interesting that an identifiable Max influence crept into the music, by way of Pye's lyrical input."
Apparently, the instrumental portion of "Tom Sawyer" came about from a melody that bassist Geddy Lee had been using as a sound check to set up his synthesizers. It's also interesting to note that the "YYZ" cut relates to the identity code used by Toronto International Airport. The intro is taken from the Morse code which is transmitted by the airport's beacon.
"It becomes increasingly apparent, to us," continued Peart, "just how valuable touring is, primarily in our development as individual musicians, which directs the progression of our music. Sometimes in the dark days of a mid-tour depression, brought on by fatigue, homesickness and frustration, the stresses of touring would seem to outweigh the benefits." He concluded with "But when we reach the final exams of writing and recording, the evidence of change and improvement is very rewarding."
Armed with five ideas, in the form of structured song material, "The Camera Eye," "Tom Sawyer," "Red Barchetta," "YYZ," and "Limelight," Rush then concerned themselves with putting together rough demo's with their co-producer Terry Brown. They also assembled ideas for more material which included "Different Strings," "Madrigal," "Tears," "Gitanes," [sic: see Transcriber's Note] and "Witch Hunt." The latter was described as "the winner of the most-re-written song award, being very hard to get a handle on."
After a short tour of the eastern U.S. seaboard which allowed them the opportunity to rehearse their five completed songs as well as introducing "Tom Sawyer" and "Limelight" into their show, it was off to Morin Heights, Quebec and Le Studio.
The Morin Heights session was somewhat of a revelation for the group. It was here where they experienced a "rare one-take wonder." After a couple of runs, "to get the sounds together", they sailed through "Red Barchetta" in one-take. It was also in Le Studio where the final cut, "Vital Signs" was written. Peart describes this song as "embracing a wide variety of stylistic influences, ranging from the sixties to the present."
After the completion of the album and the single release, "Limelight," Rush were off, once again, on a promotional tour, this time for what could be the biggest selling album of their career.