Rush Maintains Supergroup Status Moving Into 1982
By Peter Martin, RPM Weekly, February 13, 1982, transcribed by John Patuto
---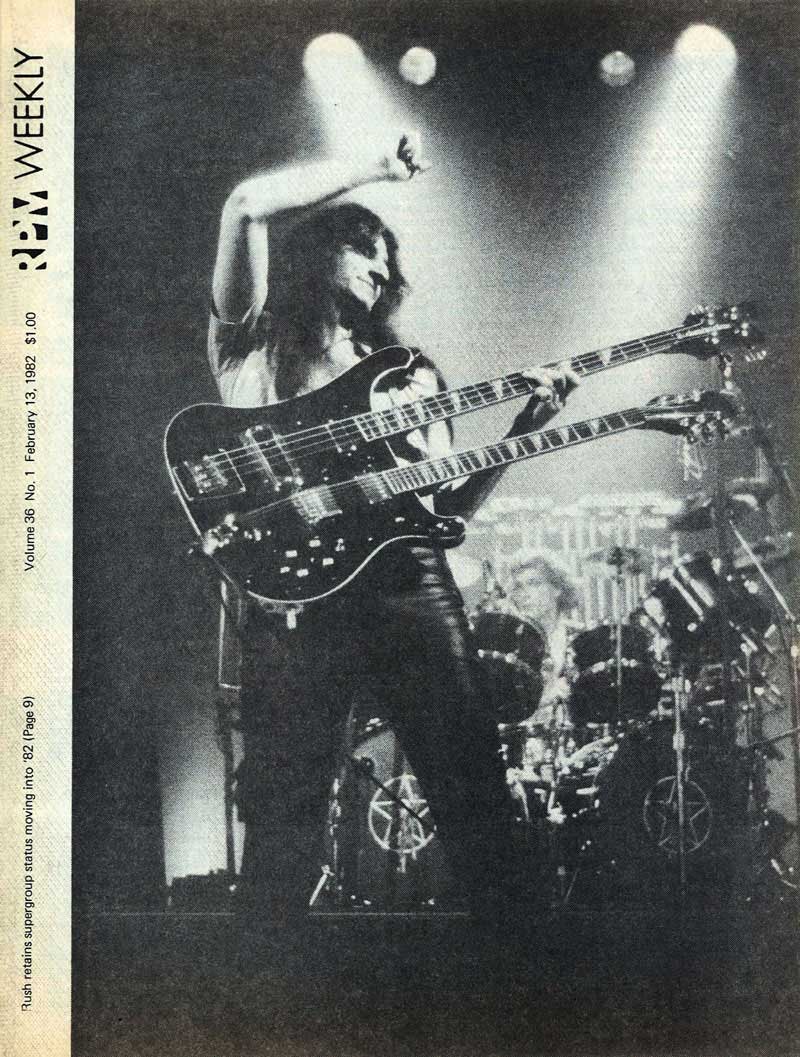 Toronto: If ever the critics thought it couldn't be done, a Toronto-based progressive heavy metal trio has proven them wrong.
Rush is bassist/vocalist Geddy Lee, guitarist Alex Lifeson, and percussionist Neil Peart.
Not only did Rush attain the supergroup status, but they managed to maintain it through 1981 and are now moving into 1982 still firmly implanted in a position that many other popular acts have found short-lived. For a Canadian band to reach and maintain this plateau is very rare indeed. Anthem reported that 1981 was Rush's "best year internationally.'
Rush's latest album, a double package titled Exit Stage Left, the band's second live project, has surpassed the platinum mark in Canada. While the LP is still hot, Anthem has released a special 12-inch radio-only single from the live album containing the songs A Passage To Bangkok and Free Will.
Anthem reported that during Rush's 1981 American tour, in which "over 1.2 million fans saw one of America's top box office draws, a highlight of each show and one of the songs which continually pulled the most rave response was A Passage To Bangkok."
The special edition 12-inch live single has been shipped to both Top 40 and AOR stations, and has been released in the U.S. as well.
Meanwhile, Rush's latest studio project, Moving Pictures, is near the triple platinum mark in Canada and surpassed double platinum in the U.S.
Although Rush is considered more of an album-oriented band, during 1981 the group scored well in the singles category, as well as with their LPs. Two successful singles were released from the Moving Picture album - Limelight and Tom Sawyer. In addition, the song Closer To The Heart was released from their latest live album, the second time the song was released as a single, the first being as a studio single from their album A Farewell To Kings.
Rush drummer Neil Peart stated that the band is very proud of their latest live album, produced by Terry Brown.
"Everything has improved so much since our last somewhat uneven live effort, All The World's A Stage," said Peart.
Peart felt that Rush was a different group when they recorded their first live album. He considered Exit Stage Left a kind of anthology album, a summation of the live highlight of their previous four studio albums, plus a couple of older reincarnations, A Passage To Bangkok and Beneath, Between & Behind.
The drummer reported that during the mixing of Exit Stage Left, the band found the time to write two new songs, one being Subdivision which was also recorded. The trio are hoping to mix and release the song soon.
"It was nice for us to write something new all by itself and then spontaneously decide to record it just like that," said Peart. "It's also got us excited about the prospect of our next studio album, which we will start work on in the spring."
Peart added that during their tour, Rush's concert date in Montreal was filmed which they hope to put together as the band's first real concert film.
Rush released their first self-titled album on their own label. Moon Records, in 1974. Their original drummer was John Rutsey, who left soon after to be replaced by Peart who also became a lyric writer for the band.
Ironically enough for the Canadian trio, their initial popularity broke out of the Cleveland area, and it was proof of their potential as an international act. The band's name continued to spread with the release of Fly By Night and Caress Of Steel.
Rush's real breakthrough came with the release of the highly-acclaimed 2112. The group followed up the album with a successful first double live set, All The World's A Stage. By now the success of the band was established.
The Toronto trio followed up their first live LP with A Farewell To Kings, the controversial Hemispheres, and a monster album, Permanent Waves, which became their biggest selling album to date. But with the release of Moving Pictures, Rush broke their own record by making the LP the band's biggest selling album ever.
With the release of each LP, Rush continues to expand their popularity and establish their name internationally.