Exit...Stage Left (album review)
By John Swenson, Circus, February 28, 1982, transcribed by pwrwindows
---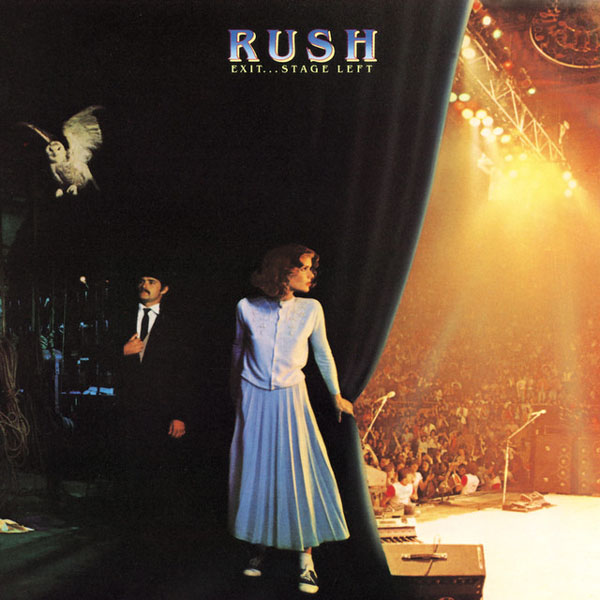 At first glance this album may seem like just another Christmas-time live two-record package. But Exit...Stage Left represents the coming of age of Canada's greatest band and one of the finest heavy-metal outfits to come out of the '70s proliferation of that style.
The difference between this record and the first Rush live LP, All the World's a Stage, shows just how far the band has come in the last few years. Stage was an energetic but somewhat leaden account of the band's live strengths at a time when the members of Rush will now freely admit they were struggling. The sound quality of that first live record disappointed them, but the record consolidated their audience at a crucial point and gave them breathing space to come up with a fresh approach to their sound, which proved to be the turning point in Rush's career.
The improvement in playing quality and material since the first live album is apparent from the outset of this record, which opens with the group's anthem-like "The Spirit of Radio." Alex Lifeson spins giddying figures on his guitar, before Geddy Lee's full-throated bass and Neil Peart's powerful drums carry the song into its majestic first verse. The band's multifaceted sound images pour through as Lee's foot pedal synthesizers and sequencers and Peart's galaxy of percussion instruments blend into a rich and subtle sonic contrast to Lifeson's shrewd slabs of processed guitar.
The one-two punch from Moving Pictures, "Red Barchetta" and "YYZ," follows, the former featuring Lifeson and the latter showcasing Peart's exquisite drum solo. "Jacob's Ladder," "Free Will" and "Tom Sawyer" provide further high points on a record that really doesn't have a single bad moment. If you haven't listened much to the group, Exit is a perfect place to start. If you like Rush already this is the record you've been waiting for.