Neil Peart Drum Giveaway
"Win Neil Peart's Drums", Modern Drummer, May 1982
"Results Of Neil Peart Drum Giveaway", By Neil Peart, Modern Drummer, October 1982
transcribed by John Patuto
---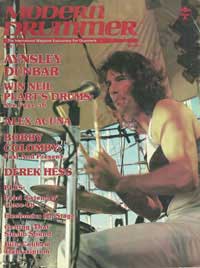 Win Neil Peart's Drums
NEIL PEART
Dynamic Drumming Artist of RUSH - is GIVING AWAY HIS DRUMS...and YOU Could Be The Winner!
THE WINNER WILL RECEIVE:
A Tama Superstar Drumset with a custom Rosewood finish and brass plated hardware. All drumshells are vibrafibed by The Percussion Center of Fort Wayne, Indiana. The drumset includes: Four concert toms: 6", 8", 10", 12". Three tom-toms: 12", 13", 15", One floor tom: 18", Two bass drums: 24", Two gong bass drums: 20" and 22", Two timbales: 13" and 14", One Tama snare drum: 14". All mounting and attaching hardware will be included. Also included: A. Zildjian hi-hats: 13", Ride Cymbal: 22", Medium Crash cymbals: 16", 18", 20". Splash cymbal: 10", Two Cameo footpedals. Cases will be included.
CONTEST RULES: Contestants are to write an essay of one hundred (100) words or less entitled: Why I Would Like To Win Neil Peart's Drums. Essays over one hundred (100) words will not be considered eligible for the contest. All essays must be printed or typed and mailed to: Neil Peart's Drum Giveaway. c/o Modem Drummer Magazine, 1000 Clifton Ave., Clifton, New Jersey 07013. All entries will be forwarded to Neil Peart who will read the essays and select the winner. The contest ends on June 21, 1982 - the first day of summer! All entries must be postmarked on or before midnight (12:00 PM) of June 21, 1982. lMPORTANT: Be sure to include your name, address, and telephone number so that you can be notified that you've won! The winner will be announced in the October 1982 Issue of Modern Drummer Magazine.
---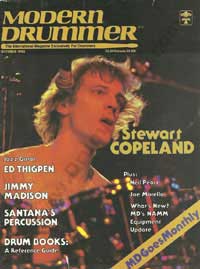 Results Of Neil Peart Drum Giveaway
From The Desk of Neil Peart
September 15, 1982
Dear Readers,
Whose idea was this, anyway? Why didn't somebody tell me how long it takes to read 4,625 letters, no to mention choosing one winner? I'm sure I'll never be the same.
There were letters from every corner of the U.S., Alaska and Hawaii, every province of Canada, England, Ireland, Scotland, Wales, Sweden, Norway, Finland, France, Germany, Australia, Hong Kong, Singapore, Indonesia, Puerto Rico, Mexico, and even a girl in Borneo! I mean, a lot of people wanted my drums!
There were all kinds of entries: some of them very funny, some dad, some poetic, some very prosaic, some beautifully presented like a college thesis, and some illegibly scrawled in pencil. About halfway through, I started to feel very bad and a bit guilty. There were so many deserving entries that I could have given away five hundred drum kits, but - alas - there was only one. You're right, it's not fair!
Many asked why I was giving them away at all, and cast aspersions on my sanity. Perhaps they were right. I've just acquired a brand new, bright red set of Tamas, and I didn't feel right about keeping the rosewood ones at home as a lowly practice kit. They deserve a better fate. I still have my black Slingerland kit at home for practice, and I can't imagine a person needing to have more than two sets. So ... I got this bright idea. I'll find some deserving individual and give them away. Truly, that was easier said than done.
I called the folks at MD and told them what I proposed to do. They thought it would be good, and we put the contest in motion. But a contest of drumming skill didn't seem right. There are plenty of jerks with talent, and all the talent in the world won't get someone out of their basement if no one can stand to deal with them. I knew I wanted it based on personality as much as anything, so the essay idea seemed the only way to go.
I thought it best not to print the winning ones, as it could only cause sour grapes with people thinking, "Mine was better than that." And really, it's a personal thing between the winner and myself. There were some brilliantly hilarious entries; also some imaginative and beautifully artistic ones. They came printed on drum heads, on scrolls rolled around Pro-Mark 747's, with beautiful designs and sketches. And my personal favorite for beauty and originality; on a glass framed thermometer with elegant calligraphy painted on the back. That one I'm keeping!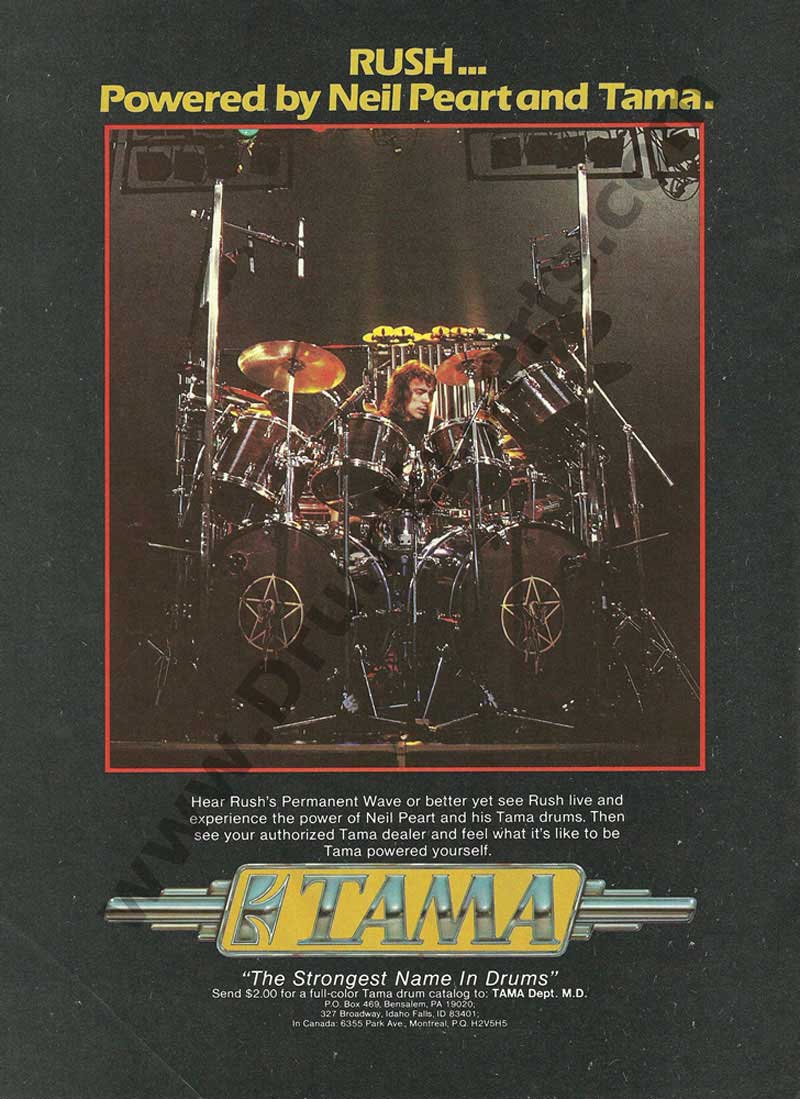 I'm sorry there was no way I could respond to all the requests for personal replies, photos, autographs, drum sticks and private lessons. Amidst all of this, I still had to find time for practice, family, and friends, who quickly grew tired of watching me frantically read essays through their visits. My long-suffering wife Jackie was assigned the task of opening and counting letters whenever she had time to spare. It's so glamorous being married to a successful musician!
There were many letters from devoted wives and girlfriends of struggling musicians, which was the kind of thing I thought I would look for - but there were just too many. There were also many supportive mothers, fathers, sisters, brothers, uncles, friends and fellow musicians who wrote on behalf of their favorite drumming person.
I can understand those who sent in two entries in case one was lost, but some people felt obliged to send in six, eight, and even twenty-four entries, thinking to attract my attention through sheer repetition. All this accomplished was to make my fingers and eyes sore from opening and reading all those extra entries.
So what was I looking for? Well, let me tell you what I wasn't looking for: People who didn't play drums, but "thought they'd like to try"; people looking for a Rush souvenir; people who couldn't afford new drums because they were busy paying for a van, a house, or other secondary interests; loads of embarrassing praise and flattery; people who would rather have something else, but would take them because they were free; quotes from the Bible and other mystical higher purposes; people who wanted to play my drums in church; people who said they couldn't get in a band because their set was too small - Jeez! - I joined Rush with an old, six-piece Rogers set finished in silver wallpaper, and two small cymbals. I wasn't born with this drum kit, ya know!
Another thing that figured into my judgment was spelling, literacy and neatness. What does that have to do with drumming? Well, it tells me a lot about the attention to detail, and communication skills that will be reflected in a musician's attitude towards his music and his instrument.
Another interesting thing I learned from reading these essays was the number of sincere and intelligent female drummers out there striving with dedication and determination. I'm sure we'll be hearing from a lot more of them in the future. This is a very nice reflection on the social changes of the last ten years or so.
Guys - watch out!
So what was I looking for, you ask again? Well, once some had been eliminated due to overwhelming numbers, I decided to look for the one that best reflected myself as an aspiring teenage drummer. I wanted to see the same, almost fanatical devotion to drums and music that excluded everything else from my life. A quiet religion, that didn't have to shout about it, brag about it, apologize for it, or even think about it - it just is. One who doesn't need discipline or will power to practice, simply because there's nothing else they'd rather do. Some wanted my drums to make them more interested, to practice more, or to make them more popular with their friends. My winner couldn't be more interested, couldn't practice more, and cares nothing about being more popular. Nor is he one of the thousands who claim the crown of, "your biggest fan." He's just a dedicated young drummer who cares about nothing else. His name is Adam Roderick and he lives in California. He's not one of the many unfortunates with little or no drums, but he has agreed to pass his present set along to my second choice, who is one of the above. He shares the same beautiful dedication on only three mis-matched old drums. So young Tom Wolf from Pennsylvania will also be improving his equipment through the generosity of Mr. Roderick. Maybe we'll start a chain reaction here. Somebody is going to end up with some coffee cans and pot lids though.
In closing, I would like to thank everyone who entered. I hate to disappoint anyone, but what can I do? There were many, many great entries, but there could only be one winner. Congratulations to him. My thanks also to Scott Fish and MD who coordinated everything, and the staff at Modern Drummer who had to handle all of the mail; 4,625 letters.
Excuse me, I've got to go see my eye doctor!
Neil
[Webmaster's Note: The winner of the contest, Adam Roderick, is currnetly in a Rush tribute band called "Trilogy". Visit the band's website, including a photo of Adam and the drums.]