Semi Flawed Signals
'Signals' Album Review
By Mark Putterford, Sounds, September 11, 1982, transcribed by Dave Lythgoe
---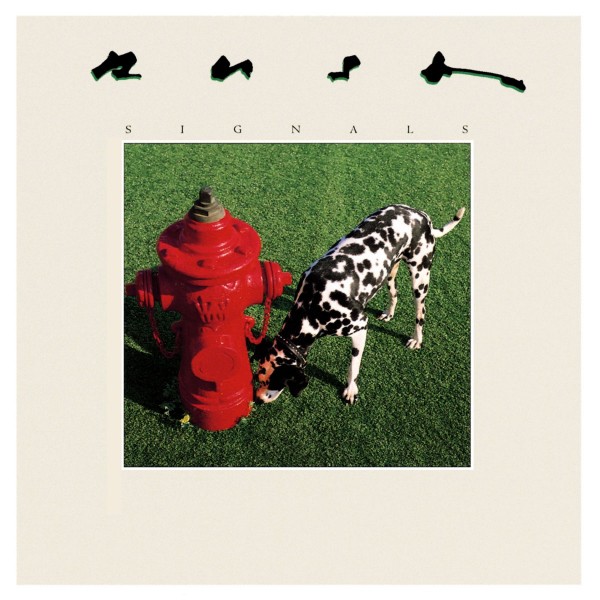 Rush 'Signals' (Mercury 633 7234) *** (Three stars)
You know nothing is more frustrating than when a band you know and love, namely Rush, release a weak, below par album, namely 'Signals', especially when you consider Lee, Lifeson and Peart's galaxy of undisputed talent, something which they have always managed to channel into something refreshingly new and adventurous, yet retaining the hard abrasive edges of their formative years.
Remember 'A Farewell To Kings' with circa '77, when Rush gave us classics like 'Xanadu', which Geddy Lee made sparkle with his use of the MiniMoog and the bass pedal synthesiser? Remember the sci-fi slanted 'Hemispheres' and the profound 'Permanent Waves' with the increasing use of keyboards and guitar synths as smooth technical icing on the Rush cake of sophisticated and multi-faceted hard rock? Well I'm afraid to report friends that the famous three have over-indulged on the keyboard front this time and consequently 'Signals' is submerged in a soggy swamp of synthesisers, Moogs and the rest, saturating every song with a needless wall of sound which unmercifully strangles Alex Lifeson's guitar and muffles the usually razor sharp edge to Rush's songs to the extent of making them dull. DULL? You may cry in disbelief friends but I kid you not, so read on for details...
'Sub Division' [sic], the song responsible for the mysterious album cover I presume, opens the account with buzz of keyboards urged along by Neil Peart's snappy beat to no avail, for it's plagued with such a dull tone that even Geddy Lee's usual soaring and piercing vocals sound sadly subdued.
'The Slide' is temporarily halted by 'The Analog Kid' which, in stark contrast to its predecessor, rattles along in glorious fashion to confidently claim the rize of the album's most exciting track, thanks to Lee's racing thumping bass line Bobbing and weaving behind the attack of Lifeson's fiery lead - yes, you can actually hear Uncle Alex on this one, kids!
'Chemistry' carries on where 'Subdivisions' left off and is little more than an average track placed in a test tube and soaked with a solution of domineering keyboards and monotone vocals, while 'Digital Man' unfolds promisingly into a weird cocktail of half-funky, half-reggae beat, not unlike The Police, though sadly lacking the springy punchy tempo we're used to from Canada's favourite sons.
Flipping the disc over I'd hoped to find something a little more uplifting, but all I was greeted with was 'The Weapon', another weak keyboard-orientated dabble wandering into oblivion in a swirling maze of weird noises. And even though 'New World Man' bucks up the tempo a little with a running exchange of reggae and rock carved around a 'Tom Sawyer' style beat garnished with enough commercialism to help it into the charts and 'Losing It' sprinkles a touch of magic onto the album with its soft, sad texture built around the Moog amidst a superbly atmospheric and melancholic simulated string section shivering in the background to create a centuries old flavour somewhat akin to a Jethro Tull track, building into an orgy of strange sounds before fading solemnly away, 'Signals' fails to match Rush's previous achievements.
The last track, 'Countdown' is the epitome of the reason why; a nonchalant plodder occasionally breaking into a basic trot over a launch controller's countdown jargon. It makes me wonder what's happened to my one time fave trio.