Rushing About
By Robin Smith, Record Mirror, October 2, 1982, transcribed by pwrwindows
---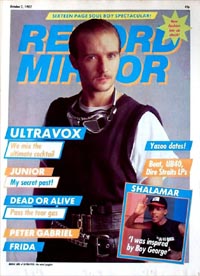 Rush produce heavy metal for thinking people. None of your 'out on the highway c'mon rock me baby yeah' phrases - Rush write fantasy songs you can get your teeth into.
Take '2112', where nasty priests try to stamp out music until someone finds a guitar, or the current single, 'New World Man', taken from the album 'Signals '. This album has a picture of a dog, sniffing a red fire hydrant on the front cover and a blueprint of a development plan on the back - significant, what?
In 1974 Rush were just another bunch of Led Zeppelin imitators - until the arrival of drummer Neil Peart. He took charge of lyric writing and the music took on a more mystical side. Their album 'Caress Of Steel' featured a whole side devoted to the quest for the Fountain Of Lamneth.
From grinding their way around clubs in Canada, Peart, bass playing vocalist Geddy Lee and guitarist Alex Lifeson have built up a worldwide following, touring for much of the year.
It costs them around 20,000 dollars to air freight their equipment into Britain, even before they put a foot on stage.
One of Rush's favourite British hits was 'Spirit Of Radio', inspired by a Toronto radio station which is one of the few independent radio stations left in Canada. 'New World Man' is even more meaningful, with lines like, 'learning to match the beat of the old world man. Learning to catch the heat of the third world man.'
A Rush tour is like a military exercise and runs with the precision of a digital watch. After a late night, they get up at three in the afternoon, do a sound check and then relax before playing the gig. Each concert is always the same length.
"Rush work all the time because that's our tradition, " says Alex. "For us it's always great playing Britain because we've been influenced by British bands. I suppose we're something of a crossover band. It's music people can dance to, but we tend to go for cultural phrases."