Rush's Signals Change, Maybe
By Mike Collins, Stanford Daily, October 14, 1982, transcribed by pwrwindows
---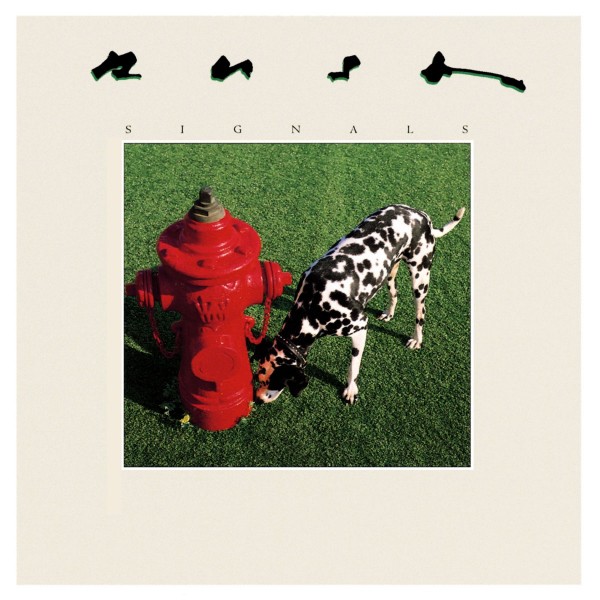 It was just an album ago - in the liner notes to the double-live Exit...Stage Left - that Rush reminded us "... after all, we didn't change - everybody else did!" and to a large extent it was true. For a good part of the midand late-'70s, the Canadian trio was a moderately successful touring band with a growing cult of fans rabidly loyal to their particular brand of involved, percussively intricate "thought-rock." Rush expanded their ability and scope with a number of largely obscure albums that culminated in the release of the heavy metal/art rock opera 2112 and its successor, Hemispheres. With these two records Rush proved themselves a band of creative lyricism and increasingly impressive technical prowess, but it was not until the release of their next album, Permanent Waves, that the group began to realize a widespread listenership. Then, with the now platinum-certified Moving Pictures, this cult band from the Great White North was thrust into the limelight. Rush was no longer a stranger to change, and it is change - in music, production and theme - that permeates Signals.
From the outset, things just aren't the same; Geddy Lee's use of the synthesizer, increasingly important in earlier albums, is now often prominent, while his characteristically melodic bass is subdued slightly in the mix over Alex Lifeson's effects-oriented guitarmanship. But it is the masterful percussion work of drummer Neil Peart, recently voted best drummer, percussionist and performer in the Modern Drummer reader's poll, that gives the album its rhythmic foundation. A major change now brought to its completion is the homogenization of Geddy Lee's voice; gone entirely is the fever-pitched, shrieking falsetto that punctuated so much of their earlier work. And while his singing is now certainly more textured and controlled, one gets the impression that Geddy Lee isn't angry any more, and it's an edge that's sadly missing here. One need look no further than Peart's enigmatic, evocative and often insightful lyrics, however, to assure himself of the group's concern for its audience and interest in the world around them.
Thematically, Peart does his best work in the context of the individual in conflict with society, as is evidenced by the album's two singles, "New World Man" and "Subdivisions" ("Growing up it all seems so one sided/Opinions are provided/The future pre-decided/Detached and subdivided in the mass production zone/Nowhere is the dreamer or the misfit so alone...") or "The Analog Kid," a Tom Sawyeresque vignette of suburban childhood. The formula works best, though, when new ground is carefully explored, as in the melancholic glimpse at the nature of age in "Losing It," the album's prettiest cut, or the abstract look at fear in a society and those who control it, "The Weapon" ("He's not afraid of your judgement/He knows of horrors worse than your hell/He's a little bit afraid of dying/But he's a lot more afraid of your lying/And the things that he fears are a weapon to be held against him"), the album's strongest. This formula, a combination of their new instrumental order and smooth, edgeless production makes the album Rush's most accessible and salable, a somewhat saddening departure for older loyalists and a point of entry for new converts yet to discover their earlier work.
Has Rush sold out? No. All in all, Signals is an album that does what they want it to - keep us thinking, keep us dreaming, keep us buying. Even rock's philosophers have to pay the rent.