Stories From Signals
Collected From The Drummer's Diary. By Neil Peart Of Rush
Sounds, October 16, 1982
---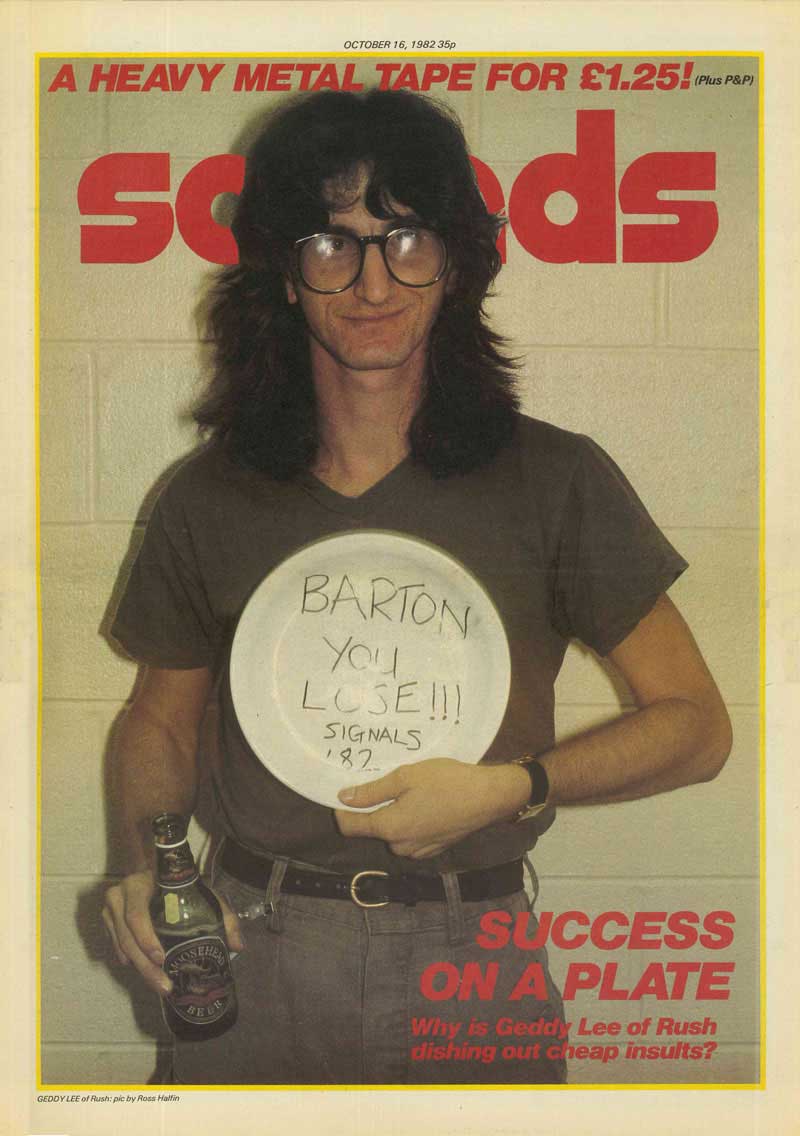 I SUBDIVISIONS
Le Studio, September, 1981
We were getting a little bored with inactivity. During the mixing of "Exit... Stage Left" there was really not much for us to do except say "it sounds good" or "it doesn't sound good".
I had been working down in the little studio, cleaning and renovating an old set of Hayman drums that were kicking around, and had started working on a "Jack Secret" song with Jack and Skip from the crew. Geddy and Alex soon joined in on keyboards and rhythm guitar, and we later recorded the song ("Tough Break") up in the studio.
I had also been working on some lyrics for a few days and had come up with "Subdivisions", an exploration of the background from which all of us (and probably most of our audience) had sprung.
One afternoon as I was idly polishing my car, Alex and Ged returned from working at the little studio, set up a portable cassette player right there in the driveway, and played me the musical ideas they had come up for it.
"It's kinda weird, but what do you think?"
"Let me hear it again."
I listened closely, picking up the variations on 7/8 and 3/4, the way the guitar adopts the role of rhythm section while the keyboards take the melody, returning to bass with guitar leading in the chorus, then the mini-moog taking over again for the instrumental bridge.
"I think it's great."
They smiled.
II THE ANALOG KID
Schooner Orianda, British Virgin Islands, January, 1982
We had been tracking up the Sir Francis Drake Channel most of the day, on a leisurely zig-zag course to Virgin Gorda. At the wheel was our stalwart guest helmsman, Geddy, with Captain Mike and myself reclining in the stern and offering directions. We all watched the pennant halfway up the starboard shrouds, gauging our attitude to the wind. Up forward, First Mate Keith and Deck Steward Tom stood by the sheet for the Yankee jib, ready to wrestle it across the deck for the upcoming tack.
Captain Mike decided that we were close enough to land now to make the manoeuvre, so that if we ran out of wind he could walk to shore! He gave the helmsman his instructions:
"Okay, call out 'prepare to come about', and spin the wheel hard over to starboard."
"That's right, right?"
"Right!"
"prepare to come about"
Captain Mike laughed his best "dirty old sailor" laugh; "They've got to hear you up there, YELL it out!"
"oh ... PREPARE TO COME ABOUT!!!"
"Better" ...
Last night Geddy played me some of the things he had been working on at home. He had an electronic instrumental that would become the basis for "The Weapon", a new extended intro for "Vital Signs" live , and a couple of other ideas that we haven't yet used.
That night as we lay at anchor in Virgin Gorda, Geddy and I went down below after dinner, and I showed him some of the work that I had been doing. I had written "The Analog Kid" as sort of a companion piece to "Digital Man", which had been written last fall up at Le Studio. He liked it, and we discussed different ways it could be treated musically. As we often do, we thought it would be interesting to take the opposite approach to what the lyrics would suggest;make it a very up-tempo rocker, with some kind of a dynamic contrast for the choruses. We also looked at a rough version of "The Weapon" that I had put together, and agreed that it would need some more work. He told me what he liked, and what he didn't like, and gave me some good points to go to work on. We put an end to the "shoptalk" and went back to our holidays.
III CHEMISTRY
Sound Check, Somewhere USA, Moving Pictures Tour, 1981
Around 4:15 we all made our way on to the bus. Kevin had checked us out of the hotel, and stowed the luggage in the bay, as that night we would be driving on to "Somewhere-Else USA." Whitey put the bus in gear and drove off toward the hall.
In "road-time", this is first thing in the morning, and there was not much to say beyond the perfunctory "good day". Geddy rustled the local paper, checking the latest baseball scores, Alex flicked disinterestedly through a "Plane and Pilot" that he had read twelve times, and I smoked a cigarette in a sleepy stupor. Curtains closed against the world, we rode away to the gig.
At the hall, we checked out each of the instruments separately; boom-boom-boom, tap-tap-tap, thud-thud-thud, strum-strum-strum, woof-woof-woof, test-test-test, et cetera, and then gradually moved into a little spontaneous creation. This tour for the first time our sound man, Jon, has been taping our soundcheck meanderings, and it had proved very fruitful to us. On this particular day in "Somewhere USA" we will unknowingly write a whole song at once, each of us playing a different part. While Geddy plays what will become the keyboard melody for the bridge section, Alex is playing the guitar riff for the verses, and I'm playing the drum beat for the choruses. Just like that!
When Alex and Geddy get together to sift through the soundcheck tapes they will find a whole song written here, and will arrange it and make a demo that will be very close to the finished song.
Lyrically, this is the first time that all three of us have collaborated on the words to a song. Geddy and Alex together came up with the title and concept for the song, wrote out a few key phrases and words that they wanted to get in, then passed it along to me for organization and a little further development. When all of this is put together, we have what was probably the easiest song to write on the album. Once again, our "Research and Development" department of sound check jams comes through.
IV DIGITAL MAN
The Grange, Muskoka Lakes, Ontario, March, 1982
At this time of year there is still no sign of spring up here. The lakes and ground are still blanketed by about four feet of snow, the temperatures are steadily sub-zero, and one is obliged to dress rather like an Arctic explorer to go outdoors.
We are up here for a month to work on new songs. We have a row of chalets to stay in, and the winterized upper room of a barn to work in. An open fire is friendly company for me as I spend the afternoons working on lyrics, while Alex and Ged are over at the barn working on musical ideas. The cold, crisp air and the thick shroud of snow create a very magical atmosphere in which to work, especially walking back at night when the full moon gleams on the diamond-dusted snow. Some people have nothing good to say about winter, but I find it very beautiful. One night Larry and I borrowed a pair of snowshoes, and went out walking on the frozen lake. The moon shone down on the bluish snow almost like daylight, and the dry air was so cold it pinched your nostrils shut. That might sound like a nightmare to you, but to me it was a dream-world!
"Digital Man" had actually been started last fall at Le Studio, when we had put together the lyrics and the music for the verses and the "ska" style bridges, but we had been unable to come up with the right combination for the choruses. After much head scratching, we finally came up with the sequencer pattern, and the guitar and drum patterns to go with it. We were all very pleased wit the dynamic and unusual nature of the part, it was so different for us; but our "objective-ear", co-producer Terry Brown was not so enthused.
Now, this has happened before, when we all get excited about a part, only to have Broon come along and tell us "it sucks". (He's a diplomatic guy!) Usually, we either see the error of our ways, or give up and let the "old man" have his way. This time however, we were so sure that we were right that we refused to give in. We talked and talked about why we liked it, how we heard it being recorded, and what it could do for the song as a whole. We wore away at him inch by inch, until he got tired of hearing about it, offered a few half-hearted suggestions, and relented. "After all" he admits, "I have been wrong before!" Or, as his daughter Victoria put it so well: "I can't help it if you're always wrong!" No respect.
V THE WEAPON
Stately Dirk Manor, Somewhere-north-of-Toronto, December, 1981
With a Roland drum machine and assorted synthesizers, Geddy and friend Oscar secret themselves in Ged's music room to create some music of a highly confidential and experimental nature. Among the Top Secret projects which they produce is the basic foundation for this song, including a highly mysterious and bizarre drum pattern which Oscar coaxes out of the drum machine. (I'm supposed to learn how to play that?)
Well, I do love a challenge, and once we start to tackle this at one of the rehearsals, I discover that if I play totally backwards, and bend my hands a few ways they don't normally go, I can do it. The shame of being reduced to learning from a machine! However, I must admit, I would never have come up with something like that on my own!
With all this and more to accomplish with my hands, it is no compromise to let my bass drum foot play a steady "four", which is also something I never thought I could do. This also brings the feel of the song perilously close to a (shudder) d-d-d-dance song, like, you know, disco! Treason! Treason! Kill the traitors! They wrote a song you can dance to! Will you ever forgive us? (No.)
It was fun to do, though. It's so contrary to the mood suggested by the lyrics, and such a different approach for us, that it is a very satisfying piece of work. It's an all-out production number that we can play live, so I'm sure all the "disco kids" will soon be coming to our concerts. Ha!
VI NEW WORLD MAN
Le Studio, Quebec, May, 1982
At this point the basic tracks for the other seven songs were finished, and we have enough for an album, but we have always wanted to write another song for this one. We want more! There are moral reasons why an album shouldn't be too short, but there are technological reasons why it shouldn't be too long. What shall we do?
We decided to write another song, and if it turns out to be too long, we won't put it on, but if we come up with something short enough, we will have an eighth song.
So, thus was born "Project 3:57"! In order for another song not to cause great inequality between the length of the two sides, and not to cause us trouble in the mastering of the album, it had to be under four minutes. When was the last time we wrote a song under four minutes, you ask? That's a good question, and one that we asked ourselves too. But we figured we had nothing to lose; if it's too long we simply put it away and save it for another record. (Actually "Different Strings" and "Circumstances" were both under four minutes, and "Closer to the Heart" and "Madrigal" were both under three, we can do it!) Target - 3:57!
I spent a couple of days wringing out my notebook, and tying in a few of the themes from other songs, and came up with a straightforward, concise set of lyrics consisting of the two verses and the two choruses, and then we went to work.
We decided to play this one fast and loose, writing it in one day and recording it the next! We wanted to capture a spontaneous, relaxed feel for this one, not even spending much time getting the sounds together. Thus, it could stand in contrast to the rest of the album, being much more raw and "live" in its affect. Two days is very close to a record for us to write and record a song. The quickest ever was "The Twilight Zone" from our "2112" album. That was written and recorded in one day. But then that whole album was completed in under a month; things are different now!
VII LOSING IT
Le Studio, Quebec, June, 1982
Like the verse sections for "The Analog Kid", the main theme for this song came from Alex's holiday exercises (we all did our homework!). We worked out the verses and choruses while we were in rehearsal, and made a skeletal demo of it with just keyboards and drums, then put it away until we got to the studio.
We had talked for a while about getting Ben Mink to play electric violin somewhere on this album, and this seemed like the perfect track. Once we got into the studio, we developed the jazzy solo section, recorded the basic track, and gave Ben a call. Fortunately he was able to get away from his group, "FM" for a couple of days, and bring his unique instrument up to play his heart out for us.
Ben's violin! That's a story in itself! There a several little cows grazing in there, as well as a "Beach Party" scene, complete with little Frankies and Anettes. All of this illuminated by four green Christmas lights that provide the necessary inspiration for such a piece. Sounds crazy? You bet!
We worked him hard, squeezed him dry, and threw him away. He just stood there in front of the console, taking it and giving it, fueled by occasional sips from a bottle of C.C. Not only the monumentally fantastic solo did we demand, but we had him multiple-tracking an entire string section as well. That'll teach him to be our friend!
VIII COUNTDOWN
Cape Kennedy, Florida, April, 1982
[Webmaster note: the date above is obviously a typo, as the inaugural launch of the Columbia was April 1981...]
We were there! It wasn't easy, but we made it! We had a long-standing invitation to the first launch, and always swore that we would be there no matter what. Little did we know!
On April 9th we flew into Orlando on a day off, checked into a hotel, and slept until about four A.M., when we had to leave for our rendezvous at the Air Force Base near the Cape. There we met our liaison man, who conducted us safely into the "V.I.P." zone (Red Sector A) in the pre-dawn hours. We stood around, listening to the announcements, as the sun rose higher and hotter in the sky. We were due to play that night in Dallas, so we couldn't wait much longer. Finally they announced that the launch would be scrubbed for that day. The computers weren't speaking!
Well, we ran for the car, and our daring driver sped off, around the traffic jams, down the median of the highway, and got us to the airport barely in time.
The next night we had a show in San Antonio, after which we drove off immediately, clambered into a hired jet, and flew straight back to Florida. This time the launch took place on schedule, and it was SOMETHING!! (More about that in the song.) Again we raced backed to the plane, and flew off once more, back to Fort Worth where we had a show that night. Fortunately the day after that was a day off, so we had a chance to catch up on all that sleep!
I remember thinking to myself as we flew back to Fort Worth after a couple days without sleep: "We've got to write a song about this!" It was an incredible thing to witness, truly a once-in-a-lifetime experience. I can only hope that the song comes even close to capturing the excitement and awe that we felt that morning.

So, that's the album. I hope that you will all enjoy it. We put a lot into it, including about a month of our summer holidays - (didn't quite get finished on time!) We tried to break some new ground for ourselves; explore some different types of songs and sounds; while continuing the directions begun by "Permanent Waves" and "Moving Pictures". I guess it will be like always; some will love it, some will hate it, and some will say:
"Rush?? Signals?? What the hell is that??"
---
*AN EXPLANATION is in order, we feel, for the lack of connection between this week's Sounds front cover and the Rush feature within. This is due to what we in the trade lovingly refer to as 'another Makowski f*** up'. See, despite having had about a month to write the thing, our Pete failed to deliver his Rush piece in a readable form last week. With the dreaded deadline doom looking on the horizon, we had a colour front cover already on the presses at the printers but nothing to go with it! In the end we were forced to go ahead with this, a reprint of Neil Peart's Rush US tour programme notes, telling of the making of the band's latest album 'Signals'. Lucid and revealing they may well be, but they don't explain why Geddy Lee wrote 'Barton You Lose' on a china plate, do they? We'll leave that to Pete Makowski to explain in the real Rush feature, which he's promised to deliver to us next week. Or the week after...
[Webmaster Note: Pete Makowski's Rush feature, "Adrenalin Rush" was eventually published in the December 18, 1982 issue of Sounds.]