Rush Has All the Right Signals
By Peter Martin, RPM Weekly, October 23, 1982, transcribed by John Patuto
---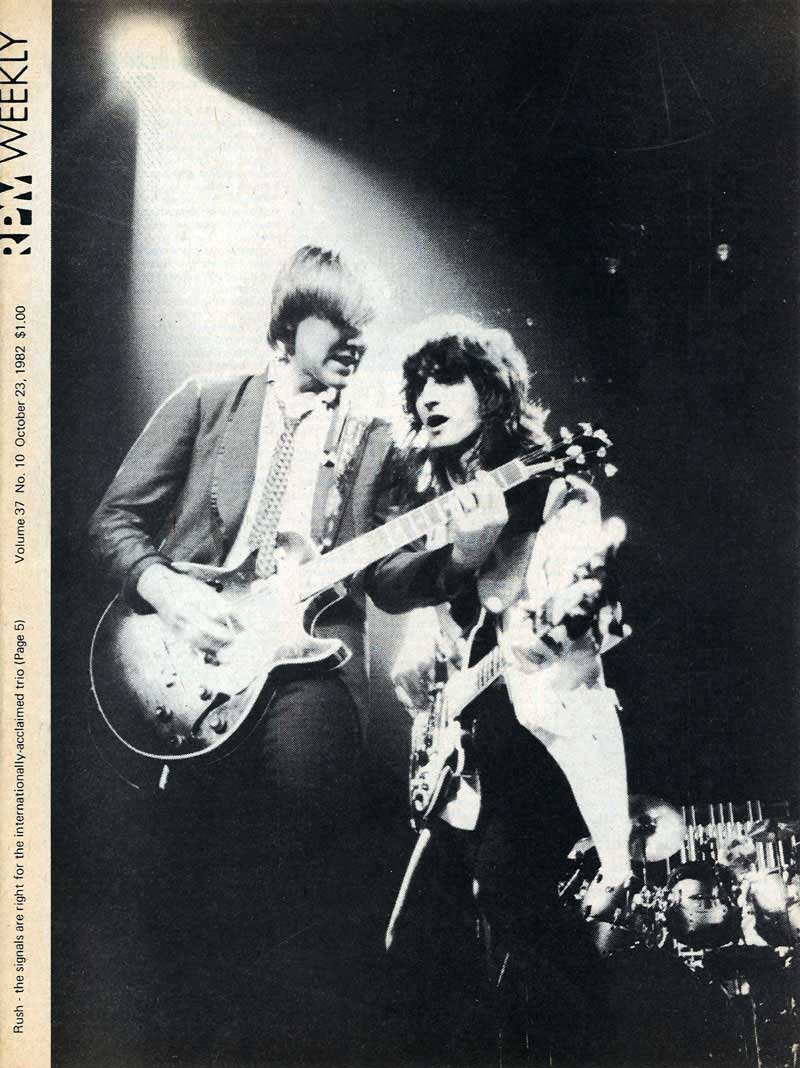 Rush has done it again. Signals, the trio's latest LP, released September 9, has already shattered the platinum mark in Canada and gold in the U.S., showing no signs of a short life.
Both the band's album and single, New World Man, are dominating AOR, Top 40 and rock-oriented AM stations across the country.
The single and LP also bulleted up the RPM charts both achieving the #l position at the same time and both maintaining their spot for two weeks straight.
Rush is presently on a major tour in support of the latest LP which is expected to run eight months in North America alone. The trio kicked off their tour and hit Vancouver September 30, Calgary Oct 2, Edmonton (3), Winnipeg (5) and will be playing Toronto November 15, and 16.
Anthem built excitement before the album's release by issuing both a 7 and 12-inch single of the track New World Man with a previously unreleased live version of the song Vital Signs on the flip to surprise the Rush fans and collectors. The 7-inch went to AM stations while the 12-inch went to AOR stations.
Because Signals was digitally recorded and mixed, virgin vinyl was used for both pressings. As well, the 7-inch was enclosed in a picture sleeve.
As an extra sign of the Toronto trio's growing popularity, beginning September 6, and running for three weeks, planetariums in cities across the continent, as well as in London, England, premiered the Rush album in a one-hour laser show using the entire LP.
With the exception of a presentation on Jimi Hendrix in his home town, the Rush laser show also marked the first time Laserium has featured a complete show of one group's material and simultaneously with entirely new visuals.
Produced and arranged by Rush and Terry Brown, while recorded and mixed at Le Studio, all the music on the LP's eight tracks was written by the duo of bassist-vocalist Geddy Lee and guitarist Alex Lifeson. Drummer and percussionist Neil Peart handled the lyric-writing on all tracks with the exception of the cut Chemistry written by all three members.
FM member Ben Mink made a special guest appearance with his electric violins, on the Losing It track.
"We had talked for a while about getting Ben Mink to play electric violin somewhere on this album and it seemed like the perfect track," said Peart. "Once we got it into the studio, we developed the jazzy solo section, recorded the basic track and gave Ben a call. Fortunately he was able to get away from his group FM for a couple of days and bring his unique instrument up to play his heart out for us."
Peart noted that not only did they receive the "monumental fantastic solo" they demanded, but they had Mink multiple tracking an entire string section as well.
Peart explained that the basic tracks for the other seven songs were finished and that they had enough for an album. He pointed out there are moral reasons why an album shouldn't be too short but technological reasons why it shouldn't be too long.
Instead they decided to write another song and if it turned out to be too long they wouldn't put it on, but if they came up with something short enough, they would have their eighth song.
"In order for another song not to cause great inequality between the length of the two sides and not to cause us trouble in the mastering of the album, it really had to be under four minutes," said Peart. "I spent a couple of days writing, tying in a few of the themes from other songs and came up with a straightforward, concise set of lyrics consisting of two verses and two choruses, and then we went to work."
The drummer explained that they decided to play the song fast and loose by writing it one day and recording it the next.
"We wanted to capture a spontaneous, relaxed feel for this one, not even spending much time getting the sounds together. Then it could stand in contrast to the rest of the album, being much more raw and live in its affect. "
The trio's decision for the composition turned out to be correct. The song stood out enough that it was picked as the single and the length of it as a 45 was perfect, making it unnecessary to edit the track. The song was also perfect for the quick-paced Top 40 and AM rock stations.
Rush fans who buy the album are likely to notice that the Countdown track is dedicated with thanks to astronauts Young and Crippen as well as NASA.
The inspiration for the song came after the trio witnessed a launch at Cape Kennedy.
"I remember thinking to myself as we flew back to Fort Worth after a couple days without sleep, 'We've got to write something about this.' It was an incredible thing to witness," said Peart. "Truly a once-in-alifetime experience. I can only hope that the song comes even close to capturing the excitement and awe that we felt that morning."
Peart added that they tried to break new ground for themselves on Signals by exploring different types of songs and sounds, while continuing the directions begun by their albums Permanent Waves and Moving Pictures.