Canadian Rock and U.S. Rock Similar, Peart Says
By Mark Newman, The Grand Rapids Press, November 7, 1982
---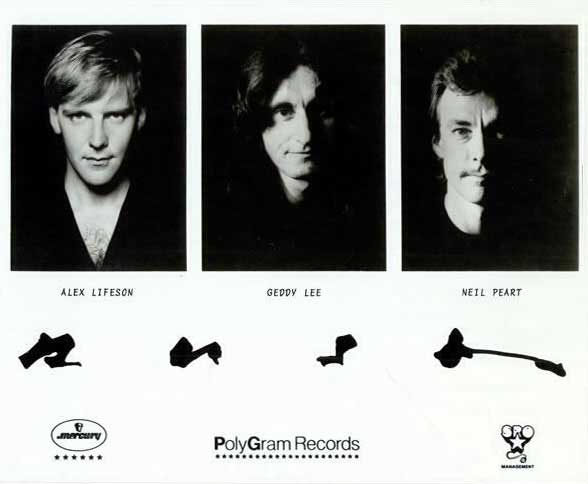 Much has been written about America's embracing of Canadian rock bands in the last few years, but Neil Peart is hearing nothing of it.
As far as the drummer for Toronto-based Rush is concerned, it's all a bunch of ballyhoo.
"It's silly because what happens musically in Canada is essentially the same in the U.S.," Peart said in a telephone interview last week. "I mean if they got rid of the 49th parallel, I'd just as soon join up with the U.S."
Peart politely explained that he believes Canadian musicians long ago reached parity with American bands and that no distinct line need be drawn between them.
But Peart, 29, hinted that he's not all that pleased with the current music scene in Canada.
"To me, they all have the same tendencies. In America, bands have always faced the temptation to compromise their music standards and make money. That philosophy is everywhere now."
For Rush, though, the concept of "selling out" remains a foreign proposition. The band has never responded to commercial pressures to homogenize its sound. As a result, Rush has built a very loyal following.
Rush, touring in support of its "Signals" album, will be appearing in an 8 p.m. concert Thursday at Wings Stadium in Kalamazoo.
Often cited as one of the best drummers working in the rock field, Peart has undoubtedly been a key ingredient to the success of Rush, as has guitarist Alex Lifeson and bassist Geddy Lee.
A student of the instrument for 17 years, he took to playing the drums with an inquisitive, adventurous approach. Weaned on the big band beat of Gene Krupa, Peart's love affair with rock was first sparked by Keith Moon and the Who.
His interest progressed with the coming of such art rock groups as King Crimson, Genesis, Yes and Emerson, Lake and Palmer. Bill Bruford, who played with all but the latter, remains his favorite drummer.
"It's unfortunate some of the projects Bill's been involved with didn't go on longer," he said. "UK, for instance, was a terrific band. Their first album was magical musically."
Peart expressed admiration for any drummer willing to take chances and become a bit daring. He is, for instance, amused by the unusual new wave turn taken by former Frank Zappa drummer Terry Bozzio in his adventurous group, Missing Persons.
But he practically shows contempt for the direction taken by Carl Palmer, former ELP drummer, in the supergroup Asia.
"I don't understand why any drummer would want to drop everything they learned like that and go back to kindergarten stuff. I was disappointed by Asia's album. I like them individually and have followed all their careers, but it's painfully obvious why they made the record they did."
Peart clearly believes there is more to making music than selling records.
Anyhow, these days Peart is listening to the beat of a different drummer, people like Peter Gabriel, Joe Jackson and the Talking Heads.
"My style of playing and expression has changed to incorporate the new rhythms such as reggae and electronic pulses," he said.
"The fresh, new styles provided an undercurrent in 1980 which affected the very foundation of music and we were drawn in by it. They're the same impulses that started showing up on our 'Permanent Waves' LP."
Peart's experimentation with rhythm in composition took very different directions on the new "Signals" album.
He puts a Police-styled, "white reggae" drum pattern to good use on the song, "Digital Man." For "The Weapon," Peart had to learn his part from a Roland drum machine, something many drummers would avoid at all cost.
"Some drummers feel threatened by drum machines, but I look upon them basically as a songwriting tool," he said. "Mixing them with standard percussion is really no different than combining electric and acoustic guitars."
While Peart's forte is rock, he said he enjoys all musical styles.
"I suppose I have a primal relationship with playing hard and I like the sound when I really whack the drums, but the subtlety and quick inventiveness of jazz is something I also enjoy. Jazz or rock are not exclusive to me. I'm not a purist."
Rush started out a heavy metal outfit, releasing its first album before Peart replaced original drummer John Rutsey. As the band matured musically and Peart developed as its chief lyricist, Rush began to incorporate classical and jazz phrasings into its progressive direction.
The addition of keyboards, beginning with the band's album, "A Farewell to Kings," he feels, was "absolutely critical."
The group considered adding a fourth member, but Geddy Lee volunteered to play synthesizers, rather than risk upsetting the chemistry that existed among the three members.
"I suppose it sounds rather maudlin, but we are the best of friends. We have great mutual respect and admiration for each other. We just took our first full holiday together, spending a week sailing in the Caribbean."
Music and sailing are not the only passions the trio shares. Lee is an avid baseball fan and Peart said the others can't help but be involved.
"You can't watch a game without Geddy expounding his impressions on almost every play," he said.
Since Rush does all of its recording at Le Studio in Montreal, the band has adopted the Expos as its favorite baseball team. Warren Cromartie, the Expos' outfielder, has become a big fan of the band.
"We're looked on as being successful and glamorous, but baseball players are treated the same way, so Warren just likes our music and that's real refreshing to us," Peart says.
Besides its baseball buddies, Rush also hangs out with a number of Toronto musicians.
"We're all within the same proximity, so we tend to hang out together. It's mainly a geographic situation. Toronto is a tightly woven music center, much like London."
Tickets for the Rush concert at Wings are $11 and are available at Believe in Music record stores. Blues rocker Rory Gallagher will open the concert.