RUSH
By Steve Gett, Sounds, Fan Library #6, January 1983, transcribed by John Patuto
[A special collectors magazine packed with photos, interviews and biographical information. An expanded version of the text would reappear a year later as Steve Gett's book,
Success Under Pressure
.]
---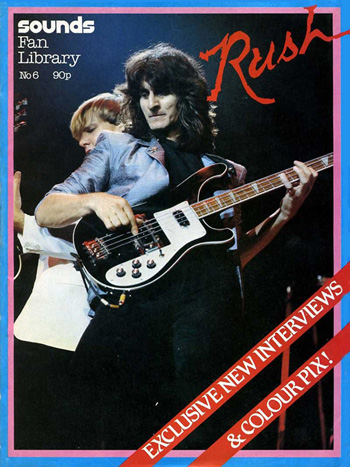 Rush are unquestionably one of the major forces in the heavy rock world and have developed a fanatical following on both sides of the Atlantic. Indeed the popularity of the Canadian trio has escalated phenomenally since they first came to Britain in 1977.

This Issue of the Sounds Fan Library is completely devoted to Rush and examines their history from the early days in Toronto right through to the present. As well as exclusive interviews and individual profiles of Alex, Geddy and Neil, there's a vast array of photographs, many of which have never been published, and also a chance to win autographed 'Signals' tour programmes and copies of the new album.
---
In The Beginning: Alex Lifeson Looks Back On The Early Days
"Rush initially started gigging in September, 1968, and the first shows we ever did were in the basement of a church in Toronto. It was a drop-in center and you'd get between 30 and 40 people on a Friday night, who'd be served tea, coffee and potato chips, while the band played.
"At that stage, the line-up consisted of myself, John Rutsey on drums and a bassist called Jeff Jones, who'd played in a number of Toronto groups and a couple of fairly successful Canadian bands. But he left after the second gig because he had too many other commitments. We were all very young, though, so it was no big deal and only about 60 people had actually seen us.
"I'd known Geddy for a couple of years and, at that point, I'd jammed with him quite a lot. So, after Jeff had gone, I called him up and I think he expected me to ask if I could borrow his amplifier, which I was always doing! But I asked him if he could come and do a gig with us and he agreed. We went down early and ran through about a dozen songs that all three of us knew. We ended up playing those three times over during the course of the evening!
"Things worked out, though, and after a couple of shows we were offered a steady gig there until March, 1969, by which time we were playing to about 300 people a night. It was steady work and we were getting paid 25 to 30 dollars per gig, which wasn't bad. We'd split that three ways and either spend it in a restaurant or just do whatever we wanted with our ten bucks.
During the day we were still going to school - everybody was in their mid-teens. In March we expanded the group and a piano player joined, who ended up being Geddy's brother-in-law. He was in the band for five or six months but it didn't really work out and in the end he left, followed shortly by Geddy. Basically things fell apart and so we broke up. But after a few months we decided to get back together as a trio and things went from there.
"I think the turning point for us was when the drinking age in Ontario was lowered to 18; it had previously been 21. All of a sudden, there were stacks of clubs to play that were never there before. We started working professionally at that point, which was in 1972. Rather than just playing one or two high schools at the weekend, and maybe three or four gigs in the course of a month, we were playing six days a week, with matinees on Saturdays - week after week after week! We never stopped. You'd do a rotation: play one club one week and then a series of others, before ending up at the first one six weeks later. There was never really a shortage of work. We really developed a strong following and eventually got the money together to record our first LP."
Although Rush had developed a strong following on the Toronto club circuit and made enough money to record an album they had one major problem - a total lack of record company interest.
Lifeson explains: "It was extremely hard for us to get a deal," reflects Alex. "Nobody wanted to sign us because we just weren't considered 'sellable' at the time. In Canada, if you were the Guess Who, then you had a much better chance because you had something that was very commercial, which could be heard on the radio. We always had a strange reputation in the Canadian music industry. Nobody wanted to know us because we were labeled as being too heavy, with a singer who had a crazy voice."
Consequently, Rush were forced to make their debut LP on their own. They were aided by longtime manager Ran Danniels, and his partner Vic Wilson, who decided to release the record on their own independent Moon Records label. But finding the time to go into the studios was hardly a simple matter, since the band had to keep gigging in order to sustain the cashflow.
"We had to start work after playing in a club and record through the night," Alex recalls. "We'd tear down the gear and go in at two in the morning until eight, when we had to get out. You'd do that one week, but then you couldn't get back in the studios for another three weeks, which was very frustrating. But we had no other options. Without a proper record company behind us, we had to make do the best we could.
"And that's how the first LP was done. I think we only spent three days of actual recording, and then a couple more re-doing two songs and mixing the whole thing. It was all done in under a week, but was spread out over several months."
The 'Rush' album was finally released in 1974 and basically comprised a selection of straightforward, hard rock tunes reminiscent of early Zeppelin. It had a lot of rough edges but nevertheless contained a couple of gems in 'Finding My Way' and 'Working Man'. However, although they now had some vinyl products to promote, Rush's troubles were still far from over.
"Our reputation still wasn't good," stated Lifeson, "but we eventually got a break when a powerful FM radio station in Cleveland got hold of the record and started playing it a lot."
The station in question was Cleveland's WMMS and the DJ who picked up on the group was a lady named Donna Halper. Her consistent playing of the LP resulted in strong import sales, which subsequently caught the attention of the ATI booking agency in New York who then expressed an interest in lining up some Stateside dates for the group. A tour was eventually set up when Mercury Records decided to sign them with a worldwide deal.
At last Rush were set to cross the border but not before drummer John Rutsey quit the line-up. His departure has generally been put down to that old cliche of 'musical differences' and also the poor state of his health, but why did he actually leave?
Alex: "It was weird. I'd actually been friends with John for a long, long time - since we were about eight or nine years old. John was not the easiest person to get along with; he was quite moody at times and I think he expected a lot from his friends. When we got to the point that the decision had to be made, we'd already thought about getting a new drummer for the past year. John was aware of it - he was very sick at the time - but after we tried another drummer, we said to him 'It's not working out. Do you think you can get it together?'
"We managed to work for another year, but in the end there was no point because we weren't really getting along very well. Musically, Geddy and I wanted to do a lot of different things and he wasn't really into the idea. He wanted to go into more of a straight ahead rock thing, like Bad Company, I guess. When we sat down and talked about it, he decided he was going to leave.
"We played another six weeks of gigs and, strangely enough, we had the best time we'd ever had playing together. I kept in touch with him for a few years afterwards, but I haven't seen him in three or four years. I hear he's into body-building now and that he did a bit of TV work but, other than that, I don't really know. It's kinda too bad."
Enter ... Neil Peart
During the early days of Rush, drummer Neil Peart had played in a number of bands around the Niagara Peninsula area, before leaving to live in England for a year and a half. In London he earnt a living by working in Carnaby Street and in his spare time played in the odd group as well as doing some session work. His search for 'fame and fortune' proved to be in vain and eventually he returned to Canada where he hooked up with Rush.
Neil joined the band on 29th June '74 - Geddy's 21st birthday [sic: the actual day, and Geddy's birthday, was 29th July '74] - and slotted into the line-up very easily. Mind you, time was very much of the essence, and two weeks later Rush made their debut live appearance on American soil in Pittsburgh, opening for Uriah Heep in front of 18,000 people.
"When Neil joined, we were playing material from the first LP and from our club days." reflects Lifeson. "So, basically, he fitted in to what was already there and it soon became as close to him as it was to us. To tell the truth, after about six weeks, it never seemed to me that we'd had anyone else in the band."
Peart's arrival coincided with the start of what was to be a protracted period of 'road life' and as he once stated about that Pittsburgh gig: "This was the first night of an endless tour, the first of many to be spent on the concert stages of America and Canada, refining and developing our skills, and learning to live with a permanently packed suitcase, and a very brief, very occasional sojourn at home."
Rush gained a good deal of road experience from their debut Stateside outing and they also managed to find the time to write material for their second album. After Neil joined, the rest of '74 had been spent gigging and it was January 1975 that Rush entered Toronto Sound studios to start working on the new LP. It must have been quite a relief for Geddy and Alex not to have to record spasmodically after playing in clubs - as they'd done last time - and when 'Fly By Night' emerged it was clear that the band had been able to take their time in achieving the sounds they wanted. Indeed, many regard this album as the first proper Rush LP and certainly Peart's presence was clearly felt by his strong lyrical contribution.
Neil: "Somehow I found myself writing many of the lyrics, probably because neither Alex nor Goody were very interested in doing it, and it seemed to me like it would be fun. We were getting to know each other better, and the personal chemistry and unity of purpose began to develop, which has sustained and inspired us against all adversity."
Alex had stated that he and Geddy had been keen to explore different musical directions and on 'Fly By Night' this had been achieved. While the approach of the debut platter had been very basic, now the material had become far more diverse and although there were straight 'rock' tunes there were also more complex works - the epic 'By Tor And The Snow Dog' immediately springs to mind.
On the whole, reaction to the record was extremely encouraging. It went gold in Canada, sold respectably in the United States and also earnt Rush a Juno Award as best new band in Canada. Following its release, the band continued to tour until they returned to Toronto Sound in July '75.
A number like 'By Tor' had opened the way for Rush's use of extended storylines and it was a direction they were to pursue on elpee number three, 'Caress of Steel'. An entire side of the record was devoted to 'Fountain of Lamneth' and in fact Prince By Tor was to show up again on the lengthy 'Necromancer'. The band were very proud of their latest opus but unhappily it sold poorly. "That album got so much negative response from so many people," Geddy told an American magazine. "Nobody believed in it and we'd worked bloody hard on it. People were saying it was a naïve album made by naïve people. So what's wrong with being naïve?"
Ironically, people suggested that Rush should record material along the lines of their first LP - perhaps they merely resented the fact that here was a band who were prepared to veer off in different tangents rather than adhering to the norm. Whatever the reasons, the album was not destined to do Rush any favours and the accompanying tour soon became tagged as the 'Down the Tubes Tour'. Things certainty weren't looking good and in some ways Rush appeared to have lost their momentum as they played a string of small town club dates.
"We were very low at that point," recalls Geddy, "I remember we were travelling overnight to a gig in Atlanta, and we were so bluesed out that we thought, 'What's the point? Let's give up and go home'. But we said 'Before we make this decision let's not see each other for three days and think about it. So outside of the gig we didn't see or talk to each other. Then we got back together and just said, 'F-k these people! There's no reason for us to quit just because these people are bummed out. It doesn't change the reasons we're here'. And '2112' was really a reaction to that whole period and probably why we struck out for individualism on that record was because of the pressure to conform."
'2112', as you are no doubt aware, was the fourth studio album and it proved to be very much the turning point for Rush. It was recorded in the cold Toronto Winter of 1976 and came out in the spring of that year. Side one of the record dealt with a futuristic tale of the struggle of freedom against oppression and Neil Peart's lyrics were based on Ayn Rand's sci-fi novel 'Anthem', a book that had also spawned the title of a tune on 'Fly By Night'. The LP is unquestionably a masterpiece and as well as the '2112' story it also contained a string of fine tunes on the second side.
According to Neil Peart: "We felt at the time that we had achieved something that was really our own sound, and hopefully established ourselves as a definite entity."
'2112' was the group's first major success and it also brought Rush to the attention of Marvel comic writer David Kraft. In fact the March '76 issue of 'The Defenders' was dedicated to them and the comic's villain Red Rajah actually quoted from the song 'The Twilight Zone'.
More importantly though, '2112' helped Rush to build heavily on their cult following in Britain. Though it wasn't released here until '77, import copies had begun to filter through and created a good deal of interest in metallic circles.
That interest was further sustained by the live double 'All The World's A Stage', which emerged in America and Canada in autumn '76. The package had been recorded over three nights - June 11/12/13 J - at Toronto's Massey Hall and comprised the complete live show at that point with material coming from all four studio efforts.
In a rave review of the LP in the November Issue of Sounds, Geoff Barton proclaimed: "Rush are probably the best undiscovered band in Britain at the moment. I strongly recommend you to check them out."
The Bartonian five-star review really boosted British interest in the Canadian trio and over the ensuing months there was plenty of speculation as to when they'd be coming over to play. Finally, in the spring of '77 it was announced that a seven-date tour had been set up for June and box offices soon reported lightning sales.
The opening night of the tour was on June 1 at Sheffield City Hall and when Barton reported on the event it was obvious that he'd been in his element ... "A momentous occasion for me, seeing the band at last take to a British stage, an occasion to which I'd looked forward for so long."
Three days later, Rush made their debut appearance at London's Hammersmith Odeon and put on a truly splendid performance based around the live album, with the addition of 'The Necromancer' and a 'new' number entitled 'Xanadu'. The audience consisted of diehard Rush fanatics and few left the hall disappointed at the end of the show. It was amazing though to see at first-hand just how strong a cult following the group had created in this country and no-one was more surprised than the band themselves.
"We thought we might have a bit of a following in Britain, having received some fan mail," states Alex. "But basically we just expected small to average crowds. When we realized how strong the fan level was, we were totally blown away."
Rush had arrived. After plenty of hard grind they were now earning recognition on both sides of the Atlantic and had come to the end of a chapter in their career. Indeed as the sleeve notes on the back: of 'All The World's A Stage' read: "This album to us, signifies the end of the beginning, a milestone to mark the close of chapter one in the annals of Rush."
---
Farewell To The Seventies
Following the completion of their inaugural British tour, Rush remained in the country and started working on there next album 'A Farewell To Kings' at Rockfield studios in Wales. It was the firs time that the group had recorded outside of their native Canada and the different environment brought about a marked change in their musical approach.
"We found the seclusion and the mellow atmosphere at Rockfield very conducive to work," states Neil Peart, "and we made good use of their varied facilities, including a huge acoustic echo room and the unique opportunity to record outdoors."
Indeed, the sound of Welsh birds can be heard on the title track and also at the start of 'Xanadu', the number previewed on the June UK dates, which turned out to be a vinyl classic. The other highlight emerged in the form of 'Cygnus X-1', a ten and a half minute epic, the story of which the band promised would be continued at a later date.
Rush had mixed the LP at London's Advision Studios and upon its release they returned to the road in North America. February '80 saw them back in Britain for a 14-date tour, after which they went to Europe.
The 'Farewell to Kings' tour continued through until the summer, at which point Rush returned to Rockfield to make their second album on the Welsh countryside. On 'Hemispheres' the band kept their word and completed the tale of 'Cygnus X-1' in the form of the LP's title track which spanned the whole of the first side. In fact there were only three other numbers featured - 'The Trees', 'Circumstances' and 'La Villa Strangiato', a lengthy instrumental apparently based on Alex Lifeson's nightmares!
'Hemispheres' was unquestionably the trio's most ambitious and complex effort to date, and took a lot longer to complete than had initially been anticipated.
"It was the longest time we'd ever spent on an album," Lifeson recalls. "By the time we got to Trident studios in London for the mixing, we'd been in Britain for two and a half months, one month longer than we'd expected. But the thing is that Hemispheres was a different album altogether and it headed off in various directions."
One can't argue with the guitarist, but at the same time there were those who considered the band to be going out of their depth. One American journalist questioned Geddy about Rush's penchant for extended works.
"You could say we're trying to prove ourselves to ourselves." Lee responded. Every time we go out, we want to say to ourselves 'We're not just another band'. What we've always looked for is our own little space we could fit in and we've got that now. We have a sound, our sound.
The sixth Rush LP hit the streets in late '78 and subsequently they embarked on the 'Tour of The Hemispheres'. As usual, the live dates kicked off in the States and it wasn't until April the following year that they arrived in the UK. The British gigs opened with a two-night stand at Newcastle's City Hall and continued through to mid-May with old friends Max Webster supporting. The next step was to the continent and finally the tour came to a close on June 4 (the second anniversary of their Hammersmith Odeon debut incidentally) with an appearance at the Pink Pop festival in Holland.
Alex Lifeson played the gig with a broken finger but afterwards he and the rest of the band were able to go back home for a well-earned break...
---
Into The Eighties
Having spent the past two summers at Rockfield, the band were glad to get back home for their 1979 vacation. Up until now they had maintained a non-stop schedule of touring and recording and at last they were able to take some time off before entering the studios. Rush allowed themselves a six-week holiday and then re-assembled at Lakewoods Farm to start work on the 'Permanent Waves' LP. They wrote and rehearsed in an old farmhouse and after a few days rough versions of 'The Spirit of Radio', 'Free Will' and 'Jacobs Ladder' had been put down on cassette.
Eventually they moved onto the demo studios, Sound Kitchen in North Toronto, and after working there for a while went back on the road before commencing the actual recording of the album. Thus, they were able to 'work in' the new tunes in the live environment, as well as at sound checks and in fact this approach was to become standard practice in the future.
Alex: "Ever since Permanent Waves, we've made a point of going out for at least a couple of weeks after writing and rehearsing. You can't really get in shape for the studio by sitting in a rehearsal studio like you can from playing a two-hour set with soundchecks and everything. So we now make a point of going out for at least a couple of weeks before recording."
Consequently Rush returned to England in September '79, when they played at Stafford's Bingley Hall. Shortly afterwards it was back to the studios. Whenever they'd recorded in Canada it had been at Toronto Sound studios but this time Rush chose to work at Le Studio, which is situated some 60 miles north of Montreal. Once again the group took advantage of the surrounding countryside, which encompasses some 250 acres of land and includes a private lake, and set up microphones out in the open.
According to Neil Peart: "Alex and I splashed oars in the lake with shivering hands to record the 'Tide Pool' effects, voices and guitar sounds were sent out over the lake to make use of it's natural echo, the tympani was recorded outdoors and guitar amps were strung all over the building to take advantage of as many different sounds as possible."
The backing tracks for five numbers were laid down swiftly and the final song was originally intended to be a medieval epic from King Arthur's time titled 'Sir Gawain And The Green Night'. However, in the end the band considered that topic to be somewhat out of context with the rest of the material and eventually they settled on 'Natural Science'.
'Permanent Waves' was mixed at London's Trident Studios and finally hit the streets early in 1980. The record evidenced a marked departure from the 'Farewell To Kings'/'Hemispheres' style and was definitely far more accessible. As Neil Peart told Sounds' Pete Makowski:
"That was our first album that was in touch with reality. It was about people dealing with technology instead of people dealing with some futuristic world or using symbols."
The LP spawned a hit single for the band with 'The Spirit of Radio' and by now they had established themselves as a major force in the rock world. By the time they came to Britain in June 1980 they were able to sell-out five nights at Hammersmith Odeon - no mean feat that!
Rush actually made tapes of all their British live dates and they originally planned to release their second concert platter after 'Permanent Waves', but as more fresh material emerged during their soundchecks they decided to go for another studio LP.
In July the trio went into Toronto's Phase One studios and recorded the song 'Battlescar' with Max Webster, which was later to emerge on the Websters' 'Universal Juveniles' album. From there they went to a place called Stony Lake in Ontario and began pre-production on their own LP. By the end of August it was back to Phase One for demo recording.
October saw a brief American tour, during which new songs like 'Tom Sawyer' and 'Limelight' were previewed, and at the end of the month Rush returned to Le Studio. There they spent a couple of months recording 'Moving Pictures' which was released in February '82. The direction adopted on the previous album was continued although 'Moving Pictures' was somewhat more of a darker, haunting package. It was a very well produced affair but took a fair deal of intense listening to fully appreciate. Although they were proud of the LP, in retrospect Rush were to feel the need to explore fresh territories the next time around.
"Recording became semi-automatic with 'Moving Pictures'," explains Geddy, "although it was a difficult album to make, we could achieve that sound real easy. What we achieved on that record was a sound that almost bordered on being slick and that's kind of dangerous for a band like us."
Clearly there was going to be a good deal of change on the ensuing studio record and Rush afforded themselves a protracted 'lay-off' before commencing work on it. The 'Moving Pictures' tour kicked off in North America (again!) and finally hit Britain in October '81. This time the band moved into the country's larges venues and played places like Wembly and Birmingham's NEC.
As well as the UK tour, the autumn also witnessed the emergence of the second live elpee 'Exit...Stage Left'. At the time of its release Neil Peart stated "Such as it is, we're all very proud of this one. Everything has improved so much since our last, somewhat uneven live effort - 'All The World's A Stage'. (That was by a different group) Once again it's a kind of anthology album, a summation of the live highlights of our previous four studio albums and a couple of older reincarnations."
Geddy explains why the band decided to make another live album: "I guess there were a whole lot of reasons. One was that we felt our live sound had changed so much that we figured we needed to update it on the record. I mean 'All The World's A Stage' was a whole lot different. But doing a live LP is also a great device to get sort of hiatus between albums and we finally wanted that. We wanted to have a longer gap so that we could do some writing on our own."
Mind you, Geddy isn't particularly fond of concert recordings and openly admits: "I hate doing them and in some ways I'm almost sorry we did 'Exit'..."
Reasons?
"Doing a live album is a real boring experience. They're sort of historical and very painful to do because there's nothing really creative about them. You play the gigs and invariably whenever you're recording you stiffen up and it's not the same.
'Exit...Stage Left' was recorded over a number of gigs and as with all live albums there was a certain amount of overdubbing done in the mixing stage. In the words of Neil Peart: "It would be so much easier if we were just perfect!"
And so 'Exit...Stage Left' closed another chapter in the Rush history. Since the release of the first live album they'd become hugely successful but happily without compromise. Indeed, as the liner notes of 'Exit' state: "For reasons beyond our comprehension we have become increasingly more popular, and hence stretched ever more thinly among even more people.
"If sometimes we can't give the time they deserve, to our friends and loved ones, we hope that they will understand and forgive us. After all, we didn't change, everybody else did!"
---
New World Music
Rush had started writing new tunes during the mix of 'Exit... Stage Left' at Le Studio in September '81 and in fact the protracted gap between studio albums created by the live LP allowed them the longest period they'd ever had to assemble fresh material. Upon their return from the 'Moving Pictures' tour, the individual band members went their separate ways and subsequently began writing on their own, something they'd never done before.
Alex: "It was interesting because we'd usually go up north and hide away for a month or so when we started writing. This time, because we had the break, we worked more on our own. Geddy and I both have studios at home and we were in those for quite a while. We also had the tapes of soundchecks we'd been recording over the last tour, so we could sift through them and piece bits together. In the end, we had a lot to choose from, which had never really been the case in the past. And that allowed us to be a little more critical about what was being written.
"In the past, we'd tended to come across an idea, start working on it, thinking it was great, and then a few months later find ourselves feeling that it could have been a little better. This time we could pick and choose, combining two or three different ideas into one. I think it's a direction we'll follow - doing more basic homework."
Lifeson clearly feels that writing alone helped Rush to be more objective in their choice of material but one wonders whether it might not have led to a certain amount of frustration of one's material not being used.
"No, that's never been the case with us," the guitarist answers. "We're kind of lucky because it's a three-piece band and because Geddy and I write most of the music. He and I work really well together and now, when the two of us write, we really bounce off each other more than we ever did before. It's a lot more objective and you can look at something you've done and be honest and say 'That's really not that very good - it doesn't suit that piece!'
By the spring of '82m after a two-week stint on the road in Texas, Rush returned to Le Studio and spent about three months recording 'Signals'. They started on April 18 and finished on July 15, a month longer than had been expected.
"We wanted to finish by the middle of June," explains Alex, "and we ended up losing a month of our holiday by carrying it through. That was a sacrifice, believe me! The reason it took us longer was because it was a whole different approach for us, both in the recording and the mixing stages. In the past, things were a lot different. 'Moving Pictures', for instance, was a very lush, full-sounding LP, where the guitars were double, triple and even quadruple tracked. But with 'Signals' we wanted to get a more angular sound, where everything had its place and there was a little more perspective to all the instruments.
"The focus was not so much on the guitar being 'here' and the drums being 'there' - it was a little more spread out in different percentages. So that took a bit of experimenting, which in turn meant more time in the studio."
Though time was well spent though and in the end Rush surfaced with an exceedingly good LP. Once again, they had not feared to experiment and the record evidences a marked change from their previous releases.
Geddy: "Basically we didn't want to go in and make another Moving Pictures because that's kind of against everything we've ever done. So we made a conscious effort not to play it safe and try to experiment in order to change our sound. It was time to inject some fresh blood."
"When you reach the stage of being a successful band, there's more and more pressure to stay the same and that is very dangerous. It leads to complacency and pretty soon you end up churning out the same bullshit album after album."
"We've always been a fairly experimental group, and one of the reasons we'll continue to be that way is because of the fear of becoming boring old farts!"
'Signals' features some strong hints or reggae on certain tracks but Geddy reckons that the reason for this is that band were merely attempting to incorporate a little more 'feel'. Looking back over the earlier albums, Lee thinks that this was something that was missing while they'd gone through the whole 'techno-rock' trip and that using reggae has helped inject feeling into their music. He stresses that Rush won't always make 'reggae-oriented' LP's.
Geddy is also convinced that the band has matured a good deal and that they're now communicating much better with the listener. The song 'Subdivisions' is irrefutable proof of this fact.
The record was released at the beginning of September, at which point Rush embarked on a marathon Stateside trek. The current live show opens with 'The Spirit of Radio' followed by 'Tom Sawyer' and 'Free Will' and features all of 'Signals' bar the song 'Losing It'.
"I think this is the best set we've ever done." proclaims Alex Lifeson. "The pacing is very 'up' and it doesn't seem to let down at any point. To me, things are moving along a lot better now that some of the older, longer pieces aren't there anymore. Also the show itself has a totally different feel to it.
The band has a different appearance, the sound has taken a step forward, everything is much fresher and to tell you the truth I feel really good - almost re-born."
The older material is basically confined to a medley at the end of the show which comprises edited versions of '2112', of 'Xanadu', 'La Villa Strangiato' and 'In The Mood'. This may come as a disappointment to some fans but as Alex points out : "Well I can sympathize with people who want to hear us do more old stuff, but there is a limit to what you can actually play during a two- hour set. Nowadays, we want to play a lot more of the newer material from Permanent Waves on and it feels good doing the fresher tunes.
A lot of the recent material is accompanied by films, projected on a giant screen behind the band, and one of the reasons for this is that the group felt the need to have extra visuals now that the music forces them to concentrate on their instruments a lot more. Geddy tends to spend more than half the show behind his keyboard. On the whole though, the latest Rush set works extremely well and with any luck British supporters will get the chance to see it in 1983.
And so that basically concludes The Rush Story so far. A lot of water has passed under the bridge since the early days in Toronto but the years of hard graft have paid off for the Canadian trio. Rush are extremely successful and one wonders whether attaining their current high ranking status has helped alleviate some of the pressure.
"The pressure is different now," maintains Alex. "It's greater in some respects and less in others. We don't have to play nine days in a row anymore, with one day off in between. But, at the same time, the show has grown a lot since those days and there's a little more responsibility inherent in that. But, if you stay on top of things then it never gets to the point where it's a major concern. And if, by any chance, it does, then it's easily dealt with because everybody's basically on the same level."
---
Behind The Scenes: On The Road
12 Noon ... Somewhere In America
The lady behind the hotel desk looks totally bewildered as Rush's tour manager Howard 'Herns' Ungerleider attempts to settle the accounts for the band and their entourage. "Yes, that's right - I need one bill for all the rooms and a separate one for all the extras." he explains for the umpteenth time. Howard's patience is rapidly diminishing and eventually the hotel manager is called to resolve the situation. The whole task shouldn't take long to complete but "typical inefficiency" causes delay and time is very much of the essence for the road manager since he's due at the hall shortly. Half an hour later, with everything under control, he is at last able to leave, shaking his head in disbelief:
"You know, this happens everywhere we go - it's a real pain!"
Unnecessary aggravation, and yet Howard's day has only just begun. But he's used to it now, having spent the last eight years touring with Rush. Aside from his duties as a road manager, Howard is also the group's lighting director and once he arrives at the gig he has to start preparing for the show.
"My day tends to start with as many problems as you can think of, and they've all got to be sorted out. Usually I go down to the hall around one o'clock and see if everything is all in order. By then the PA and lights should be up and the band's gear should be ready to go on. But sometimes there might be problems and these have to be ironed out as soon as possible. We have to keep a pretty hectic schedule.
"The group do soundchecks religiously and these start around 4:30 and run through until six. After that, the support band can put their stuff up. By then it does seem like you've done a day's work but of course the show is still to come. And for the guys working with me, it must feel like they've done a week's work! Most of the crew arrive at eight o'clock in the morning having driven overnight from the previous gig with little or no sleep at all. The pace is very strenuous."
Does life on the road with Rush become hard to handle?
"No, not really. You kind of get used to it. You lose sleep but that's the case on any tour. At one time we were doing about 220 shows a year and that got pretty wild, but now that's been narrowed down to between 140 and 160. That's the good thing about headlining and becoming successful - when you're an opening act you have to tour."
Howard's life as Rush tour manager started in 1974, when the trio embarked on their first Stateside tour. "I was working for a talent agency in New York called ATI," he recalls, "and they were the people who set up the first American dates for the band. I was sent up to be tour manager immediately prior to the release of the first album and I've been with them ever since. I've worked with other bands and when Rush aren't doing anything I've done Todd Rundgren and various other acts . . . I'm definitely a workaholic!"
When Rush have completed their soundcheck, their crew are allowed a brief respite before the start of their show. Before long though it's back to work and at this juncture Howard takes his place behind the lighting desk where he coordinates the visual side of the concerts. Rush have always put on highly spectacular shows and the current 'Signals' set is by far their most elaborate to date. Indeed, one would assume that months have been spent designing the lighting effects but in fact that is not the case.
Howard: "I don't really get much notice. I usually get a tape a month before the record comes out and the band won't know what set they're doing until a week before the tour starts. So in fact I only have about four days working with the system before I do it in public. It usually takes a few gigs to really get in the swing of it all."
Witnessing Howard operate the lighting board is a show in itself and he really seems to get into it as much as the band themselves. Rarely still for a second, he presses the buttons like some kind of keyboard wizard and can rarely be faulted for his work. But even after the concert has finished, Howard is still kept busy.
"I have to do the settlements at the box office and make sure the accounts are all in order. I also have to see that everyone gets paid properly. While I'm doing this the crew have to take all the gear down and get it back in the trailers. We always move on at night-time so that we get to the next town early. The band splits as well and that way there's no travel problems with anybody being stuck."
The drive to the next venue depends on the distance, but usually nothing short of a couple of hours can be expected. And then, after a brief break, the whole procedure is repeated.
"Sometimes you wonder when it's going to end," says Howard, "but even though it's hard work being with a band like Rush it's also very rewarding."
Other 'regulars' on Rush tours are the band's personal crew - Skip 'Slider' Gildersleeve looks alter Geddy, Larry Allen takes care of Neil and Liam Burt is Alex's right-hand man. Tony Geranios (aka Jack Secret) is the guitar and synthesiser technician, while security is handled by Ian Grandy who used to take care of the out-front sound. Like Howard, all of the above have been with the group for many years.
"It's a close-nit thing." Howard affirms. "And in some ways it's like one big family."
---
Behind The Scenes: Off The Road
Another two characters who had been heavily involved with Rush over the years are Hugh Syme and producer Terry Brown. Hugh's initial involvement with the band came in 1975 when he provided graphics for the 'Caress of Steel' album cover. Since then he has contributed his artistic talents to all of the band's records, as well as handling the design of their tour programmes. According to Geddy, the concept of the 'Signals' sleeve was down to Mr. Syme.
"We wanted the album to sound different and we also thought that the packaging should have a different feel. When we were talking about 'Signals', Hugh had this concept of taking the idea down to a basic human level- territorial or even sexual.
"So that's how that design came about with the dog and the fire hydrant. And the little map on the back features make-believe subdivisions with a lot of silly names and places. The red dot represents all the fire hydrants and basically the whole thing maps out a series of territories."
Aside from graphics, Hugh Syme has also aired his musical skills on several Rush tunes and he earns keyboard credits on songs like 'Tears' from the '2112' album and 'Different Strings' from 'Permanent Waves'.
Terry Brown, affectionately known as '8roon' to the group, teamed up with Rush during the mixing of the first album. Originally the band had been producing and arranging things themselves but in the end they found the need to go for some outside objectivity. It was a prudent move and Terry has since co-produced all of the albums. In fact he actually earnt the sole production credit on 'Exit...Stage Left' and has continually been thanked for his overall 'creative guidance'.
It's rare that a band will stick with a producer so rigidly but as Geddy explains: "I guess it's because we've built up such a great working relationship. We're not the kind of band that can have a 'producer' type producer because we're very aware of what we want to do and we're also very stubborn in that respect. I don't think we'd get on with the kind of guy who tries to be dictatorial - it just wouldn't work. We have to work with somebody who's flexible and whose opinion we respect. Terry Brown fits that category and we have very high regard for his objectivity and creativity behind the desk."
"One day we might decide to go for a change but if we did it wouldn't be through any lack of respect for Terry. It would merely be a case of time and change. But I really don't know if that'll ever happen."
---
Geddy Lee
"If I had a nickel for every insult about my voice, I'd probably be a millionaire!"
Geddy Lee has certainly come under a good deal of fire over the years for his high-pitched vocal chords, but when one considers Rush's popularity there must be one hell of a lot of folks out there who like his unique style of singing. However it's not just with his voice that Geddy has built himself a strong reputation in the rock world - his all-round capabilities as a musician/songwriter have led him to be held in high esteem.
Originally, Geddy started off as a rhythm guitarist in pre-Rush days but later switched to strumming four strings when the bassist in his band quit. Nowadays though, he spends a lot of time playing keyboards, something he first started doing around the time of 'A Farewell To Kings'. At that juncture Rush had considered the possibility of enlisting a fourth member to handle them but in the end Geddy decided to take the burden by himself.
When the band came to Britain in February 1980 he was playing a Mini-Moog and one set of Moog Taurus pedals but now his list of keyboards is far more extensive. Indeed, on the 'Signals' tour he's using an Oberheim OBXA with a DSX Digital Sequencer, two Moog Taurus pedals, a Roland JP 8 Synth and Roland 808 Compu-Rhythm and a Mini-Moog with a Yamaha El0l0 Delay.
"When I first started playing keyboards I just wanted to use the occasional string line but the thing is that I like writing with them and I feel it gives us somewhere interesting to go to - it's helping us to mould our sound into something different than it was before. And I think it's a real bonus. It's one hell of a challenge for me and to tell the truth I do get very excited about using keyboards.
"I'm still very much in the dabbling stage though. Put me beside any real keyboard player and it's a joking matter. And I don't really pretend that I can play. I can write solo lines and melodies and play basic chord patterns which is really all I need. I certainly don't have any illusions about being a Keith Emerson or anything like that."
As well as playing keyboards on stage and in the studios, Geddy has found himself using them a lot more whilst writing - a fact evidenced by the direction of the band's recent works.
"Even before I played keyboards I still wrote more guitar than bass, simply because even though the bass is a good instrument to write riffs on it's very hard when you're trying to get melodies across. So I'd say that keyboards kind of took the place of my writing on the guitar. I feel more comfortable with them and it gives me a different point of view because looking at 88 keys and the way the notes are laid out in front of you is a lot different to picking up a guitar. Being able to play a little bit of keyboards, bass and guitar gives me a whole range to choose from."
The fact that Rush has become such A big entity in the rock world has obviously allowed Geddy the freedom to experiment more with his keyboards, but like the rest of the band he doesn't view success as a means to take things easy. It's clearly this kind of attitude that has enabled the group to continue over the years.
"I think complacency is the biggest fear we all have," states Geddy. "Making albums we didn't care about or playing shows with a 'Who gives a f-k' attitude - that's when it's time to stop."
Obviously there's little chance of Rush deciding to call it a day at the moment, since they still continue to function as an extremely creative unit. However there will be time when the individual members might be keen to pursue solo projects. Geddy is adamant that he'd like to do some recording with a few close friends but has no concrete plans at the moment - basically because Rush occupies so much of his time. Nevertheless he did get the chance to do some outside work in 1982 with the Canadian comedy team Bob and Doug McKenzie. Geddy sang vocals on the tune 'Take Off' which subsequently became quite a hit on the other side of the Atlantic.
"I went to school with Rick Moranis (Bob McKenzie)," he explains, "and I grew up with him. They were doing this album and they had some connections with Anthem (Rush's Canadian label), so they called me up and asked me if I'd sing on this track. So I went down and it took me all of half an hour to do. It was fun - strictly a fun thing to do with some pals. Nobody had any idea it would get as big as it did."
The song is quite amusing and, if you've not heard it, then try and get hold of a copy. Not surprisingly, Geddy is heard singing to his legendary high voice and it's interesting that off-stage he tends to converse in a very soft, hushed tone. One senses that he has little desire to live the Quintessential 'rockstar' lifestyle and that he's keen to guard his privacy.
He agrees: "I get tired of being popular! I hate not being able to remain anonymous and being a nobody who can just go to the ball game and have a beer without being bothered. I can't stand being introduced as Geddy Lee from Rush. There's certainly a place for 'rockstars' but I've never been able to fit that mould, I've always felt more of a musician than a 'star'.
"As much as I don't like to be recognised at times and find it embarrassing. I can deal with it. We've all gotten very protective. We value our privacy a lot and I think we've learnt how to put up a wall between ourselves and other people at times. There's a way to withdraw yourself from certain situations."
In spite of this, Geddy still reckons that Rush do retain a certain amount of 'street' contact with their fans. However it's when they're on the road that the band are best able to communicate with their devoted followers through the live performances. These days, it's becoming increasingly tougher for groups to make money through gigging and I asked Geddy what it's like for Rush and whether the current economic state is making things harder.
"How difficult is it to make money?" he questions. "For a band like us it's not. We're a popular band and although we have a very expensive show, inevitable we'll make money. I don't like to worry about economics too much but we've been very fortunate. A lot of bands have suffered and we've been very lucky. We've sort of flourished. It's kind of weird and I don't know if I can figure it out but that's just the way it's been. I guess maybe we've just moved on at our own pace aside from what's going on."
Rush certainly make a lot of money from album sales and with the added income of their live performances they must be keeping their bank managers very happy indeed. Another very big source of money for the group comes through their merchandising - the sales of t-shirts, programmes and other assorted Rush ephemera are phenomenal.
"The merchandise is a real big concern," admits Geddy, "just because it's an easy way to make money. With us though, our biggest concern is that the kids get some value for what they're buying. I hate playing places and seeing guys outside the halls selling unofficial merchandise. I really don't care if they make money - believe me - but they sell t-shirts and you wash 'em once and they f-kin' run. Or in England, people would be selling scarves and you'd wash 'em and there's no name left. We get letters from mums saying 'My son bought this scarf from you and it wasn't worth the money.' But that's not under our control. I think it's something to be concerned with though - ensuring that what the kid is getting is worth paying for."
Is there ever a point where the business side of things becomes too important?
"I don't think so. It always threatens to but I think we're such a tight-knit unit that when it seems to threaten we can say 'F-K OFF'!! pretty loud. And I think that's one of the reasons that the band has survived. We think as a unit and we tell people to 'F-k off! as a unit and they leave us alone. I think that's helped to keep the integrity in a lot of things that we do such as marketing, buying t-shirts or whatever - simply because nobody in the band can stand to see anyone get ripped off."
---
Neil Peart
"I first took up playing the drums at the age of 13, when my parents became weary of me beating up the furniture with a pair of chopsticks, and gave me drum lessons for my birthday. Soon I had my first drumkit, a lovely little three piece in red sparkle..."
These days, Neil is still playing a red drum kit although it is considerably more extensive than the one he had as a teenager. On the current 'Signals' tour he's using a huge set of Tamas, with Zildjian cymbals, all of which are bashed with Promark 747 sticks, with the varnish removed from the gripping area by his roadie Larry Allen.
Over the years Neil Peart has established himself as one of the top rock drummers in the business and also as an extremely prolific lyricist. Much of his inspiration for the latter stems from his keen interest in literature. He picked up his first book when he was six and was to spend much of his childhood reading.
"On my report cards from school they would say I would read anything I could get my mitts on. At that time I was reading typical detective stories - y'know, sort of kids adventure stories."
Gradually, the young lad was to develop a passion for fantasy and science fiction works and indeed this was evidenced by his lyrical contribution to Rush albums. One wonders what got him interested in these kinds of books though.
He explains: "A lot of things. I think coming from the suburbs did because when you come from such a bland background you're constantly looking for something that's more exciting. When I was in my early teens, England was a fantasy land of people doing larger than life things and I think you just look for something that's bigger than the background in which you are stuck at the time. Any place far away, whether it was real or not, became a fantasy - the idea of New York, London, Paris or Los Angeles was far greater than the reality could ever be.
"I needed a fantasy and science fiction to know that there was something more exciting than the world I was living in. It fulfills a need and I think that's the same for a lot of our audience. And this decade (the 80;s) reveals an amazing popularity of fantasy of all kinds. People's lives are so circumscribed by, not just reality, but really bland depressing reality. It's the thing I experienced in my teens - I think you need to reach out - you need to believe there's something bigger whether it's real or not."
Neil's point is valid and in these depressing days it's a little surprise that entertainment, be it rock music or whatever, continues to flourish. People need an element of escapism in their lives, especially if they are unable to break out of the environment. Neil was fortunate in being able to travel during his adolescence and in fact he spent 8 year and a half in England during the early seventies. He worked at a place called The Great Frog in Carnaby Street, a shop that still exists selling jewelry amongst other things and which also earnt a credit on the 'Permanent Waves' album. However, somewhat disillusioned by the music scene, Neil returned to Canada and subsequently became a member of Rush. Peart's lyrics for the band have progressed through the years and he believes that his selection of reading matter has dictated his own writing approach. From 'Fly By Night' through to 'Hemispheres' there was a strong emphasis on longer, protracted stories where as the latest 'Signals' record contains more concise pieces.
"I went through a whole period of being very ornate and very abstract." Peart reflects, "and at the time the kind of reading I was doing was very fantastic with a lot of Victorian ornamentation in it, where it would take a long time to tell a short story because there was so much description and so much dressing up of the idea."
"Now that my reading has grown up into writers of the 20's and 30's, where the trend was to strip everything down and say it all in as few words as you possibly could - and as accurately as you possibly could - it became a goal for me in my lyrics, where I wanted to use words for their exact shades of meaning. So I think a brevity and conciseness has introduced itself into my lyrics from that angle. I don't know about the transition from fantasy to reality - a bit of fantasy still remains there."
On the road, Neil can often be seen with his head buried in the pages of books and during the 'Moving Pictures' tour he cited Hemmingway, Steinbeck, Fitzgerald, Dos Passos, Barth and Gabriel Garcia Marquez as his literary 'heroes'. The '2112' story was based on Ayn Rand's 'Anthem' novel and another example of book influencing Neil was Richard Foster's 'A Nice Morning Drive' which served as an inspiration for 'Red Barchetta' on the 'Moving Pictures' album. That LP also saw an outsider contributing words in the form of 'Tom Sawyer' which was penned by Max Webster's Pye Dubois. On the whole though, the majority of Rush lyrics are handled by Neil with occasional tunes by Geddy and Alex.
Neil has also expressed interest in writing a novel and a couple of years ago stated that in the future he could see himself writing by profession and drumming as a hobby. Whether that will actually happen remains to be seen. In the meantime, Neil displayed his own literary skills through the text of the Rush tour programme. In 1978 he wrote 'A Condensed Rush Primer' in the 'Farewell to Kings' programme and has since provided copy for all of them bar 'Hemispheres' - that being another Bartonian epic!
One of Peart's most ambitious efforts surfaces in the 'Signals' tour programme where he provides a track-by-track documentary of the album. One of the most interesting is the story behind the tune 'Countdown', which was inspired by the band's visit to the launching of the Columbia space shuttle...
COUNTDOWN: Cape Kennedy, Florida, April 1982
We were there! It wasn't easy but made it! We had a long-standing invitation to the first launch, and always swore that we would be there no matter what. Little did we know!
On April 9th we flew into Orlando on a day off, checked into a hotel, and slept until about four A.M. when we had to leave for our rendezvous at the Air Force Base near the Cape. There we were met by our liaison man, who conducted us to safety into the "V.I.P." zone (Red Sector A) in the pre-dawn hours. We stood around, listening to the announcements, as the sun rose higher and hotter in the sky. We were due to play that night in Dallas, so we couldn't wait that much longer. Finally they announced that the launch would be scrubbed for that day. The computers weren't speaking!
Well, we ran for the car, and our daring driver sped off, around traffic jams, down the median of the highway, and got us to the airport barely on time.
The next night we had a Show in San Antonio, after which we drove off immediately, clambered into a hired jet, and flew straight back to Florida. This time the launch took place on schedule and it was SOMETHING!! (More about that in the song.) Again we raced back to the plane, and flew off once more, back to Fort Worth where we had a show that night. Fortunately the day after that was a day off, so we had a chance to catch up on all that sleep!
I remember thinking to myself as we flew back to Fort Worth after a couple of days without sleep: "We've got to write a song about that!" It was an incredible thing to witness, truly a once-in-a-lifetime experience. I can only hope that the song comes even close to capturing the excitement and awe we all felt that morning...
Rush fans would doubtless revel in more of Neil's accounts of band activities and one can only hope that he might decide to publish more in the future. Apparently he actually wrote a complete day-by-day diary on the 'Moving Pictures' tour, which would be very interesting.
At the same time though, Neil is keen to guard his private life very closely. On a recent encounter in the States I asked him to fill in a 'facts-file' - style questionnaire but he was extremely loathe to do so and actually wrote a reply which has been printed here.
Indeed, of the three Rush members, Neil appears to be the most reserved character, one whom one suspects does not suffer fools gladly. However he certainly deserves a good deal of respect as a creative artist.
---
Alex Lifeson
Alex Lifeson was born in the mountain fishing port of Fernie, British Columbia and began playing guitar when he was 12 after his father had bought him a Kent classical acoustic as a Christmas present. A year later he got his first electric, a 59 dollar Japanese copy, and before long he started playing in a band. Before picking up the guitar, Alex had attempted to learn the viola, but with little success. Basically he was self-taught as an axeman and cites Eric Clapton, Jeff Beck, Jimi Hendrix and Jimmy Page as early influences. The only technical training he went through was during Rush's days on the Toronto club circuit.
"A fiend I went to school with taught classic guitar - he was a very good teacher - and I studied with him for about a year and a half. That started around 1971, but one day he was in a motorcycle accident and had to go to hospital, so the lessons kinda fell off. Also we'd started to play a lot more in clubs so I wouldn't really have had the time to keep them up. That was the only training I've ever had though."
Alex had made his first live appearance in 1968 and six years later he made his vinyl debut on the 'Rush' album, That record displayed his strong affection for Jimmy Page's playing buy by 'Fly By Night' he'd started to develop his own style. At this juncture, and indeed up until the past couple of years Alex had generally favoured Gibson guitars. Nowadays though, he tends to prefer Fenders both on stage and in the studio. Why the change?
"When I first got my Fender it was just a replacement for my original Gibson 335 which I'd had since 1968, he explains. "We were doing a show with Blue Oyster Cult and the rigger who set up the baskets for the PA system didn't tie down the horns sitting on top of the bass cabinets. What then happened was that they vibrated themselves off the top of the cabinets and fell down on top of my double-neck guitars, shearing the pick-ups off and gouging the body. Then the speaker fell on my 335.
"I couldn't care less about the double-neck - that was easily replaced - but the 335 was very special to me. So I took it off the road and got a Fender to replace it. But I couldn't play with it. The neck, the body and the balance were totally alien to me.
"But then over the last few years I've started to use it a lot more. I put humbucking pick-ups in the back position and managed to get a sound that was closer to the body of a Gibson, but yet still had the bright character and clarity that Fenders are renowned for. I'd also kept the two front pick-ups as they were, in order to retain that special Fender sound.
"And so gradually, I got used to it. I put on a couple of different necks and now find it very comfortable to play.
"The ironic thing is, though, that I now find the Gibson's feel a little strange at times. They seem a little stiffer, although I still enjoy playing them very much. I was brought up on them and I think my change to Fenders was basically a technical progression."
On the 'Signals' tour, the only occasion when Alex uses a Gibson is during the medley at the end of the show. For the rest of the set it's Fenders all the way. I also noticed that he appears to be a lot less mobile than he was in the past and that there is a lot less 'guitar hero' posing going on. One of the main reasons for this must be the nature of the band's more recent material which seem to require more intense playing.
"I like the way it sounds even if I am standing stationary in one spot though." he declares. "You don't have to be jumping around the stage like a maniac to put on a good show. If it sounds good and you play everything well, then that's enough. At the end of the set we're doing some older material in the medley and that gives us a chance to move around a bit more - to jump about and be a bit looser."
While Rush have progressed musically over the years, their appearances have also altered a great deal. I can recall watching Alex back at the Hammersmith Odeon gig in 1977, clad in satin kimono and with a long mane of blond hang hanging down his back. The 1982 Lifeson is very different and he now has a very short-cropped barnet and generally favours jacket, shirt and tie as his stage attire. Whether it was a conscious effort to change his image he's not too sure.
Alex: "I really don't know. My hair grows very, very fast so every two months I look different anyway. I just felt like cutting it and in fact I like it a lot shorter. You can only wear satin pants and boots for so long. Nowadays I just dress depending upon the mood I'm in."
On the whole, Alex's mood seem to be fairly lighthearted and he's certainly not as serious as one might imagine.
"I like to get a laugh!" he states. "I don't like to take anything too seriously, especially equipment details, etc. Everybody takes that sort of thing too seriously ... but that's something else. As far as guitar playing goes, quite honestly with me a lot of things are very spontaneous. Songwriting is the same. I can sit down and struggle for fifteen minutes without holding the guitar and then come up with something immediately. I'm very fortunate in that respect. I think my playing has developed in stages. I don't sit down and play scales for 97 hours trying to develop something. I sit down and play because I enjoy it. And when I practice, it's not scales and things, it's melody. I think of guitar in those terms."
Alex also maintains that his solos are very dependant on spontaneity and in discussing the subject he chooses the difference between his approach and that of old friend Michael Schenker to illustrate his point.
"He'll take his tapes home and work on something for two weeks, figure out the solo and then learn it note perfect. Then he'll go into the studio and play it the way he rehearsed it. I suppose I could do that and it would work out OK, but I've never done solos like that, apart from on the firth two albums. Everything I do is spontaneous."
Alex has recorded some excellent lead breaks in his time and for me the middle section of 'La Villa Strangiato' has always remained a particular favourite. He's also proud of that but generally cites the ones where he's succeeded in coming across with 'feeling' as being his most memorable - 'Chemistry' and 'Limelight' are amongst these.
Other contemporary guitarists that Alex admires include Paco De Lucia, Allan Holdsworth, Eddie Van Halen, Andy Summers and Rory Gallagher. The latter, incidentally, has recently been supporting Rush in the States and ironically the Canadian trio actually opened for him in their early days. "It's very strange," reckons Alex. "I learnt a lot from watching Rory play when we toured with him back then."
On the current Rush tour, Alex's amplification comprises four Marshall combos and he's employing a wide range of effects which he lists as: "Two Yamaha E1010 Analog Delays, Delta Lab DL·5 Harmonizer, Loft Analog Delays, Advanced Audio Digital Delay, Roland Boss Chorus, Electric Mistress Flanger, Mutron Octave Divider, MXR Distortion Plus, Westinghouse Blender, Cry Baby Wah-Wah, two Amana Freezers, Morely Volume Pedal, a gas pedal, a flower petal, Maestro Parametric Filter, Cigarette Filter, six nozzles, three lungs and an MXR Micro Amp. All those effects are capable of producing a wide range of sounds. Some are scary while some are awful. I prefer the scary sounds..."
Once again, the guitarist's sense of humour and his inability to take things ultra-seriously are evidenced.
When he's not working with Rush, Alex likes to spend as much time as possible at home with his wife and sons and also in aeroplanes! No kidding, the axeman has quite a penchant for flying and he is becoming quite a proficient pilot. He's also an avid fan at model aircraft. In his account of the 'Permanent Waves' album, Neil had told of how Alex's toys had been the source of great amusements during the writing stage.
"One of the great feature attractions at Lakewoods Farm was Alex's radio-controlled airplane, and it's dramatic succession of 'horrible crashes', into the trees, the fields, the cows, and finally to meet it's end on a combination of chimney and roof!"
Neil has also said that he can see Alex wanting to spend more time as a Pilot - we shall see. In the meantime Rush still occupies a tremendous amount of the guitarist's life, as it has done for over 14 years.
---
The Rush Quiz
1) Who was the band's original bass player?
2) Which British band did Rush support on their first American tour?
3) In which Canadian city was 'All The World's A Stage' recorded?
4) What is Terry Brown's nickname?
5) Who played the violin on the song 'Losing It'?
6) On which album sleeve is Father Brown mentioned?
7) On which label was the 'Rush' LP originally released?
8) Which songs were featured on the b-side of the 12" version of 'Subdivisions'?
9) In which year did Max Webster support Rush in the UK?
10) What was the title of the book on which 'Red Barchetta' was inspired?
11) Where did Neil Peart work when he came to London in pre-Rush days?
12) How many studio albums have Rush released?
13) What was the opening cut on the first LP?
14) Which is the previously unreleased track on 'Exit...Stage Left'?
15) Have Rush ever headlined a British festival?
16) What is the name of Rush's management company?
17) Which radio station in Cleveland helped create interest in the first LP?
18) What was the first album to feature the lyrics of the song?
19) Which tune from 'A Farewell To Kings' did Rush preview on their first UK tour?
20) Where was the opening date on the tour?
21) Where did the 'Hemispheres' tour finish?
22) What was the song 'Countdown' based upon?
23) Which breed of dog is featured on the cover of 'Signals'?
24) What was the first song on side two of '2112'?
25) Name the three other tunes featured on the 'Closer To The Heart' EP (12 inch version).
26) And the meek shall inherit the earth...' - which song follows after these words?
27) Who Is Neil Peart's roadie?
28) Where was Alex Lifeson born?
29) What is the lettering on Toronto Airport luggage tags? (Yes, of course this is relevant!)
30) Name the only two London venues Rush have played.
1) Jeff Jones.
2) Uriah Heep.
3) Toronto.
4) Broon.
5) Ben Fink.
6) '2112'.
7) Moon Records.
8) 'Red Barchetta' and 'Jacob's Ladder'.
9) 1979.
10) 'A Nice Morning Drive'.
11) Carnaby Street.
12) Nine.
13) 'Finding My Way'.
14) 'Broon's Bane'.
15) No.
16) SRO Productions.
17) WMMS.
18) 'Fly By Night'.
19) 'Xanadu'.
20) Sheffield City Hall.
21) Holland.
22) The launch of the Columbia Space Shuttle.
23) Dalmatian.
24) 'A Passage To Bangkok'.
25) 'Bastille Day', 'Anthem' and 'The Temples of Syrinx'.
26) 'The Temples of Syrinx'.
27) Larry Allen.
28) Fernie, British Columbia.
29) YYZ.
30) Hammersmith Odeon and Wembley Arena.
---
Rush LP's
Since their debut LP emerged in 1974, Rush have recorded a further eight studio albums and released two double-live sets. What follows is a critical guide to all the Rush albums from the first one to the current 'Signals'. Aside from these, the only other package to have surfaced is 'Archives', a triple album comprising the first three elpees...
RUSH


(Mercury 9100 011)
Considering the fact that this album was recorded and mixed in less than a week, it wasn't a bad effort although I must confess that I rarely listen to it these days. Rush were a very a very young band at the time and their naïvety and inexperience was certainly in evidence. While later works were to see them establishing their own identity, on the first LP they seemed content to mimic the styles of others, particularly Led Zeppelin. Alex Lifeson's guitar playing owed a good deal to Jimmy Page and Geddy Lee was once described as sounding like 'Robert Plant on acid!' Mind you, one could hardly compare John Rutsey's pedestrian drumming with the great Bonzo.
'Finding My Way' opened the album in a raunchy, aggressive manner and its hard-rocking pace was maintained on the ensuing cuts 'Need Some Love' and 'Take A Friend'. The first side was brought to a close by the more extended 'Here Again', where the sound of acoustic guitar provided a little variety to proceedings.
Side two kicked off with 'What You're Doing', a number very reminiscent of Zeppelin's 'Heartbreaker'. Next up was 'In The Mood', the lone survivor in the current live show. This tune, always popular with the fans, was penned by Geddy but the rest of the tracks on 'Rush' are credited as joint Lee/Lifeson compositions. 'In The Mood' was followed by 'Before And After' and finally the album ended with 'Working Man', the LP's winner which featured a marathon lead break from Alex.
On the whole, 'Rush' was a very basic heavy metal record, one that was hardly indicative of what was to come in the future. Interesting from a nostalgic point of view none the less.
Fly By Night


(Mercury 9100 013)
When documenting Rush's vinyl history, many tend to look upon 'Fly By Night' as being the start of the first chapter. Certainly a lot of water had passed under the bridge since the recording of the debut elpee. Drummer John Rutsey had of course left and Neil Peart's arrival had coincided with the band's first Stateside concerts. By the time Rush went into Toronto Sound Studios to start work on the second album they had learnt a good deal and were working more closely as a unit. More importantly, their music had progressed beyond the limitations of basic heavy metal.
'Fly By Night' witnessed the injection of a strong fantasy element, courtesy of Peart's lyrics, and 'By-Tor And The Snow Dog' was the first of many 'epic' works. The characters in the sketch had been inspired by Herns (Howard Ungerleider) and basically the story dealt with Prince By-Tor (Geddy Lee - "Knight of darkness, centurion of evil, devil's prince") and his battle against the good Snow Dog (Alex Lifeson). Eventually, the latter was to emerge victorious and the whole number became an integral part of the Rush live show.
The group had clearly realised that variety was the spice of life and consequently there was a diverse selection of material on the second album - another Zeppelin influence? While the opening cut 'Anthem' proved that they still had definite metallic inclinations, the delicate 'Rivendell' acted in complete contrast. Other good songs included 'Beneath, Between And Behind', 'In The End' and also the title track. Basically, 'Fly By Night' proved that Rush had far more to offer than your average run-of-the-mill HM band.
Caress Of Steel


(Mercury 9100 018)
Although the first two albums had surfaced simultaneously on both sides of the Atlantic, for some reason the UK record company didn't release 'Caress Of Steel' until 1977. It had come out a year earlier in the States but, to put it bluntly, had been a miserable flop. Why? Well there are several theories. Firstly, Rush had recorded the LP only a few months after completing 'Fly By Night' and the fact that they had returned to the studio so quickly may well have had an adverse effect. Secondly, the band continued to pursue the idea of including protracted storylines (This time they devoted a complete side to 'The Fountain Of Lamneth') and it was widely felt that they had stepped out of their depth by attempting to be too clever.
Whatever the reason for its failure in America, I personally found 'Caress of Steel' to be a highly entertaining package. The first side featured three short pieces in 'Bastille Day , 'I Think I'm Going Bald' and 'Lakeside Park', together with the 12 1/2' minute tale of "The Necromancer' in which Prince By-Tor was to make a cameo appearance!
'The Fountain Of Lamneth' was a classic dark opus in every sense of the word and was divided into six different parts: 'In The Valley', 'Didacts And Narpets', 'No One At The Bridge', 'Panacea', 'Bacchus Plateau' and finally 'The Fountain' itself. There were some marvelous mood changes and it was a pity that British fans never got a chance to hear [them] performed on stage.
2112


(Mercury 9100 039)
It was a truly memorable day when I first heard this record! I can vividly recall going into the local import record store and seeing a copy
stacked on the shelf. Rush? Now, where had I seen that name before? Oh yeah, the Canadian trio who'd brought out a couple of albums in 74/75 ... wonder what they're like these days? A few minutes later I was sitting captivated by the album as the friendly shop assistant allowed me a brief blast on the headphones. (Remember those days?)
Not surprisingly, I was swift to invest in a copy and once back at home I was able to revel in the delights of what must surely rank as an all-time classic rock album. It gave Rush their first major vinyl success and they've never looked back since. The '2112' story on the first side is an absolute masterpiece and subsequently became one of the highlights of the group's stage shows. The second side comprised a further five winning cuts: 'A Passage To Bangkok', 'The Twilight Zone', 'Lessons', 'Tears' and 'Something For Nothing'.
Like 'Caress of Steel', the '2112' album was issued in a lavish gatefold sleeve and boasted excellent production by the band and Terry Brown. By now Rush were fast establishing themselves as one of the top rock attractions on the other side of the Atlantic and in the UK they were building up a very strong cult following.
All The World's A Stage


(Mercury 6672 015)
After four studio albums, Rush felt it was time to deliver a vinyl documentation of their live concerts and consequently they recorded their three gigs at Toronto's Massey Hall in the summer of '76. A few month's later 'All The World's a Stage' hit the streets and was generally well received.
The double-record set kicked off with 'Bastille Day' and the rest of the first side contained 'Anthem', 'Fly By Night', 'In The Mood' and 'Something For Nothing'. Part two opened with 'Lakeside Park' and was followed by a rendition of '2112' - classic stuff!
Side three took us back to 'Fly By Night' days and featured 'By-Tor' along with 'In The End'. Both versions were infinitely better than their studio counterparts and on the former there was a splendid guitar/bass battle between Geddy and Alex.
The final section of the LP comprised songs from the first album - 'Working Man', 'Finding My Way' and 'In the Mood' together with an extended Neil Peart drum break. 'All The World's A Stage' had a few rough edges but was pretty good on the whole and served as a neat round-up of Rush's music from 74 to 76.
A Farewell To Kings


(Mercury 9100 042)
On the sleeve notes of the live album, Rush had made it clear that they felt they'd reached the end of their first chapter and that a new era was about to begin. Following their June '77 UK tour the band entered Rockfield Studios in Wales and started work on their fifth studio album. What emerged was an interesting platter that saw the band's material becoming more and more complex. Geddy had started playing synthesisers and indeed one could sense that the trio were keen to expand their overall sound.
Side one of the record commenced with the title track, a fairly concise number, which was followed by the more adventurous 'Xanadu'. The latter had been performed the British dates and clocked in at just over 11 minutes on record. The second half of 'A Farewell To Kings' evidenced three shorter tunes in 'Closer To The Heart', 'Cinderella Man' and 'Madrigal' but was highlighted by yet another lengthy epic 'Cygnus X-1'.
Although I enjoyed it at the time, I must confess that I find listening to this LP a little bit of a strain nowadays and rarely give it turntable space...
Hemispheres


(Mercury 9100 059)
'Hemispheres' is another LP I hardly ever play these days (though I loved it at the time) and basically it adhered to a similar format to it's predecessor. Once again there were one or two brief items ('Circumstances' and 'The Trees') but the rest of the album was consumed by mammoth pieces. On 'A Farewell To Kings' the band had promised to continue the tale of 'Cygnus' and subsequently they did so with the 18 minute 'Hemispheres', the title track which spanned the whole of the first side. It was an extremely cleverly executed piece but in retrospect somewhat tedious to endure. The same can be said of the instrumental 'La Villa Strangiato', although this did contain a brilliant solo passage from Alex Lifeson.
When reviewing this album upon its release, I can recall pointing out that Rush might find themselves getting into a rut if they were to continue producing extended works that were basically self-indulgent. The band had more than proved their capabilities as 'masters of techno rock' but now it was time to change their direction. One sensed that they themselves were aware of this and subsequently they were to take time-off before going back in the studios.
Permanent Waves


(Mercury 9100 071)
'Permanent Waves' was released in the early part of 1980 and it saw a marked change in Rush's direction. Gone were the Cecil Be [sic] DeMille proportioned epics that had dominated their past few albums and in came shorter, more direct numbers. Neil Peart's lyrical approach had also taken a different turn and instead of basing his ideas on science fiction and fantasy he appeared to be dealing more with reality.
The record opened with 'The Spirit Of Radio' which gave the band their first big hit single. Next up was 'Free Will' which was followed by the slickly constructed 'Jacob's Ladder'. There was a strong feeling of modernisation about the music and at times Rush came across in quite a sophisticated manner. However they managed to retain their hard edge and had definitely emerged into the 80's with a winner.
The second side of 'Permanent Waves' comprised three tracks: 'Entre Nous', 'Different Strings' and the masterful 'Natural Science'. All in all, it was a very good album.
Moving Pictures


(Mercury 6337 160)
Although I'd found 'Permanent Waves' a most engaging record, I'm afraid I wasn't so impressed by 'Moving Pictures' when it first came out. As stated, Rush had attained a far more modern sound on their 1980 release but its successor was a little too clean for my liking. Indeed, it took me a long time before I finally got into 'Moving Pictures' and found that the record required a good deal of intense listening to fully appreciate. It followed a similar direction to 'Permanent Waves' but had a somewhat darker, more haunting atmosphere.
Once again it was a tune that became a hit single that kicked off proceedings - 'Tom Sawyer'. This tune was co-written with Pye Dubois from the band Max Webster and was followed by 'Red Barchetta' and the instrumental 'YYZ' (the title of which stems from the lettering on Toronto Airport luggage tags incidentally). Side two featured four cuts: 'Limelight', 'The Camera Eye', 'Witch Hunt' and 'Vital Signs'. The latter echoed strong hints of reggae and no doubt surprised many Rush fans ... they'd yet to hear 'Signals'!!!
Exit...Stage Left


(Mercury 6619 053)
Originally, Rush had planned to release a second live album after 'Permanent Waves' but when they found themselves writing a glut of fresh material, the idea had been shelved in favour of 'Moving Pictures'. Finally though, towards the end of 1981, 'Exit...Stage Left' emerged and basically served as an up-date of the band's live show. Unlike 'All The World's A Stage' though, it didn't run in the style of a complete performance and rather than selecting one venue to record, Rush assembled numerous tapes from a variety of places. For instance, side two features the sounds of British crowds singing along to 'Closer To The Heart"...
To tell the truth, I prefer the first live album, since it holds greater atmosphere, but one can't fault the execution of the material on 'Exit'. It opens with 'The Spirit Of Radio' after which comes 'Tom Sawyer' [sic] and 'YYZ'. The second side features 'A Passage to Bangkok', 'Closer To The Heart', 'Beneath, Between And Behind' and 'Jacob's Ladder".
'Broon's Bane', a 1 1/2 minute previously unreleased acoustic passage, introduces 'The Trees' but the majority of the third side is consumed by the lengthy rendition of 'Xanadu'. Finally, the whole package is brought to a close with 'Free Will', 'Tom Sawyer' and 'La Villa Strangiato'.
If you don't have a copy of 'Exit' then it's worth acquiring but on the whole I tend to feel that Rush's studio albums tend to be better than their live efforts.
Signals


(Mercury 6337 243)
After the 'Moving Pictures' tour had finished, Rush allowed themselves a long break before going into the studios again and clearly this was extremely beneficial in that it enabled them to find fresh direction. They found themselves in a good position to revaluate their career and eventually, after many months of intensive writing and recording, they emerged with what I firmly believe to be their finest ever studio record. The material is of an excellent quality - there's not a duff cut in sight - and the overall sound is superb.
For the first time Since 'Fly By Night', Rush have succeeded in delivering eight tracks on an album, the first of which is 'Subdivisions'. This song evidences strong communication with the fans and one senses that this was something Rush were keen to achieve. Indeed, over the past few studio albums Peart's lyrics have become more down-to-earth and direct. The rest of side one features 'The Analog Kid', 'Chemistry' and 'Digital Man'.
Side two opens with "The Weapon', apparently the second part of a trilogy entitled 'Fear' - part three emerged in the form of 'Witch Hunt' on the 'Moving Pictures' album. This is followed by the reggae-styled 'New World Man'. Many diehard supporters are apparently upset by the band's use of reggae but personally find it adds a new dimension to the Rush sound. No complaints! Track three is 'Losing It', on which Ben Mink from the Canadian band FM adds violin, and affairs are brought to an end with 'Countdown', the song based on Rush's experiences visiting the launch of the Columbia Space shuttle.
If you've not got a copy of 'Signals', then I suggest you run out and buy one ... pronto!