Stage Pass
Rush Takes Songs, Lights And A Video Vampire On The Road
By Andy Secher, Circus, April 30, 1983, transcribed by pwrwindows
---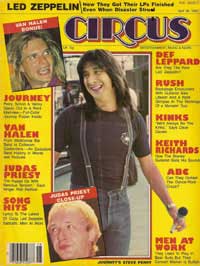 Drummer Neil Peart has plans to publish a book of his poetry. But the group's outside projects are secondary.
After their Garden show, Lifeson revealed that both he and Goody Lee are anxious to record solo LPs.
IT WAS JUST HOURS before the start of Rush's appearance at New York's Madison Square Garden, but guitarist Alex Lifeson had his mind on other things. "Hit 'em! Hit 'em!" he shouted at the hotel room television set, tuned to a hockey game featuring Alex's beloved Montreal Canadiens. "Who can think about music at a time like this?" the blond axe slinger shouted as he paced nervously back and forth. "This is a life-and-death situation."
Slowly, as the game wore on and it became apparent that the Canadiens were heading for another victory, Lifeson began to loosen up and talk. "Sports are our diversion," he said. "We're not into drugs or drinking, so we need something to take our minds off the drudgery of living on the road. We're all sports fanatics, and we really get into following our teams. If there's an afternoon game on the tube, we know that our soundcheck is usually gonna be late."
Luckily, by the time Rush 's show was due to begin that evening, there were no sports events scheduled on New York television. Lifeson and bandmates Geddy Lee (bass, keyboards and vocals) and Neil Peart (drums) arrived at the Garden an hour before show time in order to relax, tune their instruments and check on a video clip that had been giving them problems.
Some of Rush's technical problems stemmed from the fact that the band was forced to use a skeleton staff during its world tour, which began in Rapid City, South Dakota, in September and proceeded through England and Europe. The group was traveling with four semi trucks packed with the latest technical equipment, but as Lifeson explained, "We felt we had to cut back on some of the frills, and that included people.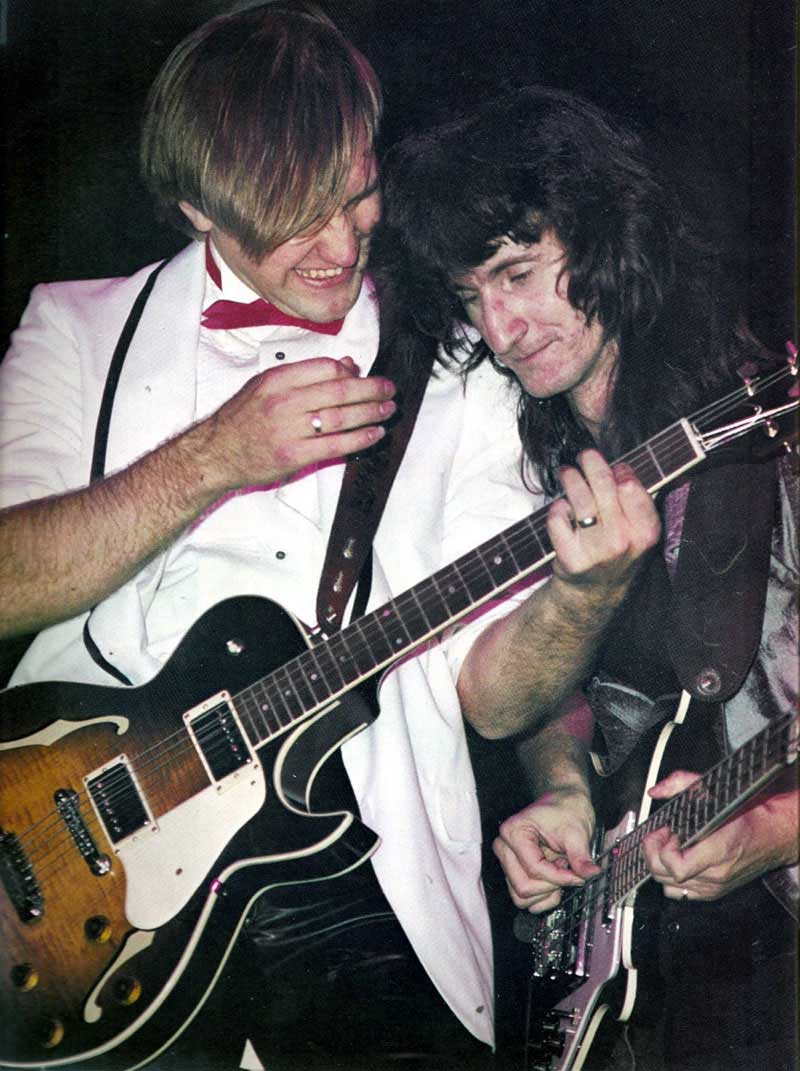 "Times are hard out there," noted Alex. "We wanted to put on the best show we could and keep ticket prices reasonable. That's not to say that we've skimped on the show one bit; it simply means that we haven't been as extravagant as we've been in the past"
Judging by the Garden show, it was impossible to tell that Rush had spared any expense. Hitting the stage as a prerecorded version of the Three Stooges theme, "Three Blind Mice," played over the massive P.A. system, the band dove into a powerful version of "The Spirit of Radio." Given a stage that was dominated by the band's gear and a huge video screen, the few missing extravagances were hardly noticed by the 20,000 fans who packed the hall. With Peart flailing away at his huge drum kit, and Lifeson looking fit in a modified new-wave haircut, Rush had the adoring throng cheering every note.
The set quickly picked up steam as the band tore through such numbers as "Tom Sawyer" and "Digital Man."' Geddy added new texture to several favorites by shifting from bass to synthesizer. "We're trying to make greater and greater use of keyboards," Lee had explained before the show. "We're still very much a guitar band, but keyboards are becoming more important to the sound."
A huge video screen was brought into play during "Subdivisions,"' which Lee introduced as "something for you suburbanites." Rush took the crowd on a video tour of a utopian middle-class setting as it performed the intricate melodic structure that has made the song one of the most popular tunes on its most recent PolyGram release, Signals.
The haunting power of "Subdivisions" was soon offset by the video appearance of Count Floyd, a character on the popular "SCTV" television show, who introduced 'The Weapon." "Oooh, this one's scary!" the Count yelped in his best Transylvanian accent while Lifeson laid down the song's first riffs on his Stratocaster.
The two-hour set focused on Rush's three most recent albums, presenting such numbers as "Freewill" from Permanent Waves, "Limelight" from Moving Pictures and "New World Man" and "The Analog Kid" from Signals. Some in the crowd screamed for earlier favorites like "Finding My Way" and "2112," but as Lifeson had remarked earlier, "If we were to play everything everyone wanted to hear, we'd be on all night."
Relaxing backstage after the show, Lifeson discussed the group's future plans, which might include solo albums. "I'd love to work on a solo project, and I know Geddy would too," he said.
He was quick to add, however, that any solo ventures would have no negative effect on Rush's future endeavors. "Any projects we would do away from Rush would be radically different from any band-related album. I would like to do a very guitar-oriented record where I could really indulge myself, I know Geddy wants to do something with synthesizers and keyboards. Neil isn't interested in making a solo album-he's working on a book of poetry. Those are projects for the future, though," he added with a smile. "Rush is our main concern right now."