High Priests: Rush at the Birmingham National Exhibition Centre
By Brian Harrigan, Melody Maker, May 21, 1983, transcribed by Chris McDonald
---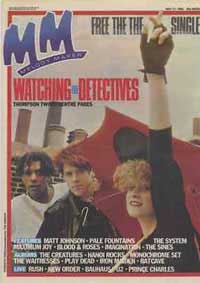 It's extremely appropriate that Rush have secured film of the American Space Shuttle programme as the centrepiece of their massive 1983 stage show. Rush are a band who glory in high technology -- they use it on stage and they celebrate it in their songs -- and as the Space Shuttle Columbia shuddered skyward on the giant video screen behind the band, the music of "Countdown" echoed its epic voyage and sent the 8,000 worshippers into a similar orbit.
It's around 18 months since Rush were last here and during that time they've entirely reconstructed their set, ditching most of their old stuff and concentrating mainly on material from "Hemispheres" onwards.
The change in choice of material reinforces what strikes me as a re-think in the band's philosophy. Until this two-hour show on Saturday, it hadn't really occurred to me just how doom-laden their message used to be. I've emerged from the concert hall with the taped voices of the Priests of the Temples of Syrinx echoing in my head and while it was an effective way of the closing a show, it wasn't exactly what you would call an upper.
But now Rush's vision of the future is a hopeful one, as illustrated by the video clip of the shuttle. Man, they appeared to be saying, does have a future and he can use technology to his advantage. As a result of this new feeling, even old classics like "Xanadu" and "Closer to the Heart" take on a fresh new meaning. the only odd one out in the set is "The Trees," whose anti-socialist nature still jars a little.
"The Analogue [sic] Kid" showed guitarist Alex Lifeson at his finest, demonstrating his enormous range of skill, versatility and control. Geddy Lee's vocals, particularly on "Xanadu," showed new depth and maturity, while Neil Peart is showing great restraint as a percussionist in the band.
Quite simply, I haven't enjoyed a show as much for years -- Rush proved they have the ability to move and to move gracefully with the times and not get stuck in any kind of a musical rut. A magnificent performance.