Rush Fact Sheet
Grace Under Pressure Press Kit, Mercury Records, 1984, transcribed by pwrwindows
---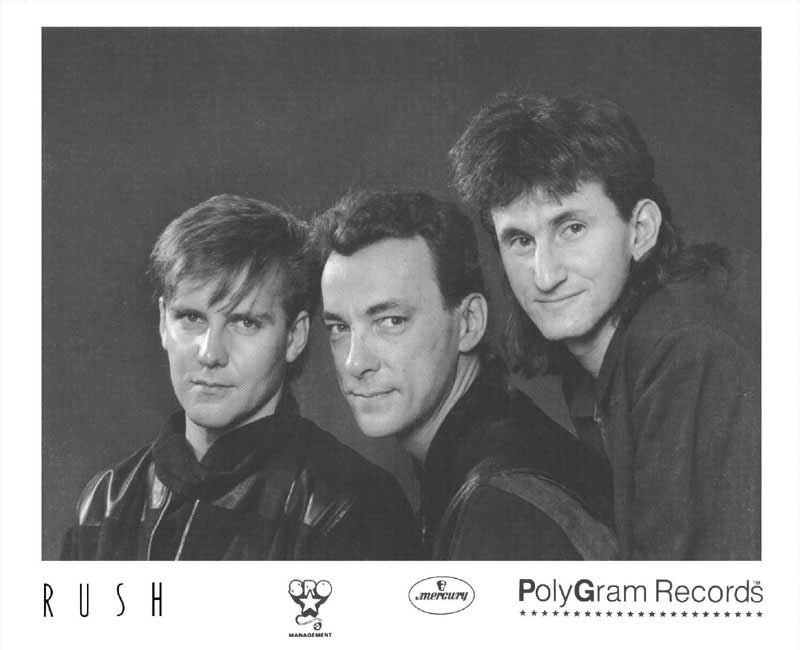 Early 1980
RUSH emerges as a star attraction in the eighties. The album PERMANENT WAVES is released, and the LP soon reaches 4 in the Billboard Pop Album Charts three weeks in a row, and climbs to 3 in the U.K. Charts. By March, PERMANENT WAVES goes Gold in the U.S., Platinum in Canada, and Silver in the U.K. RUSH becomes the first act to sell out the 12,000 seat amphitheater in Chicago for four nights. While other acts find their concert attendance down, RUSH's tour plays multiple nights in large indoor venues in St. Louis (3), New York (4 Milwaukee (2), Chicago (4), Seattle (2), San Francisco (2), Los Angeles (4), Detroit (2) and Dallas (2), consistent sell-outs across a five month tour.
April 1980
RUSH and each individual member place in the top ten in every applicable category in Sounds and Melody Maker Polls in Britain.
Late 1980
RUSH records MOVING PICTURES. Their most elaborate venture yet. By now the group has six Silver albums in England, including PERMANENT WAVES, "2112", ALL THE WORLD'S A STAGE, A FAREWELL TO KINGS, HEMISPHERES and ARCHIVES, the three disc compilation.
Early 1981
MOVING PICTURES is released, and by now RUSH are an AOR radio staple in America, with heavy airplay on 98 percent of the album stations in the U.S. virtually out of the box. The album tops the airplay charts for weeks on end, and RUSH embark on another sweep of U.S. concert halls.
Mid to late 1981
RUSH becomes the only group to score three U.S. platinum albums in 1981 for "2112", ALL THE WORLD'S A STAGE and MOVING PICTURES, and are also nominated for a Grammy for Best Rock Instrumental for "YYZ". By the year's end, RUSH have been seen by over a million fans, who clamor for yet another Live album, RUSH releases EXIT...STAGE LEFT, a live set, in response. They are voted the "TOP GROSSING ACT IN ARENAS 1981" by Billboard Magazine.
Early 1982
Geddy Lee's guest vocal spot on single "TAKE OFF" from the Mercury album THE GREAT WHITE NORTH by Bob & Doug McKenzie, (Alias Second City TV's Dave Thomas and Rick Moranis) is a certified hit, with the single going top ten in the U.S. and the album going Gold. RUSH's EXIT ... STAGE LEFT is certified Platinum, MOVING PICTURES approaches double platinum. Group is nominated for four Juno Awards (including two nominations for album of the Year for EXIT...STAGE LEFT and MOVING PICTURES, and once again for Group of The Year). Group is voted Band of the Year in the Sounds Readers Poll, while Neil Peart tops the Readers Polls as best Rock Drummer in Modern Drummer, Circus and Sounds, and Geddy Lee is voted Best Bass Player in Sounds.
Mid 1982
Laserium devotes a full hour show to the music of RUSH. The first time Laserium has featured a complete show of one group's material (with the exception of posthumous Jimi Hendrix Presentation in the guitarist home town), which becomes the most successful Laserium presentation to date during its run at Seattle's Pacific Science Center. Meanwhile, SelecTV begins airing the RUSH concert film, EXIT...STAGE LEFT, across America with FM simulcasts in various markets.
September 1982
"NEW WORLD MAN" is released to immediate and amazing response at FM radio. Trade reports are filled with raves from the Programmers and their public as "NEW WORLD MAN" has listeners clamoring and screaming for SIGNALS which follows soon after. Laserium mounts yet another RUSH presentation in planetariums in Los Angeles, Seattle, Pittsburgh, Louisville, Denver, St. Louis, Montreal, Toronto and London, England. A debut of SIGNALS and totally new Laser effects, the first time Laserium has premiered a new group album simultaneously with entirely new visuals.
Early 1983
SIGNALS goes platinum in both the U.S. and Canada. THE NEW WORLD TOUR of America sells out, over one million fans.
May 1983
RUSH tours the U.K., selling out Wembly Arena four consecutive nights.
September 1983
RADIO CITY MUSIC HALL, New York City vibrates to RUSH for 5 sellout nights. The first Rock Act of its kind to perform a series of shows in the world famous venue.
April 1984
GRACE UNDER PRESSURE is released, New co-producer Peter Henderson who produced the last three Supertramp albums at the controls. GRACE UNDER PRESSURE tour begins in May taking the famous Lazerium Show on the road. Four new video projects coincide with the new release.