Grace Under Pressure Album Review
By Kurt Loder, Rolling Stone, June 21, 1984, transcribed by Jimmy Lang/Meg Jahnke
---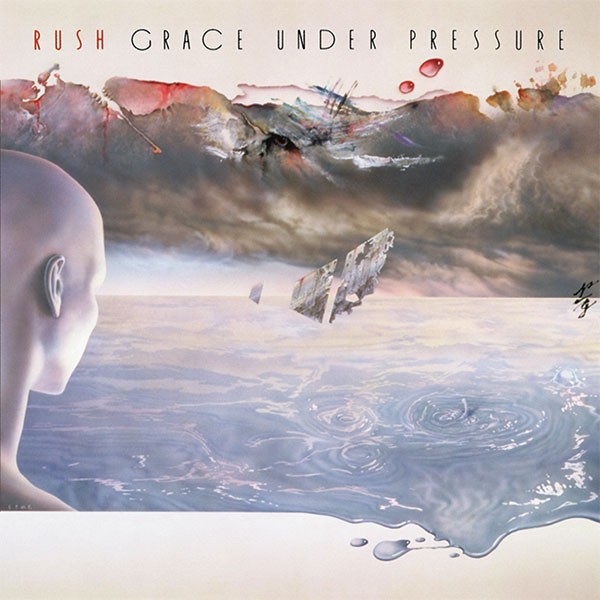 3 stars given (out of 5)
This album needs no critical assistance: If you like Rush, you'll love it; if not, then Grace Under Pressure is unlikely to alter your assesment of the band as a lumbering metal anachronism.
For the record, though, Rush has managed to incorporate a number of modern elements into its sound (note the almost danceable rhythms in "Afterimage" and "Red Sector A," and the swelling synthesizers and electropercussion throughout). Geddy Lee, the group's bassist and vocalist, has also gotten his dog-calling falsetto shriek under control.
But these signs of incipient hipness are not what sets young pulses racing throughout the North American heartland. Rush is a band with a message. Briefly put, it's "Be free, and don't let the grown-up world grind you down." Thus, on "The Enemy Within," Lee sings, "I'm not giving in/To security under pressure/I'm not missing out/On the promise of adventure." And the hero of drummer-lyricist Neil Peart's sci-fi allegory, "The Body Electric," is an "android on the run, seeking freedom."
The problem, though, is musical. On record, the lack of melody and any but the most rudimentary harmonic development soon becomes oppressive. In addition, Alex Lifeson is not a particularly interesting lead guitarist, and the strictures of the trio format still result in more splattery drum bashing than you'll ever care to hear. Rush delivers the goods, all right: strong social statements enveloped in a massive, pounding sound. But it's old news, and old music, too.