The Rush Dilemma!
Are They Satisfied With Cult status - Or Under Pressure To Become A Household Word?
RockLine!, July 1984, transcribed by pwrwindows
---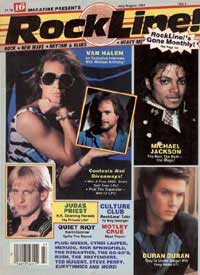 The three member rock 'n roll troop Rush - Neil Peart, Alex Lifeson and Geddy - have never hurried success. They've already played together for over ten years and recorded many albums. In all that time, Rush have slowly developed their strong cult following and they've also received many gold and platinum record awards. Yet Rush are hardly a household word like the Rolling Stones or even Boy George for that matter. Recently, however Rush have been carefully changing their musical style, catering more to commercial success. The question is - are they trying to achieve celebrity status or are they just going wherever the music takes them?
New Musical Approach
Rush started out in 1974 as a hard rock outfit. Their music was laden with heavy guitar solos, drawn-out and complicated. And at that time, Top 40 radio was not interested in 20 minute songs with lengthy guitar solos. This put a damper on super-stardom for Rush, but it didn't change their music. Basically, they continued to play hard rock for six years and nine albums.
Hemispheres was the last long-side concept album Rush recorded. When the '80s rolled around, Rush decided to try a different musical approach: shorten the songs, less guitar (sorry Alex), fewer words and more keyboards. In Rush's typically snail-paced fashion, however, it didn't all happen at once. First they recorded Permanent Waves, incorporating some of the new techniques, and lo and behold the album went to number four on the pop charts in America. That's the pop charts, not the rock charts. This was a huge change for Rush and a chance to broaden their audience. They booked a tour following another Rush pattern, half the year in the studio the other 150 days on the road. The enormous success of Permanent Waves enabled Rush to sell out the 12,000 seat amphitheater in Chicago for four consecutive nights for example. No other band ever did that - but still Rush was not on every citizen's lips. Was it their image? Perhaps. We're talking early eighties, razor-cuts and skinny ties. Maybe Neil and Alex could pass with a trim, but long-haired Geddy? It would take hours to cut those locks and even more time to talk him into it. So Rush insisted on keeping their hippie image.
Enter Laserium Shows And Rock Videos
The album Moving Pictures, another venture in experimental music, helped Rush become an AOR radio staple in America, but new wave music was closing in and if Rush wanted to establish more territory they'd have to do ever more. So they released another musically paired-down LP, Exit...Stage Left, and at the same time presented a taped, full-length show in laseriums across the country. This was a new idea indeed. Jimi Hendrix was the only artist ever to present a complete show in this fashion and now Rush had the most successful rock 'n roll laserium show. But laserium goers are hardly a mainstream audience. So, in effect, Rush simply garnered another cult.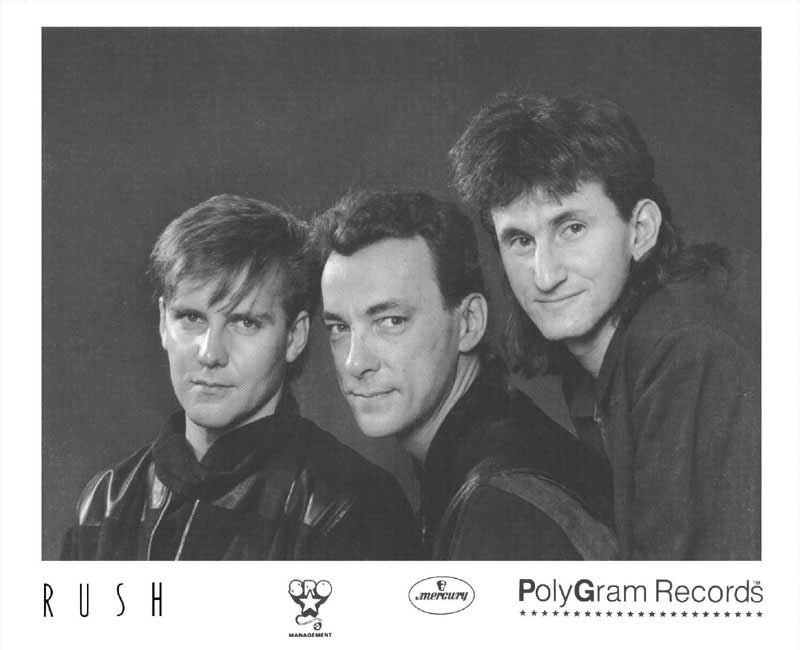 Signals marked Rush's best attempt at throwing some musical training out the window and simplifying once and for all. It brought the previous three records into focus. Rush incorporated more keyboards (played by Geddy) sometimes as bass and sometimes replacing guitar solos. The songs were lyrically simple, the music less jazzy and Geddy sang in a deeper register. Plus, Signals was Rush's first attempt at producing a hit single, "New World Man." For a first try it was pretty good, too. FM stations across the continent played it frequently and the name Rush was bandied about by more record buyers. They also cut a full length video, offering it to passionate MTV viewers and video-disk and videocassette lovers. But according to Rush, Signals didn't quite hit the target.
"I was very positive about the direction of Signals," recalls Geddy. "But I wasn't sure if we hit the mark because it was new and we were putting ourselves into a different area. Now, with this much time gone by, I think there are moments when we got what we wanted, and others where we obviously were in a transitory state."
Today's Focus
Grace Under Pressure is Rush 's latest LP release and it may very well mark the end of that transitory period. Shorter songs enable Rush to fit more tunes on each record, simpler music allows for less chance of going over audiences' heads, more direct lyrics produce better imagery and expanded instrumentation breaks up the monotony. Notice also that Geddy cut about six inches off his hair in '83. Maybe he'll go even shorter in '84! It's these music and image changes that may very well make Rush members rock 'n roll stars in the very broad sense. By taking these steps Rush is indicating a definite desire to take their cult audience out from under and introduce them to the main stream.
How Rush Members Feel About The Change
"All (these) steps are necessary to arrive at a certain point. The way our band works is...we go through phases of experimenting then we lock in on something."
"We worry, however, that one day we'll do something that they (Rush fans) won't react to positively. But we believe you can be experimental as long as what you produce is of quality."
"I'm sure we'll inevitably get back to doing the longer pieces. But right now we're working on other aspects, like constructing melodies and being able to get a point across in a shorter period of time.
"The music we're making now is still complicated, but in a much more subtle way."
"It's more exciting than ever. We're creating music that's challenging and adventurous both to listen to and play. We've never enjoyed ourselves more."